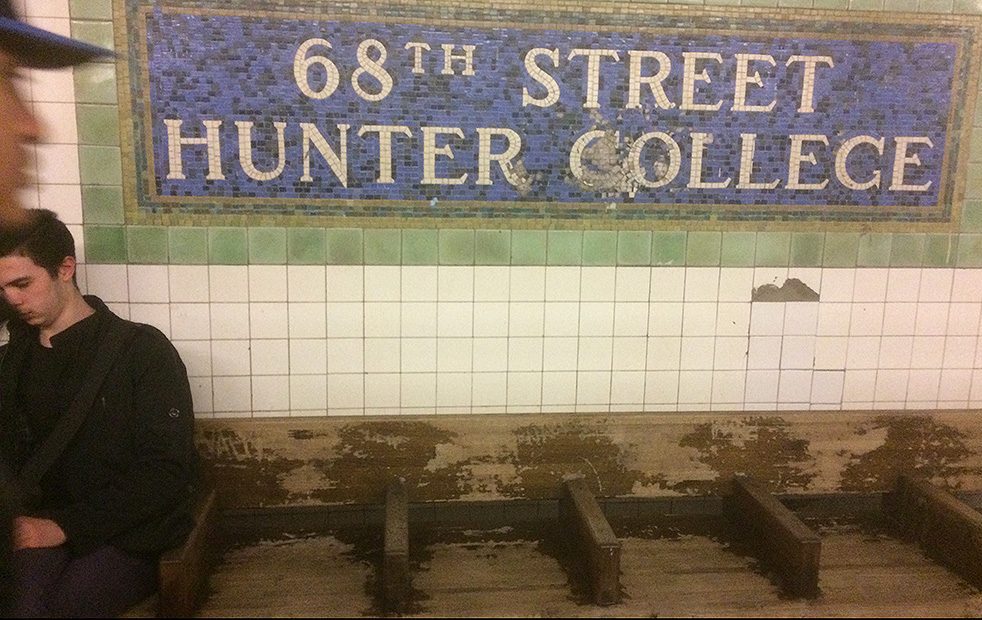 Fifth in a series of articles about the early weeks of the first semester.
Sugdiyona Nosirova, interviewed on the sixth floor of the library near the Macaulay Honors College lounge area, said she was taking 15 credits this semester, but she wasn't anticipating much stress this academic year. "I'm never really overwhelmed when it comes to school starting or school ending," said Nosirova, 18, wearing a black top, light blue jeans, a black jacket and a dark book bag.
"My mentality is just do what you got to do until it's over," the sophomore said. She was one of several students interviewed about their first few weeks of class.
---
---
Angelica Rozenfeld, a 21-year-old senior, said she felt ambivalent about her last year at school. "I'm excited in that I'm ready to get back into things, but I'm also nervous about what the semester holds," said Rozenfeld, wearing a bright pink flowy jacket, black leggings and white sneakers. Rozenfeld, who is double majoring in biology and English, said she wanted to continue her studies in graduate school. Graduate school application procedures can require applicants to submit transcripts, faculty recommendations and exam results as part of their selection procedures.
Rozenfeld said she was studying for the Medical College Application Test,  a standardized examination for medical school admissions. She is juggling five classes, Biology of Cancer, Current Topics: Biosciences, Intermediate Spanish, Introduction to Literary Theory and a Biology research seminar. Rozenfeld said it was difficult to balance five classes and study for the MCAT. Yet, it was clear to this reporter that she was not intimidated.
"I know what days and what times to dedicate for studying for my MCAT as well as I know what I have to get done for which classes, which days," said Rozenfeld, interviewed on the third floor of the West Building outside the shuttered student cafeteria.
Kianna Brown, a senior, said she recognized that the transition to this semester was different than her previous semesters. "This is the last time that we are going to be doing a fall semester," said Brown, 21, wearing a pink dress, blue jean jacket, Vans sneakers and hoop earrings. She competes on the Hunter Hawks women track and field team and said that sometimes it can be a challenge to be a student-athlete. For example, the Hawks have competed in meets as early as 6:30 a.m.
"Usually, the trips are about two to three-hour drive, so if I have any homework or tests the next day, I do it on the way there," said Brown, interviewed near the vending machines on the second floor of the West Building.
Brown said that she enjoyed the off-season and that the team practices daily and include weightlifting sessions and running 6 to 8 miles. She said she has made proper adjustments to compete. She is enrolled in three psychology courses as well as a Spanish class and another in forensic. "I've learned to juggle, since I've been doing it for a while now; it's definitely something you have to have a sit-down-talk with yourself to see if you're the type of person that can do something like this," Brown said.
Liam Heine, a 22-year-old senior, described his experience as a part-time student in an interview outside the North Building in front of a Halal food cart. He is double majoring in psychology and anthropology and is enrolled in two 300-level psychology classes and one 300-level anthropology course. The workload was "more than what he originally expected" and that, therefore, he had to adjust his schedule accordingly, he said.
Heine competed on the Hawks wrestling team for four years. Learning how to grapple was not his only skill that improved during those years. "I believe that [wrestling] provided me with the opportunity to learn how to manage my time a lot better and I adjusted to the structure of times around competition and practice," said Heine, who wore black athletic shorts and a dark red T-shirt. He said his part-time job has been a good substitute for the structure he had when he was wrestling. "Now, after athletics I feel like I had to adjust slightly and be a little bit more accountable," Heine said.
Alonso Espinoza can be reached at alonso.espinoza75@myhunter.cuny.edu