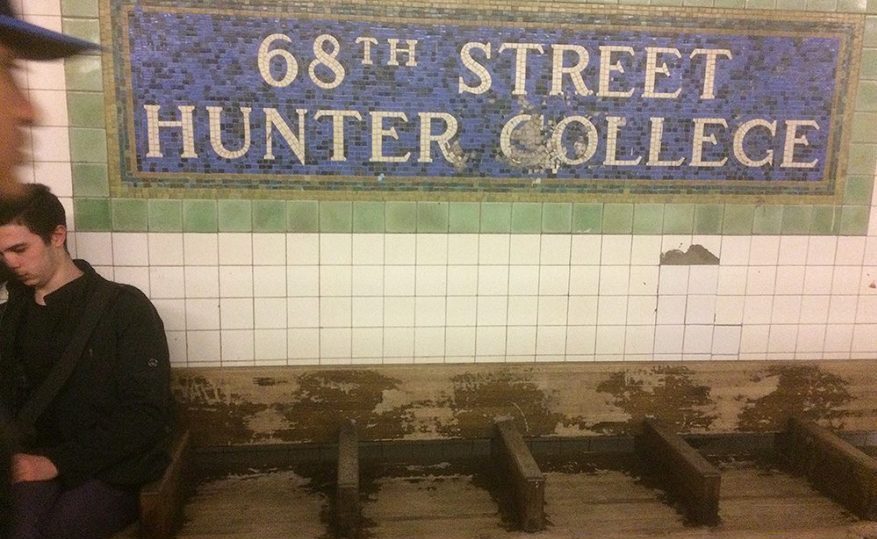 The fourth in a series of articles about the early weeks of the fall semester.
Life in Deer Park, Suffolk County, Long Island, can be as exciting as watching paint dry. "Like the only thing you can do is go to the beach or eat. And I only like eating," said Lauren Lazarte, a 20-year-old junior double majoring in psychology and media studies. "Nothing is open passed 9 p.m." Her summer job was fraught with unpleasantness.  "I had a manager straight outta hell," said Lazarte. "I'm positive he was stealing my tips." Lazarte pulled numerous 14-hour double shifts, and was only allowed a 30-minute break seven hours into her shift.
So, returning to campus after a dreary summer has been pleasant for her but starting classes meant dealing with new stresses, such as paying tuition. That reality is constantly in the back of her mind, and the cost of her textbooks isn't helping to soothe frazzled nerves. "My Psych 224 class is really textbook heavy, but it's like 120. I can't afford that," said Lazarte. "I just got a job out here." She said she felt as if her psych classes were harder this semester. "I thought I could teach myself neuro-psychology in five hours, but it's all so boring," said Lazarte. On the other hand, she said, other introductory media classes had her full attention.
Lazarte, one of several students interviewed for this article, pulled no punches about the visual esthetics of the campus. "Ugly," she said, describing it in general. "Hideous color walls" can be seen throughout the campus, she also said. And her classmates' body odor, she said, gets on her nerves. In between classes, she seeks sanctuary in the library where she was interviewed. Despite her opinion about the esthetics of the 68th Street campus, she regarded her dorm at the Hunter Brookdale campus in lower Manhattan as another sanctuary.
Here at Hunter, City University of New York, which started as an all-female school that went co-ed in 1964, waves of first-year transfer students in the early weeks of the semester navigated the halls of the three towering buildings that make up this Upper East Side campus. They were trying to find classrooms and important offices of the bureaucracy like the bursar's and registrar's abodes. Students familiar with the Hunter layout at 68th Street and Lexington Avenue, glided, of course, through the halls with ease.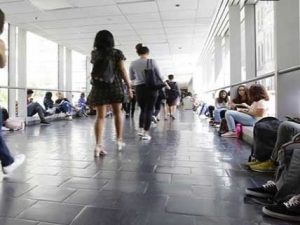 Lauren Lazarte wasn't the only campus veteran willing to describe her experiences about the first few weeks. Pooja Chopra, a 20-year-old junior living in Park Slope, Brooklyn, and sporting her summer fit of blue ripped jeans black converses to match both her tube top and seashell necklace, said she was happy to be back.
She worked as an intern at the New York County Courthouse on Centre Street in lower Manhattan, and then for a political campaign and the two efforts left her emotionally drained.  "All the cases were the same. A bunch of people who really couldn't win against the system," said Chopra. "It was hard being around all that negativity."
The returning English major said she was studying South Asian intersectionality, a program that looks at activities within Asian American communities or issues that affect Asians and Asian Americans. She's also minoring in Africana & Puerto Rican/Latino Studies and serving as Vice President of the Palestine Solidarity Alliance. And she doesn't mind the work load. "People don't come to college with the right mindset," Chopra said about many of her peers. "I mean learning is a privilege. For me it's like a drug. It's addicting." She said she was hoping to find more students with her mindset.
Danny Walker, a 20-year-old political science junior who spent a small portion of his summer in Miami, can't wait to see what this new semester has in store for him. He said his first ever ballet class left him excited as well as sore; Walker was hoping he had time to catch up with old friends.
"School gave me something to do," said Walker. "But I don't think Hunter wants to accommodate us." Walker said he was frustrated with the cafeteria being closed, three of the four elevators in the North Building not working and the closing of the Thomas Hunter Hall walkway, near where this interview took place, due to construction. He said based on the amount of money the school collects in tuition and fees, it should be able to resolves these problems.
Yasmin Williams, 21, a senior studying anthropology, said she wasn't happy to be on campus. After the first week, Williams said, she dropped a four-credit class, The Media of Horror Films. She missed an email the professor assign on Blackboard and a blog post assignment that she was supposed to do. But she was excited to see friends on the sky bridge where this interview took place. Many were in her classes. "I'm just tired of giving this school all my money," said Williams. "The thing that gets me through the week is that the end is in sight."
Rakeem Nelson can be reached at Rakeem.Nelson62@myhunter.cuny.edu