Film Review of Recently Re-released IRRESVERSIBLE (2002) with its companion IRREVERSIBLE: STRAIGHT CUT (2023) by Gaspar Noé.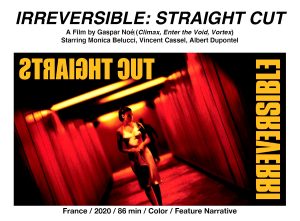 Excerpt from the production notes: "On the original release of IRREVERSIBLE, critics responded vehemently, and the relationship between the violence of the film and its form was central to how it was perceived and valued. However, as yet, there has been little critical response to the Straight Cut and, as a result, there has been little discussion about how the revised structure impacts on the film's meaning and the permissibility of its depiction of violence."

---
This reviewer wonders what respected American filmmakers in these contemporary times will be saying about the new release. What will respected Filmmakers of Color as well as respected Film Reviewers of Color say? Last, but absolutely not least, what's will be on the minds of respected women filmmakers and film reviewers?
– Review by Gregg W. Morris
Copy and paste this URL into your WordPress site to embed
Copy and paste this code into your site to embed