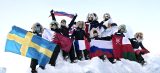 NYC DOC Film Review: EXPOSURE (2021)
The intimate panoramic scope and breath of this sublime account of women expeditioners skiing to the North Pole makes for one of the most rhapsodic films in recent years.
"We've created a film that offers an alternative to, and reimagines, the traditionally male-oriented expedition genre – all while delivering ace character-driven storytelling. I believe that when women come to fully believe in ourselves, especially in the crucible of the natural world, it's catalytic. We can take the reins, work across boundaries of all kinds, and lead a way into a future where we adapt, with compassion and equity, to the changing climate" – Director Holly Morris. Review by Gregg W. Morris.
Copy and paste this URL into your WordPress site to embed
Copy and paste this code into your site to embed