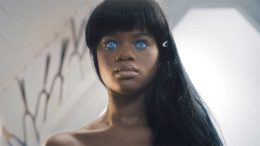 Film Short Review
I AM, 26 Minutes of Cinematic Ebullience
A female techie, Nigerian, living the life of a recluse in a remote German forest, on an evening jog inadvertently crosses paths with an android, also female, prostate and comatose on the ground – and decides to carry it home. Stunning cinematography … but there's one hitch: The storyline is so ephemerally gauzy and byzantine, it's as if the the filmmakers decided that the out-of-this-world cinematography was more than enough for their film – and left it to audiences to figure out a plot for themselves.
Review by Gregg W. Morris.
Copy and paste this URL into your WordPress site to embed
Copy and paste this code into your site to embed