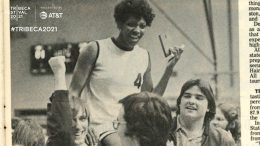 THE QUEEN OF BASKETBALL (Short, 21 minutes), World Premiere, Tribeca Film Fest 2021 – Review by Gregg W. Morris
Accomplished filmmaker Ben Proudfoot, because of a tip from a friend, inadvertently Googles his way to one of the greatest women basketball players ever to step on a court in these here United States. Also, he writes, she is "a gifted and open storyteller with a clarion memory." Together, they make cinematic "music" unlike any many of us have seen and heard in years. A film that is literally and figuratively a beacon of hope and harmony with its nostalgia bitter and sweet, especially during this brutal period of COVID-19.
Is this not the seeds for a magnum opus feature film of some length if not sequels? A lengthy TV series, or a Netflix super-duper special? This reviewer is ready to be signed up!
Copy and paste this URL into your WordPress site to embed
Copy and paste this code into your site to embed