[Editor's Note: Link to Good Morning America's Robin Robert's June 14 Interview of the star of THE QUEEN OF BASKETBALL at bottom of the page]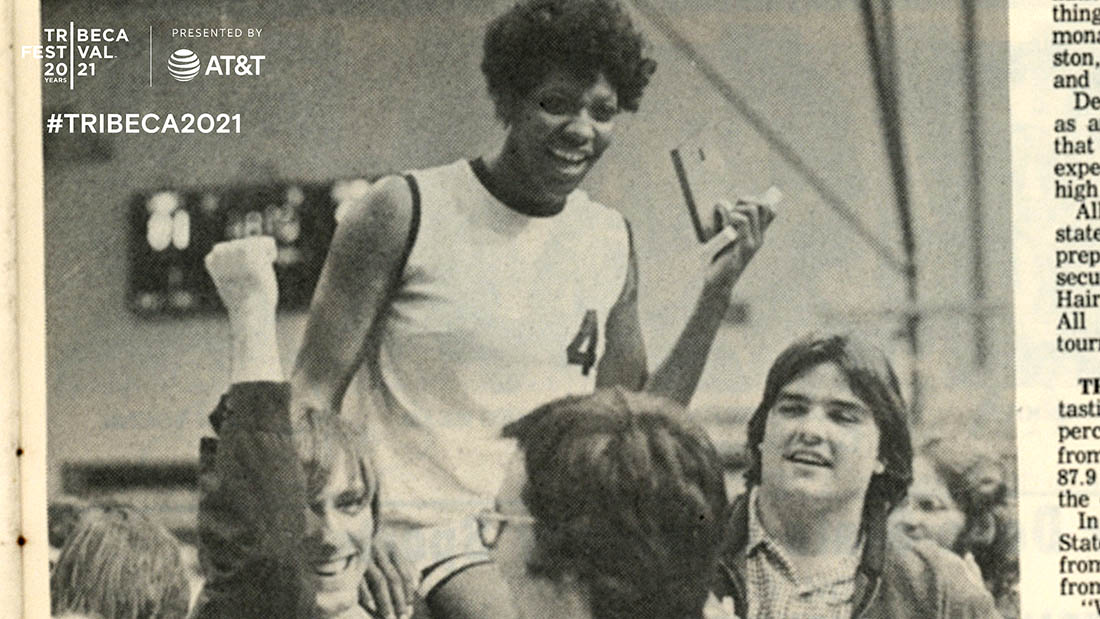 Lucy – Lucy Harris – Lucia Mary Harris
THE QUEEN OF BASKETBALL, a sumptuous paean to Lucy Harris, also known as Lusia "Lucy" Harris but just Lucy is okay with her, is also a sublime cinematic hors d'oeuvre that will cast a spell on an audience seeing Director Ben Proudfoot's 19-minute of raconteuring bliss. Harris is one of the greatest living woman basketball player to ever step on a basketball court but is hardly known outside of her Mississippi Delta home.
I feel the spell. It is mesmerizing watching again and again and again how Proudfoot worked his bravura cinematic magic. The spell causes an undeniable craving for more, that this sublime mini about a dazzling Black woman who was once a basketball goddess, doesn't squelch the curiosity, wonder and amazement that Proudfoot serves up. More is needed. A "Queen of Basketball" magnum opus feature film of some length if not sequels? A lengthy TV series, or a Netflix super-duper special whatever?
More is better.
Harris was the first woman, Black, officially drafted into the NBA; first in Olympic women's history to score. At Delta State University in Cleveland, Mississippi, in the Mississippi Delta, she championed her team to three consecutive Association for Intercollegiate Athletics for Women national victories, 1975 to 1977. [Note that the AIAW is the predecessor to the National Collegiate Athletic Association championships.]
To make this gem, Proudfoot set about to acquire pictures, graphics, films, takes, newspaper articles and other media, vintage and otherwise. The glowing visage of Harris dulcetly raconteuring fills the screen.
"Growing up in a pretty much all black community, everybody knew each other. That was the 11 of us, big family … My parents were sharecroppers. So we would pick cotton when we came home from school. That was our way of making a living. I know we went without, but we didn't once say anything. A lot of the kids would gather at our house to play ball because they didn't have a goal and we did.
I would stay up long past my bed time and put a quilt over the TV and over my head so I can watch Bill Russell, Wilt Chamberlain, Kareem, Oscar Robinson, my favorite. Lucy, you got to go to bed, you got school in the morning. Okay, mama, I'm going. And I watch it a little bit more."
THE QUEEN OF BASKETBALL is bathed in nostalgia bitter and sweet and gripping as Harris and Director Proudfoot tell this wonderful basketball story imbued with history and culture about Mississippi and Blacks and Whites and women and race and the Delta.
---
Director Ben Proudfoot writes in his Director' Statement that after the suggestion of a friend to google "Lucy Harris," off he went to Mississippi.
Lucy, he writes is "far more than an elite athlete and pioneer, but a gifted and open storyteller with a clarion memory." She was much easier to locate than the kind of visual research and content material troves that nonfiction filmmakers want for their filmmaking. That was, he wrote, "until I walked into the Delta State University Archives to pick up a single reel of 16mm film, apparently the only remaining footage of the great Lucy Harris that they had."
"As I was signing the paperwork to borrow the film so we could scan it, I offhandedly prodded, as a documentary filmmaker often does, 'So this is all you have of Lucy, huh? No other photos or tapes or anything?'" As it turns out, there was lots more: "Dozens of uncatalogued bankers boxes located in a back corner of the university's vault, tens of thousands of film negatives and sixteen thousand feet of film" eventually digitalized. A treasure trove "that had laid in waiting for nearly half a century."
"The visual legacy of Lusia "Lucy" Harris, as told from memory in her own voice, painted a portrait of one of the most important American athletes of the 20th century," he also writes.
About Ben Proudfoot Even If You Already Know
[Bio via Adam Segal / The 2050 Group Publicity] – Oscar® nominated creative force behind Breakwater Studios, recognized by the Sundance Film Festival, Tribeca, Hot Docs, The Emmys, The Webbys, James Beard Foundation, and Telluride among others. His recent film, A CONCERTO IS A CONVERSATION, co-directed by Kris Bowers and executive produced by Ava DuVernay, debuted at the 2021 Sundance Film Festival, was released by The New York Times Op-Docs, and received an Academy Award® nomination for best documentary short subject.
Proudfoot was named one of Forbes Magazine's "30 Under 30" for his leadership and innovation in the brand-funded documentary space. He hails from Halifax, Nova Scotia, and is a graduate of the University of Southern California. Proudfoot is an accomplished sleight-of-hand magician and has performed at The Magic Castle in Los Angeles.
---
Good Morning America Interview
Gregg W. Morris can be reached at gregghc@comcast.net, profgreggwmorris@gmail.com