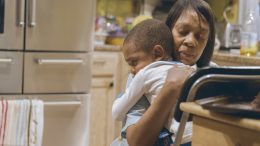 DOC NYC 2020 Film Review
THROUGH THE NIGHT – A Director's Love Letter to Single Mothers and Care Providers
THROUGH THE NIGHT is a bewitching, beguiling cinéma vérité, fly-on-the-wall picture perfect film about the lives of the owners and customers of a grassroots New Rochelle, New York, 24-hour day care center. It's lensed by a filmmaker who wants to flood pop culture "with beautifully complex portrayals of the lives of working-class women of color" and their families who stoically draw on "titanic strength, love, and selflessness" in the menacing face of racism and sexism and the inequality of American capitalism.
Review by Gregg W. Morris
Opens tomorrow, December 11, 2020 in multiple virtual cinemas.
Copy and paste this URL into your WordPress site to embed
Copy and paste this code into your site to embed