Editor's Note: This article was undergoing editing as millions of Americans were going to the polls November 8.
Article by Ricardo Montero-Hernandez, November 10, 2016
Lesser of Two Evils
This Presidential campaign has been the most brutal in American history. The New York Times online edition headlines a November 5 story by reporters Farah Stockman and Nick Corasaniti as The Campaign That Has Wounded America's Image.
For now, a polarized America is choosing, on the one hand, between a vainglorious business tycoon whose campaign trail is gutted with allegations of sexual debauchery, nativism and racism, business scandals while fueling the dreams of white nationalists. HIs opponent's campaign trail is fettered with allegations of never-ending corruption and scandals over the course of her many years in the public eye.
This reporter was one of several assigned to interview potential voters about their presidential preferences. Five interviewed for this article said that Americans are upset and alarmed with Congress, reflecting the findings in numerous articles and reports.That this sentiment gave way for political outsiders like Donald Trump to become the Republican candidate and for Democratic Socialist Senator Bernie Sanders to run a primary Democratic campaign that exceeded expectations.
"This election shows that Americans are tired of the status quo politicians have," said Andrew Fenwick, 21, a College of New Jersey, a political science major who lives in Rutherford, New Jersey.
Fenwick supported Senator Sanders but now supports Clinton. "He was an outsider and an underdog," said Fenwick, sitting on his desk at TCNJ, in his black sweater and gray sweats. "He talked about the greed of Wall Street, Citizens United, environmental issues; he addressed the Native American community. All of these I was passionate about."
Support the <i>political outsider</i> is a sentiment shared by Karina Florez, 20, a Domino's pizza deliverer from Englewood, New Jersey.  Florez too was a Sander's supporter and now supports Clinton, although she is not particularly excited about the Democratic candidate. "Voters will be choosing the lesser of two evils," she said, wearing a Domino's uniform while delivering a pizza in New Milford, New Jersey.
Florez said that Clinton will win the nomination "but only because she's the other option. She's not Trump, but it's not like she's loved by Americans either." Clinton and Trump have the lowest unfavorable ratings of any Democratic or Republican nominees in decades, according to a Gallup poll.
Wish He Wasn't Such a Buffoon

The unfavorable ratings of the presidential candidates are record-breaking and bi-partisan, according to polls by RealClearPolitics. Democrats, Republicans, independents, liberals and conservatives feel shackled with candidates whom they didn't really want but have eventually learned to tolerate. Trump supporter Nathan Fishman, 21, who drives a tank for the Israel Defense Forces in Jerusalem and previously lived in Teaneck, New Jersey, described the election as "really shameful," and said that he considered both candidates to be "awful."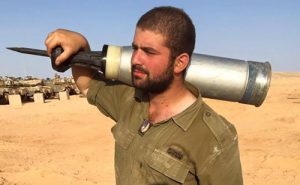 "There wasn't one candidate that I could point to that I felt was my candidate," said Fishman, wearing an IDF uniform wlhen he was interviewed through a Skype call from his home in Jerusalem. "That being said, I agree with the main policies of Donald Trump, so I guess you can say he is my first choice. I just wish he wasn't such a buffoon."
Diego Ojeda, 50, a Spanish teacher from Louisville, Kentucky, said "Hillary has been the only choice for me. Electing her will show the real progressive America I have always believed in." Ojeda, an U.S. citizen born in Bogota, Colombia, said that he is very excited about the election and is ready to vote. "Having Hillary as the U.S. President will empower women in the world and will help our society understand that politicians must be individuals who are prepared to lead," he said.
Ojeda, interviewed via Skype, was the only person interviewed by this reporter who expressed a positive opinion of the election. The rest gave gloomy and disappointed responses. Fenwick described Clinton as "holding traces of corruption and mismanagement at a federal level," and that she comes off as if she was "entitled to the position because she has been in politics her whole life." Florez described the Clintons as being "shrouded in scandals."
Thinly Veiled White Nationalism
They weren't so nice about Trump. Fishman, a Trump supporter, described the business tycoon as an "awful candidate" and a "buffoon." Fenwick described Donald Trump as "ignorant, self-motivated, and has little-to-no experience to the standards that president needs" and that Clinton should "let him destroy himself" if she hopes to win the election.
However, searing criticism of Trump came from Alexander Blaha, a 22-year-old Hunter English Literature major from Long Island. At the College subway stop, Lexington Avenue and 68th Street, Blaha waited for a 6 train. Wearing white shirt and jeans, and over the roar of trains, he said "Trump is running on a platform of thinly veiled white nationalism," Blaha said.
"He and his supporters are scared of the world, scared of modernizing, laugh in the face of intelligence and education, think nothing of proposing the most preposterous, un-achievable and extremely close-minded policies in a three-word utterance."
All six interviewees said that they would vote, a right so often ignored by many Americans that the U.S. voter turnout trails most developed countries, according to a PEW Research Center study. The world's highest turnout rate was Belgium with 87.2 percent of people showing up to the polls.
"People are angry and ashamed. Many are abstaining from the vote," said Genevieve Arroyo, 20, an Hunter English major living in Yorkville. "I do believe that more people at least registered to vote because of [this election], and the parties will be more careful with choosing who will lead them." At the Hunter library, Arroyo, in a green and black striped shirt, said that she planned to vote for Clinton, and even though Clinton wasn't her first choice, she said that "if someone doesn't vote, then they have no right to talk about the election and be upset about the outcome."
Ricardo Montero-Hernandez can be reached at rmontero1616@gmail.com