A 2019 Theatre Department Main Stage Performance

The first floor of Thomas Hunter Hall bristles with kinetic energy as theater students on deadline hustle about their tasks to prepare for "The Last Days of Judas Iscariot."
Students several days before the play opens can be seen repairing costumes, hunching over sewing machines and even making costumes from scratch in the Costume Shop  in Thomas Hunter Hall Room 101 that serves as an atelier, storeroom and workshop. Downstairs is the Scene Shop where sets and furnishings are made and restored. The Frederick Loewe Theatre connects the two, and a steady stream of students, professors and hired professionals are entering and leaving so that everything will go according to plan.
The play by Stephen Adley Guirgus tells the story how Judas Iscariot's fate for betraying Jesus Christ is determined before he dies. A cast of characters are pulled from the Bible and history books, and there are flashbacks to an imagined childhood, and lawyers who call for the testimonies of witnesses, such as Mother Teresa, Caiaphas, Saint Monica, Sigmund Freud and Satan.
There are themes of humanity, morality and sin. The play was first staged Off-Broadway at The Public Theater  March 2, 2005 and was directed by Philip Seymour Hoffman who was more publicly known as a prominent actor.
Several elements involving sets, lighting and costumes must come together to bring a show to life. it is a collaborative process and it is challenging. The director, Adrienne Warren, wants to avoid period costumes. "We wanted it to be mostly biblical elements with contemporary clothes,"costume designer Theo Campbell says. "For instance, how would Saint Peter look if he could borrow clothes from another period." Campbell says that the director was interested in dusty colors like those found in Renaissance paintings. Because the Loewe Theater is small and the audience will be close to the stage, every detail on a costume matters.
"A necklace can be seen as something simple but can mean a lot to a character. You have to think how certain design elements impact the characters and the story," Campbell says.
Theo Campbell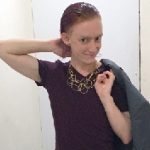 From Theo Campbell's Design About Page: Theo Campbell (they/them/their) is an up and coming costume designer based in New York City. They are highly skilled at applying queer theory and also rhinestones in places one might not expect them. Most recent credits include assisting David Woolard on the world premiere of Stonewall at the New York City Opera, and costume designing a punk rock musical version of Caryl Churchill's Vinegar Tom that took place during all the waves of feminism and also at a DIY punk concert.
Theo went into costuming because they believe art has a tangible ability to change the world, often just by bringing a little bit of light into dark times, and thinks their role in this is through making pretty (or often not so pretty) garments and wearable art. Theo is especially interested in being a part of work that pushed the boundaries of genre and form and in working with other queer and trans artists.
"First dress rehearsal can be exciting but sometimes disheartening when you have to see what has to be fixed"
During the sketching process, Campbell may spread sketches over a large space to help avoid making costumes too similar to each other. Once it is time to source garments and accessories, Campbell either borrows clothes from the TDF Costume Collection, the Costume Shop Closet or buys from stores. In some cases, clothing is made from scratch in-studio, with the help of the costume shop interns, Campbell says.
"It's fun to create your own outfit, and to create that for a whole cast is very satisfying," Campbell says. "However, sourcing the costumes can get chaotic: sometimes clothes don't fit, the director changes their mind, or the concept for the character changes."
They enjoys working with student actors because of their curiosity. Some don't have much theater experience, so Campbell mentors them through the process. After doing wardrobe for the department show the previous semester, Campbell keeps in mind that dress rehearsals can be chaotic for first-timers. Bridging the gap between the actors and the costumes is key for an accurate representation of a director's vision. Sometimes that can mean multiple revisions to a design before the final look. Seeing it all come together in dress rehearsal scan bring on mixed emotions.
"The first dress rehearsal can be exciting but sometimes disheartening when you have to see what has to be fixed," Campbell says.
Beast of a Play
Costume Shop interns are members of an integral team that help make sure all the costumes are done on time and are as true as possible to the sketches. Sheala Liverman, 23, is one intern helping Campbell. The double major in theater and childhood education says that she started sewing and fixing small tears in garments around August and knows a bit of machine sewing as well. This is her first time working on a show.
"It's exciting, I only work here once a week but there's so much to do and learn while preparing for the show," she says. "I like to see how the show unfolds from a backstage perspective." Liverman says stitching isn't easy, but it's doable, and she enjoys being with her friends as she works. She says that she hasn't read the play because she wants an audience perspective. "I've seen bits and pieces of everything so far," she says. "It's fun to not know and see it all come together on stage. There's an element of surprise."
One of Liverman's friends, Cathrine Barbasiewicz, has a role in the play. The 22-year-old senior says that this is her first time performing in a show at Hunter. The double major in theater and film says she auditioned because she admires playwright Stephen Adley Guirgus. The famous playwright is well known for works such as "Our Lady of 121st Street," "Jesus hopped the 'A' Train," and "Den of Thieves."
Barbasiewicz plays the role of Cunningham, Judas Iscariot's defense attorney in the play. "Working with everyone as their character reminds me exactly why I love acting so much and it's heightened by the amazing writing," she says. "Adrienne (the director) is just as excited as us about the play, which creates a great rehearsal environment."
From the beginning of the semester, they relied on their scripts, but they got off book and started to incorporate blocking with it the week of October 14.
Barbasiewicz, who makes her stage debut, says that the cast has bonded over the course of several weeks and that everyone gets along. "Rehearsals have been progressing really well in a way that puts us in an ideal time frame," she says. "I'm excited to perform this beast of a play for everyone."
"The Last Days of Judas Iscariot" by Stephen Adley Guirgus and directed by Adrienne Warren, ran November 13 to 16 and November 20 to 23 at the Loewe.
Laura Chavarry can be reached at laurachavarry312@gmail.com