[All Pictures Courtesy NYAFF]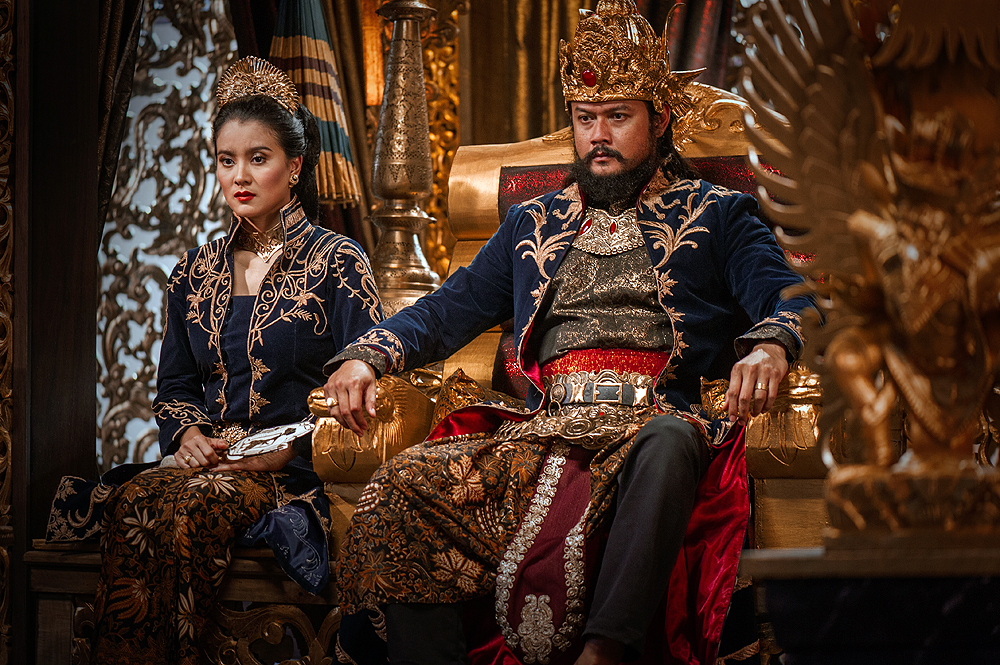 212 Warrior
Angga Dwimas Sasongko, Indonesia, 2018, DCP, 124m
Cast: Vino G. Bastian, Sherina Munaf, Marsha Timothy, Lukman Sardi
Indonesian with English subtitles
North American Premiere
In 16th century Java, after his parents are killed by a rogue martial artist, Wiro Sableng is rigorously trained by a benevolent silat master. She sends him off to capture the culprit, who now aims to take over the throne from the king. On the way Wiro meets an odd assortment of fellow warriors who help him on his quest for vengeance and righteousness. Based on a popular series of Indonesian martial arts novels (written by star Vino G. Bastian's father), this rollicking matinee-style adventure is imbued with equal parts action, fantasy and comedy.
---
五億円のじんせい
Five Million Dollar Life
Moon Sungho, Japan, 2019, DCP, 112m
Cast: Ayumu Mochizuki, Anna Yamada, Ryu Morioka, Satoru Matsuo, Sumire Ashina, Mutsuo Yoshioka, Shingo Mizusawa, Taro Suwa
Japanese with English subtitles
North American Premiere | Uncaged Competition
Director Moon Sungho in attendance (Intro and Q&A)
Mirai Takatsuki is a seemingly normal teenager, but when he was a child his life was saved from a terrible illness thanks to magnanimous donations from the local community that paid for his medical bills. Ongoing media attention and the pressure to excel have prompted Mirai to have suicidal tendencies. Urged on by mysterious and threatening text messages he sets off on a life-changing quest to repay the kindness bestowed on him and find out his life's true meaning. This unpredictable and innovative film reverses the terminal illness genre into a novel and illuminating coming-of-age road movie.
---
미성년
Another Child
Kim Yoon-seok, South Korea, 2019, DCP, 96m
Cast: Yum Jung-ah, Kim So-jin, Kim Hye-jun, Park Se-jin, Kim Yoon-seok
Korean with English subtitles
North American Premiere | Uncaged Competition
Director Kim yoon-seok in attendance (Intro and Q&A)
Actor extraordinaire Kim Yoon-seok makes his directorial debut with this riveting film about family dysfunction, amour fou and coming of age in the oddest of circumstances. 17-year-old Joo-ri discovers her father is having an affair with the mother of her hard headed classmate Yoon-ah. While at first the two teens don't get along they soon team up to try and put the relationship to an end. But when they discover Yoon-ah's mother is pregnant, the stakes are raised and they become determined to help raise the sibling that brought them together in the first place.
---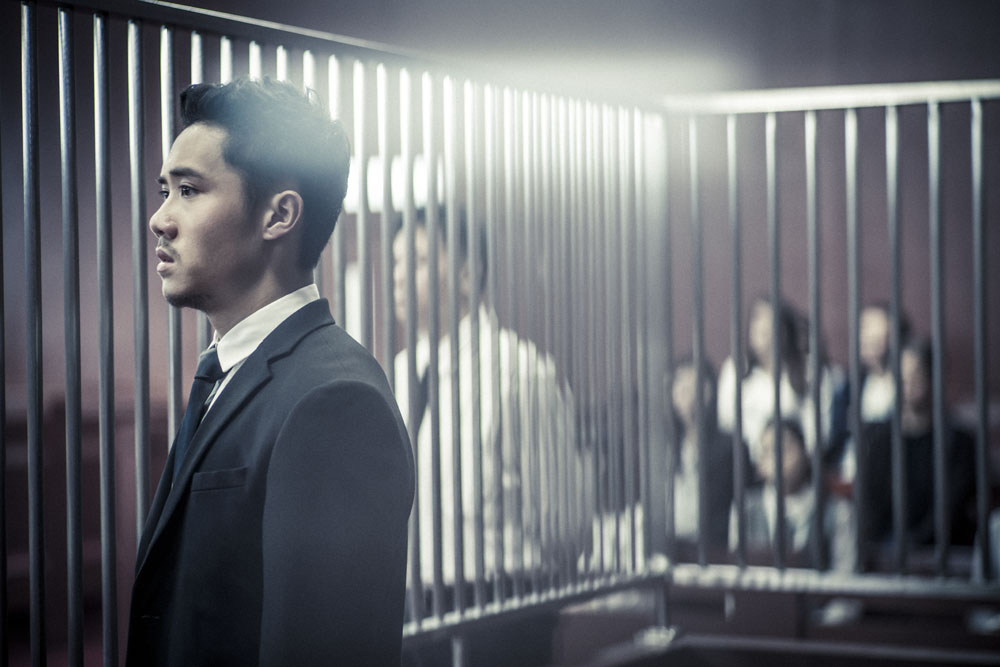 一級指控
The Attorney
Wong Kwok Fai, 2019, DCP, 102m
Cast: Alex Fong, Patrick Tam Yiu Man, Carlos Chan, Nina Paw Hee-Ching, Liu Kai Chi, Kenneth Tsang Kong
Cantonese with English subtitles
International Premiere
A young man is accused of killing the daughter of Hong Kong's richest tycoon after a drunken tryst. His poor shop owner grandmother insists he is innocent and seeks legal aid. Hotshot lawyer Lei You Hui, who ten years prior lost a pivotal case defending local merchant's rights, agrees to defend the young man, seeking redemption for his previous defeat. Lei's investigation unearths a conspiracy that may not only expose the truth behind the crime but also unravel a web of corruption. Alex Fong shines as the eponymous attorney in this gripping thriller woven around class struggle and moral bankruptcy.
---
Complicity
Chikaura Kei, Japan, 2018, DCP, 116m
Cast: Lu Yulai, Tatsuya Fuji, Sayo Akasaka, Kio Matsumoto
Japanese and Mandarin with English subtitles
New York premiere
Chen Liang, a young Chinese man working illegally in Japan, buys an ID and cell phone on the black market. When he gets a call offering a job he accepts blindly. Chen, now known as Liu, ends up an apprentice in a rural soba shop. As he acclimates to his new life he forms a strong bond with his most wise mentor, while also developing a quiet romance with a local woman. However, the threat of deportation always lurks around the corner. Chikaura Kei's moving and insightful debut offers a rare inside view of life as a marginalized immigrant in Japan.
---
过春天
The Crossing
Bai Xue, China, 2018, DCP, 99m
Cast: Huang Yao, Sunny Sun, Carmen Soup, Elena Kong May Yee, Ni Hongjie.
Cantonese and Mandarin with English subtitles
Producer Cary Cheng in attendance (Introduction and Q&A)
[premiere N/A]
16-year-old Peipei lives in Shenzhen, just over the border from Hong Kong where she goes to school. In order to raise money for a trip to Japan she joins a smuggling ring, taking iPhones into the mainland. Her inconspicuous high school uniform makes her the perfect mule, but as her innocence quickly fades she may fall in too deep. Bai Xue's striking debut combines an often stark neo realist style with flourishes of cinematic bravado to explore this strong young woman's turbulent journey into adulthood.
---
止められるか、俺たちを
Dare to Stop Us
Shiraishi Kazuya, Japan, 2018, DCP 118m,
Cast: Kadowaki Mugi, Iura Arata, Yamamoto Hiroshi
Japanese with English subtitles
New York Premiere
The 1960s-70s marked the Golden Age of Wakamatsu Productions, founded by revolutionary auteur Wakamatsu Koji (Caterpillar) and staffed (for nearly free) with radical young artists like avant-garde filmmaker Adachi Masao, cinematographer Ito Hideo and scriptwriter Arai Haruhiko. Shiraishi Kazuya (The Blood of Wolves) also cut his teeth making low-budget exploitation pictures at the company, and has directed this rambunctious, fact-based account of one young dreamer, Yoshizumi Megumi, who joins Wakamatsu in 1969 to make pinku eiga (softcore porn). As she struggles to fit into the testosterone-heavy "family," and to find her own voice, Megumi's life is equal parts heroic and tragic.
---
암수살인
Dark Figure of Crime
Kim Tae-gyoon, South Korea, 2018, DCP, 109m
Cast: Kim Yoon-seok, Ju Ji-hoon
Korean with English subtitles
New York Premiere
An informant leads world-weary police detective Kim to small time crook Kang Tae Oh who says he murdered someone for hire 10 years ago. Before Kim can pursue the case, Kang is arrested for another crime. However he calls Kim from jail claiming he's actually killed seven people. What follows is a psychological game of cat and mouse as the purported murderer tauntingly sends the agitated policeman on wild goose chases after unreported cases. Inspired by actual events, Kim Yoon-seok and Ju Ji-hoon's riveting performances detail a fascinating police procedural that explores the dark side of human nature.
---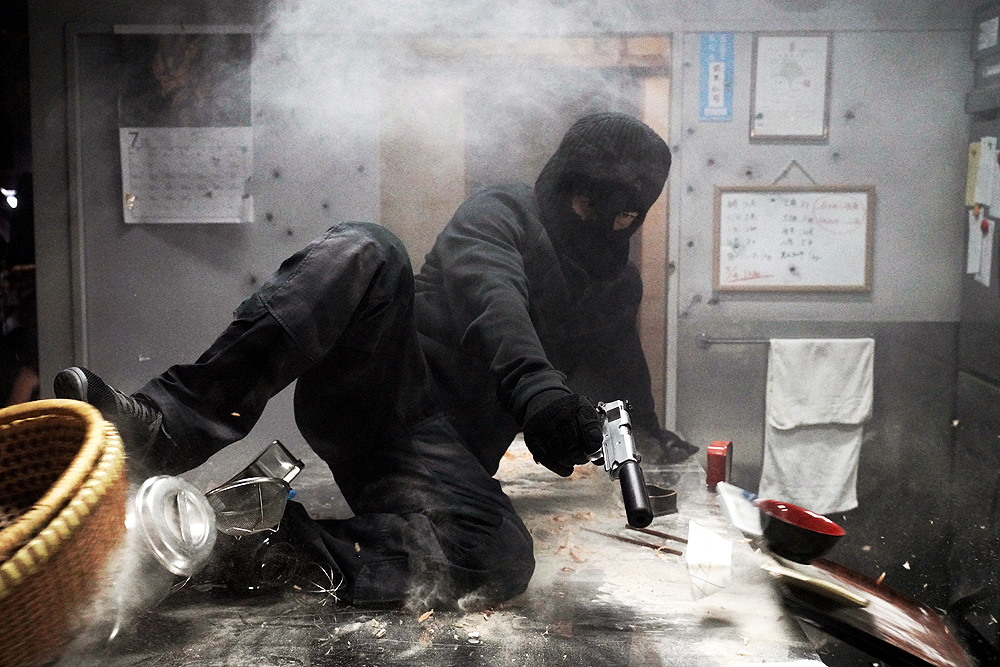 ザ・ファブル
The Fable
Kan Eguchi, Japan, 2019, DCP, 122m
Cast: Junichi Okada, Fumino Kimura, Koichi Sato, Mizuki Yamamoto, Ryo Kimura, Kai Inowaki, Jiro Sato, Ken Yasuda, Yuya Yagira, Osamu Mukai, Sota Fukushi, Daisuke Miyagawa
Japanese with English subtitles
Centrepiece | U.S Premiere
Director Kan Eguchi in attendance (Introduction & Q&A)
Fable is a legendary yakuza hitman, equal to none. Suddenly his boss orders him and his sultry associate to lay low and live a 'normal life' because "top assassins need that skill." While undercover he meets the charming Misaki who gets him a delivery job. Meanwhile, recent convict Kojima overdoses on hubris, stirring up the underworld and endangering Misaki. Fable is forced into action in order to rescue her. A picture-perfect antihero-comedy manga adaptation, The Fable is a vibrant pastiche of kinetic storytelling, wry humor, nail biting suspense and hyperbolic action (by Jackie Chan's crew) that cannot be missed!
---
;
辣警霸王花2不義之戰
THE FATAL RAID
Jacky Lee, Hong Kong, 2019, DCP, 96m
Cast: Patrick Tam, Michael Tong, Jeana Ho, Kristy Yeung, Jade Leung
Mandarin, Cantonese with English subtitles
An ultraviolent cops vs. gangsters bloodbath leaves casualties on both sides. Fast forward twenty years as surviving team member Madam Fong (Jade Leung, Black Cat) leads a new squad in pursuit of freckless young anarchists terrorizing Macao. An apparition from that fatal day falls into the fray, bringing everything full circle for a serpentine and explosive final confrontation. With badass modern women warriors at the forefront, director Jacky Lee effortlessly exudes the hyperbolic stylings of classic Hong Kong action, bringing back the irrepressible 'girls with guns' subgenre in full bombastic force.
---
第一次的离别
A First Farewell
Wang Lina, China, 2018, DCP, 87 m
Cast: Isa Yasan, Kalbinur Rahmati
Uighur and Mandarin with English subtitles
U.S. Premiere
This bittersweet narrative-documentary hybrid offers a precious glimpse into China's Uighur minority. When not in school or looking after his sickly mother, young Isa spends his days wandering the fields with his best friend Kalbinur who he raises a pet lamb with. When Isa's father decides to send his mother to a care facility the lamb goes missing and Kalbinur's parents move her away for a better education. Isa finds himself having to say many tender goodbyes. Wang Lina's confidently evocative debut is a charming ode to her own hometown that speaks volumes about this marginalized community.
---
翔んで埼玉
Fly me to the Saitama
Hideki Takeuchi, Japan, 2019, DCP, 107m
Cast: Fumi Nikaido, Gackt, Yusuke Iseya, Masaki Kyomoto
Japanese with English subtitles
New York Premiere
This riotously irreverent manga adaptation imagines the petty rivalries between Tokyo and neighboring Chiba and Saitama (think Manhattan versus bridge and tunnel) as a seething political struggle. 'Saitamese' are downtrodden and even need a visa to enter the big city. Cue a 'boys love' plot thread between the feminine-looking Momoi, son of the Tokyo governor (spunky Fumi Nikaido in her cosplay best) and a handsome male transfer student (Gackt) secretly from the other side of the tracks. Before long they are fighting side by side in the resistance as the prejudice-driven feud comes to a frothy head
---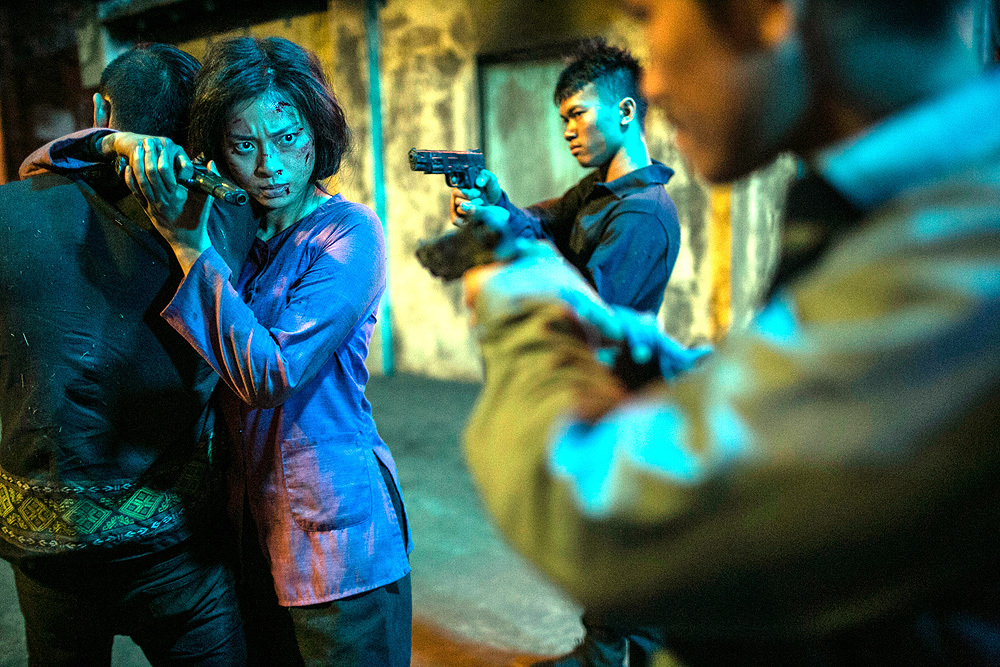 Hai Phượng
Furie
Le Van Kiet, Vietnam, 2019, DCP, 97m
Cast: Veronica Ngo, Phan Than Nhien, Mai Cat Vi
Vietnamese with English subtitles
Actress Veronica Ngo in attendance
Veronica Ngo will receive the Daniel A. Craft Award for Excellence in Action Cinema
[premiere N/A]
Action powerhouse Veronica Ngo (The Rebel, Star Wars: The Last Jedi) delivers a tour de force performance as an unassuming peasant woman who will stop at nothing to rescue her daughter from a ruthless trafficking ring. From Vietnam's luscious countryside to its gritty back alleys, former gang leader Hai Phuong (Ngo) runs, leaps, steals motorbikes and mercilessly trounces thugs in hot pursuit of her kidnapped child. Featuring fight choreography by stuntman extraordinaire Kefi Abrikh (Jason Bourne), and showcasing Ngo's talent in the dynamic Vietnamese martial art Vovinam, this is a hyperbolic adventure thriller not to be missed!
---
G殺
G Affairs
Lee Cheuk-pan, Hong Kong, 2018, DCP 105m
Cast: Chapman To, Hanna Chan, Kyle Li Yam San, Huang Lu, Alan Luk, Griselda Yeung
Cantonese with English subtitles
North American Premiere
Director Lee Cheuk-pan, actress Hanna Chan, actor Kyle Li Yam San in attendance (Introduction and Q&A)
A brooding cellist plays in his apartment. A policeman meets his prostitute lover next door. A head crashes through a window. Thus begins this myriad of strange stories that satellite around the bad cop's daughter, pretty and top of her class high school student Yu Ting. She is having an affair with her teacher while the cellist and an easily manipulated autistic man pine after her. As this menagerie of odd souls intertwines, the mystery unravels, reflecting the darker chasms of Hong Kong society. Lee Cheuk-pan's outrageous debut is the desperate scream of a bold and shocking new cinematic voice.
---
銃
The Gun
Take Masaharu, Japan, 2018, DCP 97m
Cast: Murakami Nijiro, Hirose Alice, Lily Franky
Japanese with English subtitles
North American Premiere
Murakami Nijiro (Destruction Babies) stars as Toru, an aimless college student who comes upon the aftermath of a murder scene one night, and without thinking, grabs the titular weapon. He takes it home and keeps it safely hidden away, but curiosity gradually begins to consume him. His budding relationship with a sunny fellow student suffers as his obsession grows, and he becomes reclusive. Then one day, a detective (Lily Franky, Shoplifters) turns up at his apartment and a dangerous cat-and-mouse game begins. Take Masaharu (100 Yen Love) adapts a prizewinning novel for this noir-tinged tale, shot mostly in luminous black-and-white.
---
寒單
Han Dan
Huang Chao-liang, Taiwan, 2019, DCP, 125m
Cast: George Hu, Cheng Jen-shuo, Esther Huang, Jack Kao
Mandarin and Taiwanese with English subtitles
North American Premiere | Uncaged Competition
Director Huang Chao-liang in attendance (Introduction and Q&A)
An upstanding young man commits a reckless act that ends in life changing tragedy. His doomed rival becomes his friend only to become his rival again. Set against the tradition where men seek atonement by submitting themselves to ritualized firecracker attacks (as effigies of the deity Han Dan) this film not only reveals unique aspects of Taiwanese culture but it's complex psyche as well. Featuring stunning cinematography and nuanced performances, Han Dan weaves universal themes into a novel, eye opening moral tale.
---
ハード・コア
Hard-Core
Yamashita Nobuhiro, Japan, 2018, DCP 124m
Cast: Yamada Takayuki, Satoh Takeru, Arakawa YosiYosi
Japanese with English subtitles
North American Premiere
Hirsute sad-sack Ukon (Yamada) and his only friend, Ushiyama (Arakawa), a kindhearted oddball, are hired by an aging nationalist to dig for the Shogun's buried gold, so he can restore Japan's Imperial honor. When Ushiyama finds a rusty old robot and Ukon's tech-savvy younger brother Sakon (Satoh) revives it, they name him Roboo and take him to work. Roboo is a gifted gold miner, but it's only when his friends are attacked one night that his true talents emerge, in a flash of blinding light. Yamashita's first sci-fi tinged tale is a mirthful drama about loneliness, male bonding, female lust and doing the right thing.
---
学区房72小时
If You Are Happy
Chen Xiaoming, 2019, DCP, 99m
Cast: Guan Xuan, Xu Xing, Fu Miao, Tu Hua
Mandarin with English subtitles
Actress Fu Miao in attendance (Introduction and Q&A)
In China parents buy homes in certain school districts at outrageous prices just to ensure a good education for their children. Professor Fu is desperate to sell his place in order to get such an apartment to guarantee his daughter's future. This real life drama is painted as an existential thriller, following Fu's dilemma with unseen obstacles at every turn. Bribery, infidelity, broken promises, and strict policy all conspire against Fu's quest for happiness. Through striking mise en scene and a vitriolic script built on cruel twists of fate, Chen Xiaoming's film delivers a surprisingly suspenseful critique of modern society.
---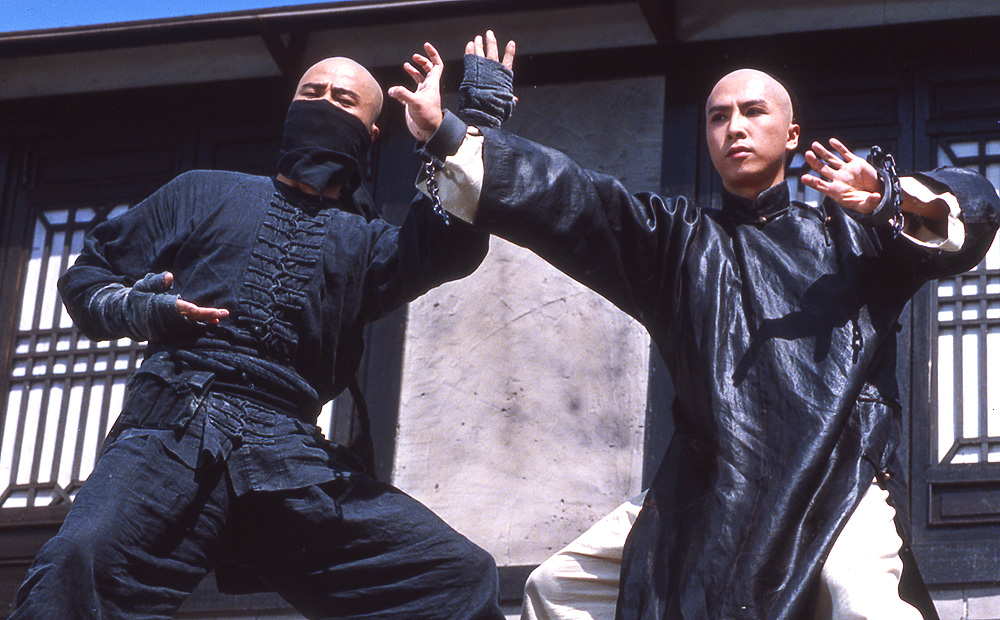 少年黃飛鴻之鐵馬騮
Iron Monkey
Yuen Woo-ping, Hong Kong, 1993, 35mm, 90 m
Cast: Donnie Yen, Yu Rongguang, Jean Wang, Angie Tsang, Yuen Shun-yi
Cantonese with English subtitles
This classic from the early 90's 'new wave' of old school kung fu films features Donnie Yen as Wong Kei-ying, father of real life master Wong Fei-hong. A Robin Hood styled hero known as the Iron Monkey is the scourge of the local government. When Wong Kei-ying is seen using his formidable fighting skills to defend himself from bandits he is accused of being the Iron Monkey and arrested. But when the real Iron Monkey reappears, the governor forces Wong Kei-ying to track down and fight the masked vigilante. Yuen Woo-ping outdid himself with taut direction and revolutionary fight choreography.
---
瘋狂電視台瘋電影
It's a Mad, Mad, Mad, Mad Show
Hsieh Nien Tsu, Taiwan, 2019, DCP, 103m
Cast: Ou Han Sheng, Lim Min Chen, Liu Kuang Ting, Na Dou
Mandarin with English subtitles
North American Premiere
The unscrupulous owner of Crazy TV sets out to lower the channel's ratings so he can sell it to mobster Mr. David for cheap and count his losses. He promotes failing producer Yeh to program director, and fires the staff. Yeh, his best friend, an aspiring actress and a team of interns create inventive DIY programs, from weird kiddie shows to offbeat celebrity homages. Surprisingly viewership grows, but the owner has something else up his sleeve. And then things get really crazy! This madcap farce is a glorious tribute to the spirit of creativity.
---
Jam
Sabu, Japan, 2018, DCP 102m
Cast: Aoyagi Sho, Machida Keita, Suzuki Nobuyuki, Akiyama Shintaro, Tsutsui Mariko
Japanese with English subtitles
North American Premiere
Director SABU in attendance (Introduction and Q&A)
Sabu's 18th feature is an absurdist dramedy driven by random chance and fateful encounters, as three characters inch closer to crossing paths. Hiroshi (Aoyagi, also in Mr. Long) is a small-time enka singer who dreams of global stardom; Takeru (Machida) is intent on doing good deeds to undo the bad one that put his girlfriend in a coma; and ex-con Tetsuo (Suzuki) is out for revenge against the yakuza gang that sent him to prison. Jam explores themes of fate and faith, guilt and retribution, coincidence and karmic payback before finally erupting into one of the cult director's trademark foot chases.
---
撞死了一只羊
Jinpa
Pema Tseden, China, 2018, DCP, 103m
Cast: Jinpa, Genden Phuntsok, Sonam Wangmo
Mandarin with English subtitles
U.S. Premiere
Stoic truck driver Jinpa picks up a silver dagger wearing hitchhiker in the desolate Kekexili plateau. The stranger suddenly reveals he's going to kill the man who murdered his father. After they part ways, Jinpa starts to reflect and goes looking for him, ostensibly to prevent further bloodshed. Pema Tseden's sixth feature, produced by Wong Kar Wai, boasts mesmerizing cinematography, striking mise en scene and a deceptively minimalist story for an existential road movie of spiritual transcendence. Dream and reality meld in this stark tale, its Tibetan locales conjuring the feel of a philosophical arthouse western.
---
꼭두 이야기
Kokdu: A Story of Guardian Angels
Kim Tae-yong, South Korea, 2018, DCP, 72m
Cast: Kim Su-an, Choi Go, Cho Hee-bong
U.S. Premiere
Composer Bang Jun-seok in attendance (Introduction and Q&A)
Director Kim Tae-yong (Late Autumn), composer Bang Jun-seok (Along with the Gods), and 20 members of the National Gugak Center's traditional Korean orchestra bridge art forms in a universal story of loss and redemption, steeped in Korean folklore. Melding fantasy and reality, the film incorporates an elaborate theatrical piece to celebrate Korean myths and traditions. After losing their grandmother's precious shoes, Su-min and her younger brother Dong-min accidentally fall into the netherworld where they encounter a mischievous band of kokdu, the mysterious guardians of the afterlife. Filled with music, dance and folklore, Kokdu is a once in-a lifetime FILM/CONCERT experience.
---
鈴木家の嘘
Lying to Mom
Nojiri Katsumi, Japan, 2018, DCP, 133m
Cast: Kishibe Ittoku, Hara Hideko, Kiryu Mai, Ryo Kase, Kishimoto Kayoko, Omori Nao
Japanese with English subtitles
North American Premiere | Uncaged Competition
Director Katsumi Nojiri in attendance (Introduction and Q&A)
Suzuki Koichi, a 30-something hikikomori shut-in, allows his mother to dotingly tend to his needs. When she discovers that Koichi has killed himself, the shock is so great she loses consciousness, and her memory of that day. Worried the truth might prompt a relapse, her husband and daughter lie to her. The fabrications just keep snowballing… until the family seems to implode with unspoken secrets. Lying to Mom marks an impressively mature debut by Nojiri, a longtime AD (for veterans Kumakiri Kazuyoshi, Toyoda Toshiaki, Hashiguchi Ryosuke and Ishii Yuya), who laces his tale with as much humor as grief.
---
MA
Kenneth Lim Dagatan, Philippines, 2018, DCP, 77 m
Cast: Anna Luna, Alessandra Malonzo, Enzo Osorio, Kate Alejandrino, Rafael Siguion-Reyna, Ian Curtis, Susan Africa
Tagalog with English subtitles | Uncaged Competition
International Premiere
Director Kenneth Lim Dagatan in attendance (Introduction and Q&A)
Two tragic stories of motherhood converge in a phantasmagorically macabre tale of loss, sacrifice and evil. After his mother dies suddenly, Samuel goes into a mysterious cave that claims to grant wishes and asks for his mother's life back. The cave wants something in exchange. Meanwhile, a childhood friend of Samuel's mother returns to town pregnant, reeling from her fiancé's suicide. She has what the cave wants so Samuel enlists his little brother and sister in a sinister plan to take it at any cost. Director Kenneth Lim Dagatan's chilling feature debut proves he was born to make horror films.
---
메기
Maggie
Yi Ok-seop, South Korea, 2018, DCP 88m
Cast: Lee Ju-young, Moon So-ri, Koo Kyo-hwan
Korean with English subtitles
North American Premiere | Uncaged Competition
Director Yi Ok-seop and Actor Koo Kyo-hwan in attendance (Introduction and Q&A)
A couple's hospital tryst is caught on X-Ray. Thinking she and her boyfriend are the ones in the compromising radiograph, nurse Yoon-young goes in the next day to resign only to find that everyone has called in sick except the head doctor. Meanwhile random sinkholes are appearing throughout Korea and her lazy boyfriend gets a job filling them in. Narrator Maggie keeps us abreast of these bizarre set pieces, and wait until you see who she is. Bursting with creativity, Yi Ok-seop's seemingly oblique and hilarious feature debut is an absurdist observation on believing in others as well as oneself.
---
葉問外傳:張天志
Master Z: The Ip Man Legacy
Yuen Woo-ping, Hong Kong, China, 2018, DCP, 108m
Cast: Max Zhang, Dave Bautista, Liu Yan, Michelle Yeoh, Tony Jaa
Master Yuen Woo-ping will receive the Star Asia Lifetime Achievement Award and will participate in an Introduction and Q&A
[premiere N/A]
In this exciting offshoot of the popular Ip Man series, Max Zhang reprises his role as the eponymous Master Z. After his defeat by Ip Man, Master Z leaves the martial arts world. However one day he runs afoul of vicious drug dealers who bring him back into the fighting fray. Soon tensions between Master Z and the dastardly hoodlums escalate into a ruthless rivalry leading to an inevitable final duel. Revolutionary kung fu movie director Yuen Woo-ping directs an all-star cast including Michelle Yeoh, Tony Jaa and Dave Bautista in this dynamic kung fu spectacular.
---
奇門遁甲
The Miracle Fighters
Yuen Woo-ping, Hong Kong, 1982, HD file, 95m
Cast: Yuen Yat-Choh, Leung Kar-Yan, Yuen Cheung-Yan, Brandy Yuen, Eddy Ko, Yuen Shun-Yi, Huang Ha, Tino Wong Cheung
Cantonese with English subtitles
Tribute to Master Yuen Woo-ping (with Master Yuen in attendance)
After practically inventing the kung fu comedy genre, director Yuen Woo-ping eventually added fantasy elements to the mix, starting with this absolutely batshit crazy cult classic. The loose and wild plot involves a Qing dynasty official in conflict with the emperor that results in both his wife and the prince dead. He finds another child and makes it look like he is the prince. At the heart of this is when the grown fake prince meets an odd bickering couple who practice kung fu magic and all sorts of wacky antics ensue. Non-stop martial arts zaniness, NOT TO BE MISSED!
---
恭喜八婆
MISSBEHAVIOR
Pang Ho-Cheung, Hong Kong, 2019, DCP, 88m
Cast: Isabel Chan, Dada Chen, Gigi Leung, June Lam, Yanki Din
Cantonese with English subtitles
[premiere N/A]
Singular auteur Pang Ho-Cheung strikes again with his brilliant combination of uproarious lowbrow gags and insightful humanism, a Chinese New Year movie whose literal title is "Congratulations Bitches." At its heart this freewheeling tale is about the profundity of true friendship, while on the surface it's a wild sitcom built around a desperate scavenger hunt for breast milk. Replete with sexual hang ups, mean girl feuds and literal bathroom humor, nothing is sacred in Pang's twisted but endearingly frank universe. So much so he even makes a cameo as a womanizer caught between a rock and a hard place.
---
돈
Money
Park Noo-ri, South Korea, 2019, DCP, 115m
Cast: Ryu Jun-yeol, Yoo Ji-tae, Jo Woo-jin, Kim Jae-young
Korean with English subtitles
New York Premiere
Director Park Noo-ri and actor Ryu Jun-yeol in attendance (Introduction and Q&A)
Actor Ryu Jun-yeol will receive the Screen International Rising Star Asia Award
Once upon a time street crime was the scourge of big cities and modern society. These days it's large scale white collar financial scams. Rising star Ryu Jun-yeol stars as a young aspiring stockbroker reaching for the golden ring, only to be shoved off his horse by an unscrupulous sociopath (Yoo Ji-tae, Old Boy). Money establishes a thrilling plot built around a devious scheme that serves as an indictment of avarice and materialism, as entertaining as it is illuminating.
---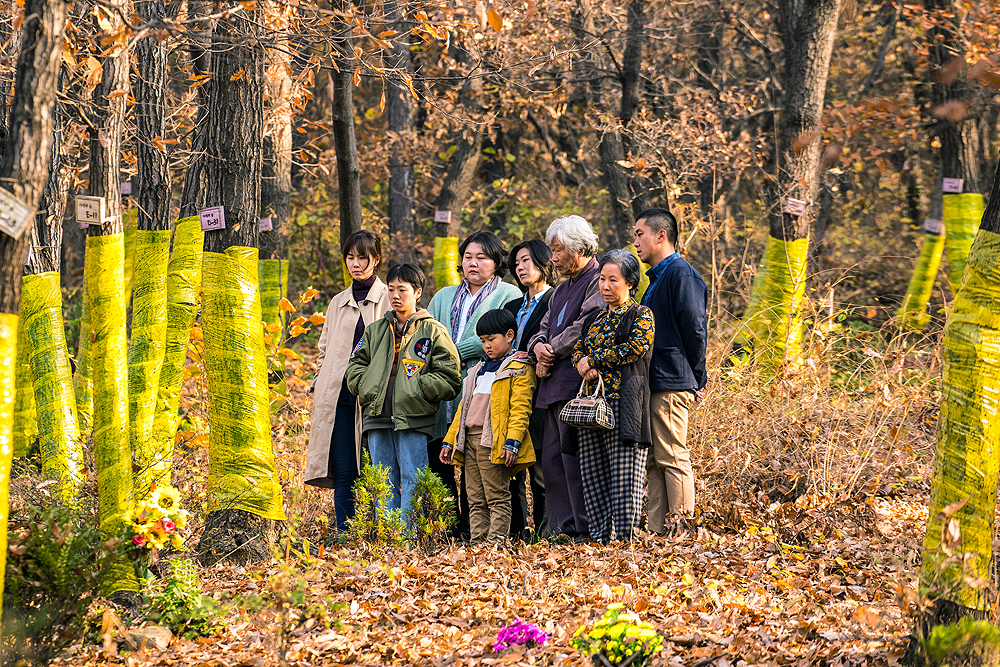 이장
Move the Grave
Jeong Seung-o, South Korea, 2018, DCP, 92m
Cast: Jang Ri-woo, Lee Sun-hee, Gong Min-jeung, Yun Geumseona, Kwak Min-kyu
Korean with English subtitles
International Premiere
A dysfunctional family is forced begrudgingly into an instant reunion when they have to move their father's grave due to construction. Four bickering sisters and one nightmarish problem child take a road trip from hell to the home of their surly uncle to settle accounts. From obnoxious to self-centered, rebellious and just beleaguered by life, there is nary a redeemable one in the bunch. This dark comedy of both manners and errors mixes astute social, psychological and even political observations with cringeworthy moments that escalate out of control. A candid critique of modern society as funny as it is cruel.
---
ミスター・ロン
Mr. Long
Sabu, Japan, 2017, DCP, 129m
Cast: Chang Chen, Aoyagi Sho, Yao Yiti, Bai Junyin, Masashi Arifuku
Japanese, Taiwanese with English subtitles
Director SABU in attendance (Introduction and Q&A)
[premiere N/A]
It's "like Chaplin meets Miike," a New York critic wrote about Mr. Long, and rarely has a film combined such punishing violence with such poignant humanity, working both as a hard-hitting actioner and a self-actualization tale. Long (Chang) is a Taiwanese hitman whose exceptional artistry with his 6-inch knife is as legendary as his reticence. When a job goes wrong in Tokyo, he takes refuge in a rundown neighborhood and befriends a little boy. Soon, his cooking skills earn him a local following, and he puts his knife to use cutting up food rather than people. But the mob is never far behind.
---
기묘한 가족
The Odd Family: Zombie on Sale
Lee Min-jae, South Korea, 2019, DCP, 112m
Cast: Jung Jae-young, Kim Nam-gil, Uhm Ji-won, Lee Soo-kyung, Jung Ga-ram, Park In-hwan
Korean with English subtitles
North American Premiere
A rogue zombie gets way more than he bargained for after running afoul of the peculiar and opportunistic Park family. They own a rural gas station and survive more on tourist traps of their own design than bona fide repair work. When the Park patriarch regains youthful vitality after a zombie bite, the get rich quick light bulbs go off. As the plague spreads, the more than eccentric Parks rely on outrageous feats of ingenuity to conquer the undead in hopes of turning a profit. Director Lee Min-jae's action-packed and self-referential debut takes everything to task with uproarious abandon.
---
นรก 6 เมตร
The Pool
Ping Lumpraploeng, Thailand, 2018, DCP, 90m
Cast: Theeradej Wonguapan, Ratnamon Ratchiratham
Thai with English subtitles
North American Premiere
A nap on a rubber raft in a twenty foot deep swimming pool turns into a nightmare for a young couple after an unfortunate series of events puts their lives in danger. Filled with dark humor, nail biting thrills and seething with emotional turbulence, writer-director Ping Lumpraploeng's film turns a seemingly mundane situation into an existential obstacle course as the protagonists face the greatest challenge of their lives. With a surprising element of suspense and metaphoric resonance, The Pool brings a fresh new style of thriller to Thailand.
---
狗眼看人心
Push and Shove
Wu Nan, China, 2019, DCP, 91m
Cast: Huang Lei, Yan Ni, Tang Wei, Francis Ng
Mandarin with English subtitles
North American Premiere | Uncaged Competition
Director Wu Nan in attendance (Introduction and Q&A);
Well-off screenwriter Yu Feng's cute little dog is viciously attacked by the hefty Tibetan Mastiff from next door. Perturbed and undeterred by both the police's apathy and the neighbor's reluctance to settle the matter properly, Yu Feng and his family embark on a complex war of attrition. What starts as a quest for justice devolves into a farcical yet fierce feud replete with gangster style tactics and stealthy schemes that result in slapstick. Inspired by a real incident, screenwriter Wu Nan makes her triumphant directorial debut with this scathing, insightful and often hilarious exposé of contemporary social mores and social class warfare, in a literal dog-eat-dog tale.
---
항거:유관순 이야기
A Resistance
Joe Min-ho, South Korea, 2019, DCP, 105min
Cast: Ko A-sung, Jeong Chun-young, Ryu Kyeong-Soo
Korean with English subtitles
North American Premiere
1919: 17 year-old schoolgirl Yu Gwan-sun (Ko A-sung) is thrown in jail. Yu isn't just any girl, she's a fierce independence fighter and a leading figure of the March 1st Independence Movement. This is the story of her captivity in Seodaemun Prison in Japan-ruled Seoul, where she and other women are forced to live in the squalor of a 100 square feet prison cell. Days of torture and deprivation does not strip her dignity. Undaunted, Yu Gwan-sun urges and inspires the female inmates of Prison Cell #8 never to lose hope, no matter how great the afflictions thrust upon them.
---
;
肋骨
The Rib
Wei Zhang, China, 2018, DCP, 85m
Cast: Jingyi Huang, Weijie Yuan, Deng Gao, Hao Meng
Mandarin with English subtitles
North American Premiere
32-year-old designer Huanyu knows he is a woman born as a man and has a support system of transgender friends, doctors and his straight best friend/roommate. However sex reassignment surgery legally requires parental approval and Huanyu's pious Christian father sees this as a deadly sin. This breakthrough film illustrates the intense stigma and obstacles that the LGBT community must face in China, offering an inside look at both the marginalized and those who condemn them. Striking black and white cinematography with an occasional glimmer of color underlines both the authenticity and hypocrisy portrayed in this stinging real-life drama
---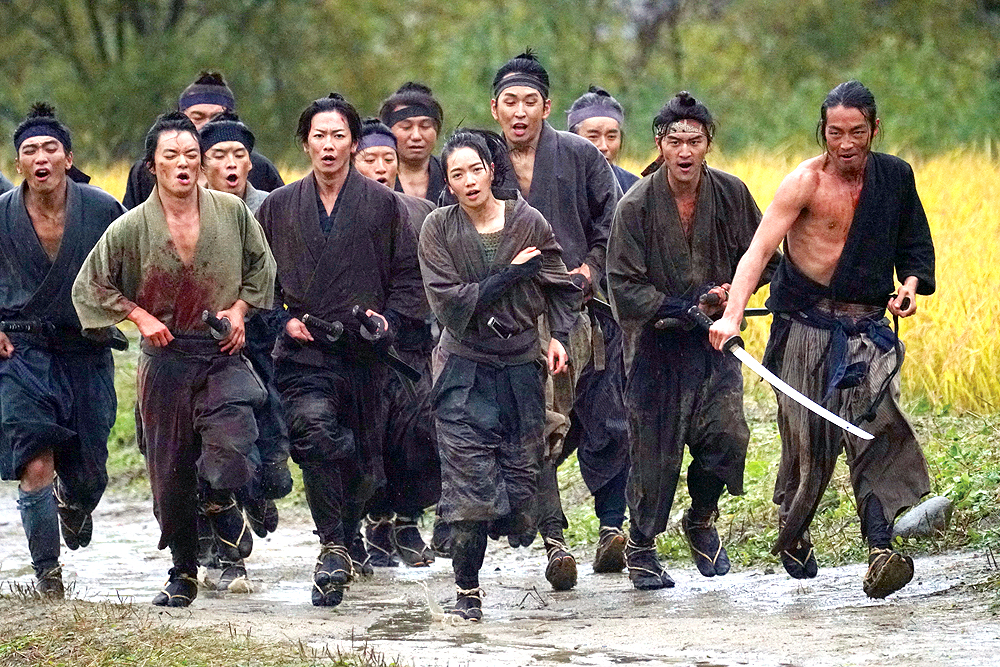 サムライマラソン
Samurai Marathon
Bernard Rose, Japan, 2019, DCP, 100m
Cast: Satoh Takeru, Komatsu Nana, Moriyama Mirai, Sometani Shota
Japanese with English subtitles
Opening Film | North American Premiere
Director Bernard Rose and Komatsu Nana in attendance (Introduction and Q&A)
Actress Komatsu Nana will receive the Screen International Rising Star Asia Award
British director Bernard Rose (Immortal Beloved), producer Jeremy Thomas and composer Philip Glass bring Japanese history to exhilarating life with this lavish jidaigeki, set against the 1850s arrival of the infamous "black ships" that brought an end to Japan's centuries of isolation. When feudal lord Itakura Katsuakira decides to prepare his samurai troops for the onslaught of modernization by having them compete in a marathon, his independent-minded daughter Yuki (Komatsu Nana in a breakout role) secretly joins the race. Things get complicated when the shogun's spies mistake the run for an uprising, and send a squad of assassins to quell it.
---
雪暴
Savage
Cui Siwei, China, 2018, DCP, 112m
Cast: Chang Chen, Ni Ni, Liao Fan, Huang Jue, Liu Hua, Zhang Yicong, Li Guangjie
Mandarin with English subtitles
A cop waiting for his transfer, a trio of vicious thieves after a hidden trove of gold, a beautiful doctor held hostage, a local guide turned traitor: these stock characters come vividly alive in the propulsive directorial debut of screenwriter Cui Siwei (The Island). By turns droll and deadly, the film begins with an avalanche of logs atop Mt. Baekdu on the China-North Korea border, triggering a taut cat-and-mouse game as the snowfall of a lifetime rolls in. Chang Chen plays the courageous cop to Liao Fan's callous criminal, in a viscerally thrilling showdown between good and evil… and man and blizzard.
---
狂徒
The Scoundrels
Tzu-Hsuan Hung, Taiwan, 2018, DCP, 104m
Cast: Kang Ren-wu, JC Lin, Hsin-Ying Hsieh, Nana Lee, Frederick Lee, Jack Kao
Mandarin with English subtitles
North American Premiere
Promising basketball star Wen Rui lost it all when he beat a spectator in a fit of rage. Now he barely gets by working shady part time jobs. One night while trying to help an injured woman, he is hijacked and framed for robbery. Inextricably entwined with the real culprit, and haunted by a public that thinks he's to blame, Wen Rui falls into a downward spiral of crime, treachery and violence. Known for his intricately choreographed short films, director Tzu-Hsuan Hung makes his electrifying feature debut with this taut action-packed thriller, marking him a talent to watch.
---
擺渡人
See You Tomorrow
Zhang Jiajia, China, 2016, DCP, 128 m
Cast: Tony Leung Chiu-wai, Takeshi Kaneshiro, Eason Chan, Angelababy, Sandrine Pinna, Du Juan
Mandarin with English subtitles
North American Premiere
While most reviewers hated the film and buried it deep, NYAFF, faithful to its tradition of boldly going where no festival dares, unearths this most unrepentant cinematic celebration of bar culture and its attendant emotional wreckage. Like a drunk version of Wong Kar-wai's classics, but set in his birthplace of Shanghai instead of Hong Kong, it has the Master's signature slashed all over it, with the pop philosophy and cooler-than-thou retro melancholy that defined Wong's earlier films, but in a stunningly bizarre yet gorgeous package. A journey that defies meaning, where lost souls never quite find themselves or each other.
---
Signal Rock</strong
Chito S. Roño, Philippines, 2018, DCP, 127m
Cast: Christian Bables, Daria Ramirez, Nanding Josef, Mon Confiado, Elora Españo
Tagalog with English subtitles
New York Premiere
Intoy lives in Biri, a small island town where he is the community factotum. His family barely makes ends meet thanks to the money his sister sends from Finland where she's been working for years. When she suddenly leaves her abusive husband, Intoy pulls every favor he can to help her win custody of her daughter. What starts as a small slice of island life expands into a moving depiction of perseverance in a place where the only hope for women is to work in a bar or marry a rich foreigner and the men must grin and bear it.
---
真愛神出來
Someone in the Clouds
Mitch Lin, Gary Tseng, Taiwan, 2018, DCP, 100m
Cast: Austin Lin, Jian Man Shu, Phoebe Huang, Jordan Chan, Yao Yi Ti, Steven Hao
Mandarin and Taiwanese with English subtitles
International Premiere
Directors Mitch Lin and Gary Tseng in attendance (Introduction and Q&A)
Hsiao-pei carries on her family's fortune telling tradition, almost exclusively giving young women love advice. She also runs her college's tarot club through which she meets the playfully cocky Chiung-nan, who uses the cards to ask her out. A hilariously rocky romance ensues, replete with a clumsy seduction, an unexpected fire and both figurative and literal ball busting. A host of characters around them add to the fray on their search for the meaning of true love in this hysterical upheaval of the romcom where things are not always as predictable as they may seem.
---
Song Lang
Leon LE, Vietnam, 2018, DCP,102m
Cast: Issac, Lien Binh Phat, Kiều Trinh
Vietnamese with English subtitles
New York Premiere
Director Leon Le and Kiều Trinh in attendance (Introduction and Q&A)
1980s Saigon never looked more glorious than it does as the backdrop for this mesmerizing musical melodrama, director Leon Le's award-winning debut. When ruthless debt collector Thunderbolt demands an overdue payment from a Cai-luong folk opera company, male star Linh Phung is immediately drawn to him. As their paths continue to cross, initial misconceptions melt away, and Thunderbolt reveals he, too, was raised in the Cai-luong tradition. The gangster and the singer gradually discover they are kindred spirits in this amber-hued, stunningly lit and photographed, beautifully performed story of soul-wracking regret and aching love.
---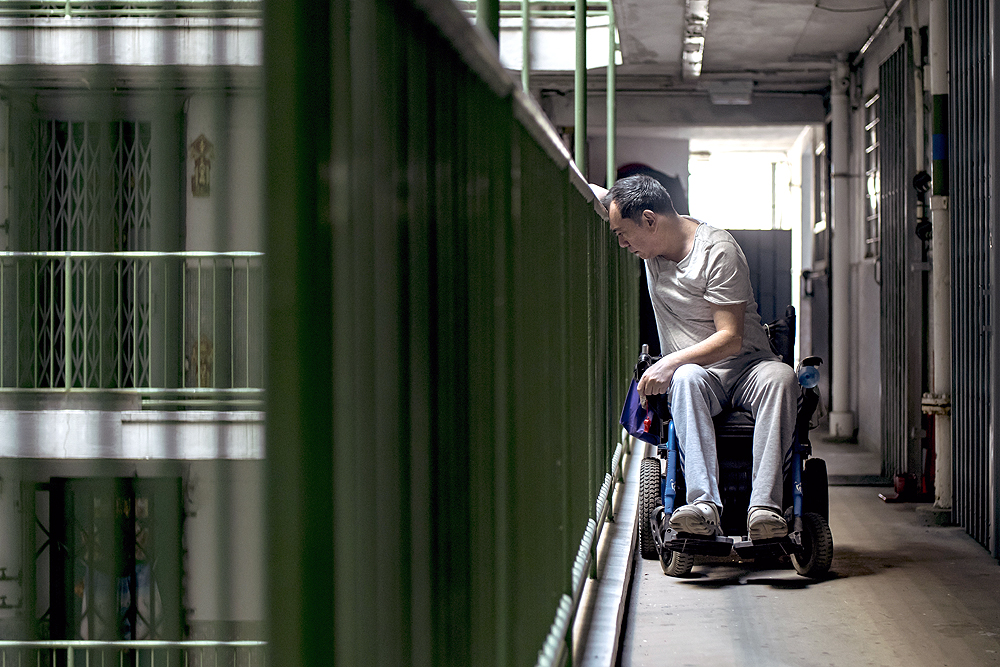 淪落人
Still Human
Oliver Siu Kuen Chan, Hong Kong, 2018, DCP, 111m
Cast: Anthony Wong, Crisel Consunji
Cantonese, Tagalog, English with English subtitles
New York Premiere
Actress Crisel Consunji in attendance (Introduction and Q&A)
A gruff wheelchair-ridden divorcé (Anthony Wong, Infernal Affairs) hires his umpteenth caretaker (Crisel Consunji), a Filipina who has put her dreams on hold to earn a living in Hong Kong. Despite not speaking Cantonese she gradually breaks through his rough exterior and the unlikely duo from vastly different cultural backgrounds begin to embrace their lives together through various ups and downs. This inspiring debut feature from director/ scriptwriter Oliver Siu Kuen Chan, (and produced by Fruit Chan), surprises and charms with its universal blend of humor and pathos. It also shines an important light on the often invisible, marginalized communities and citizens of Hong Kong, highlighting diversity and humanism.
---
영하의 바람
Sub-Zero Wind
Kim Yu-ri, South Korea, 2018, DCP 110m
Cast: Kwon Han-sol, Ok Su-boon, An Jin-hyun, So Eu-jin, Moon Sung-an
Korean with English subtitles
North American Premiere
Kim Yu-ri's ambitious and incredibly moving feature debut follows two girl's tumultuous adolescence over three separate time frames, from age 12 – 19. After Young-ha's father abandons her she continues living with her struggling mother and stepfather. Her cousin and best friend Mi-jin is similarly bounced around and the two form an inseparable bond as they navigate the challenges of growing up with less than reliable adults as their caregivers. Sub-Zero Wind takes on myriad issues with refreshing candor as it subtly unfolds a complex cautionary tale of parents acting badly and children fighting the odds to survive on their own.
---
The Secret Screening:
Shaolin Jazz x The Secret Hong Kong Screening … and the Uncaged Awards Night!
Shaolin Jazz will perform the live soundtrack!
Conceived by Gerald Watson and produced by DJ 2-Tone Jones, SHAOLIN JAZZ – The 37th Chamber is a testament to the stylistic connections between both Jazz and Hip-Hop. It is a mix project whereby various Jazz songs and breaks are fused with a cappellas and vocal samples from the iconic Hip-Hop group Wu-Tang Clan. The music and lyrics are astutely crafted to match both in cadence and tone, with the Jazz selections used also helping to further accentuate the essence and intensity of the Clan.
---
The creators of SHAOLIN JAZZ proudly present a unique film experience catered to the lovers of Kung-Fu flicks, the music they inspired and everything else in between — CAN I KICK IT? At each event cult classic martial arts films are screened and scored (scene-by-scene) with a blend of Hip Hop, Soul, Funk and more mixed live by DJ 2-Tone Jones. The result is a live, remixed soundtrack to the movies using music and DJ techniques to accentuate elements of specific scenes and fighting sequences. SHAOLIN JAZZ brings their unique CAN I KICK IT? performance to this year's NYAFF secret screening.
---
The Terror: Infamy
Josef Kubota Wladyka, U.S., 2019, 50m
Cast: Derek Mio, Kiki Sukezane, Shingo Usami, George Takei, Naoko Mori, C. Thomas Howell
World premiere
As TV and film increasingly converge, NYAFF premieres, ahead of its August 12 broadcast, The Terror: Infamy. The haunting second season of the horror-infused anthology centers on a series of bizarre deaths that haunt a Japanese-American community during World War II. Starring Derek Mio, Kiki Sukezane (Lost in Space, NYAFF 2018 jury), Shingo Usami (Unbroken) and the renowned George Takei (Star Trek). An AMC Studios production, co-created and executive produced by Alexander Woo and Max Borenstein, with Woo also serving as showrunner. Ridley Scott, David W. Zucker, Alexandra Milchan, Scott Lambert, Guymon Casady and Jordan Sheehan serve as executive producers.
---
合群路
Uncle and House
Luo Hanxing, China, 2018, DCP 90m
Cast: Gao Zhen, He Kaidi, Zhang Ximing, Yang Yanhui, Sun Junzhe
Mandarin with English subtitles
International Premiere
Director Luo Hanxing and actors Gao Zhen, He Kaidi, Zhang Ximing, Yang Yanhui, Yang Xiao in attendance (Introduction and Q&A)
Luo Hanxing's cheeky feature debut follows a 100 Yuan bill around from character to character in a close-knit Chinese town. We first meet a highly educated loan shark and his minions chain smoking and drinking their unwilling host's tea in a hilariously sardonic set piece. Soon one of their scams ignites a series of coincidences that connect them to an 11-year-old love sick hypochondriac, a local shopkeeper, and many other quirky folks. This jaunty story offers a ground level view of life in modern China, far removed from tourist attractions, highlighting instead the new generation's relationship with money.
---
雙魂
Walk With Me
Ryon Lee, Malaysia, 2019, DCP, 91m
Cast: Michelle Wai, Alex Lam, Anna Ng, Richard Ng, Yu Wu Qi, Emily Kwan
Cantonese with English subtitles
International Premiere
This dynamic Malaysian horror film melds tragic melodrama with startling supernatural and psychological elements. Starting as a story of a bullied young female factory worker, the film amps up its frightening tropes as it gradually escalates into a feverish nightmare. An evil boss, an abusive father, a sibling's mysterious death, creepy dolls, ghost children and blood chillingly violent set pieces all come together both viscerally and metaphorically in a brooding tale of repression and the dark side of human nature.
---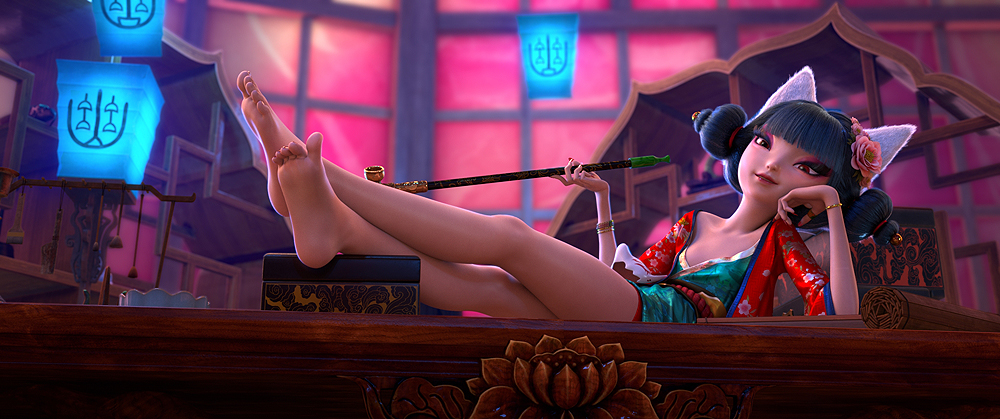 白蛇:缘起
White Snake
Amp Wong, Ji Zhao, China, 2019, DCP, 95m
Voice: Zhe Zhang, Tianxiang Yang
Mandarin with English subtitles
North American Premiere
A young woman who lost her memory is helped by a snake catcher. In their quest to find her identity, overcoming multiple dangerous obstacles, they gradually develop feelings for one another but, just as the truth comes close, disaster looms…
This story is a prequel to the famous Chinese folktale 'Legend of the White Snake', putting a twist on the shape-shifting white snake story, before she meets her human lover. Embarking on a journey into the fantasy world of wuxia romance, with striking visual effects, spectacular scenery and huge box office success, White Snake surely sets a new golden age for animated Chinese cinema.
---
冬去冬又来
Winter After Winter
Xing Jian, China, 2019, DCP, 110m
Cast: Yan Bingyan, Gao Qiang, Liu Di, Yang Fan, Zhang Zhiyong, Hibino Akira
Mandarin with English subtitles
North American Premiere
A masterful one take sequence effortlessly presents the film's milieu – the Japanese occupation of Manchuria circa 1944 – as well as its basic premise – an aging father's attempts to maintain his family line despite this threat. With all able bodied men being forced into labor by the Japanese, he will stop at nothing to ensure his daughter-in-law produces a male heir. This sets the stage for an elaborate plot of subterfuge, encapsulating the struggle to persevere against oppression. Exquisitely shot in b & w, Winter After Winter brilliantly lays bare the intricacies of the human spirit.
---
武林孤儿
Wushu Orphan
Huang Huang, China, 2018, DCP, 121m
Cast: Jin Jingcheng, Hou Yunxiao, Liu Zhihan, Shi Zhi, Ma Zhongshan, Wang Shuilin
Mandarin with English subtitles
North American premiere
Director Huang Huang and actress Liu Zhihan in attendance (Introduction and Q&A)
In the late 90's, wet behind the ears Lu Youhong takes a job teaching Chinese at a remote martial arts academy. His many students could care less for academics except for Zhang Cuishan, who excels at schoolwork but hates martial arts, and is bullied for it. As Lu tries to form a helpful bond with Zhang, he also develops a crush on the school's pretty young doctor, while learning inadvertent life lessons from the principal's quirky son. Huang Huang's evocative feature debut is a beautifully poetic paean to the bittersweet pangs of growing up at all stages of life.
---
Zombiepura
Jacen Tan, Singapore, 2018, DCP, 82m
Cast: Alaric, Benjamin Heng, Joey Pink Lai
Mandarin and English with English subtitles
North American premiere
Director Jacen Tan in attendance (Introduction and Q&A)
Kayu is the laziest soldier in Singapore's army reserves. He fakes illness to get out of drills while also trying to avoid the wrath of his by the book commanding officer. But when a zombie virus suddenly breaks out on base, these two diametrically opposed personalities find themselves teaming up together along with an odd assortment of wacky characters to fight for survival against a troop of the undead. Singapore's first zombie movie, with its deliciously distinct local flavor and rat a tat pace, is a hilariously irreverent send up life in the island city-state.