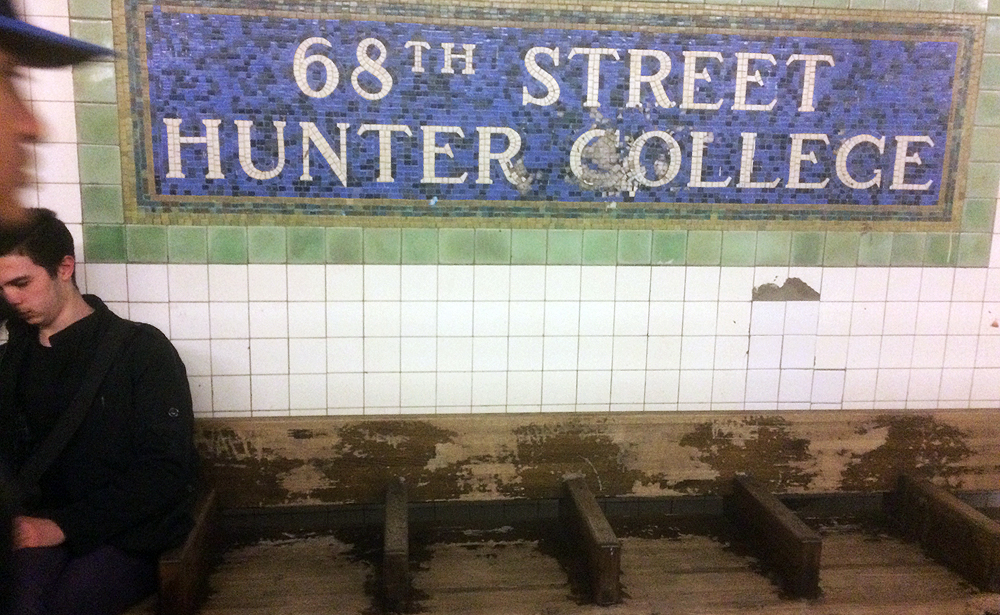 Article by Caroline Ash
When Hunter started its fall semester Monday, August 28, Jamie Davis, a British student in her third semester of the CUNY Baccalaureate for Unique and Interdisciplinary Studies program, popularly known as the CUNY BA program, she was taking a break from class when she interviewed outside of the third-floor students' lunchroom in the West Building. "My first week was a bit hectic and I had some trouble with registration due to one minor issue that cascaded into a larger one," said, Davis, wearing a dark jacket over a long shirt with black jeans, her hair tied back away from her face. She was one of several people interviewed about their early weeks of the semester as part of a series of WORD stories about the campus starting its new academic year.
Davis missed registering for some classes, and had to do some last minute juggling to make her class schedule work. "Other than that, I got to see faces that I hadn't seen since the end of last semester, and I got to meet some new and interesting people," she said.
Hunter is often described as one the most diverse of CUNY's four-year colleges. It's been estimated that more than 50 languages other than English and many dialects are spoken at the college which has more than 25,000 undergraduate and graduate students on its many campuses around Manhattan. The main campus is located at 68th Street and Lexington Avenue.
Students must wisely plan their class schedules in advance to make sure the courses they need for their degree are available. Davis mitigated this challenge by enrolling in the CUNY BA which allows students to take classes at difference CUNY colleges while having one college as their home base. Hunter is her home base. As a matter of fact, CUNY BA students can mix and match any disciplines to reach their academic goals. Speaking about her studies, she said, "One major has an interdisciplinary focus on literature and music from a historical perspective, while the other is a focus on linguistic anthropology, cultural linguistics and cognition. I plan on going to grad school to study cognitive linguistics or neurolinguistics, as well as some further studies in cultural anthropology, specifically language acquisition and transmission."
College life can be very invigorating for students who have plans and can stick with them. On the other hand, there can be a down side for students studying so much that it increases stress that can negatively affect their social lives and their health.
The hurricanes striking Texas, the Caribbean, Mexico and Puerto Rico were on students' minds. Davis recalled how New York was struck last year and said that it could be hit again. "It is maddening and frightening, especially given the lack of control one has over such things. I do feel very badly for the people whose entire lives have been destroyed, and feel so very much grateful for all the fortune I have, but I do not think that this precludes us from future weather events, which may have a significant impact on our daily world," she said.
Regardless of the bad weather, "Hunter," she also said, "was a nice place and healthy with an eclectic mix of people and study opportunities. The campus is centrally situated, which is good for me, but I do wish the lifts weren't so dreadful" At this point, Hunter has several elevators out of commission in the North Building where students trying to get to classes can face this challenge in its own right. Barbara Laurie, a transfer student from BMCC, wearing a green sweater over black pants, was on her way to class when she was interviewed about her first few weeks at the college. She said she enjoyed music and was thinking about becoming a music major because she has been performing professional for many year and Hunter just might be the place for her to get her big break.
So, why a music degree now? "A degree in music would get me more work in different fields of music where I could utilize all my music skills, like sight singing and, theory," she said. "I'm just going to take one class this semester, and just deal with my class and my new job, which has given me a new lease on life. I'm still deciding how I feel about Hunter, I've just started taking classes in the spring semester, but I have had a great experience in my performance classes." Lauri expressed concerns about Hunter "I would like to see a change in the degree status. The bachelors in music, for example, seems to only apply in classical music and all other genres in the department fall under Bachelors of Arts."
Pricilla Owens, an adjunct professor in the music department, teaches music theory, jazz ensemble and gives private performance classes to students receiving music scholarships, also works as a professorial singing artist when not working at Hunter.
Professor Owens was on her way to class when she was interviewed. "My first full week of school was pleasant in some ways and unpleasant in others. It is always a pleasure to meet new students and talk about their expectations for the coming semester" she said. "It was also unpleasant because I am recuperating from surgery and have difficulty getting around. My usual class, the Jazz Vocal Workshop, was cancelled and students had to sign up for it as an independent study. Many students did not know this beforehand, and some, unfortunately, will miss out this semester. Also my classrooms were freezing, not for my theory class, however, but my voice lesson studio and my large rehearsal studio were uncomfortably cold." Each building at the college seems to have its own temperature and this complaint has been going on for years.
Owens described her teaching goals. "In our syllabi, we professors must list specific course objectives. But on a less formal note, let me just say I hope to teach my students not to be musical jackasses," she said. "Seriously, I hope my students' experience in my classes lead them to further exploration in the performing arts. I have several outside performances I am prepping and I'd like to involve some of my students in concerts outside of Hunter. I've done so in the past with excellent results. I'm also exploring the possibility of recording some of the Jazz Vocal Workshop's arrangements."
The professor also shared her view about the hurricane season. "Anyone who still thinks there's no such thing as climate change may want to reconsider that position. Immediately. Climate change can be viewed from different perspectives." she said. "Which type? "Political? Social? Climate based? If you think about it, we are in a period of upheaval in all those areas."
How long has she been teaching at the college? "Wow" she said. "I'll have to double check with human resources! Yes, it's been that long. I went from a second degree BA student at Hunter to grad student to assistant to the jazz director to teaching the Jazz Vocal Workshop. It's been somewhat of a seamless transition, so the years I've spent at Hunter sort of blend together. There should be more interaction between disciplines. A college education is supposed to provide you with a well-rounded education in addition to showing you the possibilities for a single career. The music, theater, and dance departments collaborated in a wonderful production of "Blood Wedding" last semester. Students need to experience more connections with areas outside of their chosen major."
This writer who is a part-time student and a full time staff member working in student advising can say that the first few weeks of chaos can settle into a productive and exciting semester if a student or faculty member has a plan.
Caroline Ash can be reached at moodylove69@yahoo.com