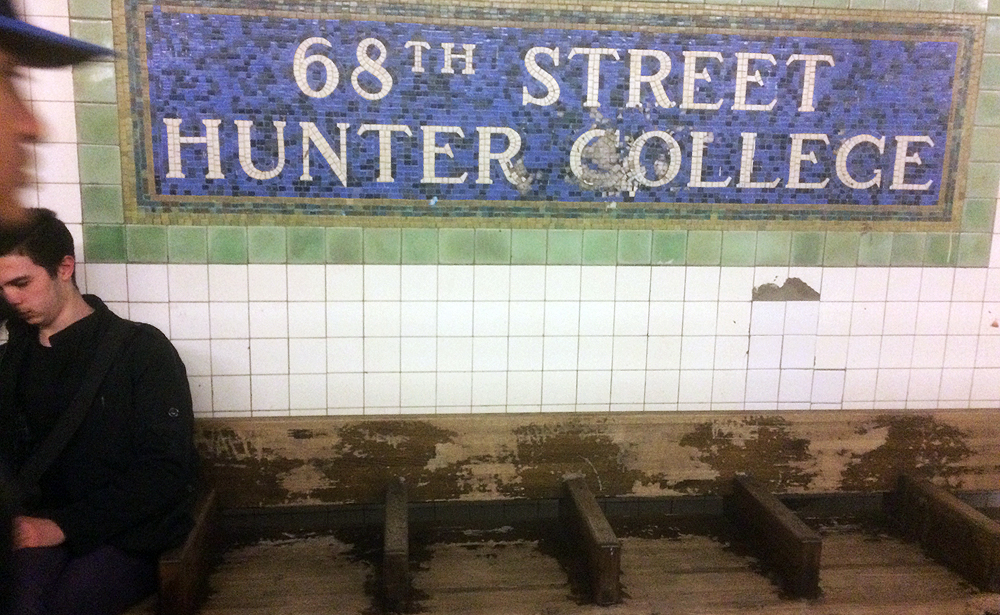 Article by Kristine Vivar
Three students – Farhan Chowdery, 22, a senior and psychology major, Ummay Zahan Amina, 18, a freshman and fulltime biology major and Klodiana Shehu, 42, a junior majoring in Italian – were interviewed for their opinions and observations about the first few weeks of classes at Hunter, one of several WORD articles about the beginning of the semester. College life, as everyone knows, can be challenging. Increasing costs of higher education because of rising tuition, student fees and associated costs like transportation, intemperate weather, mass transit snafus because of delays and violence and equipment failure, and peer pressure are just some of the challenges that students commuting to this campus can face.
There also have been recent national reports about increases in the numbers of college students diagnosed with depression and anxiety. Working students face extra hurdles, with some juggling two or three part-time jobs just to say ahead. Chowdery, Zahan Amina and Shehu, however, said things for them have been on the up and up for the early weeks of this semester though Chowdery, said in her interview that the semester was moving too fast.
A full-time student who works part-time at Borough of Manhattan Community College, she was sitting on the raised floor vent along the third-floor sky bridge closer to the North Building and enjoying the view while sipping coffee. Wearing a purple scarf that served as Hijab, light-colored knitted long-sleeve shirt, dark grey pants, black flats, light gold watch, and a satchel with CK logo in black and white, she was startled at first when approached by this reporter but relaxed once the interview began.
Chowdery grew up in Bangladesh and earned her associates degree in psychology at Borough of Manhattan Community College in lower Manhattan. Chowdery has been working at the admissions office 10 hours a week for the past three years. She's taking four classes this semester. "I feel like this semester is going too fast. I have an exam on September 20 and an essay to be submitted soon," Chowdery said at the time of the interview.
"I study at home or go to the library," Chowdery said, describing how she juggles the responsibilities of full-time studies and work. She brings her own food to work or buys from the casual food joints near campus. "Study hard and work hard," she said, responding to a query about her advice to students who want to get ahead.
Around 11:30 in the morning of September 19, 2017, Amina was killing time on the third floor of the North Building where she was sitting on the floor and fiddling with her smartphone. Amina grew up in Bangladesh, but moved to Queens just a couple of years ago. Amina, 18, has two siblings, Omar, 14, and Sarah, 4. During the past summer, Amina went to parks in Manhattan with her siblings as well as to an apple garden in Long Island with her family, she said. She is a full-time student taking five classes: Anthropology, music, Greek and Latin languages, economics and English. English is her favorite subject because the class is very good and the professor is cool, she said. Amina decided to stay focused on her studies instead of dividing her attention with work, but she also gave herself a chance to join a medical club with a mission to promote health. "We will go to different high schools and there we will do a talk about health," said Amina.
Amina also said, "I feel excited and scared at the same time about joining the club." Why? "Because I don't know what to tell and what I have to do. But yes, they are going to teach us. They will email the members to inform when the activity will commence." Pursuing a degree in biology was not Amina's choice, it was her father's. Amina preferred to study computer science. Why did she give into her father's wishes? To make him happy, she said. It is the custom in many Asian families for the parents to plan for their kids lives, especially their career paths and push them to pursue legal, technical and medical careers.
"I know it's confusing. It was my father's dream before, but now, it's my dream," said Amina. Her advice to students: "Focus on studying; think about what you have to do next – focus on your dream."
On the same day of Amina's interview, Shehu was walking hurriedly along the sky bridge of the North Building to go to work. Shehu wore a white graphic shirt, pair of jeans, prescription glasses, and a tan purse with her. Shehu, 42, single, and a junior, is taking Italian as her major to help her career in journalism in her home country, Albania. "Cause if you know more than one language, you will be able to interview more people and you will be able to handle different people," she said. An article published in the Guardian reports that researchers believe that "being bilingual works wonders for your brain."
Shehu is a transfer from a private college where she earned an associate's degree in computer science but switched majors when she got here. Last spring semester, she made the Dean's Honor List while taking 13 credits. This fall semester, Shehu is only taking six credits because she started working at Lenox Hill Neighborhood House as a part-time assistant teacher for kids ages 5-12. She said she believed that she has to "study more than the [native] people here because my English is not very good and I am going to improve on that," Shehu said.
"If you learn and you focus and study many hours, you can achieve," she said, responding to a query about her advice to students who want to cruise in the fast lane.
Kristine Vivar can be reached at Kristine.Vivar76@myhunter.cuny.edu