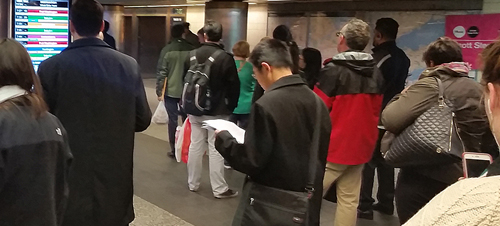 Article by Kara Paternostro, May 30, 2016
Time management should be an essential tool for students juggling classwork, studies, extracurricular activities, relationships, jobs, internships and family responsibilities, especially if they must commute long distances.
"You really have to plan your time," said Julia Beach, a 21-year-old media studies major. Commuting has "definitely improved my time management skills." Beach, a full-time student, commutes to campus five days a week from Chappaqua, New York, located in Westchester County. Her trip takes her about an hour; she spends about 45 minutes on the Metro-North Railroad and about 15 minutes on the subway.
During an interview in mid semester on the fifth floor of the West Building, Beach estimated that she spent roughly $400 a month, and around $1,600 a semester on her commute. Despite the expense, Beach said, she "definitely likes living at home better, although the commute is annoying." She previously lived in an apartment on the Upper East side for two years before moving back home with her dad in Westchester. She described life in the Big Apple as "super lonely" and "completely isolating." [Pictures of Julia Beach and commuters by Kara Paternostro.]
U.S. Senator Charles Schumer, Democrat, New York, announced proposed legislation last October to help college students who commute to school. His program proposal would increase federal funding for transit agencies that offer discounts to college students, according to a CBS story.
"I feel like I could be so much more productive with my time, but I don't have it," said Phoebe Kwak, a full-time student who lives in Flushing, Queens. Kwak, 22, said her commute takes her an hour and that she has to schedule her classes to account for her long trip. She takes the Long Island Railroad to Penn Station then two subways to get to campus. "Because I have to catch the train, I never stay to chat or get to know my classmates," she said.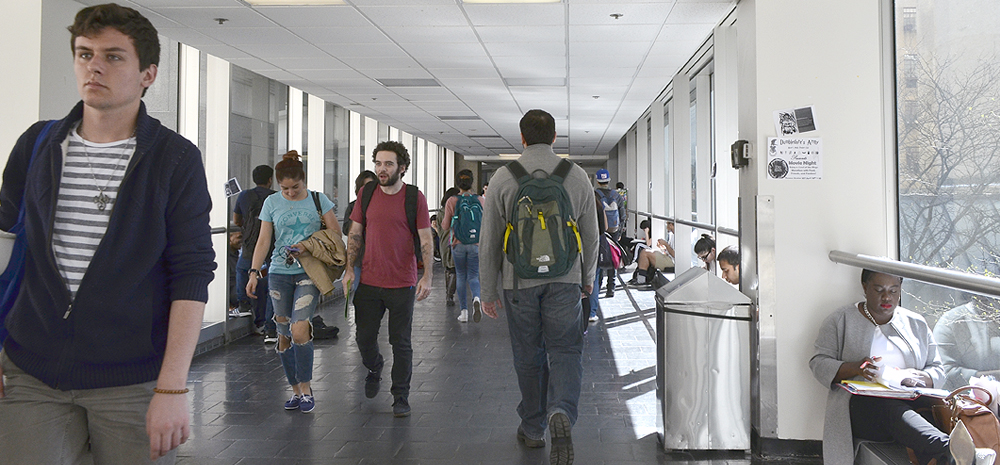 Hunter had 16,550 students, 61 percent from the city, 30 percent from New York State (including the city), 5 percent from other countries, 3 percent other states, according to its 2015 demographic stats. There are no available stats about the distances students must travel to get to campus but there are Hunter students who commute from Pennsylvania, Connecticut and, of course, New Jersey.
Having to depend on unreliable public transportation can add stress to commuters' lives. According to a Newsday article, aged equipment often effects train service for the Long Island Railroad – the largest commuter railroad in the country – especially in snowstorms. This reporter has to rely on the LIRR to get to and from campus and she feels stress from the commute.
"With my old commute, I didn't want to be at Hunter any longer than I had to," said Kyle Tomanelli, a 20-year-old computer science major who recently moved to Astoria, Queens, from Ronkonkoma, a town on Long Island. "My commute used to be a little less than two hours to get to Hunter in the morning. And now it's just a 20 minute subway ride," he said. This shorter commute has impacted his life.
"The main difference is that it's really affected my mood in school," he said. "I would just get on the train, be miserable because the train sucks, go to my classes, never really talk to anyone or try to make any friends. I knew that whenever I was done doing whatever I was doing, I still had another two-hour commute back home. And now my commute is so easy, no long unbearable train rides."
Kwak, wearing a stripped shirt and ripped jeans during in an interview on the fourth floor of the North Building, estimated that she pays "about $216 for monthly ticket on the Long Island Railroad, $116 for the subway monthly," she said. That's approximately $1,328 per semester.
"Okay so a peak ticket from Ronkonkoma to Penn Station is $18.25, so $36.50 a day for round trip, and like $73 a week plus subway fare to get from Penn to Hunter," said Tomanelli, interviewed via email. "Now it's just subway fare, which is like a little over $10 a week."
Tomanelli said his previous commute effected his life outside of school because he had "less money to do anything cause all my money was going into the train, and really the time. I never had time to do anything with anyone on days I had school because the train took so much time out of my day."
Kara Paternostro  can be reached at kara.paternostro61@myhunter.cuny.edu