SCHEME BIRDS won Best Documentary Feature at the 2019 Awards & the Albert Maysles New Documentary Director Award
– Best Documentary Feature Award: Directed and written by Ellen Fiske and Ellinor Hallin. The winner receives $20,000, and the art award "Oil Lotus Woman" by Shepard Fairey. Jury Comment: "For its poetic, haunting depiction of compelling characters living on the edge. Every element of the film, from editing to cinematography to point of view, is superb. The filmmakers convey their voice in a unique and present-tense way. We're proud to present the award for best documentary feature to Scheme Birds."
Albert Maysles New Documentary Director Award: The winner – Fiske and Hallin, receives $10,000 sponsored by CNN Films, and the art award "Indigo Rocket Over Tribeca" by Stephen Hannock. Jury comment: "For a film that tells a deeply compelling story, but realized with cinematic vision and invited us intimately into the lives of the film's characters. This film is a remarkable achievement, made even more so because it's from first-time feature directors."
Fiske and Hallin Several Hours Before Their Film Premiered April 26, Several Days Before They Won Their Awards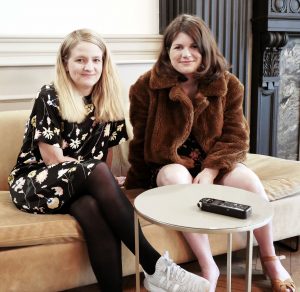 Despite the realities for youths in a former Scottish steel town, where the main character summarizes their fate as "either get knocked up or locked up," the technical and artistic prowess of the two award-winning filmmakers, capturing the innocence of youths in this coming of age movie, unlike any coming of age documentary feature in recent memory, swept audiences and juries with 90 minutes of arresting story telling at the recent Tribeca Film Festival.
Swedish Directors Ellen Fiske and Ellinor Hallin told their story primarily through the eyes, point of view and experiences of an "amazing" teenage muse, providing a sweeping vista about her life as well as the lives of her friends and close ones in Jerviston, a suburb of Glasgow. Her name is Gemma, raised by her grandfather after her mom abandoned her. She tries to stay out of trouble by training pigeons at a boxing gym that also operates like a community service center.
Recalls Fiske about how they met, "We were filming another documentary there, quite close to her neighborhood. And we were just filming some stock footage and then she came by and she said,'What are you doing?' And we told her what film we were making and she said, 'That sounds so boring. You should make a film about me instead.'"
"And then she just showed us around. She introduced us to a lot of people. And then she showed us also the boxing gym where they have all the cages for the birds, for the pigeons. And she said, 'Well, it's Friday so it's a beauty contest today. We have beauty contests every Friday for the pigeons.' And we were just so amazed by her."
It's one-thousand-three-hundred-eighty meters – that's 857.74 miles as the crow or a pigeon flies – between Stockholm, Sweden, where the filmmakers live, and Gemma's hometown. They returned a few months later and filmed for the next four years. There were lots of trips, the distance as well as the realities of film making created challenges.
In an earlier query about an interview, this writer said, "I don't know if I've ever have seen or experienced that much real world reality packed into a movie." By movie I meant, of course, a documentary. This writer, who screened SCHEME BIRDS before the interview, wanted to know the size of the production crew for a film so superbly made, with such intimate portrayals and depictions in an exquisite, seamless narrative – as if not one important moment was missed.
There were times early on I wondered if I was watching a narrative film with paid actors or volunteers. Gemma and others, particularly the youths, carried on in front of the camera, seemingly oblivious to the filmmaking taking place, as if they had been trained to perform in scripted roles.
A half dozen in the crew at least, I speculated. "No, no, no," said Fiske. "We are the production crew."
The Fiske-Hallin Method, Getting to Know Gemma, Cinematic Synergy
"That's our working method to make it really small and authentic, and so we don't bring a lot of gear, and sound recordist stuff. We want to keep it intimate."
Says Hallin, "So, we are very discreet and we stay in the background. And when we film we don't say, Now we're filming." They hit the ground running. "We come with the camera and we are ready to film the next minute. We have really, really small gear. We don't bring bags and we don't bring anything (extraneous)."
"We use a lot of what we actually shot. Some other documentaries I worked on, you film hundreds of hours. This is not the case with us. Yeah, because we film what we need to film and what we need to have in the film. And nothing more, actually. I think we created that method and I think we will keep on working in that style."
Fiske: "Yeah, not to film hours and hours and hours. Instead, quite focused shootings, so you know more what you want. And the way it turned out, because it was a bit tricky because we are staying in Sweden and she's in Scotland, and she went through a lot so sometimes, it was hard to get a hold of her. So the filming was pretty much focused, we knew what we wanted to get out of the filming, most of the time. And I really like that kind of method. That you get to know your characters."
Gemma opened by in extraordinary way she could open up her world to them. Fiske: "I think because we'd been filming for a long time, we got to know her in a way that she feels really comfortable with us. But she's also a brilliant person to film, because she's so relaxed and calm. I think she's the best person ever to film because she's so much just herself. She doesn't really care about us."
"It's not like, 'Oh, a camera.' She doesn't care. She has more important stuff to think about," says Hallin.
Says Fiske, "Exactly. Because the first time we met she was so much wanting our attention."
Things changed primarily because she became pregnant. But the filming continued. "And she's been really able to tell us when she wants us to film and when she wants us to stop. And she's been very much in charge of what we're filming, which, sometimes, it's been frustrating for us because we want to film everything if we can."
Innocence Not Lost, The Scheme
This writer in the course of the interview made several references to the grim realities that Gemma and others faced in the town struggling to hang on and the limited opportunities available to youths. The filmmakers didn't see it that particular way. "They are so innocent," says Hallin."They are just kids." Fiske says their innocence shows that they have hope for the future, regardless. "It's not a dead end, that everything's going to turn out in a bad way," she says, making it clear that the youths didn't see things that way. Gemma, for example, "has the power to change things in her life. I think that makes it less grim."
Says Hallin, The movie is "from Gemma's perspective, and she doesn't think it's too grim. She thinks its normal life. So it's not like we added stock shots of misery. Because we want to experience the scheme from her point of view …and for them it's just ordinary life."
Reality TV is watched in Jerviston because it has found its niche in Scotland. The Scheme is a BBC Scotland British Academy of Film and Television Arts award winning documentary series that follows the lives of six families in low income housing communities. Media critics pounced with sharpened talons, labeling it "poverty porn," according to Wikipedia, because of the sensationalism of drugs and violence, that the documentary's characters were exploited talent.
The Jerviston youths, says Hallin, may not have been aware "all the time what we were doing … (but) they're experienced with TV and film." They were shown, in separate meetings, footage of how they were filmed before the documentary premiered at Tribeca. "When they watched it, they were so happy with it because they felt it was a new image of them. And they were really happy, actually," Fiske says.
"Gemma, she's so proud of her participation. I think because she has watched films. So she knows about film a bit. So when she watched it, she was like, 'Aha, so it's this you're making. I thought you were making something completely different.' And she was very happy about it. She says that she feels like she comes across as a good mother, for instance. And those things are so important to us. That it's fair in that sense."
An official film opening is being scheduled in Scotland in the near future for them to see the final cut.
One of the youths suffered a vicious, horrifying beat-down. The filmmakers did not film it but were around when it happened and interviewed family, friends and eventually the victim. Fiske: "And we listened to them … they really, really had the urge to speak out about what happened. And we listened. And they are really emotionally attached to the film. And they can't wait for it to be released in Scotland because they want to show everyone what they've been through."
This reviewer was captivated by the colloquialisms and figurative way that the characters spoke. There are subtitles. And there were a few scenes when he didn't understand a passage because of the accents but understood the pure essence of the scenes even though his ears betrayed him. Wow!
Many will see this movie more than once.
---
TFF Documentary Competition
Year: 2019
90 minutes
Language: English
Country: Scotland, Sweden
Cast & Credits
Directors: Ellen Fiske, Ellinor Hallin
Producer: Mario Adamson, Ruth Reid
Screenwriter: Ellen Fiske, Ellinor Hallin
Cinematographer: Ellinor Hallin
Editor: Hanna Lejonqvist
Cast: Gemma, Pat, Joseph, Scott, Luke, Amy, John Paul, Maria
---
Gregg W. Morris can be reached at gmorris@hunter.cuny.edu