PRINCESS OF THE ROW opens the 2019 New York Latino Film Festival, August 12 to 18

---
Directed by Van Maximilian Carlson.
Written by Van Maximilian Carlson and A. Shawn Austin.
Starring Tayler Buck (Alicia Willis), Edi Gathegi (Sgt. Beaumont "Bo" Willis ), Ana Ortiz (Social Worker Magdalene), Martin Sheen (John Austin).
Cast includes homeless army vets
From Rotten Tomatoes:
Bouncing around the sometimes-abusive foster care system, a creative 12-year-old girl Alicia Willis (Tayler Buck), ditches school to visit her military veteran father Sgt. Beaumont "Bo" Willis (Edi Gathegi). After a battle-induced brain injury during his service in Iraq, Bo is now homeless and living on LA's skid row suffering from severe PTSD.
The injury renders him unable to recognize his own daughter most of the time but to Alicia it doesn't matter, because she remembers him as the father he used to be: A caring man with a love of storytelling. Inheriting her father's creativity Alicia loves to write and spends most of her time writing fantasy tales of a Princess on a quest.
But when Alicia's social worker Magdalene (Ana Ortiz) places her in a perfect home with an award-winning writer John Austin (Martin Sheen), she learns they live 10 hours away. Fearful of never seeing her father again, Alicia escapes the city with her father on a mission to find a better life where they can be together in peace.
That synopsis, of course, is the tip of the iceberg.
5Ws&H Q&A Edited for style.
Director Max Carlson: Warner Herzog Makes Great Movies – His Way
A veteran award winning filmmaker, Carlson says he admirers Werner Herzog, the internationally revered filmmaker/auteur with a reputation for his independent filmmaking prowess and impressive cinematic accomplishments done on modest budgets. He makes documentaries and features his way, presenting audiences with films whose settings can be in unfamiliar landscapes and, at times, infused with mysticality, spirituality and the arcane. Obviously, I write this passage to tip off readers about what they can expect in Max Carlson's 5Ws&H Q&A.
Says Carlson about Herzog: "He has made films outside of the studio system for a long time and he's an adventurer in a way, at heart, I think. He's deeply interested in the world. He's like a philosopher. He's like an adventurer. I always liked that he seems to do, and that I've tried to follow, is: If you have an idea for something and you want to do it, then do it, take the steps to do it, take the action to do it and just do it. Have a plan, but carry it out."
"The way he makes films, there's a lot of freedom and creativity, and drive to get it done on his own. Sometimes I think people that want to make films or they want to create art, they don't realize that they can, as easily as they think, as it actually could be."
Carlson's career reflects that driving spirit of creative freedom, as readers will learn, if they don't already know, as they scroll down. The making of PRINCESS OF THE ROW is the latest affirmation of that spirit.
From the Internet Movie Data Base:
Max Carlson is a Los Angeles-born, American-Mexican independent film director/writer/editor and owner of Oddbox Films. His work often explores issues of social-justice, like his documentary, Bhopali, which won the Grand Jury and Audience Awards at the 2011 Slamdance Film Festival and went on to win six additional awards.
His 2013 short, "The Troll", a fantasy-love story, won two best short film awards. Past wins include, "Most Promising Director Award" at the Buffalo Niagara Film Festival and the "Best Director Award" at the Toronto International Teen Movie Festival for a short film he completed while in high school.
His documentary, Ninth November Night, was considered by the Academy of Motion Picture Arts and Sciences to be "one of the outstanding documentaries of 2004." His editorial trailer work encompasses numerous studio blockbuster campaigns with Warner Brothers, Sony, and Universal and has been recognized with multiple Clio Key Art, Golden Trailer  and Promax awards.
The Miracle of Movie Making
He was asked if he worried that making a move about skid row could create extra challenges because of the general public's perception that LA's Skid Row is a ninth ring of Dante's inferno for losers undeserving empathy and word would get out about a downbeat film. The question had to be asked by this writer/reviewer who knows of no "skid-row" films in recent memory being selected as opening nights at big city film festivals. Was he concerned about how audiences would respond to a movie about LA's Skid Row?
A quick hint:  LA's Skid Row served as a backdrop for the film that he and his producer wanted to make.
Says Max about his latest film: "I co-produced it and he (A. Shawn Austin ) produced it. We paid for the film ourselves. I don't think anybody would've actually paid for this film. I don't know whom we would've turned to to produce the film. If there was, it would've certainly have taken a lot of time to go through the development process. I'm not talking about big studios."
"I'm talking about just even smaller sized production places that fund movies and stuff. I don't think anyone would've believed in the film enough as we did or wanted to tackle the issues enough to be able to …"
In a podcast interview a while back with a West Coast reviewer – and in this 5Ws&H Q&A – he is very clear about what he and his producer, who is also the co-writer, intended. They drew on their imaginations and personal life experiences and issues that concerned them, the sine non quon of PRINCESS OF THE ROW, infused in a story that has several storylines. It has to do with the miracle of movie making.
"A miracle of movie making is that you can put somebody (an audience) into a space that they wouldn't normally ever be in or that they might be afraid to be in. It can be scary. It can put some people off. You put them into that space and then you show them, … you can show them the humanity emerged from within, humanity that shows in a way that we're all connected, we're all going through similar things. You don't have to have ever be on Skid Row or even know what Skid Row is to enjoy the story, seeing the bond, and the adventure and the love between these two characters."
"What they're experiencing mostly, that once they watch the film, there are characters who are going through homelessness, going through foster care, and it's based on Skid Row, they can empathize with them so much. They can attach themselves and identify with what they're going through in different ways. I think that's actually a really good benefit and a miracle of movie making."
"I don't think any of those things occurred to me, that is, that I was afraid of perceptions or anything. It's a film and a topic that I wanted to make. So we made it. My point is that if we hadn't made the film, I don't think anybody else would have. That's basically that. In my mind it wasn't always entirely that this is a skid row film. At some level, you got to just put your mind into where do these characters go, really. Then it's a movie about these characters. These (main) characters, one of them happens to be going through homelessness. One of them happens to be a veteran. One of them happens to be a young girl who's (in the foster care system)."
A Message for Budding Filmmakers
Says Max: "I'm from Los Angeles. I wanted to, for a long time, I had actually wanted to make a film in Skid Row, somehow include Skid Row and the issue of homelessness, somehow in a film. That was something that was important to me because I had seen homelessness on the rise in my city. I remember a story when I was a young kid. My mom once saw a homeless man in an area that we grew up. She made us stop and we went to Subway and we bought him a sandwich, and a drink, and came back and fed him. Things like that stuck out to me."
"I had known that veterans were, I think, the statistic is something like 15, or some percent of those that are on skid row are veterans. I always felt that's shocking and that's sad. My grandfather was a veteran who was going through dementia at the time of writing. I wanted to fuse those elements into it. There is a lot of personal emotion that we both put into the film. Sean, who has a family, who has a daughter, wanted to have that strong father-daughter-bond dynamic in the story."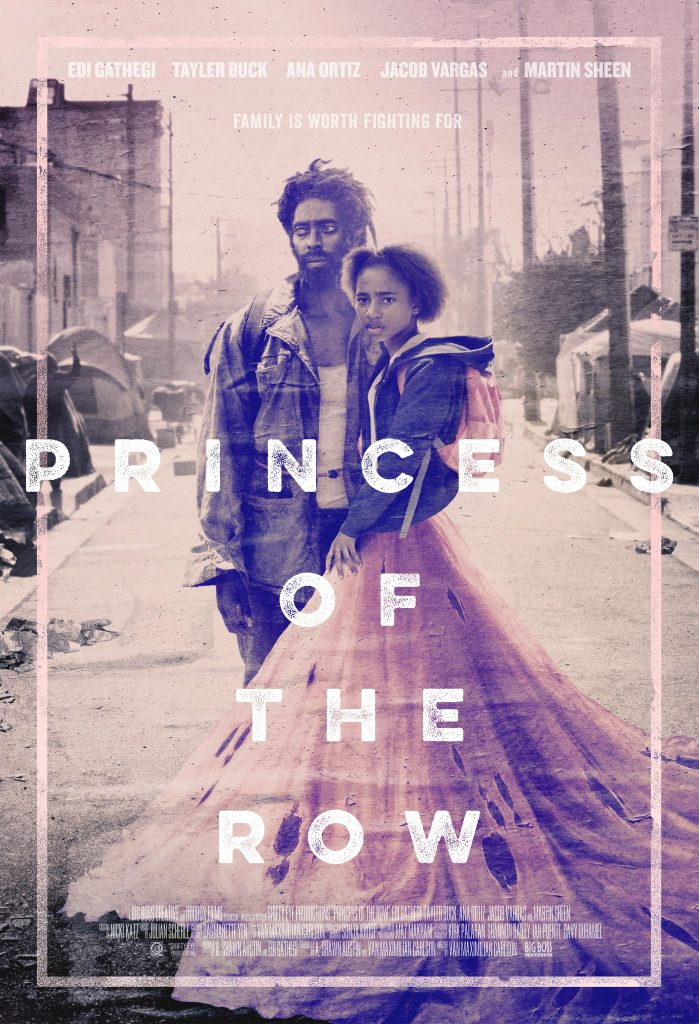 "A couple years before we started writing, I lost my father. My father passed away and so there's been an element of a coming of age, of having to deal with maybe having to let go of a parental figure. There's an element of that in there. All these things, those are the personal things to us."
"I don't know if that answers your question or not. At some level, we just thought of the simplicity of: Now what happens to these characters, and where do they turn, and what are the dangers that are real dangers that are out there on the streets for people now. Like child predators. We have that storyline in the film. What are those dangers that the character faces? I thought those were really all very important things to tackle."
"Some people can say they really want to do things and then, yet, they don't ever really do it. So, I think the important thing is to, for one, try to realize that's just a block and it doesn't have to be there. And then you can take actionable steps to get the project made. Whatever that might be. Everybody has access to a camera now, so that's not really an excuse anymore. And now it's the … the only real excuse is that you just didn't have, you didn't put enough energy into it.
"But sometimes it's complicated because your project, you really have to have a lot of passion for the project and for the idea behind it to go, that can propel you throughout the whole creation of the project. Right? And sometimes it's hard to determine what gives me that level of excitement and passion. What storyline is it? And that is a sort of a job in exploring.
"But, I'd say explore what you're very interested in. What is the thing that excites you, and entertains you, and you're interested in? And then follow that, follow the creativity and actually do some actionable steps to get it done."
End Part 1
Part 2: Click here.
Gregg Morris can be reached at gmorris@hunter.cuny.edu