AFTER SHE DIED follows a young woman who's freaked that her father's new girlfriend looks exactly like her dead mother.–[Doppelgänger Alert.]

Destined to Develop a Cult Following?
Inexplicably weird, horror-supernatural movies might improve their fates for success, if they find the right audiences – or, if the right audiences find them. That idea simmers at the back of my mind as I try to make sense why I was so inexplicably and viscerally gripped by Director Jack Dignan's 1 hour and 47 minute, inexplicably weird, horror-supernatural flick.
These Things Happen
Screen Rant's, quote marks for effect, "Ten Movies That Got Really Bad Reviews When They Opened And Later Became Money Making Cult Movies" is a good example.
;
Same with WhatCulter's, quote marks for effect, "10 Movies, Initially Panned But Became Money Making Cult Classics."

Could it not be be an indecent horror-supernatural movie if the intended plot scares and frights seem to lack juice? AFTER SHE DIED didn't come anywhere near to raising the hackles of my hair – and, oddly, I felt the filmmakers didn't seem to care one iota, that scaring wasn't the point of the film. Definitely weird. But, like I said, I was most definitely hooked.
"Thanks to the hard work of over 70 incredible people, the script I wrote for fun back in 2019 was brought to the big screen the only way we knew how – by doing it ourselves. No financial setbacks or the ever-looming pandemic could stop us (although the latter did halt production halfway through for over 100 days…). We gave this film our all and I couldn't be prouder of the final product. I like this movie a lot. I hope you like it too." – Director Jack Dignan, quoted as saying in the film's production notes.
AFTER SHE DIED tells the tale of a graduating high school senior living in a small town who freaks out that her father's new girlfriend looks exactly like her recently dead mom. Her soured relationship with her dad (because he was abusive towards her mom) is exacerbated by the presence of the new girlfriend. Did he ever really luv her mom?
That description plus more than 7000 views on the film's trailer site were the lures for me to check out this flick. Director Jack Dignan had me pondering that his first full-length movie ever could be considered a new sub-genre of #HorrorSupernaturalMovies not just because of its spooky, eerie abstract stylishness but mostly because you have to see it several times to make sense of what's going on. He's worked some kind of cinematic virus into his film compelling viewers – as I was compelled – to see it again and again and again? There's also a lot going on in Jen's life but I couldn't make sense how that would make her go batty.
Jen's mom dies early on in the movie (we don't see it, we just learned about it). Jen's sour relationship with her father (because he was cruel to her mom) sours throuhgout the movie. The high schooler's friends are planning to leave – more like flee – town after commencement. Jen is feeling lonely. Then her dad John introduces her to his new girlfriend, Florence, who looks and sounds just like dead mom – and so on, and so forth, etcetera.
At times, the facile way that AFTER SHE DIED seemed to flow with sudden momentary shards of different hues and shades of lighting and coloring made me think that I might be witnessing some kind of facile, stylish space-time-continuum cinematic design device taking place – and it's way over my head. I don't really know.
But that doesn't mean that anyone reading this review shouldn't step up to the plate and let the rest of us know what's on his or her mind.
---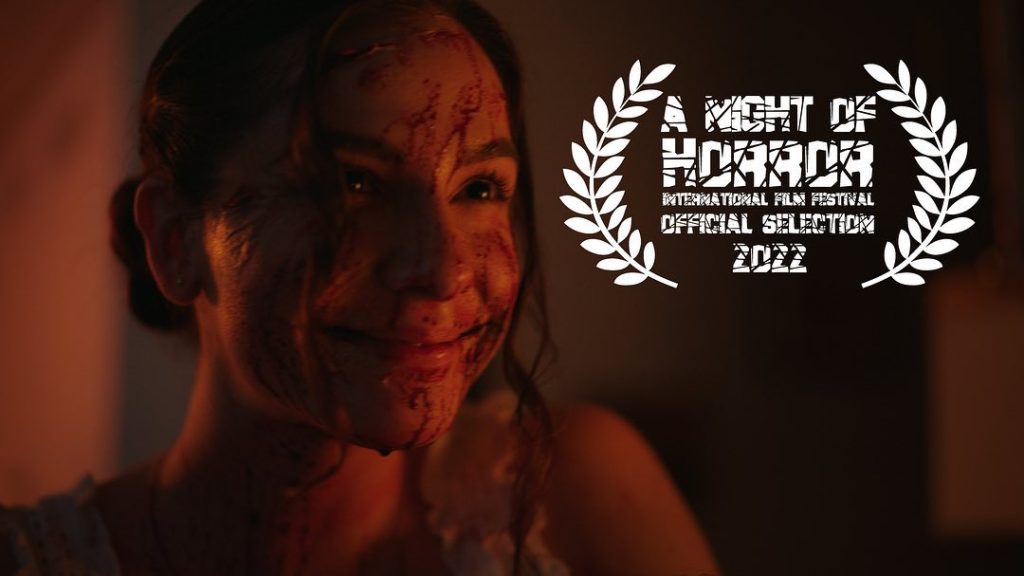 WRITTEN, DIRECTED AND PRODUCED BY
Jack Dignan
CO-PRODUCED AND CINEMATOGRAPHY BY
Rhys William Nicolson
EDITED BY
Alexandre Guterres
PRODUCTION DESIGN BY
Tara Sriharan, Hebah Ali
COSTUME DESIGN. BY
Zoe Lynnette Beetar
MUSIC BY
Andrew Back
CAST
JEN Liliana Ritchie
ISABEL/FLORENCE/Doppelgänger Vanessa Madrid
JOHN Paul Talbot
LOUIS Adam Golledge
CAMERON Annabelle Andrew
ASH Mariah Stock
THE SHEEP-MAN Noah Fowler
FLETCHER Greg Poppleton
PAM Barbara Bingham
THE WOMAN IN WHITE Cassandre Girard
ETHAN Lorry D'Ercole
TUTOR Ola Endress
DENNIS Dennis Vichidvongsa
PRIEST Andrew Gobran
COP 1 Matias Klaver
COP 2 Andrew Miatov
YOUNG BOY Thomas Magnum Ryan
DISTRIBUTION
After She Died is being distributed in North America by Cranked Up Films and Good  Deed Entertainment. Cranked Up Films say it will be available on video on demand.
Gregg W. Morris can be reached at gregghc@comcast.net, profgreggwmorris@gmail.com