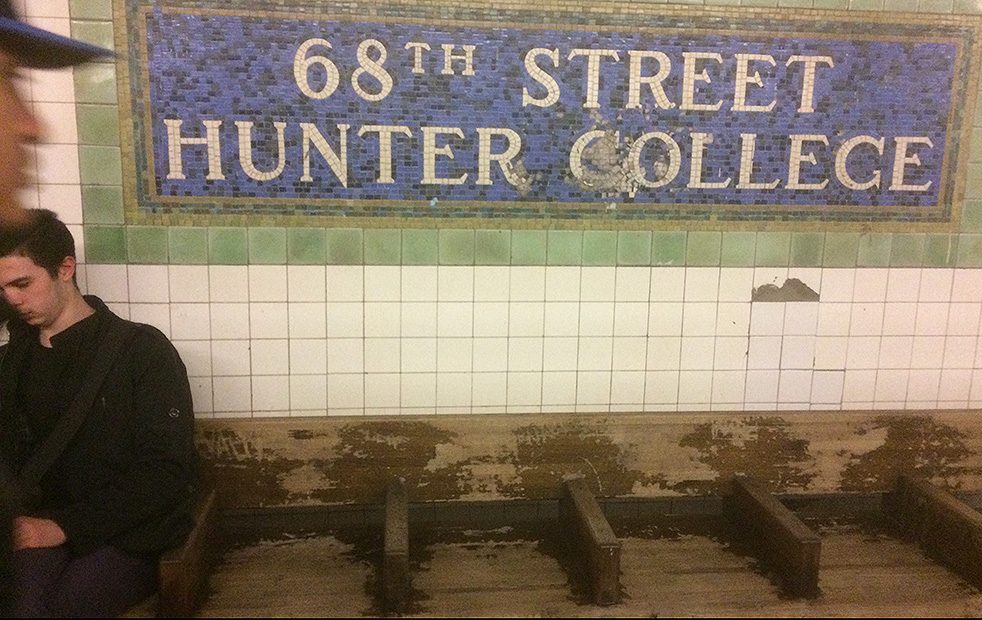 ---
"It's my first time full-time semester on campus," said sophomore and political science major Marco Thomas. "I'm feeling the struggle."
Thomas works part-time at an H&M clothing store in Manhattan, and between his three shifts per week and a 15-hour couse credit load, he hopes to rise to the challenge. He wakes up extra early most mornings at his family's apartment in Crown Heights to eat a hearty breakfast and get a head start on the day.
"Generally," he said, "I have class until the afternoon, then go to work if I'm scheduled." To keep things in balance, he likes to do what he calls a gentle and relaxing yoga routine before going to bed.
In Room 503 Hunter North, 20-year-old junior Olivia Woodruff described how she juggles her studies as a double major in film with a concentration in both television and documentary production and film production as well as minors in political science and journalism. Besides her studies, Woodruff plays softball for the Hunter Hawks Women's Softball Team and also coaches a children's sports club on the Upper East Side.
Thomas and Woodruff were interview for a series of news shorts and articles about students' opinions and descriptions about the early weeks of the semester.
Despite an academic schedule many students would find unbelievable challenging, Woodruff said she was taking it "slow, going through the motions," while she fine tuned her schedule and adjusted to new changes.
Her school day routine usually starts with her waking up her roommate, a fellow student before eating breakfast then heading to campus.
Woodruff prefers to study and unwind in an exclusive classroom for Hawk athletes in the basement of Hunter West where all the offices, gyms, training equipment and other accoutrements of the school's athletic department are located. After studies, she goes for a walk or workout.
Later, she heads to her coaching job, then to her nearby apartment on 67th Street and Madison Avenue. "I feel like everyone is just, like, getting adjusted to everything. It's really different from ZOOM classes," said Thomas, referring to the online coursework when the campus and the city were shut down due to COVID-19.
Many students haven't had full-time, in-person classes at Hunter since the lock down in March, 2020. As students work out the kinks and adjust to circumstances, there are bound to be bumps in the road. "I couldn't even get to class the first day cuz of some random student ID thing," said Thomas. Hunter, like the other CUNY campuses, has new policies and procedures that include COVID testing that students must follow.
Fortunately for Woodruff and Thomas, their coursework this semester pertains mostly to classes in their respective majors and minors. "It's a lot more easy when the class is actually interesting," said Thomas. He especially enjoys his climate change policy class, and being able to hear a lecture in-person rather than over his laptop.
Standing in the crowded third-floor dining hall at Hunter West, Thomas said, "I mean, really though, I'm glad we're back. It beats the screen."
Frances Johnson can be reached at frances.johnson23@myhunter.cuny.edu