Article by Anthony Falletta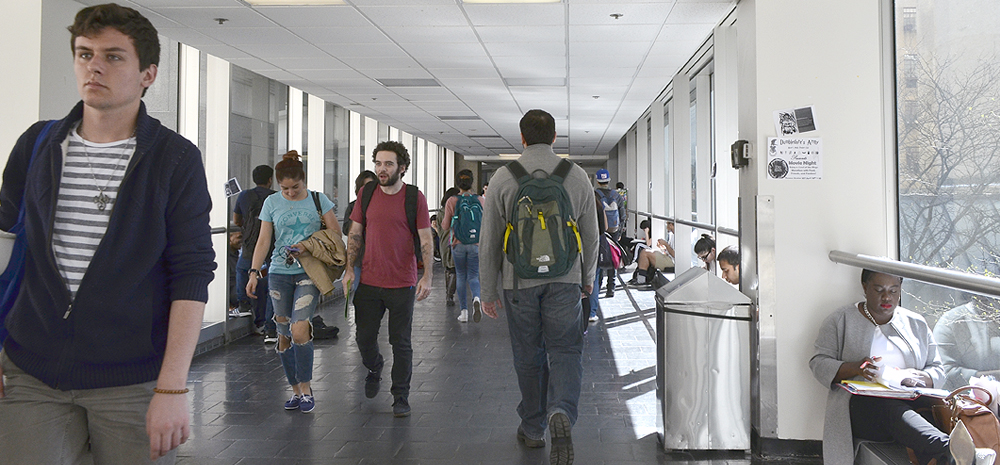 Anticipating an Oasis, Dealing with Disappointment
Valentino Sammarone, 21, a biology major and prospective medical student who wants to be a dentist, transferred to Hunter last fall from the State University at Albany for financial reasons and got the biggest surprise of his life. The application process for dental schools that can take a year and a half might take more than 10 years for him to earn the degree he desired because of Hunter's policy for transfer students.
Transfer students interviewed by this reporter said they find themselves retaking courses they've already completed at their previous institutions. "I had to redo an entire semester of my undergrad because none of my Advance Placement classes weren't accepted," said Sammarone, interviewed on the seventh floor of the Hunter library. "The requirements give a great scope for students that don't know what they want to do, but punish those that do know by setting us back."
Sammarone, who lives at the Hunter dorms on East 25th street, Manhattan, said the College should have a required advisor meeting so that transfer students can fight to have their credits transferred.
Is this unpleasant situation for the four students randomly interviewed for this article indicative of a major problem for transfer students at Hunter? It seems so to this reporter. Despite the in-state tuition of $6,780 and out-of-state tuition of $17,250 per year, transfer students interviewed by this reporter face extended delays getting their degrees, spend more money on tuition fees as a result of the college's core requirements and what the students consider an adverse method of accepting transfer credits.
Statistical information about Hunter was obtained from www.collegeboard.org/. Hunter's requirements consist of two years of foreign language, one year of English composition, math, two science courses, creative expression, U.S. diversity, world cultures and global issues and individual and society. Some contain subcategories with multiple credits to be fulfilled. Transfer enrollment has reached 1,471 students a year, almost as high as freshmen enrollment, which is 1,971 students a year.
Christopher Perez, 24, of Washington Heights, Manhattan, transferred to Hunter in 2014 from Dutchess Community College. Expecting to graduate with a degree in media studies this coming spring, Perez said, "I took time off in between high school and college to travel abroad but I'm still graduating much later than I anticipated." Interviewed at the elevator bank on the fourth-floor of the North Building, Perez spoke with anger about his experience as a transfer student.
"I assumed I would lose some credits but Hunter operates on a system of their own. it's frustrating," he said. "The main thing that bothered me was the language requirement. I'm forced to take four semesters of Spanish after studying it from grades six through 12 and for what? To graduate late and give them more money?"
Hunter's core requirements are a set of general education requirements that were put into place in 2013 for upcoming transfer students.The requirements supposedly eliminated flaws while, according to its description, "support the professional and personal development of Hunter students, prepare them for advanced study, and enable them to become active participants in the world of ideas."
Nancy Ramirez, a registrar office representative contacted by this reporter, chose not to comment when asked about the current method of accepting transfer credits. Ramirez said she would only speak about the system on an individual student basis.
Should Students Pay More Attention to the Fine Print?
Daniella Ortiz, 24, of Jackson Heights, Queens, is studying for a degree in childhood education. She was enrolled at Borough of Manhattan Community College before transferring to Hunter in 2015. Her choice to switch schools was simple. BMCC is a two-year school. "I think no matter where I transferred I would have lost credits but Hunter is so much more demanding in comparison to other schools," she said.
Interviewed in the third-floor student cafeteria, Ortiz said, "When transferring, it's incredibly important to weigh out all of your options and really look in depth at any possible decisions. I don't regret coming to Hunter as a transfer student, but I think if I had been a little more informed of the repercussions, I might have chosen elsewhere."
Ana Paola, 31, of Astoria Queens, is a graduate of Hunter's nursing program. It took Paola almost 10 years to graduate after transferring from the University of Kansas. She blamed a lack of resources and demanding requirements of both general education and her major for her extended delay. "I was the Vice President of Hunter College's Undergraduate Student Government , a delegate to the CUNY University Student Senate  and the President of the Nursing Students' Association of New York State. "If I had this hard of a time, there is no doubt in my mind that others are suffering," said Paola.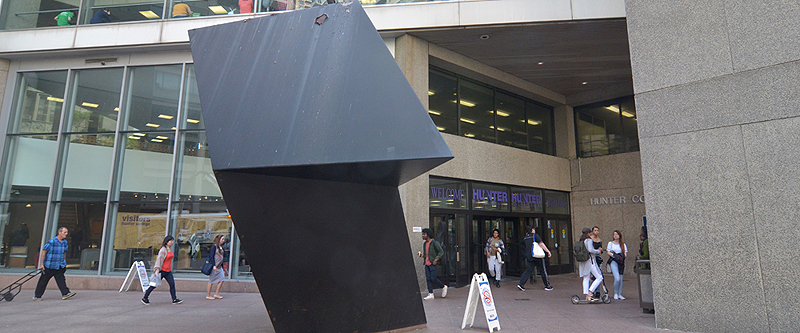 Interviewed in the West Building, Paola said, "I understand that Hunter has a system of requirements in order to graduate, but I believe this should be adjusted for transfer students. It's not fair at all." Wearing a nurse's uniform, a north face bubble jacket, and Nike free run sneakers, Paola was visiting campus to get copies of her official transcripts.
Paola works on the Board of Trustees Standing Committee for Academic Policy that checks that CUNY's policies benefit the student body. "Well, let's just say, it takes one extraordinary student to make it out," she said. "And when you do graduate, other students almost always reply, you made it."
On Friday, December 2, this reporter spoke to Bryant Barksdale, the administrative coordinator for Hunter's Senate in an effort to schedule an appointment with Senate Chair Professor Thomas DeGloma. Barksdale said, "Professor DeGloma will probably respond to you directly."
Tuesday, December 6, Professor DeGloma contacted this reporter by email and agreed to an interview via email but has not followed up.
Anthony Falletta can be reached at Anthony.Falletta19@myhunter.cuny.edu