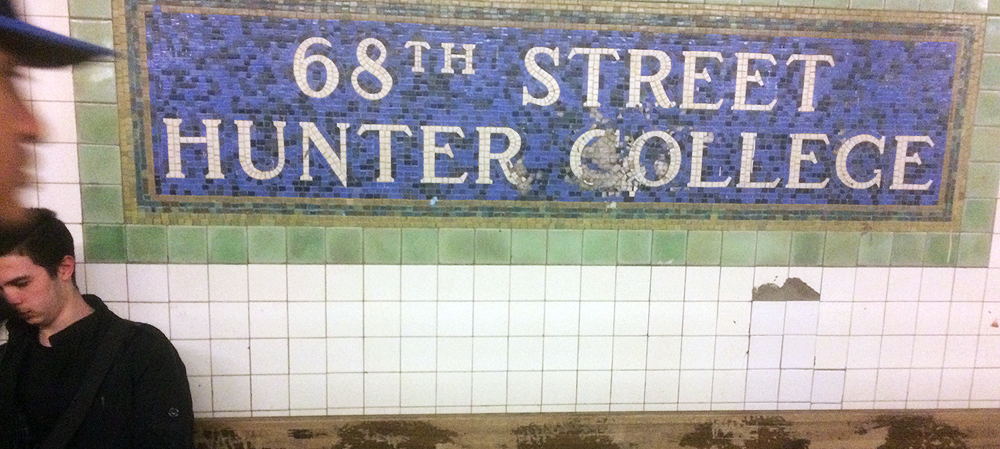 Article by Marjorie Fajardo, December 21, 2016
Growing up as an undocumented teenager in a country that portrays me as a criminal has been a challenging experience. Aside from feeling like I'm not wanted in the country, I've had to learn to deal with restrictions that can hamper my moving forward and keeping me from contributing to the greater good.
Being undocumented hit me the most during my junior and senior years of high school at St. Francis Preparatory School in Fresh Meadow, Queens. During this time most of my friends where getting their driver licenses and getting jobs. They would ask me why I didn't have my driver's license yet and in my head I would say, because I don't have the right to. But to them I would say that I just didn't have a need to get one. Little things like this made me feel belittled, as if those who are citizens of the United States are better human beings than I am.
The toughest part was when it came time to think about college. During my junior year of high school, I wondered if I would have the chance to, or be allowed to attend college. I was working hard to maintain high grades, but there were times it seemed pointless if I wouldn't be able to attend college due to my status.
It wasn't until 2014, when a new immigration policy known as DACA, Deferred Action for Childhood Arrivals, eased my worries and opened new doors for me.
Through DACA I was able to obtain a Social Security number and a work permit. I felt like I was part of society now. I didn't feel strange or left out from certain opportunities that "American citizens" were born with. I felt excited that I could get a job now and had the opportunity to actually obtain a driver license as well and make contributions that would reflect my respect for the country I lived in. Most importantly it allowed me to apply for colleges.
So, I enrolled at Hunter. I've never received any aid from FAFSA, Federal Student Aid, since undocumented students aren't eligible, but I was lucky enough to have received a scholarship from TheDREAM.US, a private funded organization that provides scholarships for full-time undocumented students. Not only does this scholarship help me financially but emotionally as well.
Chris Luis Aviles, the advisor for this scholarship at Hunter, sets up workshops and meetings aimed to help us cope as students. These meetings, as well, help DREAM Scholars have a platform were they can feel safe to speak on their concerns and be able to know and connect with other students who are undocumented. The last meeting that was held on November 30 at the Roosevelt House Public Policy Institute at Hunter College. This meeting focused on creating a safe space for DREAMERS to discuss their concerns on the recent decision for the 2016 election.
There were several speakers present to guide this discussion and to provide answers. They were Dr. Martin Pino who works in Hunter's Counseling & Wellness Services, Joseph Lavetsky, an Immigration lawyer from CUNY! Citizenship Now! and Cesar Vargas, who is the first DACA recipient to be licensed to practice law in New York.
DREAMERS were concerned about what could happen to DACA because of President-elect Donald Trump. There was no definite answer on this topic. The speakers kept mentioning that there was still a lot of uncertainty because we still aren't aware what President-elect Trump is really going to change once he steps into office. Vargas said that regardless of what happens, "I don't need a piece a piece of paper, I don't need a nine-digit number to tell me I'm an American."
To close the meeting, everyone in the room stood up and did the unity clap. To signify that no matter what happens in the future, no matter how different we are from one another, we will stand strong and support one another. The meeting finally concluded with everyone yelling, Si Se Puede, Yes We Can.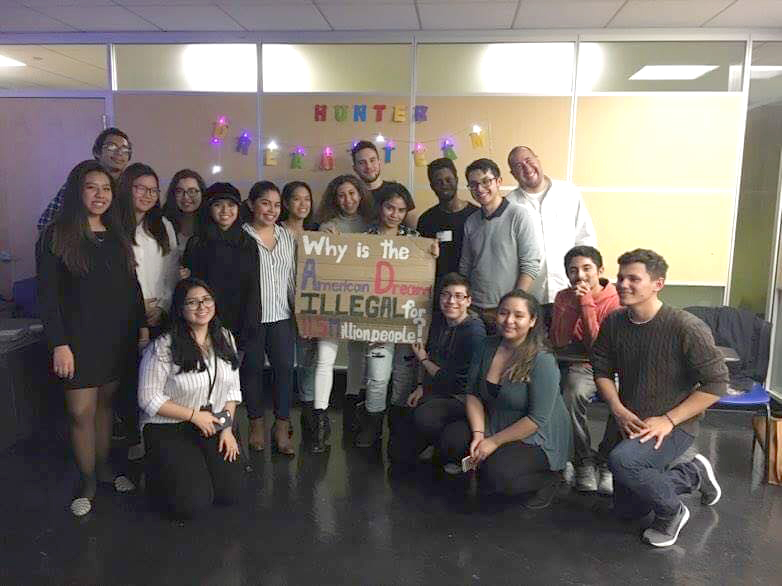 Hunter's DREAM Scholars.
Aside from my tuition being covered, DACA gives me a support group of those who are undocumented and have gone through the same barriers that I have faced.
Jessica Uyaguari, born and raised in Ecuador until the age of 3, graduated from her high school with a 4.0 GPA and was in the top 20 from her class. She had high grades, but she knew it would be pointless since she wouldn't have been able to pursue a college education since she didn't have a social security number. It wasn't until late in her junior year when she heard about DACA. Interviewed on the fifth floor of Hunter's library, Uyaguari recalled feeling relieved when she got her DACA card. "It opened new opportunities for me. I could work and save up for college and have a driver license," said Uyaguari, wearing a grey sweater with blue jeans. She felt that now she would be able to live "a somewhat normal life."
Uyaguari, a junior, is enrolled in the nursing program, one of the most competitive undergraduate programs at the College. Although she is protected through DACA, she feels frightful as a nursing student because she feels that at any given moment immigration policies can change or DACA can be revoked and she won't be able to remain in the nursing program since a legal status or work permit is required. Everything that she worked for and accomplished could be taken away from her.
"Save Money: Deport All Illegal Immigrants" is the headline of a December, 2010, article published in Western Journalism, a news website-blogging platform for conservative, libertarian, free market and pro-family writers and broadcasters. The article stated that deporting "illegal" immigrants in the United States would result in economic and personal growth for native-born Americans. It also said it would result in a reduction of drug trafficking, murders, sexual assaults and job losses.
If it wasn't for DACA, many "illegal" immigrants wouldn't be able to hold jobs since without a social security number or a work permit, they aren't allowed to hold a "legitimate" jobs. Most employment for "illegal" immigrants is in farm work, construction and house keeping, jobs that don't require a work permit. But a Washington Post article reported that more undocumented immigrants are holding white-collar jobs and fewer blue collar jobs than they did before, although many workers still remain in low-skill, low-paying jobs.
Brenda Hernandez, 21, crossed the border from Mexico with her parents when she was 5 years old. Hernandez was at Hunter's skywalk on the West side, wearing a blue shirt with black jeans, when I met with her. She recalls when she arrived to New York, her biggest barrier was learning English. She attended a bilingual school, MS 337, in the Bronx where she was able to learn the basics of the English language. Her status didn't affect her as her child but she recalls her mom telling her, "behave because you're illegal", that way she wouldn't get into any trouble.
Anthony Martinez, 17, grew up in San Miguel, El Salvador. He arrived to Long Island, New York with his parents and his sister at the age of 7. While being in Hunter's Library on the fourth floor, and wearing a black sweater and jeans, he recalls that it wasn't difficult for him to adapt to a whole new culture as it was for his parents.
He wasn't aware nor concerned about being an undocumented immigrant, as he was a child. He wasn't aware of the setbacks of being undocumented, all he knew was that he was living in a new country. It was during his late high school years when this faux reality changed for him.
Martinez recalled during the summer before he began his junior year at Hempstead High School, his dad was outside the house taking down some lights that were hanging in his backyard and he was helping his dad clean up. All of a sudden, Martinez heard a sound that "sounded like a glass had just broken and that's when I heard my father scream." He saw his father and "time froze as I saw him begin to leak blood" from his head, said Martinez. A metal BB ammo went right inside his head. His father told him to call the police, but his father told him to not request an ambulance.
"Deep inside I knew why he told me this, but I did it anyways," said Martinez. When the ambulance arrived, Martinez explained the situation of his father and his concerns and the EMT told him that he shouldn't have to be afraid. This is when Martinez realized the fear and the setbacks that are placed on an undocumented immigrant. His father wanted to refuse help that he urgently needed, just because "he didn't have a 9-digit number that was to define him as a human being," said Martinez.
Martinez is currently a Freshman enrolled at Hunter, hoping to become a pediatrician. "Pursuing a medical career is already challenging and when you have the reality of being undocumented it can take a toll on you," said Martinez. Regardless of the challenges he has to face due to his status, Martinez remains positive. He says with that, with the uncertainty that comes along with being undocumented, "There's always fear, but I don't have fear for myself. Whatever happens I'm going to keep going."
Hernandez feels this same uncertainty. She is careful about sharing her status with certain people. "I'm not ashamed, I just don't know what's going to happen. It's not only about me, but my family as well," said Hernandez. She feels proud to be undocumented because, as she said,  "Although we have that barrier, we could still be someone" – in a country with a new administration that may restricts us from succeeding.
Marjorie Fajardo can be reached at Marjoriefajardo95@gmail.com