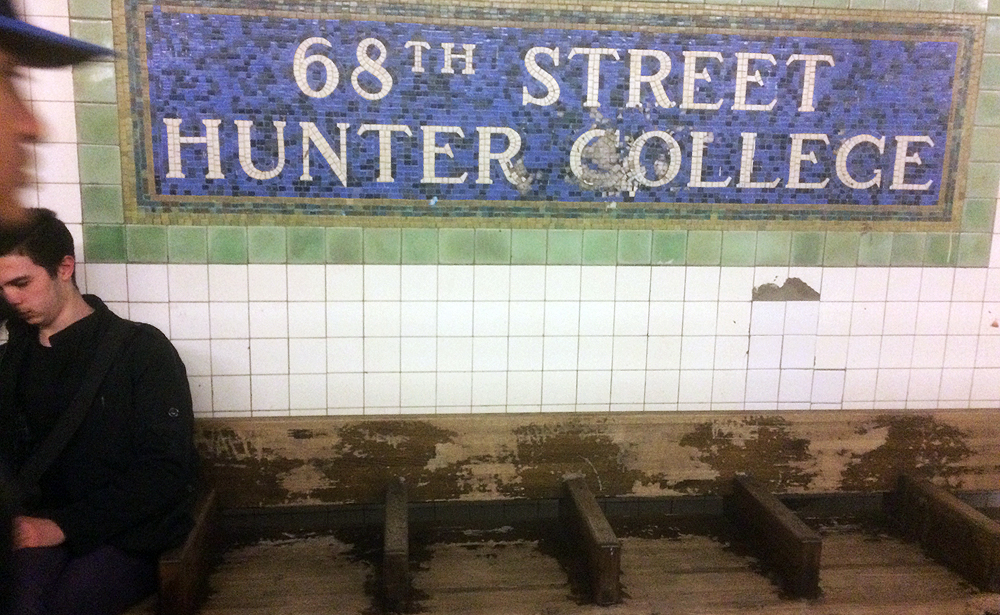 By Carlos Diaz, March 23, 2017
On a cold winter morning, January 30, 2017, the entrances of Hunter swelled with students entering the campus for the start of the spring semester. Several were interviewed about their first week of experiences and expectations.
Haley Trunket, 19, a sophomore majoring in media studies, expressed optimism. Trunket, who wore a parkour coat, glasses, and black leggings, said this was her first semester that she was now able to take the classes that are a part of her major and that helped her to feel about the start of the semester.
"I want to create media," said Trunket of Astoria, Queens, during an interview on the sixth floor of the West Building. Trunket said she planned on using her media studies classes to build her resume and that she was creating media, such as graphic projects, for the Hunter Hawks.
"It's been great, I like all my classes" said Cassian Neal of Queens, 21, a junior majoring in English. Neal, a non-gender conforming student who asked this reporter to refrain from using the traditional he said/she said attributions and that the proper attribution was "they," wore a black shirt, indigo skinny jeans, and knee high boots, said registering for classes this semester was easy unlike in the past.
Other students, however, said they didn't feel that great about the new semester because of inflexible class schedules and the demanding academic workloads. "It's alright," said Nicole Dempsey, 18 of Howard Beach, a freshman majoring in English. During an interview in the Queer Student Union Room on the third floor of Thomas Hunter Hall, Dempsey said she took classes five days a week Monday through Friday and worked full time as a cashier.
Dempsey, who wore a grey sweater, blue jeans and grey shoes, said she felt that the hectic schedule might effect her education and that she wished her classes were more flexible. "Not expecting perfection, I pay for what I get," said Dempsey.
Jay Lucero of Woodside, 21, a senior majoring in creative writing and a transgender student who prefers the attribution "they" instead of he said/she said, was anticipating graduation this upcoming May but admitted, "I wasn't prepared for all the work." Lucero, who wore a dark navy blue sweater, black pants, and Stan Smith sneakers during an interview in the library on the third floor, said they didn't feel prepared for the workload which would involve extensive readings and writings. Jay said that once they graduated, the plan was to attend law school and to work alongside working class people and to defend LGBT rights.
Nonetheless, Lucero expressed excitement about graduating this semester and just trying to "get it done."
Jusmine Soriano, 22, a senior majoring in anthropology, said, "It wasn't as exciting as any other year." Soriano, of Jamaica Queens, who wore black leather boots, black sweater, and black jeans during an interview on the sixth floor at the West Building, said she didn't felt like she had a break from school but was looking forward to graduation this May. She said she was planning to take some prerequisites at other CUNY schools and save up for graduate school. She said she hoped to land a job in either phlebotomy or in the hospital to finance her education for graduate school. She felt optimistic about her future.
According to a report on CBSNews.com headline, "Congrats, class of 2016: You're the most indebted yet,"  Mark Kantrowitz reported that students from the class of 2016 who had to borrow to finance their degree graduated with a record level of debt of $37,173. This represents a 6 percent increase from the previous year, according to Kantrowitz.
Carlos Diaz can be reached at Carlos.Diaz06@myhunter.cuny.edu