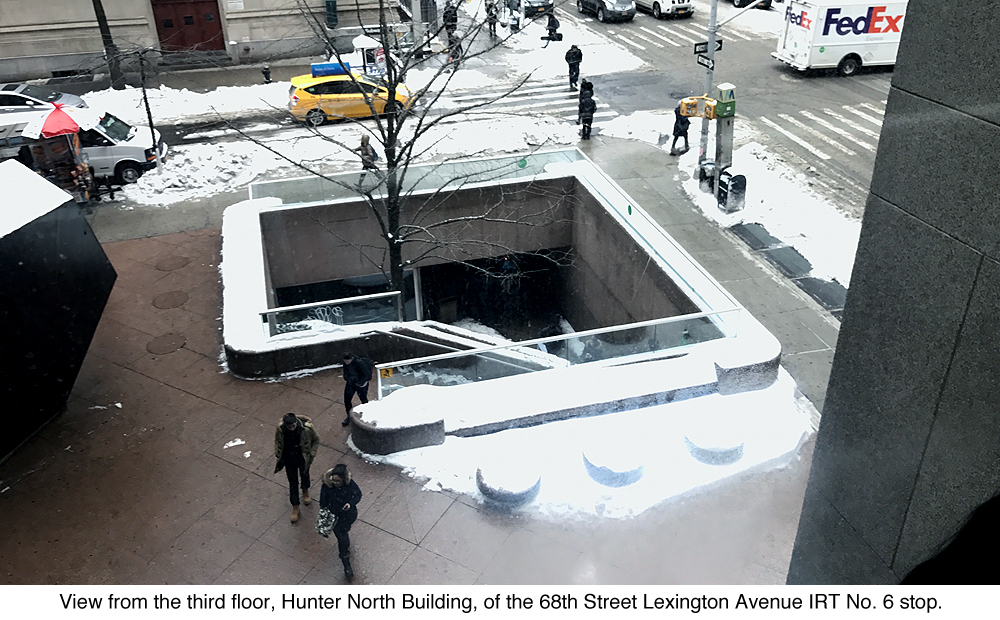 Article by Caitlin Munson
Classes began January 30, and Matthew Cavanagh, 21, said he had no idea what to expect for the upcoming months.
"My first few days have been good, no complaints," said Cavanagh, dressed in a blue shirt, khaki pants, black shoes, and a gray jacket. It's his first semester on his campus. Cavanagh transferred from Nassau Community College, located near his hometown of Merrick, Long Island, where he earned an associate degree in media studies. He heard a few "horror" stories about some students' first days not going as planned but he didn't let that get to his head, he said.
Cavanagh said one of his classmates learned that a course she needed in order to graduate had been dropped at the last minute. Cavanagh, a media studies major, interviewed in Hunter North Room 503, said he enrolled in Hunter because his mother and sister graduated from CUNY schools years ago.
Nevertheless, for the start of this spring semester, Cavanagh and the Hunter campus with its new and returning students might consider themselves lucky compared to the University of Delaware. "Flu Cases Spike on University of Delaware Campus," read the headline of one news story. "The University of Delaware is warning of a spike in flu cases," according to an ABC news affiliate in Philadelphia.
Nicholas Augustine, 21, another media studies major, said the first week of classes was nerve racking. "I'm taking a graduate course because I need it for my minor and I like the professor. He knows his stuff," said the junior, wearing a black and white sweater, glasses, denim jeans, and white Adidas sneakers. Augustine, who lives in the Gramercy building in Manhattan, and is minoring in history, said he enrolled in a modern European history course.  Augustine said he had high expectations for the graduate class despite him being an undergraduate.
Although his "GPA is always in the back of his head," Augustine said he hoped to challenge himself this semester by volunteering in addition to doing more community work at organizations like Rocking the Boat, a South Bronx charity that helps high school students develop ambitious goals for their future. It does this by building boats from scratch and sailing them when complete.
At the time she was interviewed, Barbara Huang, a senior who said her age was in the 20s, was expecting to graduate in May and that she didn't see herself getting much sleep or having much of a social life this semester. Taking six classes and 18 credits, the community health major said she was more concerned about what happens after she graduates.
"It's going to be a scary world out there," because she was unsure which direction she wanted to go in life, she said. Huang, with a white blouse, glasses, a blue scarf, and brown boots, is minoring in cultural anthropology and Asian American Studies. She said she wanted to work in the social justice to help make a difference in people's lives. Huang lives in Brooklyn and that she wanted to help people fight for their rights and have their voices be heard, she said.
Many students at Mt. San Jacinto College in Riverside County, California, were happy to be back on campus for the spring semester, according to a news report. The campus of 16,524 students plans to add more online classes to help downsize physical classrooms. Students spoke with counselors, worked in computer labs and filed for classes in the first day.
Hunter student Jenny Pedraza, 25, interviewed in Room 503 of the Hunter North Building, was excited about the new semester. A double major in media studies and English, the senior lives in Astoria, Queens, and said she was taking six courses this semester. The classes should go well but she said she was fearful that she wouldn't meet the standards for her writing intensive classes.
"The hardest part is that most of my classes are media writing," said Pedraza, dressed in a burgundy sweater, black boots, black leggings, and a ring on her right ring finger. "It may be complicated because I may want to use an idea from class and expand on it for another class but I can't. But I'm always up for the challenge."
Caitlin Munson can be reached at c.munson16@gmail.com