Former MTA President Andy Byford
Byford was hired as President of NYC Transit – a division of the Metropolitan Transit Authority – by NY Governor Andrew Cuomo at the height of the NYC subway crisis in 2018. Lauded, publicized and marketed as top international transit executive from the United Kingdom with 30+ years experience, including Toronto, and Sydney. His mandate was to turnaround and modernize the struggling NYC subways but he ultimately clashed with Governor Cuomo and resigned after just two years in Febru­ary 2020. Today he is the Commissioner of Transport for London.
Former NYC Councilman Antonio Reynoso
North Brooklyn Born "Los Sures" neighborhood and a sitting member of NYC's Transportation Committee. Reynoso highlights how the transit crisis disproportionately impacts communities of color, like the one that he represents. In a neighborhood barbershop, audiences can see him listening to constituents' concerns, and in city council chambers fighting to hold transit officials accountable. A rising star in NYC's political scene, Reynoso now serves as Brooklyn Borough President.
Freelance Journalist John Surico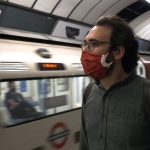 Covers the city and its subways for the New York Times, Vice, Bloomberg, and more. Surico pounds the pavement to understand the struggles of ordinary citizens who face financial hardship amid the transit crisis. He also provides an insider perspective on the historic and current political dynamics at play. Ultimately, a post-graduate program beckons him to study in Oxford, England, where Surico continues his crusade by applying an international lens to America's transit woes.
Sarah Feinberg, Interim President, MTA NYC Transit
Tabitha Decker, Deputy Executive Director, Transit Center
Additional Characters
Jon Orcutt, Director of Policy NYC Dept. of Transportation; Clayton Guse,  Journalist, The New York Daily News; Veronica Vanterpool, Board Member, MTA (2016-2019); Emma G. Fitzsimmons, Journalist, New York Times;  Jose Martinez, Journalist, The City; John "Janno" Lieber, Acting Chair and CEO, MTA; Aaron Gordon, Journalist, Vice; Sam Schwartz, Traffic Commissoner, NYC (1982-1986) John Samuelsen, International President, Transport Workers Union
EMMETT ADLER: Director, Editor and Executive Producer – Emmy-winning filmmaker who has taught art in Shenzhen, China, was once a chess champion in the state of Illinois, and can juggle pins while walking on stilts. He has over a decade of experience as a freelance documenta­ ry and commercial film editor. In 2021, he made his directorial debut with the feature documen­tary END OF THE LINE, which premiered at the DOC NYC film festival to sold out audiences.
IAN MAYER: Cinematographer and Executive Producer – A Clio-Award winning freelance editor and graphics artist living in New York City. He was editor and associate producer for The In­ comparable Rose Hartman, a feature-length documentary film that premiered at SXSW and has screened at 15 festivals. His other editorial credits include ESPN's Inside: U.S. Soccer's March to Brazil, MSNBC's Pot Barons, and vari­ ous television commercials. He has also created visuals for two Super Bowl Halftime Shows, music awards performances for KE$HA and Be­ yonce, and concert tours for Beyonce, Roger Waters and Norah Jones. Ian studied filmmaking at the University of Arizona.
MARIAH WILSON: Co-Producer   Produced series for PBS, National Geographic, A&E, Animal Planet, Discovery, His­ tory, MSNBC, VICE, Vocativ, Google, and The Smithsonian Institution. Her recent films are KA­ ZIRANGA (Humane Society ACE Award/Grant) about the rhino poaching crisis in India, and EEYA, about indigenous Baka tribes in Camer­ oon who are caught in the crossfire of poaching (featured on National Geographic's "Wildlife Watch"). She is currently premiering SILENT FORESTS, about forest elephant poaching in central Africa. (Telluride Mountainfilm Commit­ ment Grant, NYSCA Grant Recipient 2017, IFP Spotlight on Docs, World Premiere: 2019 Santa Barbara Film Festival, Finalist in Feature Compe­ tition, 2019 Big Sky Documentary Film Festival).
BRIAN TORRES: Associate Producer – Founder of Mammoth Editorial and the co-founder of Buho, a video production studio in Bogota. His work as an editor and di­ rector of photography has been shown on the Discovery Channel, CNN, Univision, Fusion and Telemundo. He has worked with companies and brands such as Vax Media, The Verge, Fly, SB Nation, Nikon, Twitter, Avianca, Audi, Colombia and Ubeci.
Brief NYC Subway Timeline
– October 1904: The New York City subway system opens October 2012: Hurricane Sandy causes devastating damage January 2016: L train shutdown proposals are announced June 2017: A train derails in Manhattan injuring dozens June 2017: Governor Cuomo declares a state of emergency
– January 2018: Andy Byford becomes President of MTA NYC Transit
– January 2018: The New York City records the worst on-time performance of any major rapid transit system worldwide
– January 4, 2019: Governor Cuomo reverses the L train shutdown
– January 2020: Andy Byford resigns as President of MTA NYC Transit February 21, 2020: Andy Byford's last day as President of MTA NYC Transit May 2020: The overnight closure due to COVID-19 pandemic begins
– May 2021: 24/7 service resumes in the city
– November 15, 2021: President Biden signs historic $1 trillion infrastructure bill into law
– May 2, 2022: Richard Davey takes over as President of MTA NYC Transit
Cast, Crew
Directed by Emmett Adler
Executive Producers Emmett Adler, Ian Mayer
Co-Producer Mariah Wilson
Associate Producers Brian Torres, Erin Stein
Participants: Sarah Feinberg, Jon Orcutt, Emma G. Fitzsimmons, John Surico, Antonio Reynoso, Aaron Gordon, Tabitha Decker, Clayton Guse, Jose Martinez, Sam Schwartz, Veronica Vanterpool Andy Byford, John "Janno" Lieber John SamuelsenGravitas Ventures is a leading all rights distributor of independent feature films and documentaries.
Gregg Morris can be reached at gregghc@comcast.net, profgreggwmorris@gmail.com