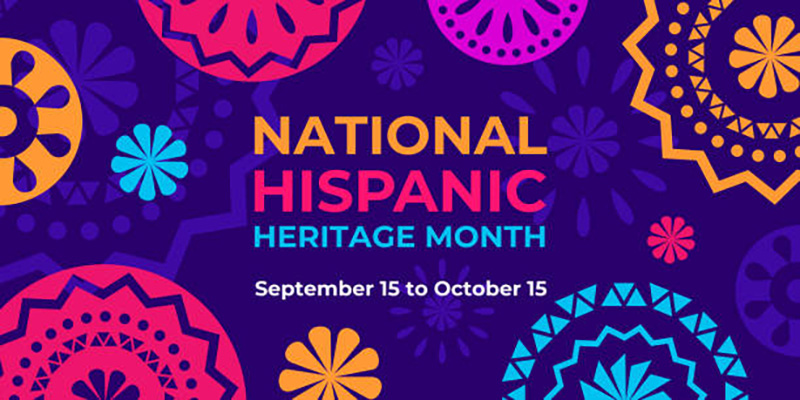 This year's theme for National Hispanic Heritage Month – September 15 to October 15 – is Unidos: Inclusivity for a Stronger Nation. "Our diversity is our strength, and our contributions to the culture, the economy, and the future of our nation cannot be denied"– Patricia Sauceda Kramer, Principal Strategist, Hispanic Portfolio.
---
Ismael's Corner
The population of Latinos living in the United States is growing. We face challenges every day and many of us are not aware of organizations that serve Latinos with disabilities. Here are few organizations this reporter, proud to be Latin American, found that can be good help.
The Unification of Disabled Latin Americans, U.D.L.A is a non-profit organization founded in 1974 by and for physically challenged individuals. The main goal of U.D.L.A. is to dedicate and commit to improving the quality of life for those individuals with disabilities. Creating a safe place and being a platform for those to gain their self-esteem to be productive members of society. In keeping with our mission, all of our U.D.L.A staff are disabled people of all types.
For the last 48 years, UDLA has been instrumental in providing quality services to approximately 30,000 individuals annually. We provide community services that benefit children, youth, senior citizens, disabled individuals and their families. We thrive on uniting all ethnic groups as good neighbors so they can work together at community events. This type of unity is beneficial to all LA county residents.
The Latin American Network of Non-Governmental Organizations of Persons With Disabilities and Their Families (RIADIS) is a network formed by organizations of persons with disabilities from 19 countries in Latin America and the Caribbean. Formed in 2002, RIADIS represents national DPOs as well as several NGOs acting as technical collaborators. They state proudly, "We are a non-profit organization that was founded in 2010 by Irma Sanchez. We work with Latinx families with children who are Deaf or Hard of Hearing, Deaf Adults, and non-verbal, as we integrate family history, traditions, and values into their lives to bridge the gap between two different cultures/languages/worlds. We are a family oriented organization ran for parents by parents."
"Our mission is to promote awareness of the Latinx cultures to children who are deaf or hard of hearing, deaf adults, non-verbal, and community members by providing families resources and American Sign Language classes in Spanish to bridge the communication gap. Our goal is to support parents by guiding them through the process of adapting the Deaf culture and ASL into their lives so they can pass along our traditions to our next generation and maintain our cultures alive!"
They proudly advocate, "We offer weekly family American Sign Language class. By targeting the acquisition of ASL, families' are able to share traditions, family history, and juicy family gossip! We encourage the community to attend in order to better prepare them to become greater advocates for their peers and children. We also offer workshops where we teach the importance of family unity and how to build and strengthen the relationship between Parent and their children in DeafEd!
National Hispanic Latino Association of the Deaf. Their proud mission is to build an alliance between the deaf Latino community "through the preservation of our language, culture, and customs. We recognize the importance of gaining empowerment through the promotion of leadership and education throughout the Latin American community. Our organization National Hispanic Latino Association of the Deaf Logo represents two things: 1 – Latin American countries, and the Caribbean Islands; 2 – It represents their Culture, Language, Families, Food, Dance. Arts, Clothes and more.
PLUMAS, Political Latinxs United For Movement and Action in Society: It's mission is to engage the Latinx community, its supporters at UMD, and the surrounding area by providing a safe space for students to vocalize and express their stance on issues affecting Latinxs on and off-campus. We strive to create civic engagement and awareness of social and political issues through education, advocacy, and direct action.
"We recognize the diversity within the movement as our membership comprises of individuals from various nationalities, ethnicities, and genders. As such, PLUMAS is not limited to members who are of Hispanic or Latino/a/x ancestry. We welcome any individual no matter their creed, religion, race, sexual orientation, individual identity, and experience level."
"One out of five Latin American households live in extreme poverty as measured by a daily income of US $3.20) includes a person with a disability." Organizations such as these are needed.
Ismael Nunez can be reached at smaelnunez80@yahoo.com