The friendship of two boys is tested to its limits as they battle for survival during the Kosovo War …
21 Minutes, 6 Seconds
Albanian, Serbian
English Subtitles
UK/Kosovo Co-Production
Writer/Director: Jamie Donoughue
Producers: Howard Dawson, Harvey Ascott, Eshref Durmishi
Camera Operator: James Rhodes
Editor: Sarah Peczek
Composer: Trimor Dhomi
2016 Oscar Nominee Live Action Short
Based on true events during the horrific Kosovo War, SHOK captures the relationship of two impoverished young boys struggling to stay loyal to one another in a time of great despair.
Living within the confines of the Kosovo War , Petrit (Lum Vesili) and Oki (Andi Bajgora) attempt to save their friendship and themselves from dangerous Serbian troops who have invaded their hometown. [More info about Kosovo War]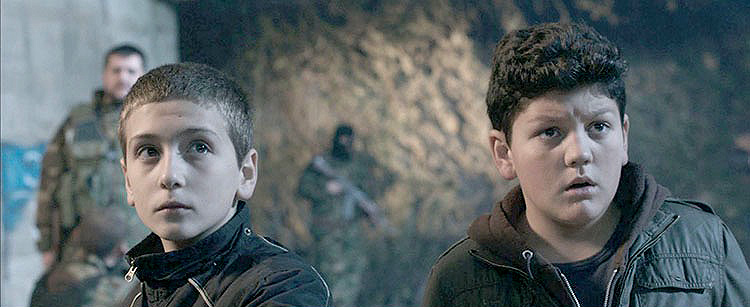 What started as Petrit selling smoking papers to soldiers for a few extra bucks turned into a violent business move that causes him tremendous grief. His buddy, Oki, never liked the idea of being collegial with traitors because of the large risk, and his words could not be closer to the truth. Tensions rise as troops invade all the homes in the area, leaving one person to suffer for the actions of another.
With his first Kosovo film nominated for an Oscar, Director Jamie Donoughue stuns with an emotional short capturing the shocking realities of the war but a sensitive way. Donoughue captures viewers attention and pulls at their heartstrings, praying that the young boys succeed and make it out alive.
Based on Actor/Producer Eshref Durmishi's childhood memories, this film's realism may make many in the audience cringe. Durmishi plays one of the troops, which is challenging since he was once a victim. However, Durmishi delivers an amazing, on-camera presence that in the end allows him to have some closure of what happened many, many years ago.
Cast members Lum Vesili and Andi Bajgora's are superb, and their connection on camera is spot on. Donoughue could not have picked a better pair of adolescent boys to play Petrit and Oki. Their tight-knit relationship blew the mind of this reviewer.
SHOK, "friend" in English, is a must-see film; Donoughue and his cast and crew create a storyline viewers won't be able to forget for a long time.
Starring Lum Vesili, Andi Bajgora, Eshref Durmishi, Xhevdet Jashari, Astrit Kabashi, Armond Marina, Sunaj Raca, Kushtrim Sheremeti, Luan Kryeziu, Melihate Qena, Aurita Agushi, Eni Cani, Fisnik Ademi, Besnik Krapi, Ardit Tahiri
Winner of: Aspen Shortfest: Best Drama 2015, Youth Jury Prize 2015, Audience Special Recognition 2015; Hollyshorts Film Festival: Best Short Film Grand Prize 2015; DC Shorts Film Festival: Outstanding Live Action Short 2015, Audience Winner 2015; Manhattan Short Film Festival: Silver Medal Winner 2015; Cineast Film Festival: Audience Award Short Fiction 2015; San Jose Film Festival: Best Drama 2015; Thessaloniki Film Festival: Best Actor 2015; Swikos Kurz Film Festival: Best Film 2015, Best Cinematography 2015; Interfilm Festival: Best Film 2015; Evolution Film Festival: Best Actor 2015; Festival Tous Courts: Best Short Film 2015
---
From Press Notes:
Jamie Donoughue "is an experienced director and producer of music videos. Previously signed to Academy Films he then went on to set up his own production company Left Eye Blind, working extensively across Europe and the America. He began exploring the Balkan area as he realized the potential for filmmaking in this region. With a passion to move into film, Donoughue became a freelance director in late 2013. SHOK is his first solo film project.
SHOK is in theaters as part of THE SHORTS HD PRESENTS THE OSCAR® NOMINATED SHORTS 2016 film series.
---
The WORD's Natalie Lally can be reached at natalielallye@gmail.com