By Natalie Lally
WORD Senior Correspondent
86 minutes
2015
English
Director: Jay Dockendorf
Producers: Margaret Katcher, Jacob Albert
Starring Kerwin Johnson Jr., Curtiss Cook Jr.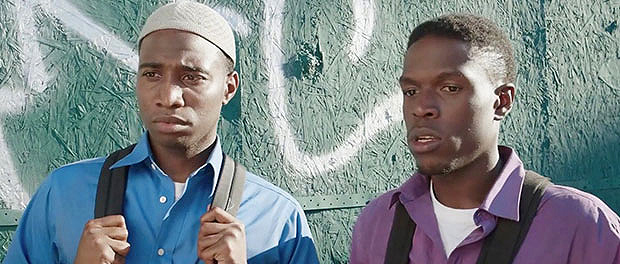 A powerful film about the on-going effects of racial profiling of the Muslims, NAZ AND MAALIK tells the tale of two young Muslim teenagers with a secretive relationship.
Hustling on the streets of Brooklyn to raise money for college, Naz (Kerwin Johnson, Jr.) and Maalik (Curtiss Cook, Jr.) are two friends whose relationship has become intimate overnight. The youths hide their sexual relationship since it violates their religion, but things take a turn for the worst as a suspicious FBI agent begins to track their every move.
As suspicion continues to rise, Naz and Maalik attempt to dodge the FBI surveillance. They are afraid of the FBI's profiling because the disclosure of their love for each other may cause them to sever ties with their communities and, more importantly, their families.
Director Jay Dockendorf's was inspired to make NAZ AND MAALIK, his first narrative feature, because he was living with a Muslim graduate student during his first stay in New York. He listened to countless dinner table stories about the student growing up a closeted Muslim teenager in Bedstuy. NAZ AND MAALIK is based on those true accounts.
Being a film that documents the effects racial profiling has on Muslims, Dockendorf made sure to also focus on the "teenage" aspect of the relationship. Like young adults world wide, Muslim youths have problems of their own as well as universal needs and desires.
Dockendorf succeeds in creating a film that is fueled by the private thoughts of young persons mixed with society's view on different cultures. A comedic, yet serious narrative circled around race, religion, and sexuality, NAZ AND MAALIK provides a unique portrayal on how the other half lives.
From Press Notes:
Jay Dockendorf is a writer, director and composer. NAZ & MAALIK is his first narrative feature. His short documentary VIGILANTE COPY EDITOR (2013) was a featured Op-Doc of The New York Times. He co-composed the music for Naz & Maalik with Adam Gunther. Winner of Tribeca Film Institute's IWC Filmmaker Award for NAZ AND MAALIK, Jay has two more features in development with producers Margaret Katcher and Jacob Albert.
NAZ AND MAALIK opened in New York City at Cinema Village on Friday, January 22, and is available on DVD via Wolfe Video and many major retailers, and also on VOD via WolfeOnDemand.com and additional digital platforms.
Natalie Lally can be reached at natalielallye@gmail.com