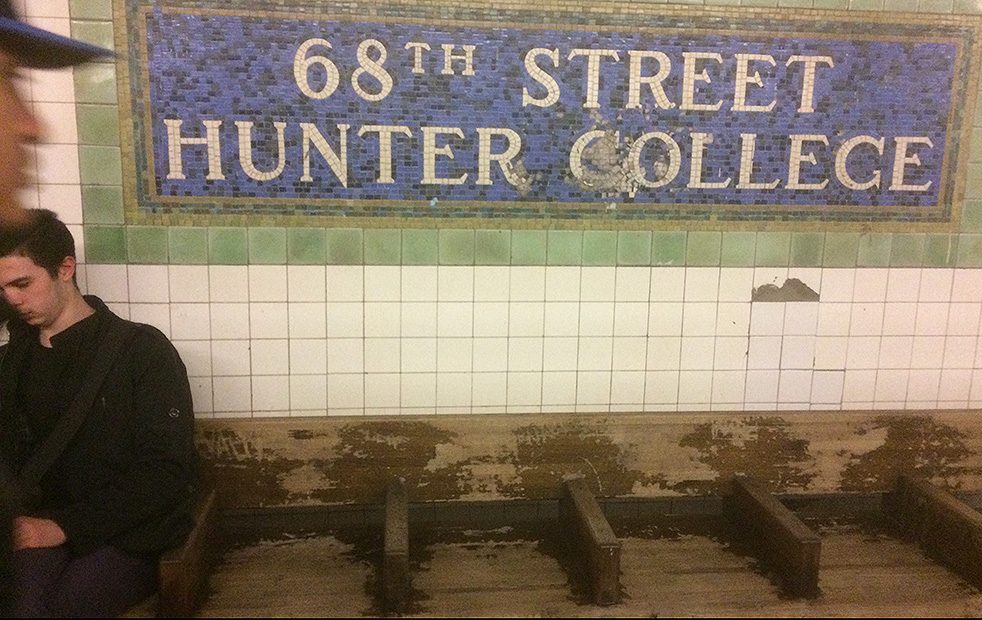 The second in a series of articles about the beginning of the 2018 fall semester.
After a three-month break, long and hot for those living in the New York City metro area, students are back on the 6, N, R, Q, W and F trains to 68th Street and Lexington Avenue. They also are walking, biking, bussing, scootering and – for those with deep pockets – hailing taxis. The beginning of a fall semester can be exciting yet stressful for many who must balance studies, extracurricular activities, jobs and family responsibilities as they pursue their degrees.
Hunter – with more than 22,918 undergraduate, graduate, part-time and auditing students – supports a widely diverse student body. Several were interviewed for this article. Giulia Chu, an art history major minoring in anthropology, has a balancing strategy that works for her. "I don't take work home with me," she said. "I think about school when I'm not there, while studying or doing homework, as opposed to working."
Hailing from Williamsburg, Brooklyn, Chu, interviewed on the seventh-floor skywalk connecting the North and West buildings, works as a paid intern at the Meislin Projects on Madison Avenue and 68th Street, just two blocks from campus. She is the only intern at the exhibition and installation space, which "represents mainly Israeli, female artists, although some artists are not necessarily Israeli or female," she said. Chu, wearing denim shorts and a knitted yellow crop-top, works Wednesdays and Fridays, and expects this semester to be somewhat light. "I am only taking three real classes besides my internship credits," she said. Her studies include an honors thesis essay about feminist graffiti art.
John Romano, 23, a self-described "super-senior," is a converted emerging media studies major who said his academic mission and responsibilities were under control. "A lot of computer science majors have switched to media studies. I'm not sure why," he said. A friend, nearby, nodded in agreement. Romano works at St. Mary's Children's Hospital in Bayside, Queens, as a therapeutic activity assistant. Asked if he interested in a career in the medical field, Romano said he was not and that his family had influenced his career choice. "My older brother is in the field. He worked there and got my sister the job, who got me the job," he said.
Although he said that the pay was not as high as he'd like, the work has been "pretty easy" and he has time to study. Romano, wearing blue jeans and a black, acid-washed Pink Floyd t-shirt, can pick up shifts at the hospital as he pleases. He plans to work there until he gets a paid internship at a media company, he said while sitting on a bench on the fourth floor of the North Building.
Joe Brajdic, 22, a senior, said he was also a converted emerging media studies major. He also has been fencing since he was 13 years old. He used to fence for the Hunter Hawks, but quit because he did not like the athletic administration's biases. "They have their heads up their asses," he said. "They give the most funding to basketball, volleyball or tennis." Brajdic, wearing black shorts and a black sweatshirt with a blue Nike check, now fences for a Croatian fencing team, the Croatian Fencing Federation. Interviewed as he was waiting for his next class on the fourth floor of the North Building, he said he spent the summer visiting family in Croatia.
Twenty-one-year-old senior Anette Eriksen, who was anticipating a mild semester, said she was applying for grad school in Oslo, Norway. Eriksen, of Bushwick, Brooklyn, is a digital marketing major and communications minor. "I want to get a job in the industry that is interesting and allows me to grow. I'm looking for something with possibilities of climbing the ladder and which will allow me to travel, be creative and have fun," she said on the second floor of the campus library.
Eriksen, wearing a vintage green dress and white Converse shoes, is not employed, but "could do an internship" though her major does not require one. She wants to start applying for spring internships right after she takes the Graduate Records Examination , popularly known as the GRE, the test most commonly required for grad school admission. She plans to move to Oslo after she graduates, and already has an apartment lined up there.
Sobhia Jilany, 21, manages The Children's Place retail store in Queens where she has worked for a year, and has a flexible schedule that doesn't interfere with her studies. "It's a convenient place to work because it's so close to where I live," she said. Jilany is a junior majoring in finance and minoring in psychology. "I'm a finance major because I'm good at math, although I don't really like it," she said on the third floor skywalk.
Jilany, wearing a red shirt with a white cardigan, teaches herself the ukulele in her spare time. "I realized I could sing, play and write songs," she said. Although she would like to play publicly, she does not want her "hobby to become a job."
Christian Campos, 21, a junior, is an accounting major who has to work to pay his way through school. "I'm passionate about it. I dropped computer science last year and switched to accounting. It's like the best of both worlds," he said on the third-floor skywalk. Campos, of Brooklyn, has been working at The PokéSpot, a Hawaiian fast food restaurant, for two years. His schedule is flexible, he said as he was eating a Chipotle burrito. If he had a "harder major" it would be more difficult to balance work and school. "It depends on what you major in," he said. "I bet STEM majors have a harder time finding the perfect balance than media majors do," he said.
Addison Gettenberg can be reached at Addison.Gettenberg75@myhunter.cuny.edu

---
---