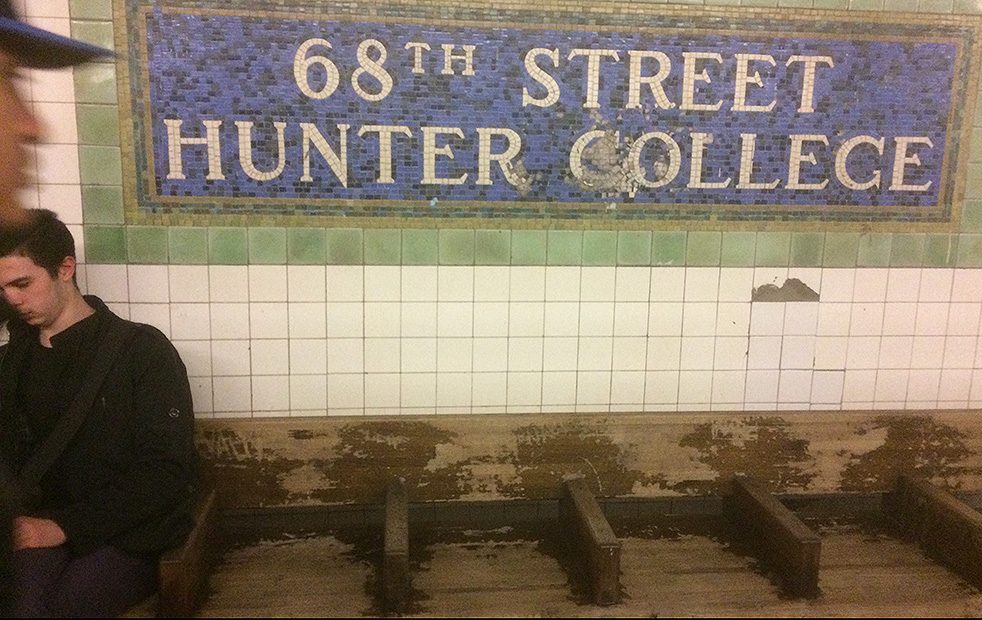 First in a series of articles about students and their early weeks of the new semester.
In the early weeks of the semester, it is not unusual for students to search – some frantically – for classes, friends, offices and bathrooms. A new wrinkle this semester: Students foraging for food because the third-floor student cafeteria in the Hunter West Building has been inexplicably closed. The shuttered cafe was one of first year student Yuliana Anikina's initial impressions of the campus, and she said she was confused and annoyed.
"It would be a lot easier if I didn't have to run outside," said Anikina, picture right, referring to food carts and restaurants in the area. She was finishing up the remnants of a homemade lunch on the third-floor sky bridge where she was interviewed.
Dressed in a color-coordinated outfit of a striped shirt, black sneakers, and black pants, the Manhattanite, was yet to declare a major but decidedly wary of the cafeteria's offering even when it opens. "I read on Facebook the cafeteria food isn't good" and that it had been shut down before, she said.
The city health department has shut down the student cafeteria multiple times in the past, and the eatery made the list of one magazine's "The Grossest College Cafeterias." There is a faculty dining room on the eighth floor in Hunter West but students are not allowed to eat there and that too has been closed by the health department.
On September 12, well into the third week of the semester, Undergraduate Student Government sent out an email blast which included a snippet about the cafeteria undergoing renovations and that students could expect it to reopen "sometime in October." While this has been the only public explanation offered about the shuttered student dining room, USG Senior Senator Jamie Cabigas provided a different perspective.
In a text message, the 21-year-old biology major from Queens said that it was due to the cafeteria's previous vendor, AVI Foodsystems, ending its contract, and that the school had failed to finalize agreements with a new vendor before the start of the semester.
Regardless of the reason for the closing, students have not been wasting time finding sustenance. Multiple lunch options are available around 68th Street and Lexington Avenue, and the go-to option seems to be the food carts stationed right outside the vertical campus. "Can't beat $5 Halal," Matthew Goldman, 20, donning a white tank, blue cargo shorts, and old sneakers, remarked as he was en route to his cart of choice.
The junior theater major a Brooklyn native, said he preferred his chicken over rice to the fare offered in the cafeteria, which he described as "low tier" and "overpriced" (i.e. $4 for a slice of pizza). These critiques are echoed on the cafe's Yelp page, which also has comments alleging food poisoning. Goldman seconded this concern with a jest, "I never tried the sushi, it looked fishy."
Jonathan Balina, a junior from Queens, expressed similar comments. Seated on one of the third-floor sky bridge, the computer science student paused eating a chipotle burrito to say, "It just was not good food." Being careful not to drop salsa on his jeans, white converse, or red shirt, Balina, 19, gestured to the closed doors of the glass cafeteria, and said that while he did not go very often, it didn't mean he was happy with the situation. Before resuming his meal, Balina said, "It's not fair, schools should feed their students."
Lisbeth Santo Santo, 21, was not impressed about the closing. The junior psychology major at first said, "To be honest, I don't eat here, ever," but then let slip her one cafeteria weakness: The pricey pizza. As she leaned back in her seat following an exam in Room 709 Hunter West, Santo Santo, dressed in a white patterned T-shirt, black pants, and ballet flats, called the establishment "not okay" and "dirty."
Minutes later, however, she abashedly admitted her love for the doughy slices, and she laughed in spite of herself. Born and raised in in Manhattan, Santo Santo said she has become all too familiar with high prices. Chipotle is pricier than the cafeteria pizza ever was, but Balina said that he had no plans to give up his burrito habit.
Goldman, however, said he was eager to see the cafeteria's return. "I can't get my unsweetened green tea anywhere else," he said, casting a look of disdain at the vending machines. Students' dependency on M&M's and coke will continue for the near future, but the countdown is on for USG's October time frame for the cafeteria reopening. November is less than two weeks away.
Bressni Neary can be reached at bressni.neary@macaulay.cuny.edu