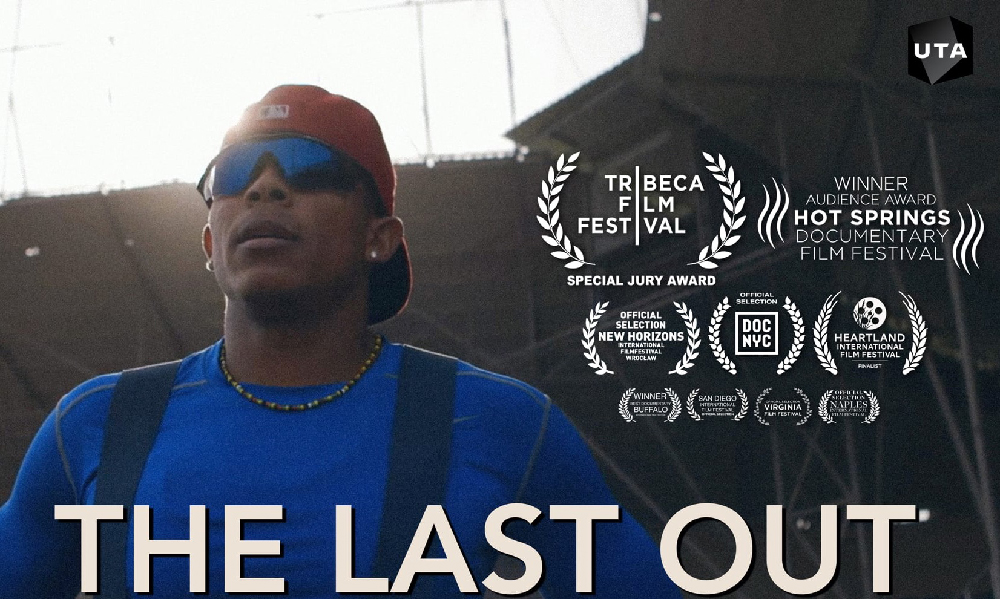 Directors: Michael Gassert, Sami Khan
Writers: Michael Gassert, Sami Khan
Stars: Happy Oliveros, Carlos O. González, Victor Baró
THE LAST OUT is 84 minutes of riveting cinematography, an edge-of-your-seat, bittersweet, gorgeously lensed story about the fates of three young promising Cuban ballplayers dreaming of making it big in Major League Baseball in the States. Because of the U.S. embargo against Cuba, however, Cuban ball players like them who want to be signed to big contracts must leave their homes to try to establish residency in The Dominican Republic, Haiti or Costa Rica. This  rite of passage for a chance at lucrative careers in MLB means players must trek the dangerous Central American migrant trail where bodies never stop piling up.
Once they arrive to their destinations, surviving what could have been baptisms of fire, more perils, trials, tribulations and capricious fates unimaginable to most sports fans await them. THE LAST OUT offers a window into the dark side of Major League Baseball unlike any sports movie seen by this reviewer in recent memory. Sports, yes, but the film is a cinematic medley of history, personal histories, traditions, culture and politics, all superbly crafted together so that audiences will feel that they are flies-on-the-wall for the entire length of a film shot in dazzling cinéma vérité style.
"Intimacy is something that we also sought to achieve with our vérité filmmaking. We shot the vast majority of the film on vintage prime lenses which force us, the filmmakers, to constantly earn the trust of our participants" – from the Filmmaker's Statement for THE LASTOUT. "Our subjects are three young players fighting for agency in their lives in the face of a corporate machine that only sees and treats them as products. In an age of increasing brutality, that struggle for dignity is something everyone, regardless of background can relate to."
Scenes that are not breathtaking can be just plain gorgeous because of the film's medley of wide and extremely wide shots of islands that look paradisal as well as long and extremely long shots and funky closeups of personal moments of the players who allowed the filmmakers intimate access. Take the opening scene shot at a decaying run downed Estadio Antonio Escarrehas in San José, Costa Rica, steeped in symbolism for this reviewer. He explodes into a sprint down a track. One end of a a rope is tied around his waste and the other attached to a big tire as he blazes away from the camera. Whew! The next shot, he is returning, like a human locomotive, kinetically charging, as if his life depends on it, towards the camera.
That scene, for this reviewer, symbolized the commitment and the sacrifice and the passion of the three stoic ball players throughout the movie. A sound track accentuates the major story themes of THE LAST OUT which is flushed through out with dramatic moments. There are times audiences may need to catch their breath. The heart of the film: How athletes like the three can be "dehumanized and commodified" but their spirit is indomitable. That reality courses throughout the movie without proselytizing.
Happy Oliveros, Carlos O. Gonazales, Victor Baró
– Happy Oliveros: Blistering speed in the field, heading to a base, From Baracoa, Cuba, in the eastern most province of Guantanamo. His father, also nicknamed Happy, is a legendary baseball coach and physical trainer, known throughout Latin America. A few months before THE LAST OUT began filming, Happy Oliveros learned from Carlos in Ecuador about Gus' training camp in Costa Rica. At the time, because of friendly entry requirements, Ecuador was a hotbed for Cuban exiles trying to make their way north to the United States. Gus and Carlos convinced Happy to hit the trail to Colombia to the shores of the Caribbean where the could travel by lancha (smuggler's boat) to Panama and eventually onto Costa Rica.
– Carlos O. Gonazales: From a small pueblo in Holguin Province. A formidable starting pitcher in the Serie Nacional for five years. At 5-foot-9, Carlos dominated his country's toughest hitters. In 2014, Carlos left Cuba to sign with Cuban-American sports agent Gustavo Dominguez in Costa Rica – on little more than a promise.
– Victor Barro: Comes from a bloodline of elite ball players and is the grand nephe. From the tiny sugar mill town of Violeta in Ciego de Avila province, Baró became famous for mean fastball and devastating slider.
---
Agent Gustavo Dominguez, born just outside Havana, emigrated to the United States during the "Freedom Flights." In the early 1990s, he became the rep for the first defector from the Cuban National team, Rene Arocha. After Arocha signed with the St. Louis Cardinals, Dominguez represented dozens of Cuban baseball defectors, including Julio Cesar Villalon and Eddie Oropesa. They appear as supporting characters in the film.
Journalist Michael Lewis wrote in 2008 that Gus "invented" the market for Cuban baseball players in the United States. In 2007 Gus was convicted of being part of a smuggling ring to bring Cuban ballplayers into the States. He was incarcerated for five years. At the beginning of THE LAST OUT, Gus is recently out.
Months pass and there were no MLB offers for Happy, and Gus Dominguez no longer feels like believes he can afford the expense of supporting him. Happy may be cut and must decide whether to stay in Costa Rica or join other migrants and take the perilous trip north to the States by land. For Carlos and Victor, two elite pitchers, the future is equally uncertain. They could be in Spring Training in a few months with millions in the bank or end up being cut and stranded in a foreign country. As mistrust grows between the players and Gus, the Houston Astros dangle a tantalizing offer but Gus holds out for more money, setting up a series of tense final showcases. There were scenes, revealed as whispers, innuendos and insinuations, about the capricious nature of MLB decsions about who gets the contracts and who are sent home.
The Filmmakers
Director/Producer Sami Khan. An Oscar-nominated filmmaker whose work has been supported by the Sundance and Tribeca Film Institutes, Impact Partners, Rooftop Films, IFP, the Berlinale, and NBC/Universal's Directors Fellowship. His most recent film is the short documentary ST. LOUIS SUPERMAN (with Smriti Mundhra). It was nominated for a 2020 Academy Award and won prizes at Tribeca, Hot Docs, Big Sky, Traverse City, AFI Docs, and Indy Shorts.
Director/Producer MIchael Gassert. An immersive producer, director, sound artist, and musician who revels in the diversity of our global treasures while working at the intersections of film and music. His documentary and archival work is supported by IFP, Sundance Institute, UNESCO, and The Kennedy Center. Michael has produced recordings with Ornette Coleman, Jason Moran, The Master Musicians of Jajouka, Patti Smith, Flea, Perry Farrell, and Mango Ghost.Notable sound mixing credits include BEASTS OF THE SOUTHERN WILD, ANOTHER EARTH, CIRCUMSTANCE, CASUALTIES OF THE GRIDIRON and DANGEROUS ACTS Starring the Unstable Elements of Belarus.
Producer/Cinematographer Jonathan Miller. A Brooklyn based cinematographer attracted to stories that change the culture. His films have screened at Cannes, Sundance, Toronto, and New Directors/New Films. Some of his achievements include GIMME THE LOOT which won the Grand Jury prize at SXSW, an Independent Spirit Award, was a Cannes Un Certain Regard selection and released theatrically by IFC Films; AMERICAN TERRORIST is a dark comedy about prejudice in the wake of 9/11, released by Lionsgate. Miller is currently lensing BLACK BOX (Bert Marcus Film) a mystery feature doc about an Eastern Airlines crash in La Paz, Bolivia in 1985. TV work includes DESUS & MERO for Showtime and THE NEW YORKER PRESENTS for Amazon. As a producer his work is supported by the Sundance Institute, Rooftop Films, and IFP.
Editor Carla Gutierrez. An Emmy and ACE Eddie nominated documentary editor based in the New York city area. Edited the Oscar nominated film RBG, about the life of Supreme Court Justice Ruth Bader Ginsburg and her fight for gender equality. RBG premiered at Sundance and was released theatrically worldwide. It won the National Board of Review Award for Best Documentary, the Critics Choice Award for Best Political Documentary, and a DuPont-Columbia Award. Her work has screened at Sundance, SXSW, Berlinale, IDFA, Full Frame, Hot Docs, among other film festivals. Carla has been a creative adviser for the Sundance Edit Lab, and a mentor for the Firelight Producers' Lab, The Karen Schmeer Diversity Program and the Tribeca Film Fellows program. She is a member of the Academy of Motion Pictures and the American Cinema Editors. Carla received a Masters in Documentary Film from Stanford University.
Editor Mark Becker. Co-directed and edited the documentary ART AND CRAFT (2014), which was shortlisted for the 2015 Academy Awards, nominated for an Emmy Award, won recognition with the National Board of Review, premiered at the Tribeca Film Festival and screened theatrically via Oscilloscope Laboratories. He produced, directed and edited the documentary ROMANTICO (2005), which was nominated for the Grand Jury Prize at the Sundance Film Festival, received two Independent Spirit Award nominations (including Best Documentary), and was released theatrically by Kino International. Becker directed and edited the Emmy-nominated film PRESSURE COOKER (2008) for Participant Media. Becker co-wrote and edited the Emmy-nominated documentary CIRCO (2011), and was one of two editors on the acclaimed LOST BOYS OF SUDAN (2003), winner of an Independent Spirit Award.
Additional Editor Daniela I. Quiroz. A 2017 Front Page Award winner (The Newswomen's Club of New York) for her work on the VICE on HBO documentary TRANS YOUTH. She edited for the VICE on HBO and VICE News Tonight shows for 3 seasons, including GOODBYE CONGRESS with Alexandra Pelosi when she sat down with 15 departing members of Congress at the end of 2018. Daniela edited the feature length film, REBEL CITIZEN with Skylight Pictures, an in-depth look at Haskell Wexler's use of cinematography as a tool for social justice, which premiered at the 2015 New York Film Festival. She is currently involved in the post-production of several documentaries and TV series set to release in 2020.
Saul Simon MacWilliams. An Emmy nominated, Los Angeles based film composer. Has worked closely and extensively with composer and producer Dan Romer on films including his Oscar nominated feature BEASTS OF THE SOUTHERN WILD, DIGGING FOR FIRE, FINDERS KEEPERS, MEDITERRANIA, BEASTS OF NO NATION, and ABC's THE GOOD DOCTOR. Saul co
scored HBO's Emmy winning documentary JIM: THE JAMES FOLEY STORY as well as Amazon's GLEASON, which took the 2016 Sundance Audience Award. In 2017, Saul scored HBO's BECOMING WARREN BUFFET as well as co-scoring the Netflix documentary CHASING CORAL which won the Sundance Audience Award and earned him and Romer an Emmy nomination. In 2018 MacWilliams scored HBO's Martin Luther King Jr. biopic, KING IN THE WILDERNESS, directed by Peter Kunhardt and Co-Scored Clay Tweel's award winning documentary OUT OF OMAHA. MacWilliams scored the Anton Yelchin biopic, LOVE, ANTOSHA, which premiered at Sundance '19 followed by a theatrical release.
Film Awards So Far: Special Jury Mention Best New Documentary Director – Tribeca FF Best Documentary – Buffalo Iff Audience Award – Hot Spring Dff.
Gregg Morris can be reached at gregghc@comcast.net, profgreggwmorris@gmail.com