"We've approached this production with one goal in mind: To introduce Karen's music to a wider audience"– Robert Yapkowitz and Richard Peete
---
Been a long time since this reviewer was mesmerized by a music documentary. Eyes, ears and gut — the latter the core of my being for processing the conscious and the unconscious – locked on to IN MY OWN TIME several minutes into the film. I was being swept away in a time warp of a mind-body-soul experience subliminally recalling the good, the bad, the beautiful and the excess of the 60s via a compelling cinematic portrait of an extraordinary artiste.
I think it was because of her voice. I haven't had a music-doc bring about a mind-body-soul experience in a long time.
IN MY OWN TIME is soulfully poignant. The filmmakers fuse selections of contemporary and archival interviews, footage, stills, and audio – as well as Jordon's poems and personal journals – into a narrative that I imagine lots of sexagenarians, septuagenarians and octogenarians may think are best vividly attainable only through favorite hallucinogens. But the filmmakers' contemporary interviews, such as that of Jordon's daughter, are also compelling.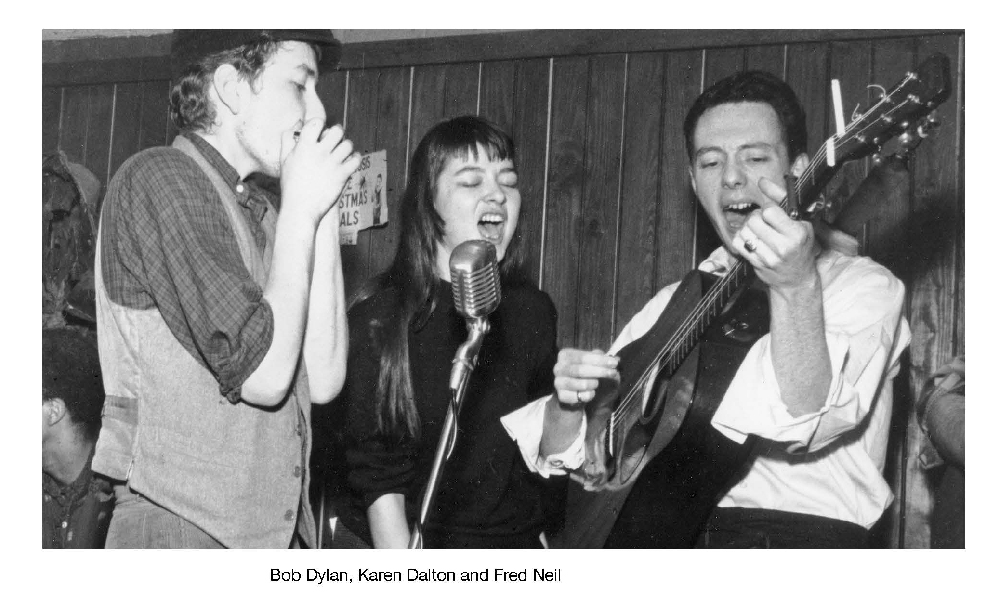 Audiences should be aware of the following. When I felt look-away-moments getting ready to sure, those bitter-sweet nostalgias about a soul or souls in pain, brought on by stellar filmmaking, I couldn't look away. There are lots of moments to sigh in this film. The film experience was that moving.
"Karen Dalton is often championed as one of the most unique and influential folk musicians to come out of the 1960's Greenwich Village scene." I grew up in Chicago with blues, jazz, pop and some rock, and became introduced to folk, more rock and other genres when I was a student at Cornell University, there via a basketball scholarship. For example, that's where Gregg Morris from the South Side of Chicago was introduced to Leonard Cohen, Bob Dylan and others – and hooked for life. I knew nothing about Karen Dalton until DOC NYC pitched an offer that I was inadvertently lucky not to refuse.
---
I'm on a deadline in play, so I curated from the filmmakers production material that corresponded to notes I took and what I wanted to write if I had more time.
IN MY OWN TIME explores Dalton's early days in Oklahoma where she experienced the harsh realities of growing up during the Great Depression and follows her through more than two decades at the margins of popular music. With two ex-husbands and two children by the time she was eighteen, she rejected the life of a housewife and set off for New York City. What I really liked about this film is that it's intensely melodic throughout, like one marvelous, intricate, intense music video.
That's unbelievable good fortune for someone like this writer who was unaware that Karen Dalton had ever walked this earth. One can really learned the music of an artist – or at least get an introduction – by just watching a documentary of the artist.
Dalton, say the filmmakers, is often championed as one of the most unique and influential folk musicians to come out of the 1960's Greenwich Village scene. The following captures the spirit of the glum shadow in bold face throughout the movie: The haunting, plaintive trill of Dalton's voice did not bring her commercial success that the filmmakers say she was due. There are many references to her starving and being dirt-poor-broke. KD was a queen of starving artists on the vine.
"While she left a trail of myth and awe in her wake, she also struggled to come to terms with the demands of recording, performing and the responsibilities of motherhood, all of which drove her deeper into an existential tail spin from which she never recovered" – the filmmakaers.
"While her audience has widened, the fragments of her life have been vanishing just as quickly. In 2018 a fire tragically destroyed all that remained in Karen's personal archive, including her personal journals, poetry and handwritten collection of songs. Beyond the powerful story we are telling, this film seeks to document these vanishing fragments."
---
Directed by Robert Yapkowitz & Richard Peete
Dalton's journals & poems read by Angel Olsen
Executive Producer: Wim Wenders
Produced  by Richard Peete and Traci Carlson
Edited by Lance Edmands and Robert Yapkowitz
Director Robert Yapkowitz, a New York based filmmaker, began his career working in the art department on many major motion pictures and TV shows. IN MY OWN TIME is his first feature length documentary.
Rich Peete is the founder of Neighborhood Watch, a production company which produces feature films, commercials, music videos and short films. Before producing, he was a Prop Master on many award-winning films. He produced Jeremy Saulnier's critically acclaimed BLUE RUIN, which premiered at the Cannes Film Festival in 2013 and received the International Critics' Award. His latest feature, Kevin Phillips' SUPER DARK TIMES, premiered at the International Film Festival Rotterdam in 2017, where it sold to The Orchard/Netflix. Rich is currently in pre-production on Isaiah Saxon's debut feature THE LEGEND OF OCHI, scheduled to shoot later this year in Romania, and also Andy Bruntel's WOLF IN WHITE VAN, which recently went through the Sundance Director and Producer Labs.
Editor's Note: Link to a YouTube 30+ minutes video of Karen Dalton: Can You Believe It: Karen Dalton – In My Own Time (Light In The Attic) [Full Album]

Gregg W. Morris can be reached at profgreggwmorris@gmail.com or gregghc@comcast.net