Directed by Gerard McMurray (known for his 2013 standout, FRUITVALE STATION)
Written by Christine Berg & Gerard McMurray
Starring: Trevor Jackson, Alfre Woodard, Trevante Rhodes, Steve Harris, Octavious J. Johnson, Nafessa Williams, DeRon Horton, Malik Bazille, Tosin Cole
Runtime: 105 minutes
By Avid Maldonado
What are you willing to give up in order to obtain your greatest desire? Your health? Your dignity? Your integrity? Can life as a fraternity brother be really that important?
Ripped from the headlines: Five Baruch College Students Face Murder Charges in Fraternity Hazing Death. Also, but not at CUNY, Three Former Members of Florida A & M]Marching Band Sentenced in Hazing Death. BURNING SANDS depicts the horrors that take place in Greek life, regardless of race and ethnicity, and even at multi-ethnic, multicultural City University of New York commuter colleges.
The recurring quotes in BURNING SANDS of the Great nineteenth century orator and human rights leader in the anti-slavery movement, Frederick Douglas, presented as the voiceovers of a main character, are emphatically clear even if not literally stated: The abuse of power in black fraternities are undeniably reminiscent of slavery's power abuse.
BURNING SANDS tells the story of five black college students who literally risk their lives and sanity trying to pledge at Lambda Phi fraternity. There is the constant notion and expression of brotherhood throughout the film and that is completely ironic.
It is evident that the main character, Zurich aka Z, played by Trevor Jackson, is going through a rough patch. Z's girlfriend, Rochon, played by Imani Hakim, breaks up with him, he is failing his history class, and he keeps neglecting to contact his father. His despair is so obvious that Professor Hughes, played by acclaimed actress Alfre Woodard, asks him on more than one occasion if he would like to talk. Zurich responds, "It is easier to build strong children than to repair broken men" and that turns out to be the professor's favorite quote from Frederick Douglas.
Z sustains a major injury to his ribs in the first five minutes of the film during a hazing session at Lambda Phi. Eventually, it becomes clear he suffered a fractured rib. Z has exceedingly difficulty breathing as he continues with the strenuous hazing despite the injury. At this point, if Z continues on with the heinous hazing process, he may turn out to be one of those broken men.
Z and the other "mutts" arrive at the frat house for a party. They are vigorously paddled on their buttocks and must recite the principles of Lambda, "Leadership, Scholarship, Compassion, Brotherhood." None of these principles, however, are really practiced by the Lambda fraternity members.
Z, in a voiceover says, "This struggle may be a moral one, or it may be a physical one, and it may be both moral and physical, but it must be a struggle." It becomes apparent that the hazing process is exacting a toll on him.
Zurich has a breaking point and decides to speak to Dean Richardson, played by Steve Harris, who is a Lambda Phi alumnus, about the brutal hazing process. Richardson becomes irate and demands that Z recite a poem from the frat. Richardson tells him that he will see him on the other side of the burning sands.
When hell night arrives, Zurich tells the guys that they are the descendants of kings and queens, not slaves. He continues to say that once they are a part of the fraternity, they will treat everyone with dignity and respect.
The five students arrive to the location of the final hazing process and it begins. They enter and are met with beer being poured on them and rambunctious yells. The five are forced to eat their "last meal" which consists of dog food. Frank, played by Tosin Cole, is having difficulty eating his food so Z assists him. Zurich is punished for helping his fellow mutt, and Frank jumps on top of Z to protect his already battered ribs. That kind of brotherly love by Frank does not exist in Lambda Phi.
Frank continues to be pummeled, blow after blow, until he starts foaming at the mouth. All five end up in a hospital and Frank is in the worse condition. Eventually, we see Z crying and he finally call his fathers.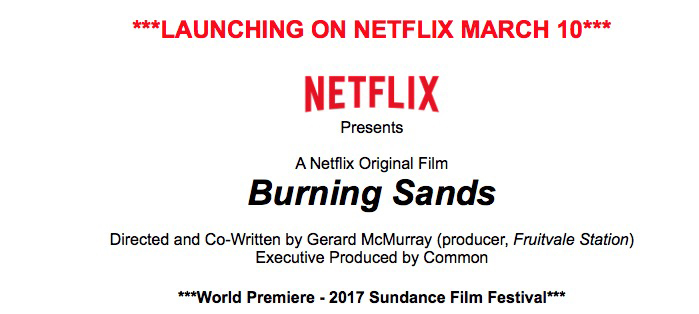 Avid Maldonado can be reached at avidmal@gmail.com