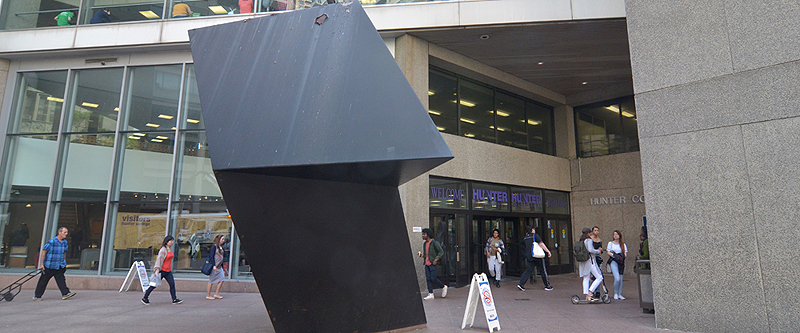 "They have to do what they have to do"
Article by Isabella Hamilton, May 13, 2016
Six students interviewed for this story support the Professional Staff Congress in its contract fight with CUNY and said they would also support a strike despite the potential for cancelled classes, lost tuition or delayed graduations.
"They deserve a raise," said 23-year-old Yahlena Roberts, standing outside the women's restroom on the third floor of Hunter's West Building. In January, PSC President Barbara Bowen called for CUNY management to "negotiate a fair contract that includes $240 million for retroactive raises with the PSC." According to Bowen, "A strike authorization vote is not a vote to strike," but "given CUNY management's continued failure to secure State funding and put an economic offer on the table, we cannot rule out being prepared for a strike."
The PSC represents more than 25,000 faculty and staff at the City University of New York. [Editor's Note: See results at end of article about the PSC Strike Authorization Action]
Roberts, a biochemistry major from Islip Terrace, Long Island, wearing a white sweatshirt and blue jeans, said she was stunned by CUNY's reluctance to reach a contract with the union. The last contract expired about six years ago. She recalled a conversation she had with a calculus professor. The professor told her that he, as well as other CUNY and Hunter professors, were poorly paid.
Roberts, who want to graduate next semester, said she was "not worried" about professors going on strike. Nor was she worried about being unable to graduate on time. She supported the union's fight for a raise that, in Bowen's words, "keeps up with inflation," and for a contract that is negotiated both fairly and in a timely, expedient manner.
Regarding a potential strike at CUNY, 21-year-old biology major Mahira Aragon said she also supported the union. Sitting on the third floor skywalk between Hunter's West and East buildings, the East Elmhurst, Queens, resident also said, "If it [a strike] is something they [PSC] want, then I feel they should do that."
In terms of the possibility of cancelled classes, forfeited tuition or difficulty graduating on time, the second semester senior, wearing a bright purple sweatshirt, dark-washed jeans, black socks and large white sneakers, seemed largely unconcerned. "It [a potential strike] is not going to be forever," said Aragon. "They [professors and the PSC] have to do what they have to do."
Environmental studies major Stephanie Moy, sitting outside the third-floor library, in a long necklace, a button-down shirt and jeans, expressed similar sentiments. "It is an important issue," said the Woodhaven, Queens, resident. She was glad that professors are "willing to do it," that is, strike for fair wages.
Cuomo's budget proposal, which was passed April 1, included a stipulation for $240 million "to support retroactive salary increases needed to ensure fair and affordable agreements with CUNY's labor unions," according to the PSC's website. This stipulation was "linked to a massive proposed cut in State funding for CUNY and a call for the City to make up the difference." [Editor's Note: Cuomo subsequently backed off this demand.]
Now that the "proposed cut" of a third of CUNY's budget — some $485 million — has been passed into law, the PSC may be awarded its $240 million in retroactive wages at the expense of state, city, and — ultimately — CUNY funding. Moy said she was "a little worried" about cancelled classes and forfeiting tuition, but that she "trusts our professors," and believes that "fare wages are the bigger issue."
"What Cuomo is doing is unfair," said 21-year-old biology major and New York resident John Portelli, wearing thick black glasses, a white T-shirt, blue jeans and sneakers outside the third floor of the library. "Professors deserve back pay and more pay." Portelli, who described himself as avowed as one who strongly supported unions, said he supported the PSC and also that Albany should provide more funding for CUNY.
What About Classes? What About Graduation?
"Who is going to be in charge of the classes?" asked 22-year-old psychology major and Long Island City, Queens resident Jesse Chu. "Would they have adjuncts in charge?" Although Chu, wearing glasses and black pants on the third floor skywalk, considered the PSC's organization and fight for their rights a "good thing," he seemed anxious about his classes in the case of an actual strike.
Hamie Safaie, a 34-year-old psychology major from Astoria, Queens, was dubious about the entire issue as well as its potential effects on the PSC and students. "How would a strike authorization affect the students?" said Safaie rhetorically as he sat in a lounge chair on the third floor of Hunter West in a striped button-down shirt, jeans, and dress shoes. "It is not going to change anything for us," said Safaie. "The teaching won't get any better, and if I can't do something, I have no power of changing it. What can I do?"
Union president Barbara Bowen did not return a call to this reporter. "Barbara likes to accommodate students," said Francis Clark, Communication Coordinator for PSC-CUNY. "But she prioritizes publications like WNYC and The New York Times." However, Clark offered to send a synthesis of old PSC materials and answer a set of questions via email. She also suggested this reporter contact Jeremy Glick, the new Hunter' College PSC Chapter Chair.
Glick is an Associate Professor of Modern & Contemporary Drama, African Diaspora and Caribbean Literature in the English department. He was contacted without success via phone, email and a handwritten note left under his office door, Room 1249A in the Hunter West Building.
Glick, however, was interviewed by the student-run newspaper, The Envoy. "I hope we can have enemies of scale and realize this impacts us all, albeit unevenly," Glick was quoted as saying. "54% [of CUNY students] are either students of color, from working class backgrounds, first generation students, students of immigrants. Over half of our students' families make less than $30,000 per year. If you continue to divest from CUNY, you're basically saying that the majority of the city is not worth it."
Glick also was quoted as saying in the article that students should advocate for their rights and for the rights of their professors, universities and CUNY as a whole by supporting the PSC. "If Chancellor Milliken and CUNY Central is not going to advocate aggressively and audaciously on behalf of the CUNY students and faculty, it's up to the students and staff to do that," Glick was quoted as saying. "Student organizations [and] CUNY schools on all levels need to show unity and resolve in not getting choked by the governor."
The Envoy article contained no information or references to the potentially negative effects of a strike on students. Nor does it seem that the College or the University or the union have tried to tell students what they might expect if there is a job action or strike.
"Would we get refunds for our classes? Would we get half our tuition back?" Portelli asked, citing the event of a strike. "I wouldn't blame the professors, though. That's the administration's fault. The administration has to keep the professors happy so the students get the education we deserve."
May 12 Message: Barbara Bowen, PSC President

Dear PSC Members,
Thank you, PSC! 92% of voters on strike authorization voted YES. Together we have sent an unequivocal message to the CUNY Chancellor and to Albany that PSC members are determined to fight for what we need-and what our students need.

The 92% vote is a demand that CUNY act with urgency to put a decent economic offer on the table and do what it takes to get this contract settled. The union remains absolutely committed to achieving an acceptable contract through the negotiating process, but we are prepared to take action if there is no alternative.

92% of those who cast ballots voted "yes," and the number of ballots was well over 10,000, giving us an absolute majority of "yes" votes. That is a landmark result. It would be a powerful result in any context, but it is especially powerful for a union whose members have worked six years without a raise and who understand that a strike would come with financial and legal penalties.

Our message is clear: we are prepared to fight to defend our working conditions and our students' learning conditions. Our own lives and the life-chances of our students are at stake.

The union bargaining team will walk into our next negotiating session with the power of a 92% "yes" vote at our backs. Contract talks with CUNY are ongoing, and the union is doing its utmost to reach an acceptable agreement within the next few weeks. Your vote is the best support we could have. The union leadership is also working with lawmakers in Albany to build on the support many have expressed for funding our contract. (The Daily News published my op-ed on Albany's unfinished economic justice agenda today.)

PSC members, you rose beautifully to the occasion of the vote. The other officers and I thank all the voters, supporters, union chapter chairs, members who staffed "voting booths" in campus buildings, and the 1,000 union activists who engaged in systematic conversations with other members to prepare for the vote. The organizing alone strengthens us as a union.

I also want to thank the PSC staff, who poured their hearts into this work, as well as the student organizations, community groups in The CUNY Rising Alliance, and the hundreds of other union workers who have given their support. Our contract is a justice issue for all of New York.

Now we will redouble our efforts to win a contract worthy of your commitment.

In solidarity,
Barbara Bowen
Isabella Hamilton can be reached at Isabella.Hamilton87@myhunter.cuny.edu