Article by Ricardo Montero-Hernandez, December 16, 2016
Pictures by Ricardo Montero-Hernandez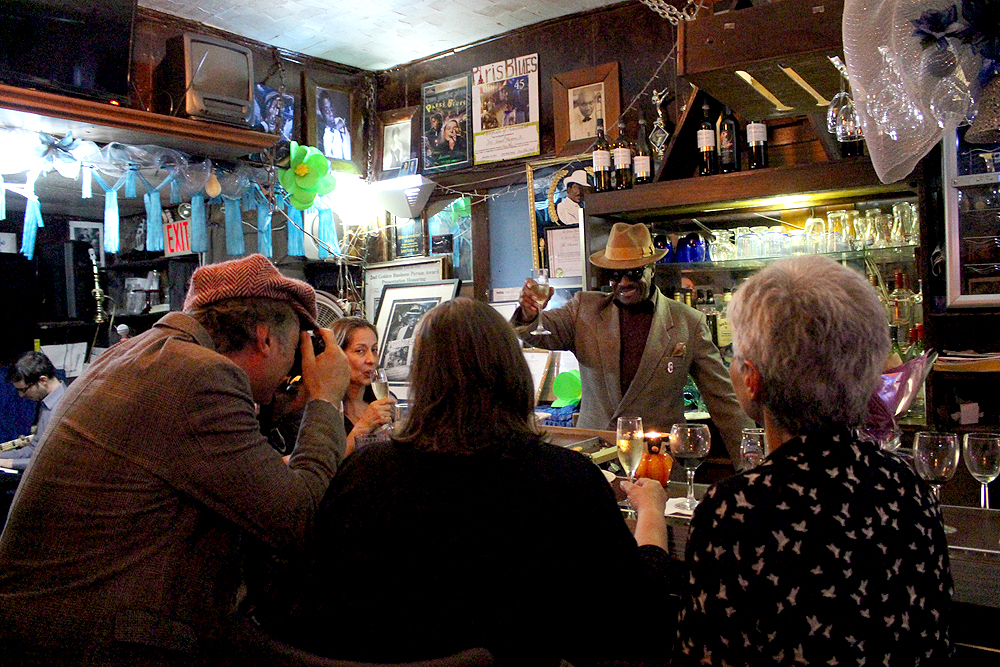 Samuel Hargress Jr. stands by the door of his jazz bar every night of the week. His Paris Blues provides an old school, Harlem ambience of a time before gentrification, and he greets every customer as a new neighbor.
Wearing dark sunglasses, a godfather hat and, on some occasions, a matching zuit suit, he is a figure straight out of Roman Polanski's CHINATOWN, and with the old blues playing and the 1970s decorum, Paris Blue' is truly a time capsule.
You'd think that a 80-year-old-bar owner would be sapped by the years of long hours keeping a juke joint prosperous but Hargress said that he has never drank or smoked, and his youthful energy and easy going nature are evident. He stands tall, and, besides a few wrinkles and wisps of white hair, no noticeable signs of time slowing him down is evident.
He was born in Demopolis, Alabama, in 1936, during the time of the Jim Crow Laws, and his childhood revolved around ways to succeed under oppressive conditions. "You were on your own," he said. Jim Crow Laws "helped us some because we knew how they worked. If you from Alabama from my time, you know how to use a saw, a hammer and a screwdriver because you'd have to do everything yourself."
"I learned how to do all the different things you need to do to survive on your own," he said.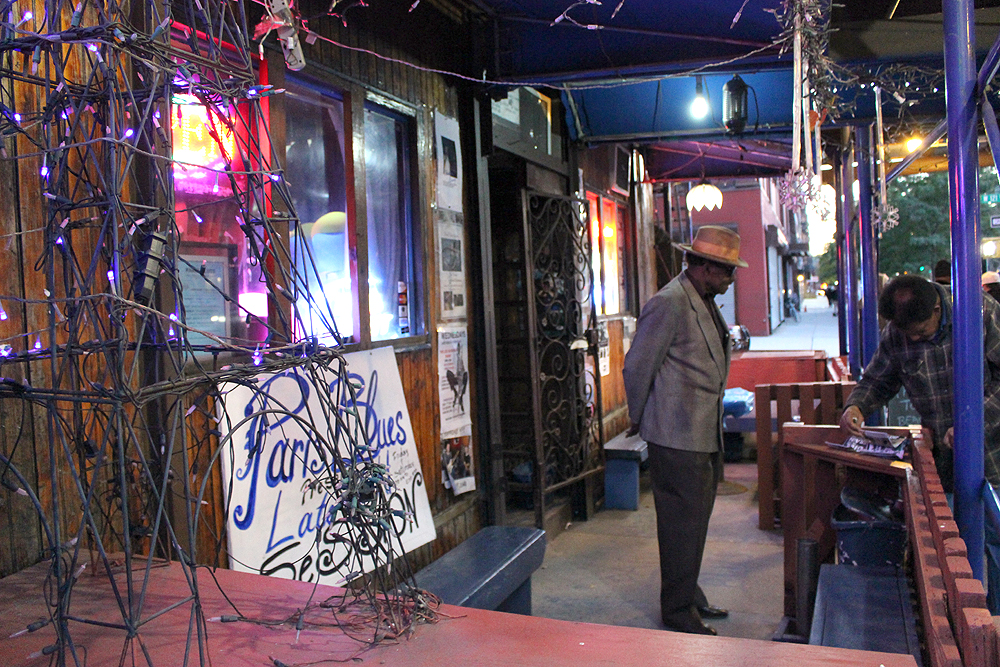 His family owned "juke joints" around the state. He learned the business and all he had to do when the time came was to get a bar.  He knew the business and all he had to do was get a bar. His plans stalled, however, when he was drafted in the Army. In 1959, after bootcamp, he became an Army MP and worked in France and Germany, and it was during his time in Paris that he fell in love with francophone culture. Hargress said that African-American musicians, mainly jazz and blues players, traveled to Paris where they were treated as equals, and the music overcame lingual, cultural and racial barriers.
After his discharge from the Army, he returned to Alabama during the peak of the Civil Rights Movement and marched with Martin Luther King Jr. from Selma to Montgomery in 1965. He witnessed the violence that civil rights leaders had to survive in their quest for basic human liberties.
"We were in the back. The leaders was up front and they are the ones that got beat up pretty bad," he said. "The Sheriff, Jim Clark, and his boys was up in the front so they beat up a few people there." Shortly after, he left the South and moved to Harlem to live with his older brother, David, who got him a job as a bartender. When crime became a plague in the neighborhood, the bar owners decided to flee and sold Hargress the bar for $14,000, in cash, everything that he had saved up to that point, sum that equates to $93,300 in 2016.
When the time came to re-name the bar, he recalled Paris, the blues and the homesick nostalgia for Alabama. France gave him freedom but America gave him music, and he went on to name his bar to capture the grateful sadness of a lonesome black American in Paris. Hargress thanks his home state for his love of jazz and blues, and how these genres speak to the struggles of the black man in America. "Jazz and blues relate to us black people. We grew up around jazz and blues, and when they're singing or playing they talk about their situation and if you from Alabama you know what the blues is," he said.
Paris Blues is one of the most popular jazz bars in all of New York City and some reviewers refer to it as one of the Big Apple's best juke joints. Tour buses filled with tourists drop stop at Paris Blues, 2021 Adam Clayton Powell Junior Boulevard at west 121st Street. and once the visitors steps through the door and hear Hargress say, "Hey, how you doin,'" in his signature southern drawl, the percussions and trumpets take over.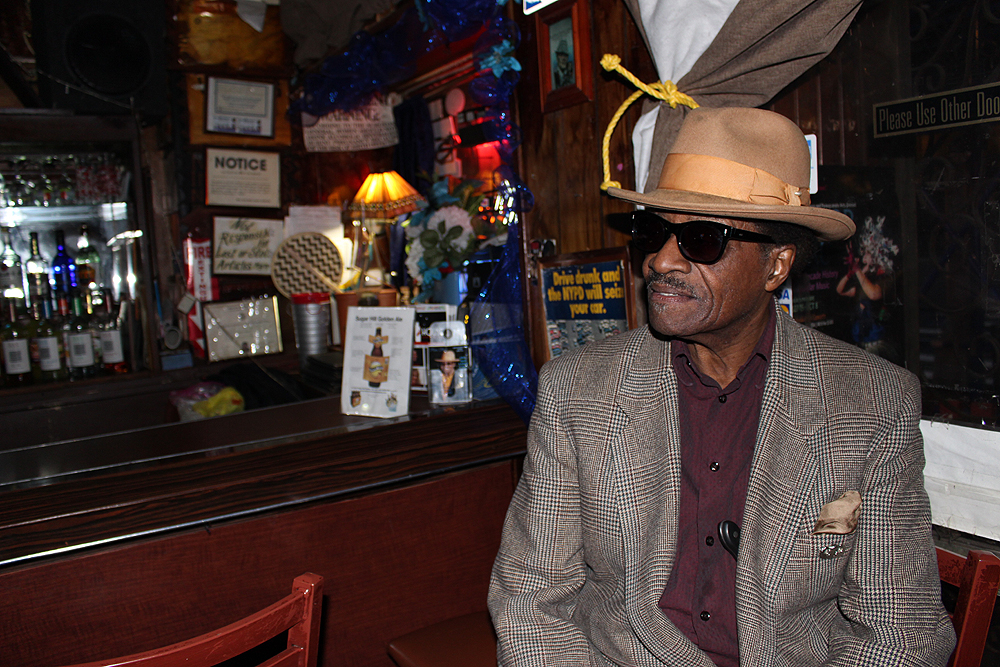 "There is no one like Sam," said Okaru Love, singer for the Friday night band, It's a Beautiful Journey. She was setting up the microphone in her red dress, shortly before an 8 p.m. show not too long ago. "He is so hospitable. There is no place like this, it is the best place in New York and in the world," she said. A similar sentiment was shared by Esther Stokes, a Paris Blues bar tender of more than 14 years. She stood behind the bar in a pink sweater, taking a break from serving Coronas with limes and wine glasses.
"Sam is wonderful. He is marvelous with his trust for his employees. A very hard worker too, he makes you think that anything is possible," she said. Nothing but love was said about Hargress, who kept standing by the door, listening to the jazz. He said his favorite jazz musicians were Louie Armstrong and Frank Sinatra because they would say that they were up and down, and over and out, and back on top. "That's life," he said.
It is this honest portrayal of life that music as diverse as jazz and blues motivate Hargress to stand there and greet his guests because despite the ups and downs and overs and outs that life has given him, he has stayed on top.
Ricardo Montero-Hernandez can be reached at rmontero1616@gmail.com