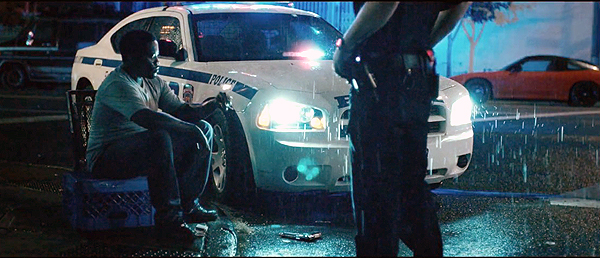 By Senior Editor Kadia Goba, June 15, 2016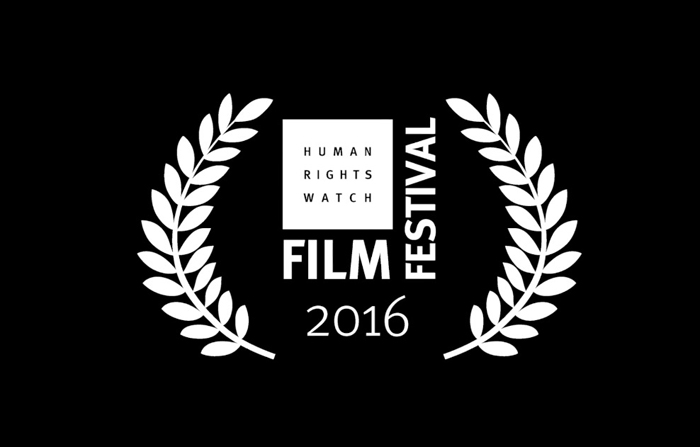 Debuting at the Human Rights Watch Film Festival that recently wrapped, CHAPTER AND VERSE is an excellent depiction of, one, the challenges a newly released African American inmate experiences, two, the iniquitous reality of mass incarceration. And yet, three, it has a global message for all newly released inmates except for the rich perhaps.
Lance Ingram (Daniel Beaty), a new parolee, must overcome the perils of sexual harassment, halfway house imitations and most importantly, the streets of Harlem and its problematic realities, if he is to survive.
After serving 8 years of a 12-year sentence, Lance, navigates the trials of acclimating to society. Born and raised in Harlem, Lance must find a job in the now gentrifying Harlem. Despite his earning two certificates in computer related studies, his parole officer eventually forces him to take a job at a local soup kitchen. His job delivering soup exposes him to tempting and taunting challenges. The unwinding storyline reveals the most relevant challenges a former inmate can encounter upon his release.
Young Ty (Khadim Diop) and Jomo (Omari Hardwick) portray Lance in the past and future, while Miss Maddy, Ty's grandmother, played by actress Loretta Devine, delivers a light-spirited touch to the film. The unsuspected friendship between her and Lance initiates a sub plot, that is, Lance's desire to belong to a family unit solidifies his role as a son to a lonely widower with a deceased son, and therefore a big brother or almost father figure to her grandson.
This newfound nuclear family ultimately segues to a pivotal point in which Director Jamal Joseph accurately highlights as yet another struggle, which is, protecting the young from the streets, a challenge most newly released prisoners probably never thought of at the time of their release.
My favorite scene occurs when Lance is making a soup kitchen delivery and crosses paths in a tiny building elevator with two gang members smoking weed. He holds holding his breath until he reaches his delivery floor. If he inhales the minutest whiff of the second-hand smoke, he could end up testing positive in the routine drug testing at the halfway house where he is living.
The elevator stalls.
While the theme of the film clearly illustrates the ills of the penal system, Lances' evolution a character, as written by Beatty and Joseph, lends a heartfelt and emotional homage to the saying, "It takes a village to raise a child." By connecting three generations of characters, the writers' advocacy and even sacrifice for up and coming youth are profound.
CHAPTER AND VERSE serves as a precise accounting of the flaws of the correctional institution system. In an effort to bring awareness to some nearby and global human rights issues, Human Rights Watch Film Festival introduced several films that exhibited humanitarian triumphs and dilemmas. CHAPTER AND VERSE portrays a relevant dilemma, right here, in the heart of Harlem, New York City. This film is a critical perspective of the life of a former inmate, the gentrification of urban cities, and the systematic failures that impact many of us, although some, much more than others. The film is to be released in theaters nationwide sometime in October 2016.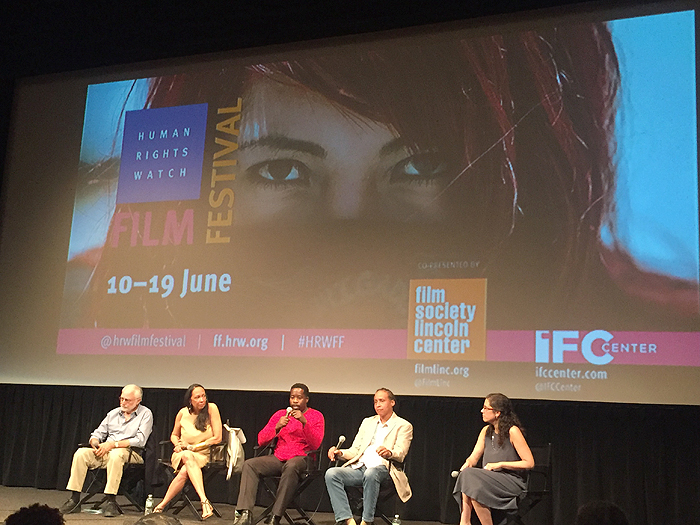 From left to right: Jonathan Singer (Producer), Cheryl Hill (Producer), Daniel Beatty (Lead role in the film; Co-writer), Jamal Joseph (Co-writer & Director), Maria McFarland (Co-Director, US Program, of Human Rights Watch). 
A Q&A took place at the Walter Reade Theater at Lincoln Center where audience members, some community activists themselves, shared their experiences about working and being apart of the penal systems in youth and adult institutions. Beatty mentioned the importance of humanizing the people behind the statistics of 2.2 million imprisoned Americans through story telling, suggesting the art has the power to encourage you "to feel and think more deeply than you would otherwise."
The scene of Beatty's intimacy with his female supervisor is discussed when an audience member suggests that it was more rape than intimacy. That scene and the film in general highlight the lack of choices an ex-con has, including dealing with sexual advances from a beautiful supervisor. Beatty and Joseph said the scene was not written as a rape scene.
Another audience member who talked about being a former inmate and that he is now involved in community outreach programs asked the panel for suggestions on influencing gang members.
Kadia Goba can be reached at  Kadia.Goba09@myhunter.cuny.edu