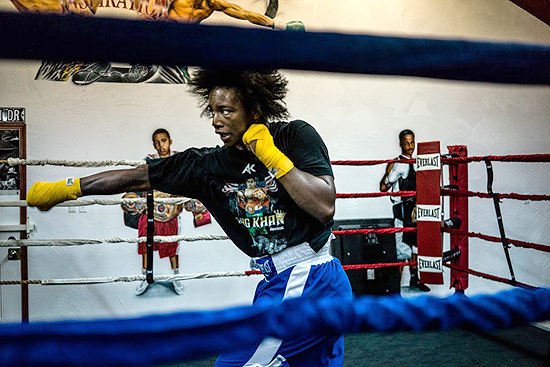 A Knockout of a Movie
By Senior Editor Kadia Goba, June 25, 2016
In the picture above, Clarissa "T-Rex" Shields – the first woman to win an Olympic Gold Medal in Women's Boxing –shadowboxes at a private Flint, Michigan, gym.
Gabby Douglas, Michael Phelps and Caitlyn Jenner  are Olympic Gold Medalists cashed in on lucrative endorsements because of their Olympic achievements. But lucrative endorsements eluded Olympian Gold Medal Winner Claressa "T-Rex" Shields, who at 17 became the first ever female Olympic boxing champion at the 2012 summer Olympics in London. This eponymous titled documentary, sheds light on that unimaginable fate in a tear jerking yet inspiring story. Directors Zackary Canepari and Drea Cooper capture the essence of what we may perceive as the lifestyle of an Olympic medalist compared to its realities.
Born and raised in Flint, Michigan, T-Rex says her "goal before boxing was to have 10 kids before she was 26," her comments a profound summary of the reality of the life for women like her in Flint, Michigan. Raised in humble beginnings, T-Rex says she met her dad for the first time when she was 9 years old. He had been incarcerated for seven years.
This, along with other predisposed roadblocks, like being forced to live with her mother's alleged crack head boyfriend and enduring occasional physical abuse from her alcoholic mother, don't stop the warrior from overcoming the obstacles that Flint puts in her way. There's no doubt that her experiences and burning desire to succeed and care for her family explain her tenacity.
While she has a relationship with her biological father, T-Rex's coach exercises more of a paternal role with his budding, pugilistic powerhouse, especially when she moves into his home with his wife and son. He is clearly responsible for inspiring T-Rex at the early stages of her career and helps guides her in the direction that ultimately make her the superstar she is today.
But the relationship seems to waiver by the end of the movie. It's not clear if the dissension between the two is based on T-Rex's coming of age or the support that Coach Jason Cutchfield isn't able to provide once the young boxer surpasses local bouts.
According to an inserted title card, Cutchfied, due to a lack of funding, was unable to attend T-Rex's Olympic qualifying match in China, T-Rex's first and only loss to date. Although, I found it odd that the film's production was not able to accommodate the coach's expenses considering they were able to shoot on location in China.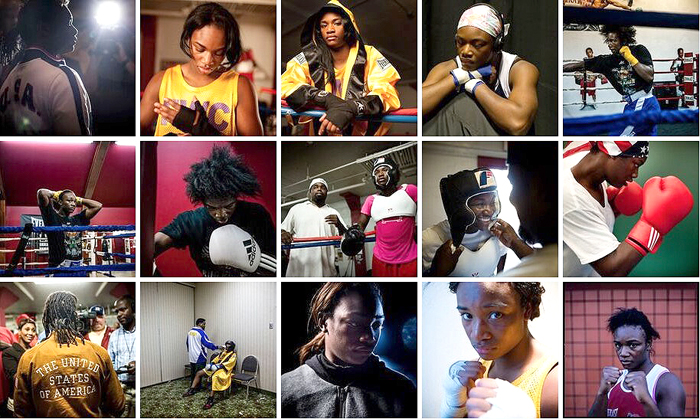 That brings me, alas, to the theme of the documentary. While one can win an Olympic gold medal, it takes endorsements and an unimaginable level of support and savvy to amass the big bucks in the world of so-called amateur athleticism, two things our beloved T-Rex lacked before and during the 2012 Olympics.
The one, two-punch sequences during training move the story along and remind the audience that this is a movie about a boxer (as opposed to an exposé into the lives of the deprived citizens of Flint). Her title matches add thrill to the piece. I was oohing, ahhing and air punching when women in the rink made contact with the other. Throughout the competitions the boxers land frequent short jabs along with right and left hooks mainly to the face. Heads jolt backwards at each punch. T-Rex is constantly instructed to fight from the inside, closing in on her opponent, not affording them the opportunity for rest or response.
Some will read this film as a modern day ROCKY, except, unlike Sylvester Stallone's Rocky, T-Rex is a real 17 year old who deals with real economic deprivation. She is responsible for a real family, all the while garnering real confidence and skills. Okay, perhaps the great Mohammed Ali, some would say, may have been a better comparison. Speaking of which, there is a cameo of undefeated champion, Laila Ali, his daughter, discussing with a reporter the historic moment of female boxing being introduced into the 2012 Olympics.
This small gesture draws parallels to T-Rex and the newly deceased, boxing gold medalist himself.  T-Rex will be defending her title at the 2016 Olympic team in Rio. T-Rex not cowed by Zika? Believe it. I wish her all the best!
Kadia Goba can be reached at Kadia.Goba09@myhunter.cuny.edu