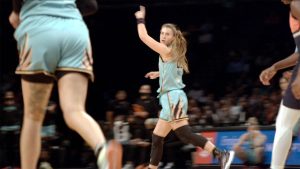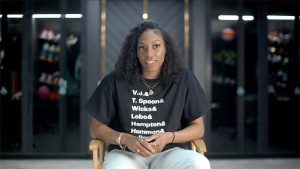 Pictures Above, left to right. Sabrina Ionescu, NY Liberty guard. Picture by Julia Liu 16X9. Copyright © Julia Liu. New York Liberty's Betnijah Laney. Picture by Julia Liu. Copyright © Julia Liu.
---
Film Review Prologue
I'm wrapping up a review of this superbly made documentary by veteran Director-Producer Alison Klayman about the WNBA and its New York franchise, the New York Liberty, as news stories around the world are reporting the horrific state of affairs of WNBA superstar Brittney Griner, one of the world's best woman basketball player.
Since February, she has been unfairly held prisoner in Russia on trumped up drug charges.
Volley after volley of news stories have been reported recently on her situation because of her trial that started in a Russian court Friday, July 1.
Several national news media report that the Biden Administration is involved in negotiations, such as a possible prisoner swap, to free Griner.
Bring Griner Home!
---
Film Review
UNFINISHED BUSINESS opens up with a soundtrack surging about pro ball players having to fight for every iota of respect and recognition. "I love that I am an athlete. I'm not out here to sell my beauty … I'm out here to sell my talent."
Although Brittney Griner, plays for the Phoenix Mercury and not the Liberty, she shows up late in the film, principally as a show of support by the filmmakers but also because the realities of her pro career reflect on the realities of New York Liberty and WNBA players in general. Signing up with foreign teams to play for extra wages as well as a way to stay in playing shape are some of those unfair realities, unlike the kind of contracts, salaries, royalties, perks and largesse male NBA players enjoy.
Picture Above: Theresa Weatherspoon, former Liberty player, now assistant coach for the New Orleans Pelicans. Picture by Julia Liu. Copyright © Julia Liu.
Klayman's film packs a slam-dunking wallop because of its visual, aural and cinematographic panache, virtually and literally, codifying an almost panoramic perspective to answers to questions one would ask, if one had the knowledge to ask, to understand the political, economic, sociopolitical, ethic and philosophical realities of women pro ball players. UNFINISHED BUSINESS is encyclopedic in scope – and here is the kicker.
As much as I love basketball, I would be bore to tears about the details and minutiae of political, economic, sociopolitical, ethic and philosophical realities – as well as the contract negotiations, marketing and publicity strategies and the back and forth of all of it, yet, all of that can necessary and a daunting task for filmmakers in order to tell the real story as well as the truth, the whole truth and nothing but the truth. And let's not forget the idiosyncrasies, eccentricities, preferences, experiences and important bio information of the players to supplement the story telling. It would take bravura filmmaking to deal with all that. UNFINISHED BUSINESS filmmakers more than rise to the challenges.
It is one of the most exciting films that played at the 2022 Tribeca Film Festival, all because of the way Director-Producer Alison Klayman tells her story packing in knowledge, information, perspective and philosophy that one needs to know about the state of affairs of women in basketball.The filmmaker tells the story of the Liberty, which is inseparable form the story of the WNBA, yet tells the story of the WNBA, which is inseparable from story of the Liberty.
Better to be subjected to layers of exciting movie making than be bored by important but tedious, didactic encyclopedic information – so says this writer.
Director: Alison Klayman (WHITE HOT, JAGGED)
Producers: Alison Klayman, Julie Goldman,Christopher Clements, Carolyn Hepburn, Nicholas Ma, and Mishka Brown
Featuring: Teresa Weatherspoon, Rebecca Lobo, Sue Wicks, Betnijah Laney, Sabrina Ionescu, Joan Jett

---
Tribeca Film Festival 2022 Synopsis (Edited for Style)
Now is a defining moment for the WNBA as it shifts from a fledgling league to thriving enterprise.  The New York Liberty playing the first game in the new league in 1997. In 2021 made history playing their entire season at Brooklyn's Barclays Center.
Moving between present-day action on court and the many dramatic struggles across the WNBA's quarter century history, UNFINISHED BUSINESS is an exuberant telling of the league's relentless push towards equality in elite sports. Icons like Teresa Weatherspoon, Rebecca Lobo, Sue Wicks and Kym Hampton had to fight for the WNBA's every right to exist while also delivering electric performances on court. Current stars include Betnijah Laney, Sabrina Ionescu and Didi Richards offer striking parallels, fighting for social justice while still dazzling the world with their skill and athleticism. Yet, much remains to be done.
With unprecedented access to WNBA archives and the New York Liberty, Director Klayman's superbly stylish fly-on-the-wall, cinéma-vérité will make viewers feel as if they're right there in the thick of things historic, feeling the incredible story of 25 years of extraordinary talent and unmatched perseverance.
WNBA-New York Liberty were at the forefront of protesting racial injustice. WNBA's Back Lives Matter Protest set a new standard for sports activism, despite having to stand up to WNBA management.
Background Information from Wikipedia And Other Sources
The Women's National Basketball Association (WNBA) is a professional basketball league in the United States. It is currently composed of twelve teams. The league was founded on April 22, 1996, as the women's counterpart to the National Basketball Association (NBA), and league play started in 1997.
The regular season is played from May to September, with the All Star game being played midway through the season in July (except in Olympic years) and the WNBA Finals at the end of September until the beginning of October.
Five WNBA teams have direct NBA counterparts and normally play in the same arena: Indiana Fever, Los Angeles Sparks, Minnesota Lynx, New York Liberty, and Phoenix Mercury. The Atlanta Dream, Chicago Sky, Connecticut Sun, Dallas Wings, Las Vegas Aces, Seattle Storm, and Washington Mystics do not share an arena with a direct NBA counterpart, although four of the seven (the Dream, the Sky, the Wings, and the Mystics) share a market with an NBA counterpart, two (Mystics and Dream) play in NBA G League arenas, while the Storm shared an arena and market with an NBA team, the SuperSonics, at the time of its founding.
The Dream, Sky, Sun, Wings, Aces, Sparks, and Storm are all independently owned. The Aces are owned by an owner who also owns an NFL team (Mark Davis of the Raiders, who have the same market).
Gregg W. Morris can be reached at gregghc@comcast.net, profgreggwmorris@gmail.com