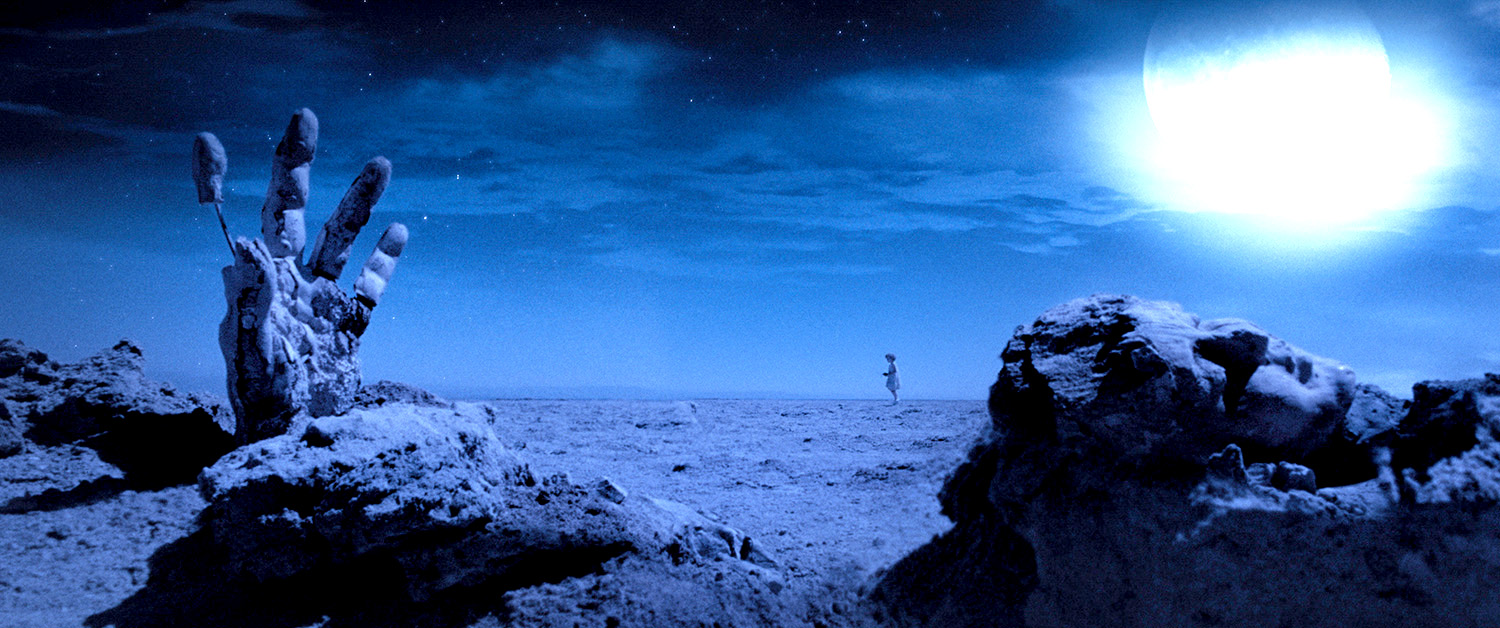 Bios – Principal Crew
Writer-Director-Editor-Animator-Sound Designer, Ryan Stevens Harris:
An award-winning filmmaker, editor, and exhibited artist. Studied filmmaking in London and at the USC School of Cinematic Arts in Los Angeles, where he co-founded Fire Trial Films, a boutique production company focused on 35mm production.
In 2016, Harris directed "Whisper," an animated music video for the indie band Playing to Vapors featured at the SXSW Film Festival. Multi-talented, Harris edited and sound-designed the Lionsgate sci fi blockbuster, MOONFALL (2022), as well as edited a host of Netflix releases including 2307: WINTER'S DREAM (2016), DARC (2018), and THE HARD WAY (2019).
He also cut WATCHTOWER (2019), which was nominated for two Emmys and premiered at the Cannes Film Festival, and was an additional editor and sound designer on the war-epic MIDWAY (2019), which was #1 at the box office upon its release.
He considers MOON GARDEN his first true directorial debut—a lush dark fantasy odyssey with highly stylized art design, shot on expired 35mm film with vintage lenses and featuring his own real-life daughter.
John Michael Elfers, Producer:
Graduated magna cum laude from USC, founded Fire Trial Films with Ryan Stevens Harris, and immediately secured grants from Panavision and Kodak to write and direct his first feature, FINALE (2009). His award-winning screenwriting landed him on the Blood List in 2011.
Elfers has since made a reputation as a "fixer" that gets hired to take over troubled films; writing and directing additional scenes to address story issues, increase production value, and ultimately secure distribution. This path led him to co-produce the features BEYOND WHITE SPACE (2018) and DISCARNATE (2019) with A-List producer Harald Kloser.
Elfers worked directly with Kloser and Roland Emmerich to cut the International Press tour for INDEPENDENCE DAY: RESURGENCE (2016), a $10M crossover recruiting campaign for the U.S. Army, and a promo to sell MIDWAY (2019) to Japan.
The high-profile studio work allowed Elfers to invest in a full-scale 35mm independent production package, with Arriflex film cameras, vintage Zeiss lenses, lights, G&E, jibs, film stock and more, which he utilized toproduce Harris' ambitious, highly-stylized feature MOON GARDEN. Elfers resides in Hollywood above the studio where Fire Trial Films is building the sets for his next feature as writer-director, the hyper-stylized art-house meets grind-house vampire film, VORACIOUS.
Wolfgang Meyer, Cinematographer:
A cinema-warrior with a 17-year devotion to feature filmmaking. NYU trained, he spent eight years directing, producing, and crewing features and TV in New York, before heading to Los Angeles, where he has focused on cinematography.
He's DP'd genre features with legends such as Tony Todd, James Duval, Michael Berryman, Angus Scrimm, Linea Quigley, Debbie Rochon, and Brinke Stevens. On the side, he has tackled music videos written up by Rolling Stone magazine, with such stars as Sting, Moby, LP, and Berlin. His latest feature, shot on Super 35mm, boasts absolutely stunning imagery and camera work. Give him coffee and cigarettes, he'll outwork and outlast anyone.
About the Filmmakers
Writer-director Ryan Stevens Harris and producer John Michael Elfers are the award-winning filmmaking team at Fire Trial Films—the production company behind BEYOND WHITE SPACE (2018), DISCARNATE (2018), and FINALE (2010). Harris is also an award-winning editor and edited the Lionsgate epics MOONFALL (2022) and MIDWAY (2019), as well as Netflix features, DARC (2018) and 2307: WINTER'S DREAM (2016).
MOON GARDEN is the latest Fire Trial Films creation, a true labor of love, starring Harris' own real-life daughter and brimming with handcrafted care. But amid the dark textures and design, tucked in the broken machinery of the moonlit dreamscapes, lies the film's true beating heart—a tale of family and the radiant magic of youth.
Fun Facts About the Film, So They Say 
The filmmakers stockpiled 100k feet of expired 35mm film stock to shoot the movie, starting with a huge batch dug out of a basement in the American Midwest (Omaha, NE).
The idea initially started as a photo shoot, which evolved into a music video-experimental short film, shot entirely in the director's one-car The short was then retooled to create the elaborate night-forest sequence in the feature.
The short film was used as a proof-of-concept to pitch filming the rest of the movie in an old recording studio in the Hollywood Hills, slated for
The first draft of the script was a silent film without
Haven Lee Harris, the lead actress, just turned four years old when the short film Shooting would last, off and on, until her seventh birthday with a large hiatus between shoot dates as money was raised.
The film was shot using a fleet of expired stocks ranging from the primary stock Kodak 5212 (100T) all the way to discontinued 800T. Typically each sequence used a different film stock.
Cinematographer Wolfgang Meyer utilized a fleet of 35mm film cameras to make the film. The Arri BL4 3-perf and Arri BL3 2-perf cameras were the main workhorses. Four perf cameras were used for specialty shots—the Arri 35 III for slow motion, Arri IIC for jib and steadicam, Eyemo crash cameras for miniature POV's, and even a 1920 hand-cranked Devry camera. There's also material shot on a 16mm Bolex and underwater photography done with a Hyroflex housing.
There were ninety principal photography days in total—unheard of for indie films. The producer invested in a full production package to make the extra long shoot schedule The director and producer also ran a smaller skeleton crew shooting practical FX, inserts and pickups.
The director completed the animation sequence over the course of a few months, featuring hand-drawn illustrations and elements shot with actress Emily Meister in a milk
The nighttime skies, clouds, and lightning storms were created in fish tanks using evaporated milk, inspired by the old school FX work of Douglas Trumbull.
There is no CGI in the film. The visual effects were accomplished with simple comps of practical effects and old school filmmaking tricks, like prosthetics, puppeteering, and forced perspective, with miniatures built to extend most of the wide
One shot in the film took four months to capture—a time-lapse shot of rotting
The producer retrofit the old film cameras to display HD video, rewired their power to work with modern batteries, and specifically constructed a homemade accordion lens to use in the climax—made from the bellows of a car's gearshift.
The director completed post-production on MOON GARDEN—editing picture, sound, finishing visual effects, and coloring the picture—while simultaneously editing and sound-designing the studio blockbusters MIDWAY (2019) and MOONFALL (2022).
The creature designs in the film—Teeth, the Mud Witch, and the Three Faces / Knitter characters—were based on the director's drawings and
Badfinger's song "Without You," made famous by Harry Nilsson's cover, is featured throughout the film as the tender lullaby the mother character sings to her daughter.
Gregg W. Morris can be reached at gregghc@comcast.net, profgreggwmorris@gmail.com