Uncaged Award Winners Announced
Uncaged Award for Best Feature Film Competition shined a spotlight on 1st or 2nd-time directors. It celebrated their passion, their vision and their willingness to take risks. The films this year were: Anima (Cao Jinling, China), City Of Lost Things (Yee Chih-yen, Taiwan), Hand Rolled Cigarette (Chan Kin Long, Hong Kong), Joint (Oudai Kojima, Japan), Ten Months (Namkoong Sun, South Korea) and Tiong Bahru Social Club (Tan Bee Thiam, Singapore).
---
The 2023 22nd edition of the New York Asian Film Festival (NYAFF) ended another epic 17-day run on Sunday night, July 30, with stage appearances by over 100 acclaimed filmmakers, international stars and other notable guests from across Asia and the Asian diaspora, screenings of over 70 films at Film at Lincoln Center (FLC), Barrymore Film Center and Look Cinemas from July 14 – 30. Many shows were sold out and the highest festival attendance on record was set – so far.
The lineup included eight world premieres, nine international premieres, 32 North American premieres, three U.S. premieres, and 16 East Coast/New York premieres, showcasing the most exciting new action, comedy, drama, thriller, romance, horror, and art-house films from Hong Kong, Japan, China, South Korea, the Philippines, Malaysia, Taiwan, Thailand, Kazakhstan, Singapore, Vietnam, the United Kingdom and the United States.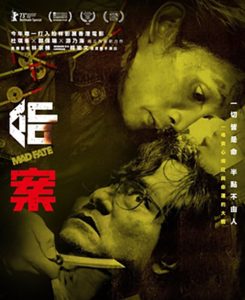 The July 30 closing night celebration at Film at Lincoln Center began with a thronged red carpet, followed by awards announcements and the SRO special screening of the NYAFF closing film, Anthony Stacchi's The Monkey King. Marking the festival's first collaboration with Netflix, the screening was introduced by producer and Academy Award nominee Peilin Chou (Over the Moon, Abominable, Kung Fu Panda 3).
The Monkey King is an animated comedy adventure featuring an all-Asian American voice cast, and is expected to be an enormous hit when it premieres on Netflix August 11.
After a close tally, the NYAFF 2023 Audience Award went to Marry My Dead Body, a heartwarming, hilarious LGBTQ+ story from Taiwan's Cheng Wei-hao, about a macho cop who encounters some folk magic that betroths him to the ghost of a gay man who's bent on revenging his ex.
Two separate juries, each composed of filmmakers and industry professionals from the U.S. and abroad, announced award winners from among the titles in the 20-film Narrative Shorts Showcase and the nine-title Uncaged competition for Best Feature Film. The Best Animation Short went to What We Leave Behind from South Korea's Kan Nam-jin, while the Best Live-Action Short went to Will You Look at Me by Chinese director Shuli Huang.
Two additional Special Mention awards were announced, for the stop-motion Hidari, from Japan's Masashi Kawamura and Iku Ogawa, and the live-action Kumbang (Bugs) from Malaysian director Gwai Lou.
This year's Uncaged competition, which shines the spotlight on filmmakers whose singular cinematic visions that deserves to be internationally heralded, celebrating their passion, imagination and wiliness to take risks, included nine wildly diverse films from directors in China, Japan, Malaysia, Hong Kong, Kazakhstan, South Korea, Thailand, and Taiwan. The Uncaged Award for Best Feature Film went to Abang Adik (Jin Ong, Malaysia), a raw, neorealist drama about two immigrant brothers whose unshakeable bond is sorely tried by an unspeakable act. It was Jin Ong's directorial debut.
Two Special Mentions were also given to female directors making their feature debuts: a Special Mention for Directing to Lee Sol-hui for Greenhouse (South Korea), a gripping, slow-burn thriller about a woman whose plans to be reunited with her son are shockingly upended; and a Special Mention for Technical Achievement to Liu Siyi for Flaming Cloud (China), an exquisite homage to Disney movies, Chinese folklore, and the quest for true love.
Closing out the festival, NYAFF Executive Director and President of the New York Asian Film Foundation Samuel Jamier was quoted as saying, "2023 marks a giant leap forward for the festival, in terms of audience size (with a 35 percent increase in attendance, and the largest number of sold out screenings), numbers of films and guest filmmakers and actors (over 100 guests from Asia), a major partnership with Netflix and a whole new, expanded pool of donors. With the expansion in New Jersey and the incursion into commercial cinema territory, this is a new phase for the organization, which will definitely help increase the visibility of Asian movies in America further."
The New York Asian Film Festival was co-presented by the New York Asian Film Foundation and Film at Lincoln Center. It took place from July 14–30, 2023 at FLC's Walter Reade Theater (165 West 65th Street), and July 21–23 at Barrymore Film Center (153 Main Street, Fort Lee, NJ). It was curated by executive director Samuel Jamier, associate director Claire Marty, and programmers David Wilentz, Karen Severns, Koichi Mori, and Jenny Lin.
New York Asian Film Festival (NYAFF)
Celebrating its 22nd edition in 2023, the New York Asian Film Festival (NYAFF) is North America's leading festival of Asian cinema. It was called "the best film festival in New York" by The Village Voice and "arguably the world's best-curated program of new and classic Asian cinema" by IndieWire. Launched in 2002, the festival showcases a wildly diverse lineup of singular titles each year, ranging from mainstream blockbusters and art-house eccentricities to genre and cult classics. It was the first North American film festival to champion the works of Johnnie To, Bong Joon Ho, Park Chan-wook, Takashi Miike, and other auteurs of contemporary Asian cinema. Notable festival guests have included Lee Byung-hun, Ryoo Seung-wan, Masami Nagasawa, Sammo Hung, Lee Jung-jae, and Jackie Chan. Since 2010, NYAFF has been produced in collaboration with Film at Lincoln Center.
For more information, visit nyaff.org
New York Asian Film Foundation
The New York Asian Film Foundation Inc. is America's premier 501(c)(3) nonprofit organization dedicated to the exhibition and appreciation of Asian film culture in all its forms, with year-round festivals and programs, and a view to building bridges between Asia and America.The New York Asian Film Foundation's flagship event is the annual New York Asian Film Festival (NYAFF), which has been presented in collaboration with Film at Lincoln Center since 2010. Now celebrating its 22nd year, NYAFF is North America's leading festival of Asian cinema.The foundation's other events and initiatives include special screening events and an annual Winter Showcase at the SVA Theatre. The New York Asian Film Festival, a program of the New York Asian Film Foundation, is made possible in part by the New York State Council on the Arts with the support of Governor Kathy Hochul and the New York State Legislature.
Film at Lincoln Center
Film at Lincoln Center is dedicated to supporting the art and elevating the craft of cinema and enriching film culture. Film at Lincoln Center fulfills its mission through the programming of festivals, series, retrospectives, and new releases; the publication of Film Comment; and the presentation of podcasts, talks, special events, and artist initiatives. Since its founding in 1969, this nonprofit organization has brought the celebration of American and international film to the world-renowned Lincoln Center arts complex, making the discussion and appreciation of cinema accessible to a broad audience and ensuring that it remains an essential art form for years to come. Film at Lincoln Center receives generous, year-round support from the National Endowment for the Arts and the New York State Council on the Arts with the support of the Office of the Governor and the New York State Legislature.
For more information, visit filmlinc.org
Barrymore Film Center
Barrymore Film Center is a not-for-profit educational and cultural institution dedicated to presenting classic repertory films, documentaries, independent movies, and worldwide cinema promoting 21st-century filmmaking through the prism of Fort Lee's role as the birthplace of the American motion picture industry.
---
WORD Editor Gregg W. Morris can be reached at gregghc@comast.net, profgreggwmorris@gmail.com