From Festival Officials, March 9:
In an abundance of caution over COVID-19 coronavirus, Columbia University, which includes the Campbell Sports Center (venue for the Inwood Film Festival), has updated their events policy to suspend non-essential events of more than 25 people for the upcoming week, this includes the Inwood Film Festival.

We are devastated to share this news with you however, Inwood Art Works will faithfully follow the university's direction and postpone the film festival. We are now working through the difficulties of this unprecedented situation.

There are a growing number of cases being diagnosed in New York City. Amid cold and flu season it is prudent to take the side of caution. Inwood Art Works is committed to do our part to help protect staff, attendees and our Uptown community.

We'd like to emphasize that the festival has been postponed and not cancelled. IAW is committed to showcasing our hardworking and talented filmmakers and providing exciting arts programming for the community. Along with Columbia University and the staff at the Campbell Sport Center, we are exploring options to reschedule the Inwood Film Festival in late Spring 2020.  We will be reaching out to ticket holders with refund and possible transfer information as soon as we have more information.

For our filmmakers, attendees, partners and volunteers we will be making announcements soon updating everyone with new dates and activations. If you have already purchased a festival ticket please email us at info@inwoodartworks.nyc for options on transferring your tickets for the rescheduled date (TBD) or to request a full refund. Thank you for your understanding and continued support.
---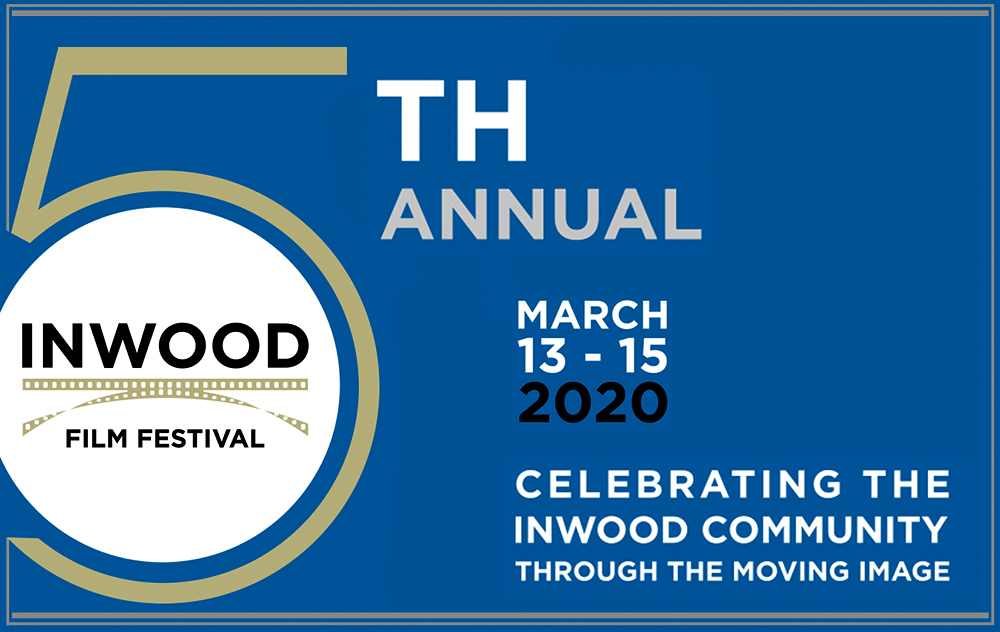 The festival has expanded to 12 programs, including nine screening sessions on Saturday and Sunday, March 14-15, and three special seminars: Stykz Digital Animation for Kids, Sound Design for Documentary Filmmaking, and Filmmaking A to Z. Details of the screenings and all the films are listed below.
Opening Night Benefit is Friday, March 13, at 6.30 p.m. featuring a special presentation of the Past, Present, and Future of the Inwood Film Festival and delicious food and beverages from Indian Road Café, Dyckman Beer Company, and ChocNYC.
Before and after the festival screenings guests can mingle in The Red-Carpet Community Room, a hip hub to connect filmmakers and audiences that is for the exclusive use of all Inwood Film Festival ticketed patrons before and after each screening. Enjoy a glass of wine from Indian Road Café or a Dyckman Beer and come to connect with neighbors before the show, stay afterward to discuss the films, meet like-minded folk, and hob-nob with local movers n' shakers.
After the last screenings on each day there will be conversation with some of the day's filmmakers. Following the final post-screening discussion, approximately 8 p.m. on Sunday, join us in the theater for the announcement of the Inwood Film Festival's awards for Excellence in Filmmaking to be presented by Manhattan Borough President, Gale A. Brewer.
And on both Saturday 10 p.m. & Sunday 9 p.m. Indian Road Café will host the after-parties where you can join filmmakers, film aficionados, and the Inwood Art Works team at Indian Road to raise a glass to our Inwood community and its vibrant arts scene.
This program is supported in part by public funds from the New York City Department of Cultural Affairs in partnership with the City Council. This program is funded in part by the Columbia University Medical Center Neighborhood Fund.
---
TICKETS AND LOCATION
Online ticket sales end March 13. There will be a waiting list at the door for each screening, as all shows are expected to sell out. No refunds or exchanges.(*Special discount for local students. Email info@inwoodartworks.nyc for promo code and attach proof of current, valid student ID)
---
Seminars – tickets for Stykz Digital Animation for Kids ($25) or donations for Sound Design for Documentary Filmmaking and Filmmaking A to Z are also available through our Eventbrite page $25 Lab fee – Laptop provided. Appropriate for 3rd to 6th grade students. Cap of 15 students.Dr. Rurik Nackerud will teach  he basics of animation using open source software suitable for Windows or Macs to create your very own animated video short.
---
Long Shorts | Documentary Portraits under 25 minutes | Saturday, 1:35 p.m. 55 minutes screening time
Long Shorts | Uptown: Criminal Intent | Saturday, 3:35 p.m. 45 minutes screening time
Traumatized by the brutal murder of her husband in Spanish Harlem, a Korean shopkeeper finds an unexpected ally's in a young Mexican woman with a secret.
After three thieves succeed in a dangerous heist, their loyalty is tested when gangsters show up to reclaim the loot.
Fran Gil, Notario/P.I., directed by Victor Yanik

Notary and private investigator, Fran Gil, is hired to investigate a possible death threat. When he learns that his client is found dead, he sets out on a path to find the truth.
---
Seminar: Sound Design for Documentary Filmmaking | Saturday, 5:05 p.m. Learn the ins and outs of designing sound from the pros! Panel hosted by Jonathan Bell. Pay-what-you-can.
---
Long & Short Shorts | The Long and the Short Shorts of It | Saturday, 6:35 p.m. 50 minutes screening time.
Roaming the Ruins (Student Film), directed by Vivien McNab
Based on a true event. A mother and daughter travel to Rome and get lost for hours in the Palatine Hill ruins.
Dancy Nancy, directed by Miguel Mercado

Documentary showcasing fitness specialist, Nancy Bruning, who promotes exercise classes in city parks for people who want to have a healthy lifestyle in New York City without going to the gym.
The Replacement, directed by Michael Pizzano
While fending off the office bully, a business exec must help the front desk face his possible firing and replacement.

The Replacement TRAILER from Michael Pizzano on Vimeo.
A La Mode (Student Film), directed by Charles Gomez
When a young woman's obsessive behavior for wearing makeup turns ugly. Showing a different perspective of what we don't see behind doors.

Nevertheless, directed by KarynRose Bruyning
Deeper meaning is the thing everyone seems to be looking for after heartbreak. What if you got the answer to all of the "whys" would it matter? Nevertheless is story of WHY and what happens after.
Don't Blink Twice, directed by Kristin Macomber and Steven Burneson
A couple navigates what it means to hang out.
The First Time I Saw You, directed by Dylan Scott Tuccillo
A young man sees a woman shoplifting and decides to follow her. Hours later he's obsessed, following the woman everywhere she goes. As days turn into weeks, he learns everything about her, and his life will never be the same. But she has a secret that even he doesn't know about. The film pays homage to the silent film era in that it contains no dialogue.
Anya | Feature Film | Saturday, 8:05 p.m. Eighty minutes, plus a special post-screening conversation with the filmmakers. Directed by Carylanna Taylor and Jacob Akira Okada
A young couple's personal quest to have a child becomes a provocative, yet utterly dramatic, exploration of some of the most challenging issues facing humanity today.
---
SUNDAY PROGRAM Long Shorts: Heath & Wellness | Short films under 25 minutes | Sunday, 1:35 p.m. 63 minutes screening time
Cultivate (Student Film), directed by Alex Baglio
When food critic Brian visits Cultivate, the hottest new restaurant in town, he's challenged by the establishment's quirky waiter before chowing down.
Nourishing Japan, directed by Alexis Agliano Sanborn
Embark on a delicious journey from farmer's field to school classroom that celebrates how one country has reimagined school lunch and food education. At the heart of Japan's 2005 Food Education Law are the incredible people whose daily work nourishes the next generation's relationship to food, the earth, and one another.
Without a Scratch (Student Film), directed by Samantha Farinella
Without a Scratch is an experimental short documentary that takes the viewer on the journey of the queer filmmaker's experience with a pituitary tumor, exploring the interconnectedness and complexity of healing, memory and love.
---
Long Shorts: Now, That's Comedy! | Short films under 25 minutes | Sunday, 3:35 p.m. 58 minutes screening time
The Meditater [sic], directed by Justin Giegerich
Bennett is an unpaid intern. He hates it, but his boss keeps promising him a promotion. The stress of the job keeps mounting and the promotion keeps getting delayed. To deal with it all, Bennett starts meditating, but when the voice of his Meditation App starts talking directly to him, Bennett realizes peace might take more than just some deep breaths.
Not So Hilarious Anymore, directed by Adam Karsten
When Eliza catches Todd watching old Louis CK clips in the middle of the night, the couple reckon with their feelings about a man they once admired and wonder, among other things, in the age of Hannah Gadsby, how a man who was so tuned in before can be so tone deaf now, before ultimately saying goodbye.
Desperate to increase attendance in her unconventional grief support group, Dr. Dee Dee Daniels admits the distraught Lizzie Marks who disrupts the counseling group when everyone discovers she's in the wrong meeting. Shot on location in Inwood, this is a sweet tale of quirky characters who learn to accept each other and offer some relief from their devastating losses.
Little Italy, Los Angeles: Un Taglio all'Italiana, directed by Adriano Valentini
The new way to shave.
---
Seminar: Filmmaking A to Z | Sunday, 5:05 p.m.
Facilitated by Samantha Farinella with established filmmakers Erin Greenwell and Megan Rossman. Pay-what-you-can.Are you interested in creating a film and it's your first time? Have you already made a film but are looking for ways to make the process more streamlined? Here is what you need to know.
---
Sometimes Why |
Feature Film |

Sunday, 6:35 p.m. 59 minutes, plus a special post-screening conversation with filmmakers. Directed by Dileepan Ganesan. The story of two dreamers, brought together by chance, who navigate the trials and tribulations of life and love in NYC.
---
5th Annual Awards for Excellence in Filmmaking | Sunday, 8:05 p.m. | FREE! Join us in the theater following the final screening on Sunday, March 15 for the announcement of the Inwood Film Festival's Awards for Excellence in Filmmaking by Manhattan Borough President, Gale A. Brewer.