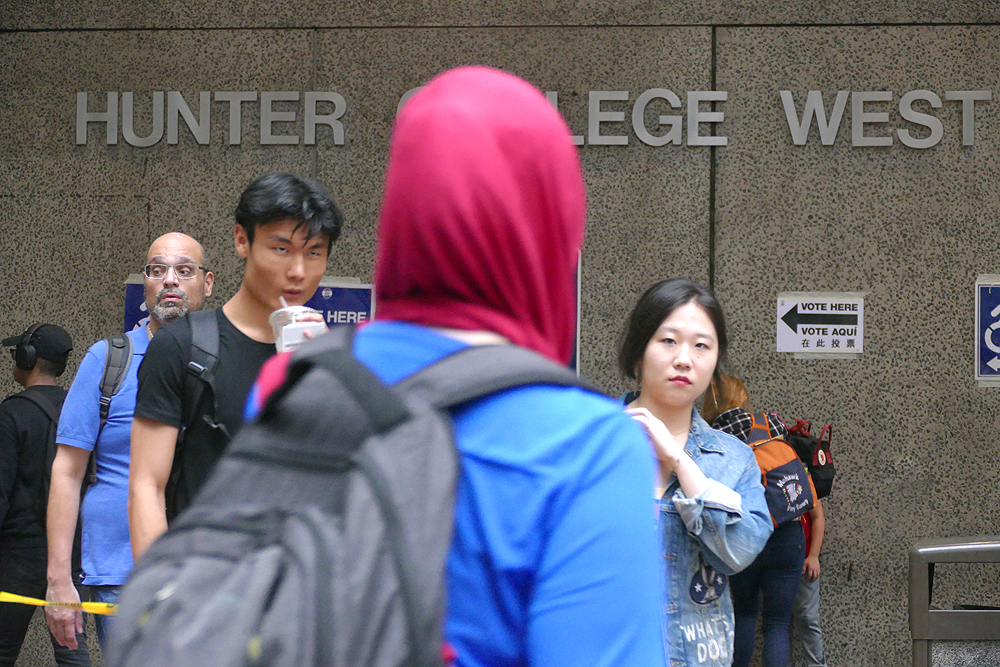 By Arber Rexha & Malik Young
Editor's Note: Reporters Rexha and Malik interviewed Queens College student leaders about their experiences with and opinions of their former college president who is now CUNY Chancellor and what they believed CUNY students could expect from him. Those articles are published here. This last article is based on interviews with a few Hunter students. Rexha and Young's initial reporting about Queens students was recognized with a reward from the CUNY University Student Senate.

Rexha Sought Out Hunter Student-Run Media for Comments
"I think having high expectations of him is important because it's very important right now to fix the bureaucracy amongst CUNY by repairing communication problems with the students," said 19-year-old freshman Christina Genao, picture left, a member of the Hunter student radio station, WHCS, located near the student cafeteria on the third floor of Hunter West.
Genao is majoring in creative writing and minoring in music. "If [Rodriguez] listens to the students and fixes the issues the students face, then he will be immensely supported by the student body," Genao surmised.
---
What a Few Students Told Malik Young
They were asked to read the welcoming speech of the new chancellor and comment. The full text of the his speech is at the end of this article.
Caroline Papayo, 21, a sociology major with an interest in drawing, said, "I'm gonna be honest, I don't really know what a chancellor is about but he seems like he wants to make a positive change for all CUNY. Hopefully, it trickles down to the rest of us students who he is serving."
Mark Ruffain, 24, an education major and an avid basketball lover, said, "I've been in the CUNY system for a long time; I'm what you call a super senior."
"Once you add politics to anything, things get messy" he also said. "Like, I'm sure this Matos guy is a wholesome dude, but once he gets that chancellor job he will be more powerful but also more limited. He's not going to be able to help the way he thinks he is now."
This reporter's opinion? Matos being a man of humble beginnings made his way through CUNY and wishes to be the anomaly who can significantly improve the University and that means for students, faculty and staff for the better for years to come.
---
[Editor's Note: What follows is a snippet from a message that Barbara Bowen, President of the Professional Staff Congress, sent to members Wednesday, May 29, 2019. Her union represents 30,000 faculty and staff at CUNY and the CUNY Research Foundation. The snippet is added to this article because of the comments about Chancellor Matos.]
Dear PSC Members and Colleagues,
Contract talks have intensified in recent weeks. We do not have a settlement, but the union bargaining team is working days, nights and weekends to see if we can settle the contract by the end of June.The bargaining team will send updates as soon as we have more to report.
Six weeks ago the union leadership identified the period between May 1 and the end of the legislative session on June 19 as potentially our best opportunity to reach a strong contract. We called on the incoming chancellor and the chair of the board of trustees to step up and make a serious effort to get the contract settled. On Félix Matos Rodríguez's first day in office, May 1, faculty and staff on every campus wore "Red for Ed," and more than a thousand PSC members sent him letters demanding action on the contract. Banners announcing our contract goals were flown over Fifth Avenue, hung from the Manhattan Bridge and dropped from buildings on several CUNY campuses.
The combined pressure brought management to the table. Chancellor Matos has been much more responsive than previous chancellors and has shown a commitment to reaching a settlement.
But significant differences remain. The main obstacle remains economic — the union's firm position that the contract must include salary increases for all, targeted equity increases for the lowest-paid full-time positions, and an end to near-poverty pay for adjuncts.
---
May 1, 2019, Felix V. Matos Rodriguez took office as Chancellor of CUNY and released a statement for all of CUNY.
Dear Students, Faculty and Staff,
I wanted to send a brief greeting to the entire CUNY community as I start my first day as Chancellor.
I begin my tenure at that point in the academic year when things are coming to a close, when we're all working at a hectic pace to complete courses and projects and tie up the loose ends of a busy academic year and begin preparing for the next. I wish you success in all of them! I also start at the prelude to the most wonderful time across our great university: commencement and all the yearly events where we celebrate the achievements of our students. I look forward to celebrating many of these moments – where we reap the fruits of our transformational work – with many of you at your schools.
Although the summer brings a slower pace to our campuses, I look forward to conversations over the next few months that will provide a sense of the challenges that we face together and of our collective aspirations for the future. In this way, we will assemble a shared vision that builds upon our historic mission of excellence and access, our commitment to the creation and dissemination of knowledge, and our role as an indispensable anchor institution and engine for social mobility and success in New York.
I came to Hunter College as a faculty member in 2000 driven, like so many of CUNY's faculty and staff, by CUNY's remarkable mission. I was also attracted by the hallmarks that make CUNY a unique educational institution: the intellectual vibrancy and proximity of colleagues and students from what are now 25 campuses; the privilege of working in the world's most dynamic city; the potential to connect scholarship and public policy to directly have an impact on the public good; and a profound commitment to diversity. I remain as energized and motivated today, as I was back in 2000, by the power and responsibility of our mission.
CUNY is an extraordinary university at every level. Our success is propelled by a unique kinship of students, faculty, staff and leadership who together carry on CUNY's legacy as the paradigm of a people's university. That is both a high aspiration and an incredible obligation.
I want to thank you for placing your confidence in me. I will spend each and every day working to justify that confidence and to meet the high expectations for this institution I love. I look forward to working with the Board of Trustees, and the entire University community, as we begin to move on into CUNY's next chapter together.
Saludos!
Felo
---
Arber Rexha can be reached at Arber.Rexha00@myhunter.cuny.edu; Malik Young can be reached at Malik Young mpy3030@gmail.com.