Opens tomorrow, Friday, October 11, Village East Cinema, New York City;
Opens in LA at Laemmle Music Hall October 18, Friday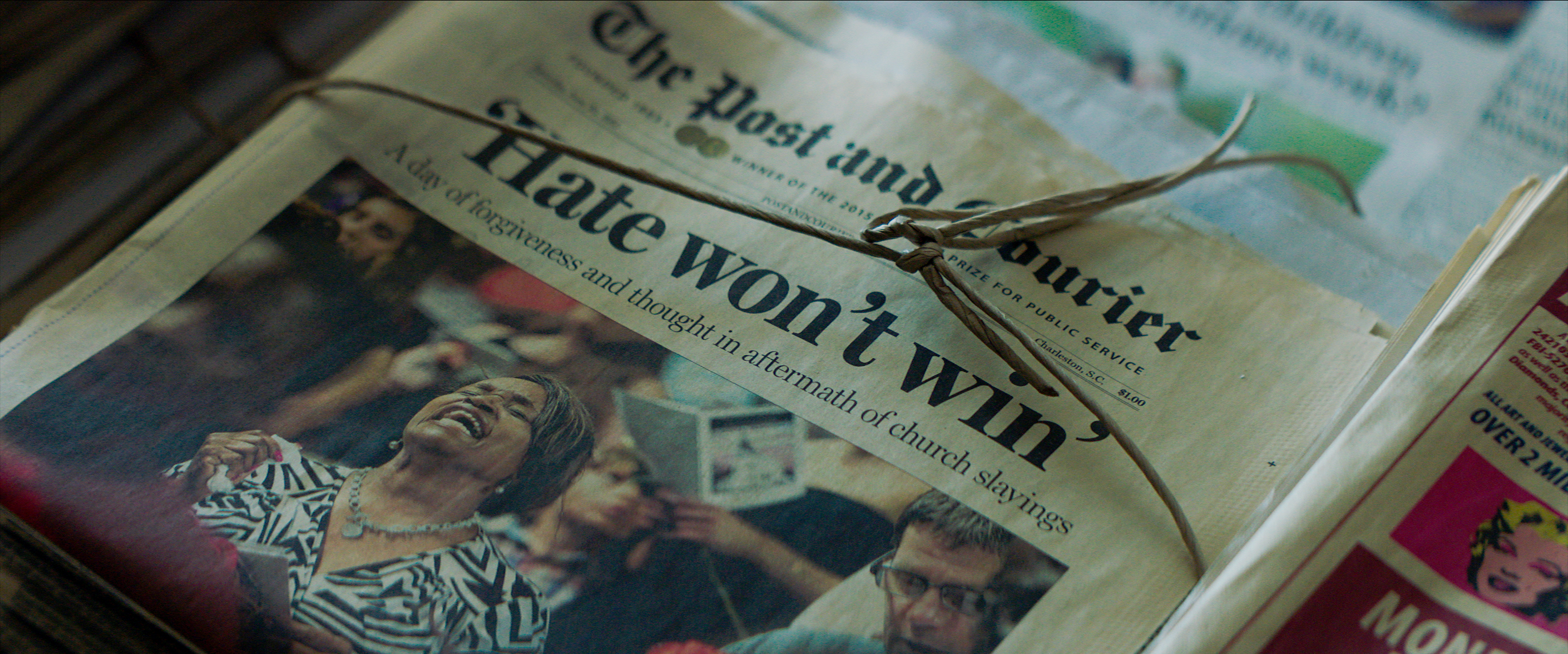 In a prophetic scene from footage taken before the June 17, 2015 bloodshed, the Reverend Clementa C. Pinckney, one of the victims killed by Dillon Roof, a white supremacist, tells parishioners that if they want all the freedoms that they are entitled to, that  "…  sometimes you gotta make noise to do that. Sometimes you may have to die like Denmark Vesey to do that."
Bravura story telling by Director Brian Ivie & Cinematographer Daniel Stuart done in the vein of the best of the best nonfiction story telling in recent years about America, which, in these times of nagging apocalyptic gloom and menace, needs rich, unflinching stories that empower righteous people to stand their ground in the face of incredible adversity.
Attention potential audiences: Your eyes will never leave the screen once the film starts. Rapturous filmmaking exposes the layers of truth about the Charleston Church Massacre as well as the history of Charleston, North Carolina, transcending well beyond news media reporting and analysis that even at its best can't come near the absolute truth. EMANUEL rises to a higher transcendent plane of story telling, well beyond the news media's purported journalistic pursuit of the truth and, therefore, has meaning for all of America because of the cinematic breadth of the filmmakers.
EMANUEL has qualities of two other excellent documentaries. This reviewer was impressed with its acumen of the down-to-the-tiniest-iota-of-fact-gathering research similar to that of THE CENTRAL PARK 5 (2012) documentary directed by Ken Burns, Sarah Burns and David McMahon; and, and this reviewer was also impressed with the cinema-esque feel of the laser-focused verisimilitude of Director Ava DuVernay's fictionalized version of the Central Park 5: WHEN THEY SEE US | THE STORY OF THE CENTRAL PARK 5.
The layers of reality revealed in those two excellent movies on different cinematic paths about the horrific mistreatment of five youths by the New York City news media and the criminal justice system? Unquestionably matched by the transcendental nature of EMANUEL, a story for all America. It's poignancy will tear at audiences' hearts even as it strengthens every heart beat and makes people want to soar.
Some Basic Facts
The 2015 Emanuel African Methodist Episcopal Church shooting in downtown Charleston is also known as the Charleston Church Massacre, It was the deadliest mass shooting at an American place of worship at that time history. The 2017 Sutherland Springs church shooting and the 2018 Pittsburgh synagogue shooting had a higher death toll.
Dylann Roof, white, 21, a white supremacist concealing a handgun showed up at an Emanuel bible school meeting, an obvious stranger, yet he was invited to participate. He fatally shot nine people. Three other shooting victims  survived. The mass murder took place in one of the oldest U.S. black churches long known for community organization and fighting for civil rights.
Roof was convicted of 33 federal hate crimes and murder charges. He was sentenced to death January 10, 2017. He was was separately charged with nine counts of murder in the South Carolina state courts and pleaded guilty to all nine state charges in order to avoid a second death sentence. He was sentenced to life imprisonment for each. Roof espoused racial hatred well before the shooting, and in a journal written after he was convicted. Photographs posted on a website showed Roof posing with emblems of white supremacy and with photos of the Confederate Flag.
---
A Few Characters from the Film
Victims
Clementa C. Pinckney, 41 – Pastor and a South Carolina state senator.
Susie Jackson, 87 – Bible study/church choir member. She was the oldest victim of the shooting.
Ethel Lee Lance, 70 – Church's sexton.
Depayne Middleton-Doctor, 49 – a pastor who was also employed as a school administrator and admissions coordinator at Southern Wesleyan University.
Tywanza Sanders, 26 – a Bible study member; grandnephew of victim Susie Jackson. He was the youngest victim of the shooting.
Daniel L. Simmons, 74 – Pastor of The Greater Zion AME Church in Awendaw.
Sharonda Coleman-Singleton, 45 – A pastor; a speech therapist and track mother of MLB prospect Chris Singleton.
Myra Thompson, 59 – Bible study teacher.
The victims have been collectively referred to as "The Charleston Nine" and "The Emanuel Nine".
Gregg W. Morris can be reached at gmorris@hunter.cuny.edu