Director Billy O'Brien's I AM NOT A SERIAL KILLER (adapted from Author Dan Well's novel) is made in the vein of five-star art house horror gems like EXISTS (2014) and IT FOLLOWS (2014), that is, low budget with the heart of a major motion picture, top-notch acting by young and veteran actors, imaginative directing and a keen script with a lot of surprises and what this reviewer considers special creative touches, one almost X-Files-ish.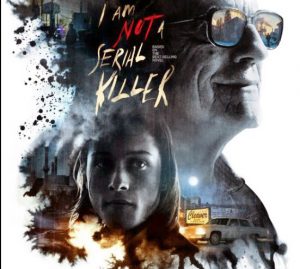 I hope Hollywood comes calling with beaucoup bucks for O'Brien to make a big budget movie. Or maybe HBO shows up with beaucoup bucks for him to make one of its sterling limited series. This film may not be creepy or gory enough for horror aficionados who like their slaughter and rending of flesh in copious amounts and prefer visceral terror over suspense, no matter how adroitly handled the suspense, but there's more than enough in O'Brien's gem to make the goose pimples rise.
Sixteen-year-old John Wayne Cleaver (played by Max Records) is obsessed with serial killers Ted Bundy and Jeffery Dahmer, et. al. "You have a lot of predictors for serial killer behavior," his therapist Dr. Neblin (played by Karl Geary) tells him during a therapy session but he also says "you can control your own destiny."
John Wayne doesn't want to become a killing machine. "I have rules to keep me normal and to keep everyone else safe," the young Cleaver, wise beyond his years, tells his mom, the small town's forensic pathologist who allows her son to assist her with autopsies. His sister also is on staff. Mom and sis know about his predictors as do many others in the town, such as his high school principal. According to medical journals and studies, sociopathy and psychopathy can't be diagnosed until adulthood though there are signs early on in childhood, AKA predictors that a youth or teenager may be predisposed. [Red Alert: Watch out for kids who kill and torture animals.]
Creative Touches: Mom, April, (played by Laura Fraser) doesn't seem concerned that allowing her son to help her eviscerate cadavers on a lab table might arouse his fantasies. The family name is Cleaver – as in cleaver – and they slice and dice cadavers. John Wayne Cleaver made me think of John Wayne Gacy.
Plot: A serial killer is preying on the residents of a small town and the slayings fascinate John Wayne who must deal with his own budding homicidal and morbid obsessions, which are ratcheting up because of his sleuthing to try to catch the killer. There are scenes after scenes of rich plot elements, such as the increasing tension in the Cleaver family as the killings increase; the repartee between John Wayne and his school principal at a meeting is pricesless; John Wayne's aplomb in the school lunchroom when he is harassed by a bully who later gets a righteous comeuppance because of John's savage wit.
Surprises after surprises after surprises, such as this X-file-ish touch: Is the killer Paranormal? Supernatural? Preternatural? Extraterrestrial?
Max Records as John is the center of attention but the acting of all the characters rises to the occasion, from big screen star Christopher Lloyd as Crowley (a neighbor – ha ha) to veterans Karl Geary as therapist Dr. Neblin and Laura Fraser as John's mom.
If there is one critique about this movie it's this small one I believe was done for creative purposes: The blurring of and the juxtaposing of definitions and distinguishing characteristics between serial killers and psychopaths and sociopaths. Many psychopaths and sociopaths can be pains in the ass but are not violent.
Running time: 104 minutes
Rating: Not Rated
Director: Billy O'Brien
Writing credits shared by Billy O'Brien, Christopher Hyde and Novelist Dan Wells
Opened Friday August 26 at the IFC Center now VOD
Gregg Morris can be reached at gmorris@hunter.cuny.edu