USA Documentary
90 Minutes
Tribeca Film Festival, April 19 to April 30
For Ahkeem Trailer from Weissman Studio on Vimeo
The death of unarmed Black teenager Mike Brown at the hands of police is the sociopolitical background of this coming-of-age documentary about 17-year­old Daje Shelton.
That publicity blurb sent this reviewer to its Tribeca screening. Because of the reputation of the Emmy Award winning filmmakers, directors Jeremy S. Levine and Landon Van Soest, I also wanted to see what they had done referencing the heinous police killing of an unarmed black teenager as the social political background for their story of a young black woman, Daje Shelton, coming of age.
I believe many who see FOR AHKEEM will pity Daje Shelton. Some, as I did, will pity her boyfriend, Antonio. Though the focus of the film is on Daje, the many awkward moments of their courtship recorded over two years takes place in a St. Louis suburban community besieged by the forces of institutional and structural racism and bigotry that plagued struggling black communities across this nation.
And the courtship provided more scope to this troubling film, or, more scope to the troubles facing Daje, Antonio and their community.
Mike Brown's cold blooded murder by Ferguson police officer Darren Wilson, ruled a justifiable homicide, added fuel to the campaign for political and socioeconomic change demanded by the Black Lives Matter movement. Yet, it appeared that not even wisps of that fervor for radical change or even the possibility of progressive change had reached a level of consciousness in Daje's and Antonio's community.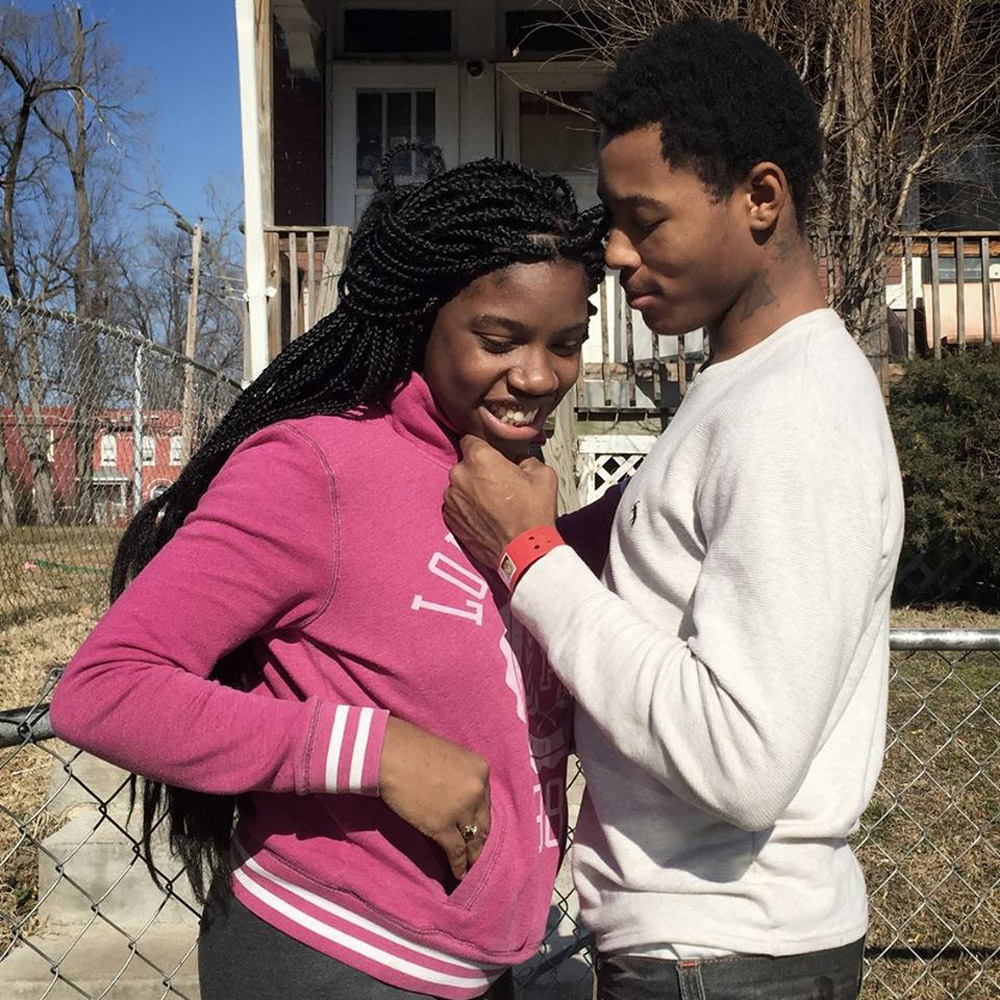 Things don't look good for them as we see in the course of the movie.
Daje has a discipline problem that isn't adequately portrayed on the screen for this reviewer who guesses it has to do with petulance of some degree though she is not a screamer nor is she physically aggressive. But the audience learns it's enough to cause her to appear in court and a judge sentences her to attend Innovative Concept Academy for at-risk students. There is a strong impression that her tenure at the academy better be good or else.
Yet, she has problems there because of her attitude which this reviewer believes is the result of the kind of suppressed rage that can afflict teenagers of color dealing with or trying to deal with racism and bigotry that has them under siege. And it is not rage that is socially accepted. In either form, suppressed or exhibited, the rage and defiance sets the kids up to get in trouble. To be honest, however, that's psychological speculation because there are no scenes to support my heart-felt allegations.
Antonio, a tenth-grade dropout (which is just another way of saying the school system failed another black teenage male), doesn't have a decent job and we can see his inexorable drift towards criminal behavior because he needs money. I didn't want to imagine him hurting innocent victims but the reality is that he could end up seriously harming them as well as himself.
Daje and Atonio fall in love. She gets pregnant. She is also suffers a gunshot – not on screen – but it's not fatal nor is it clear how it can happen. But collateral damage is de rigeur and is address nonchalantly in the film.
Daje, her boyfriend and her mother are the main characters in this soap opera. Their understandably unprofessional yet noble performances before the cameras just isn't enough to support this film.
The pernicious institutional and structural racism permeating every level of 17-year-old Daje Shelton's existence – as well as her lover and ather-to-be of her child – has caused people to take up arms, become activists and community activists if not radicalized revolutionaries, take to the streets, run for elected office, become journalists, write books, make movies and challenge the Powers That Be in many other ways. The brutal homicide of Mike Brown by Ferguson police officer Darren Wilson was heard around the world and Ferguson became the birth place of the Black Lives Matter movement. Yet, none of that passion is reflected in the movie allegedly using the backdrop of that rising up in Ferguson.
I wish Daje and her boyfriend and her mom and their friends and neighbors had said on camera, quotation marks for effect, "Black Lives Matter and we are going to fight to keep other beautiful young women like Daje from becoming the latest victims of the pernicious racism in our society." I wish the filmmakers, who unflinchingly showed the schematics of the grim realities of American's pernicious racism had also shown something like that in their film.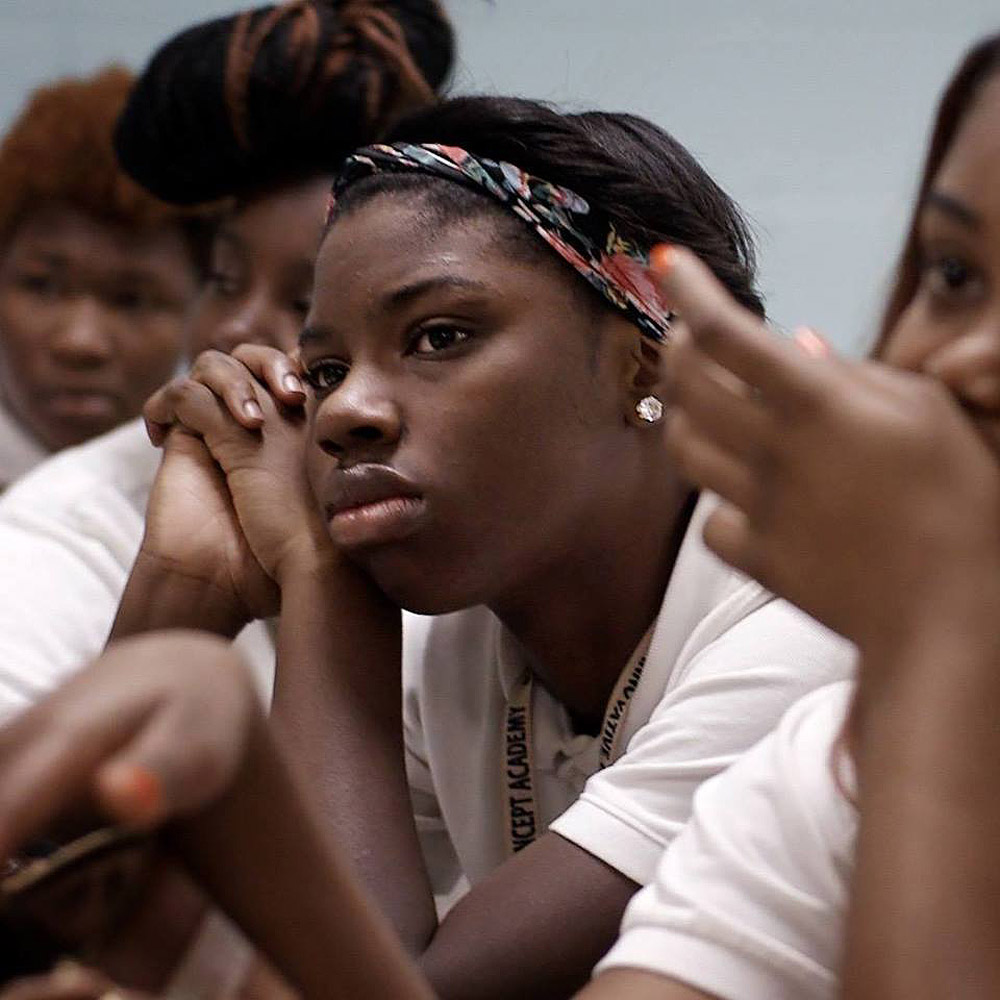 But not one iota of a refrain about rising up against social injustice was heard in FOR AKHEEM. The slayings of Ferguson's Mike Brown, Trayvon Martin and Eric Garner fueled the #BlackLivesMatter movement. None of that spirit is reflected in any way in FOR AKHEEM. The veteran award winning filmmakers made a movie for audiences to feel pity? I can't honestly say that was their intention.
At the film's end, I wondered about Daje's pre-teen years. There was a distinct impression they were challenging for her and her single mother. I wonder, of course, what her post high school years might be like if she doesn't succumb to or isn't overcome by the pernicious institutional and structural racism permeating every level of her life and that of her community at the time of the filming. We see her two years of struggling to pass simple courses in an alternative school she was required to enroll in because of intemperate behavior that was never sufficiently described to my satisfaction. She movies sluggishly through the movie as if she is carrying burdens too much for her to bear or even comprehend. We never seen any self-reflection or attempts at self-reflection by the main characters about their situations.
Years from now, if she survives the consequences of racism and bigotry and sexism, I would like to know what convinced her to be in this movie that is so personally and intimately revealing about two years of her life. Will she by then have learned about the societal forces at work to undermine her existence.
I almost choked on this other part of the above publicity blurb: "She wants what countless Hollywood stories tell us young women in America want: good grades, good friends, and the perfect boyfriend."
I want to imagine that Emmy award-winning documentarians Jeremy S. Levine and Landon Van Soest wanted to be agents of change, agents of social justice, that they wanted to engage in advocacy journalistic enterprise that the mainstream corporate news media eschew. Their movie, GOOD FORTUNE (2009), for example received a National Emmy Award in addition to awards for international reporting and promoting social justice from the Overseas Press Club, Fledgling Fund, and Witness.
Gregg Morris can be reached at gmorris@hunter.cuny.edu