This reviewer wishes he had been a fly on all the walls during the filmmakers' work-in-progress for this incredibly zany, genre-defying piece of work by Director Paul Riccio: A surreally uplifting existential must-see released during an apocalyptic world-wide pandemic causing unfathomable real world bereavement. Filmic hutzpah and derring-do seem infused throughout the approximately 140 minutes running time. Even the film score has a resonating cosmic touch! It's easy to get so engrossed watching GIVE OR TAKE that it's like putting the Pandemic temporarily on hold. [Which can be smartly done if one follows the CDC & WHO guidelines for improving one's chances of surviving the Pandemic, no matter what Variant is surging.]
Audiences should be on alert: There are plot surprises galore, like momentary pulses of head-turning filmic moments that are on top of you without warning.
GIVE OR TAKE opened in theaters February 11 and was scheduled to be out on DVD, digital, Today, February 22. Featuring Tony-winner Norbert Leo Butz, Saturday Night Live alum Cheri Oteri, Jamie Effros, and Joanne Tucker (The Report). More about this lower in the review.
Plot Synopsis
A New Yorker transplant from Cape Cod neurotically stuck in never-ending disenchantment that started in childhood because of estrangement from his dad at a very young age embarks on a fateful trip. He learns of his father's death and drives to his home located in the tourist mecca to reap the awards of a staggering, unexpected inheritance from dad (for whom he believes he would be now old enough to stand up to – even though it seems too late).
Plot alert: His father's idiosyncratic, live-in boyfriend of more than six years – Ted played by Norbert Leo Butz – opposes the sale but doesn't have a leg to stand on; that doesn't stop him from sneering and snarling at the legalities.
Jamie Effros superbly plays Martin, the estranged, overbearing son  (overbearing, that is, until audiences get to know him, cinematically, of course). Norbert Leo Butz blazes as the bereaved Ted whose cut to the bone sarcasm matches Martin's overbearing manner. Martin's dad did not come out until after his wife died, freeing dad to live openly as a gay man who subsequently found unconditional love with a younger man – his lawn guy, Ted. Martin's not homophobic but he can't come to grips about his father concealing his truth.
And so it went.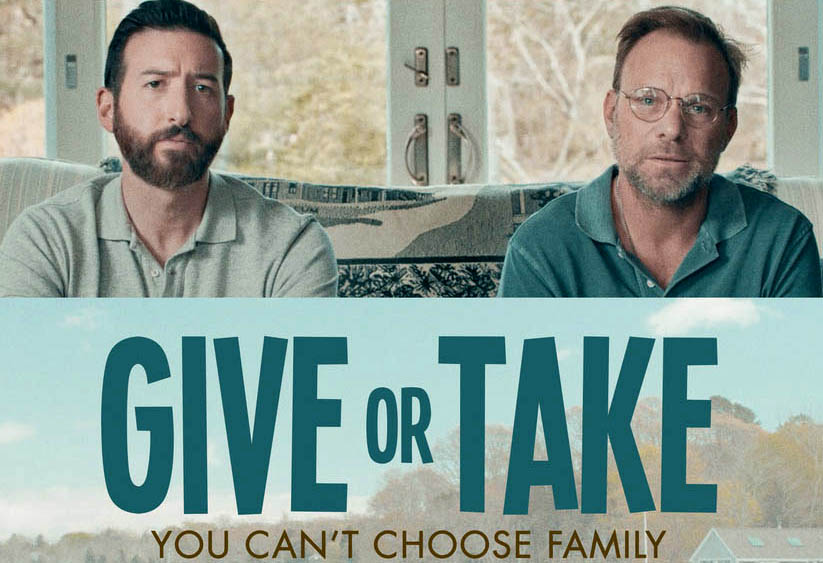 The performances of the rest of the stellar cast, main and sub, should be enshrined in this review, yet, this reviewer, for the sake of expedience, forgoes the plaudits they so rightfully deserve.
Nevertheless, audiences should be prepared for Saturday Night Live's Cheri Oteri searing moments as "Realtor Patty King," and there are other sublime intertwining story touches, like Martin's zany relationship with his girlfriend, played by Lauren Annapurna Sriram, who didn't join his solo drive to The Cod, choosing instead to text-text-text when the urge seizes her (until she does an Uber long haul); and his fateful reconnecting with Emma played by Joanne Tucker, a childhood friend and unrealized crush, who never left The Cape. And never forgot about Martin who never forgot about her.
Summarily extracting snippets and morsels from film publicity and promotional material: Director Paul Riccio's states that his gem of a gem "is about love, loss, connection, acceptance, and what it truly means to be home. It's funny, gripping, and real. In the end, we learn that there's a comfort to the complexities we allow each other, that love can always surprise us, and that a person is far more than the stories we tell about them." Not bad as publicity blurbs go but there's so much more.
GOT publicity-promotion extracts – that potential audiences can accept as a bits of Gospel – also cite the story's "assortment of oddball [Cape Cod] locals all looking on, and the weird only gets weirder." This reviewer wouldn't describe this film as funny. Rather, it's profoundly zany with comedic moments of invigorating bliss regardless of the profound bereavement of certain characters. Lot's of chuckling this way comes.
[Please Note: GIVE OR TAKE had a special engagement screening at Cape Cinema February 9, opened February 11 in The Big Apple at Quad Cinemas and Los Angeles at the Laemmle Royal and is showing up today, February 22 on DVD & VOD, platforms including iTunes/Apple TV, Amazon, Google Play, Vudu, Vimeo, DirecTV, Dish/Dish Digital, and through local cable & satellite providers.]
Director Paul Ricco
Writers Paul Ricco, Jamie Effros
Starring (Some of) Norbert Leo Butz, Jamiee Effros, Joanne Tucker
Goo Gobs of Producers With Varying Titles
Cinematography Federico Cantini
Film Editing Mike Rizzo
Facebook:  https://www.facebook.com/giveortakemovie
Twitter:      https://twitter.com/GiveOrTakeMovie
Instagram:  https://www.instagram.com/giveortakem…
Site: https://www.giveortakemovie.com/
Gregg W. Morris can be reached at gregghc@comcast.net, profgreggwmorris@gmail.com