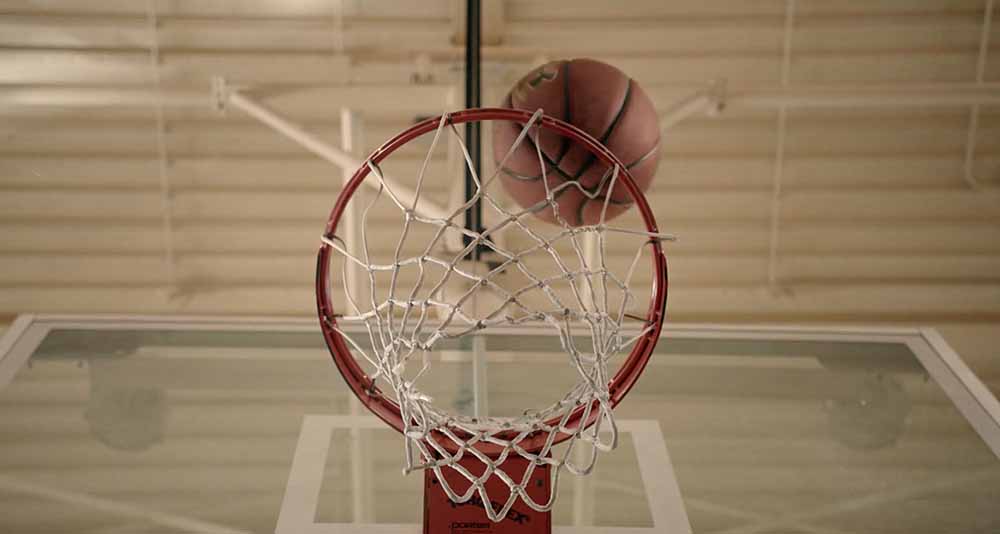 AJ Green, a new kid in town, shows up at the varsity basketball tryouts for the new season and makes quite an impression, so much that some veterans feel threatened, especially the star of the team whose bullying can match his inflated ego. We know how teens can act immaturely. Is AJ up to the challenge?

Before watching this slam dunk of a 15-minute short, this reviewer knew nothing about Director Jeannie Donohoe, though he did recognize former NBA player Rick Fox who plays "Coach" in Donohoe's GAME. Donohoe is an award-winning filmmaker who has written and directed several short films. Her LAMBING SEASON was named one of the "Best Short Films of 2014" by Indiewire.  Donohoe was selected from over 4,600 applicants to write and direct GAME through the Lexus Short Films program. She is now working on her first feature-length film.
Her GAME is about AJ, an ace high school basketball player who has a lot of grit and will need it after putting on a showtime performance that threatens several players. This film also resonates metaphorically on many levels about life these days in contemporary America, especially for youth. This film should definitely play in Peoria.
What makes GAME sooooo good? Great narrative and plot, with dialogue reflecting a perceptive and appreciation about the culture and dynamics of high school basketball teams. The story is ripe with nuances and subtleties and the dialect of the spoken word that one would expect from someone who has lived and breathed basketball for years. Basketball, however, is not on Jeannie Donohoe's sterling resume but you won't believed that watching this bravura movie. The directing and writing are hand in hand for this film short that should be seen several times to appreciate how so much a director, cinematographer, crew and cast can accomplish in 15 minutes. Wow!
Superb casting. The actors can really play basketball and the verisimilitude of the coach and assistant coach and their eccentricities and how they interact is rendered so well. There is nothing worse for this reviewer watching a b-ball film, no matter how good the story and the filmmaking, than to have to suffer through contrived scenes to make the film's b-ball players look like they can play when they wouldn't be allowed on the team bus nor allowed to carry the starting team's bags.
Game has been receiving film festival awards all over the world including; at U.K.'s Raindance Film Festival's Oscar Qualifying award Best Short Film, Best of Fest Audience Favourites at Palm Spring International ShortFest, Best U.S. Narrative Film at D.C. Shorts, Audience Choice Award at L.A. Indie Film Festival, Best Narrative Short at Tokyo Lift-Off Film Festival and the Bronze Lion Award in Entertainment at Cannes Lions. Game will soon screen at Savannah Film Festival, Hawaii International Film Festival, and Aesthetica Short Film Festival.
Gregg Morris can be reached at gmorris@hunter.cuny.edu
[P.S.
This film brings back memories. Gregg Morris was an all state b-ball player at Mt. Carmel High School in Chicago; All-Ivy, captain and Hall of Fame inductee at Cornell University where he was also an assistant b-ball during the most controversial basketball season in the University's history. He also played semi-pro b-ball in the States and pro ball in Portugal.]