… Designed by Cinematographer Ed Lachman and Visual Artist Jr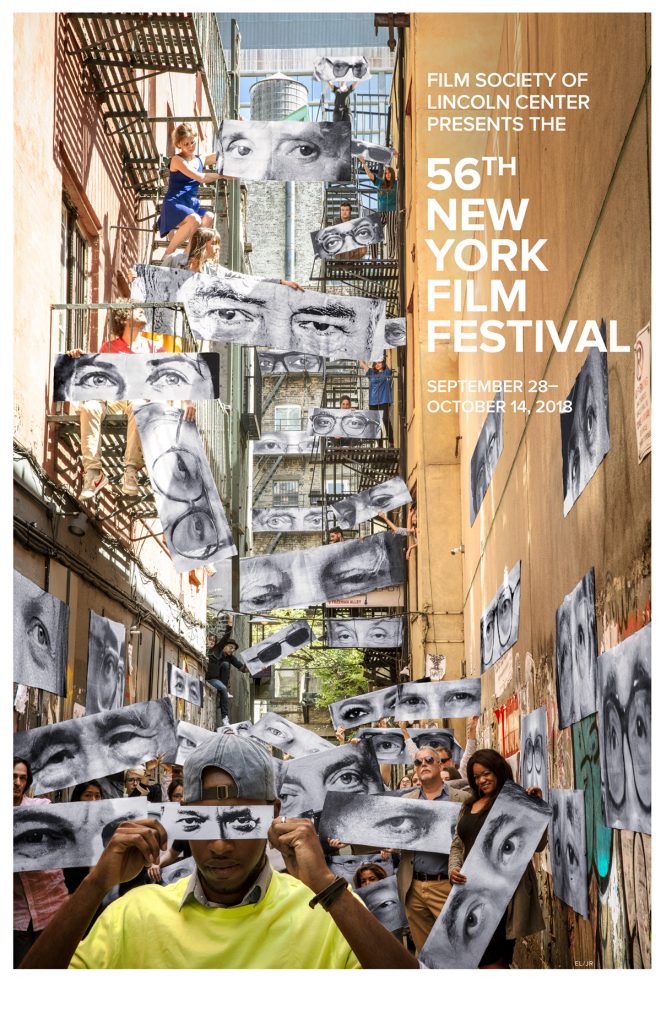 Lachman and JR join an impressive legacy of artists whose works have been commissioned for festival posters, including Andy Warhol, Roy Lichtenstein, David Hockney, Julian Schnabel, Cindy Sherman, and last year's artist, Richard Serra.
"This year's poster came together in the best imaginable way – spontaneously, at last year's festival," said New York Film Festival Director Kent Jones. "Dan Stern, our board president, was talking to Ed Lachman, one of the best DPs alive, a visual artist, and a regular at the NYFF, and asked him if he had any interest in doing a poster for this year. Ed thought it over, got back to Dan, and told him that he and JR—who was at the festival with his amazing collaboration with Agnès Varda, Faces Places—had been discussing the possibility of a collaboration, and they'd agreed that the NYFF poster presented them with a great opportunity. The result is better than we could ever have imagined, a real thing of beauty, and it's going to be a favorite."
On the partnership and thought process behind this year's poster, Ed Lachman explains, "Being at the Festival is the highlight of the year for me, when I'm not working. It's a place to meet, share, and experience what cinema can be. The opportunity to create the poster for the New York Film Festival and collaborate with JR was a formidable experience and similar to filmmaking, where one works with other visual artists to create a project. I've had the greatest respect and admiration for his work over the years, both visually and how he engages communities he's portraying within a social context, which I think is so important in today's world, to find how we're all connected, rather than separated and divided."
According to Lachman, "The idea came together using JR's emblematic eyes . . . What is cinema without the mind, the heart, and the eyes of the filmmakers? Using the director's eyes can symbolize the creative force behind the images and the stories that the Festival has championed and represented to New York over the years, supported by the audience holding the placards of their eyes, and what can be more New York than our alleyways?"
A revered and award-winning cinematographer, Ed Lachman has shot more than 100 narrative, experimental, and documentary titles in the United States and internationally. He is known for his collaborations with Todd Haynes, Steven Soderbergh, Robert Altman, Paul Schrader, Todd Solondz, Sofia Coppola, Werner Herzog, Wim Wenders, Volker Schlöndorff, Ulrich Seidl, and Jean Luc-Godard, among others.
Lachman's work has garnered him numerous honors including Academy Award nominations for his work on Carol (2015) and Far from Heaven (2002), as well as an Emmy nomination for the HBO miniseries Mildred Pierce (2011). He has been honored with the American Society of Cinematographers Lifetime Achievement Award, Telluride Medallion Award, Gotham Award, and this year at Cannes with the 2018 Angenieux ExcelLens in Cinematography Award. Lachman is also known as a visual artist who has had installations, videos, and photography at the Whitney Museum of American Art, MoMA, the Ludwig Museum in Germany, and many other museums and galleries throughout the world.
JR exhibits freely in the streets of the world, catching the attention of people who are not typical museum visitors. In 2006, he created Portrait of a Generation, images of suburban "thugs" that he posted in huge formats in the bourgeois districts of Paris. In 2007, with Marco, he made Face 2 Face, large portraits of Israelis and Palestinians standing facing each other in eight Palestinian and Israeli Cities, considered the biggest illegal exhibition ever. In 2011, he received the TED Prize. Later that same year, he created Inside Out, a global participatory art project that transforms messages of personal identity into works of art. As of September 2017, over 350,000 people from more than 140 countries have participated, through mail or gigantic photo booths.
His recent projects include a collaboration with New York City Ballet; the feature documentary Faces Places, co-directed with Nouvelle Vague legend Agnès Varda; seemingly "erasing" the pyramid outside of the Louvre; giant scaffolding installations at the 2016 Rio Olympics; an exhibition on the abandoned hospital of Ellis Island; and a gigantic installation at the U.S.-Mexico border fence. As he remains anonymous and doesn't explain his enlarged full-frame portraits, JR leaves the space empty for an encounter between the subject/protagonist and the passerby/interpreter.
A special thank you to photographers David Godlis and Julie Cunnah for their photo contributions to the poster. Chantal Akerman photo courtesy of Kenneth Saunders/The Guardian.
These limited-edition posters will be available for purchase during the festival at filmlinc.org/merch. NYFF will also be holding a contest: the person who correctly identifies the most director eyes will receive a pair of festival tickets and a signed poster. See a poster keyhere and enter the contest here. Ed Lachman will speak to NYFF audiences about the poster concept and creative process at a free NYFF Live talk during the festival, details to be announced.

The complete list of NYFF poster artists:
Larry Rivers, 1963
Saul Bass, 1964
Bruce Conner, 1965
Roy Lichtenstein, 1966
Andy Warhol, 1967
Henry Pearson, 1968
Marisol (Escobar), 1969
James Rosenquist, 1970
Frank Stella, 1971
Josef Albers, 1972
Niki de Saint Phalle, 1973
Jean Tinguely, 1974
Carol Summers, 1975
Allan D'Arcangelo, 1976
Jim Dine, 1977
Richard Avedon, 1978
Michelangelo Pistoletto, 1979
Les Levine, 1980
David Hockney, 1981
Robert Rauschenberg, 1982
Jack Youngerman, 1983
Robert Breer, 1984
Tom Wesselmann, 1985
Elinor Bunin, 1986
Sol Lewitt, 1987
Milton Glaser, 1988
Jennifer Bartlett, 1989
Eric Fischl, 1990
Philip Pearlstein, 1991
William Wegman, 1992
Sheila Metzner, 1993
William Copley, 1994
Diane Arbus, 1995
Juan Gatti, 1996
Larry Rivers, 1997
Martin Scorsese, 1998
Ivan Chermayeff, 1999
Tamar Hirschl, 2000
Manny Farber, 2001
Julian Schnabel, 2002
Junichi Taki, 2003
Jeff Bridges, 2004
Maurice Pialat, 2005
Mary Ellen Mark, 2006
agnès b., 2007
Robert Cottingham, 2008
Gregory Crewdson, 2009
John Baldessari, 2010
Lorna Simpson, 2011
Cindy Sherman, 2012
Tacita Dean, 2013
Laurie Simmons, 2014
Laurie Anderson, 2015
Apichatpong Weerasethakul, 2016
Richard Serra, 2017
FILM SOCIETY OF LINCOLN CENTER
The Film Society of Lincoln Center is devoted to supporting the art and elevating the craft of cinema. The only branch of the world-renowned arts complex Lincoln Center to shine a light on the everlasting yet evolving importance of the moving image, this nonprofit organization was founded in 1969 to celebrate American and international film. Via year-round programming and discussions; its annual New York Film Festival; and its publications, including Film Comment, the U.S.'s premier magazine about films and film culture, the Film Society endeavors to make the discussion and appreciation of cinema accessible to a broader audience, as well as to ensure that it will remain an essential art form for years to come.