By Kadia Goba, Senior Editor and Special Correspondent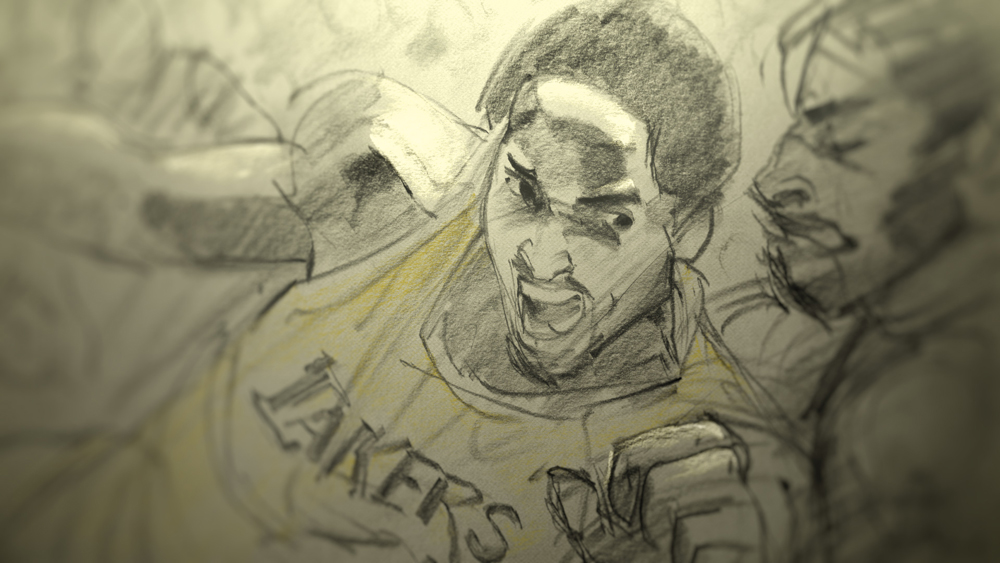 Former L.A. Laker Kobe Bryant brings to life his nearly 2-year-old farewell letter to basketball.
Much like his b-ball endeavors, Black Mamba doesn't hold back in the production of this six-minute cinematic saga featuring the works of legendary animator, Glen Keane and composer John Williams. The well-executed short, DEAR BASKETBALL premiered during the Tribeca Film Festival."
"As a 6-year-old boy, deeply in love with you, I never saw the end of the tunnel," narrates the ballplayer to the scene of first-drawing renditions of a young Kobe on his twin bed, rolling a white cotton tube sock into a small ball. The precise, motion-filled charcoal colored sketches against a white background coupled with the rare melodic sounds of a live orchestra instantaneously elicit an emotion not easily brought on by animation.
Did I mention this film is 6 minutes long? OK, I'll continue.
All too soon we're swooped into Kobe's starting years in the NBA. Small afro, youthful gaze accented with those all-too-recognizable dimples. "And so I ran, up and down every court for every loose ball for you," reads Bryant, as we enter the inciting act of the film. Wonderfully dramatic backboard dunks and in-air lateral moves complement the well defined and deliberately moving grey figure that covers the white screen.
The final scene, another outstanding collaboration of art, highlights… well, here's the quote: "My mind can handle the grind, but my body knows it's time to say goodbye."
DEAR BASKETBALL is truly a unique experience and no doubt a costly one. While Michael Strahan http://www.michaelstrahan.com, Bryant and Keane didn't discuss the budget during the Q & A attended by this writer, Keane admits it was one of the most difficult undertakings he's ever been employed to do. Keane, an acclaimed animator responsible for creating Arielle of THE LITTLE MERMAID, POCAHONTAS, the beast from BEAUTY AND THE BEAST and TARZAN is no stranger to the art of drawing.
Since leaving Disney in 2012, Keane says he is excited to experiment in untapped versions of animation. He said that the first drawings that appear in DEAR BASKETBALL are the basis for every animation film, but the studios disregard them once the finished drawing is fully realized.
Bryant told the audience at The Tribeca Performing Arts Center that his next phase of life would surround story. In fact, Bryant attributes the cinematic re-creation of his farewell letter to his desire to engage in storytelling. "The best way to inspire the next generation is through story," said Bryant. When Strahan asked the reason behind choosing to animate the film, Bryant said it was important that it was hand felt, because that's how [his basketball career] was built."
Both reflected on their shared love of an iconic artist. "We talked about creativity and oddly enough the conversation turned toward Beethoven," said Keane.
Beethoven talk naturally progressed into Williams' contribution as scorer of the film. Bryant gave an amusing account of how the renowned composer came to work on the 6-minute short. The ex-ballplayer gets a hearty laugh out of the audience when he imitates Williams' reaction to being asked to score the film: "'I'd love to work on this piece, I just, uh, I just have to finish this Star Wars movie.'"
Bryant said he knew it was a pretty good movie when his wife of 17 years, Vanessa Laine Bryant, cried as she was watching.
DEAR BASKETBALL: A surprisingly sentimental short with beautifully executed original drawings by Glen Keane and scored by John Williams. The film is almost as surprising as Bryant's declaration that he doesn't miss playing.
Kadia Goba, who has been awarded a Columbia Journalism School Student Fellowship to the 2017 Investigators & Reporters Conference in Phoenix, Arizona, can be reached at Kadia.Goba09@myhunter.cuny.edu.