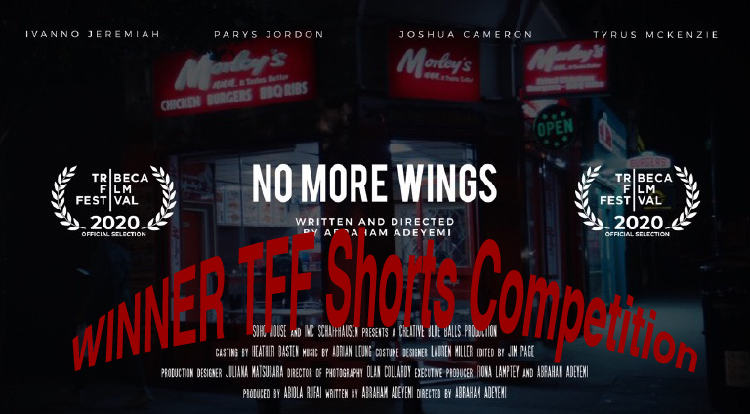 NO MORE WINGS is 10 evocative minutes of eloquent story telling with poetic panache and a visceral and intellectual resonance lasting long after the film ends. It tells of two 20-plus-somethings meeting-up for a fav repast of six wings and chips in Morley's, a South London fried chicken shop. Issac and Jude are savvy, down-to-earth no-nonsense class acts with a dash of chutzpah. No phony macho and bravado.
NO MORE WINGS, booked in the Don't Look Back program and in the Narrative Short Competition at Tribeca 2020, may tempt some to misbelieve that it's light fare because of the title and the running time, but Director and Writer Abraham Adeyemi and his awesome movie making posse have prepared a rapturous feast for eyes and ears, capturing brilliantly the verities of, and the bitter-sweet fates of, life for promising youth making their way in the poor sections of South London.
Caveat Lector: NO MORE WINGS is transcendent. Audience members should be careful when they blink.
The accomplished movie veteran Ivanno Jeremiah, playing with brio, is the dapper Issac who sets up the rendezvous with his childhood friend Jude, played with equal verve by Parys Jordan. Isaac tells Jude – they appear to haven't been in touch for a while – that he is moving out of South London and is purchasing a home in upscale, residential Gants Hill, East London. Issac is and has been on a roll. Jude, surprised by his friend's plans, has been taking licks.
Subsequent scenes, rapturous, of them relishing wings and chips while scrapping are priceless. Their point and counterpoint repartee and raillery about each others motives for the steps taken for the missions they're on are sublime. Segues to and from past and present eventually auguring a future not quite clear, are transcendent and sweeping.
Their scrapping occurs in the films most transcendental scenes, providing an audience views of the past and present and defused auguries of the future, though the latter is enigmatic and tentative seems to see-saw between bitter and sweet.
How?
This reviewer will only provide hints.
Why?
I don't want to engaged in Fatal Spoiler Syndrome, I want the audiences to experience the visceral rush and surprises that this reviewer experienced. Nevertheless, here's a hint. One, there are two other superb cast members, Joshua Cameron as the younger Issac and Tyrus Mckenzie as the younger Jude. And understand this: The story is told with no flashbacks.
NO MORE WINGS doesn't need flashbacks because it is unstuck in time. Unstuck in time? You gotta' be there, in front of the screen to see what I mean.
It's understandable that America viewers may be unfamiliar with the mystique, ambience and idiosyncracies  of South London and may even wince at what sounded like British cockney to this reviewer but the savvy among us, those with open minds and hearts, and this film can open hearts and minds, will realize and experience, as this reviewer-writer did, that this story about South Londoners of Color reflects stories in New York City's Harlem and similar Neighborhoods of Color in Brooklyn and the Bronx.
It doesn't stop there. The resonance moves beyond perceived boundaries of sociological, cultural and ethnic demarcations so that it was also easy for this reviewer to imagine the Issacs and Judes of the five boroughs of New York where there are Irish and Italians and Jews and Muslims, and, yeah, even what we might call rednecks.
NO MORE WING'S rap is rapturous.
Brief Notes Snatched from the Pages of IMDB:
Ivanno Jeremiah – SPECIAL SKILLS Stage Combat – Distinction (BASSC); Audience Award at the RADA Prize Fights 2008; A good ear for accents – particularly American, African and regional British; Baritone singing voice; Languages – fluent Ugandan (Acholi, Langi and basic Luganda), basic Swahili; Dance – Flamenco, Street, Period … (there's a lot more …)
Parys Jordon – RETURN OF THE DON (2016), THE NEW 22 and THE RING MASTER (2016).
Tyrus McKenzie – THE END OF THE F***ING WORLD (2017); SHORTFLIX (2018)
Joshu Cameron – Has appeared in a few short films.
Gregg W. Morris can be reached at gregghc@comcast.net or profgreggwmorris@gmail.com