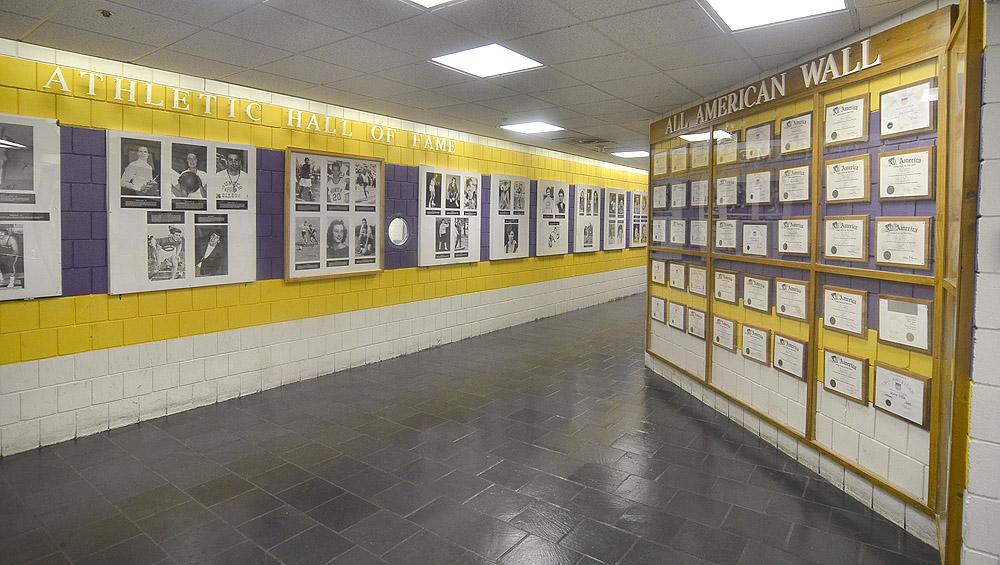 Article by Olivier Dumont
Three Hunter Hawk standouts were interviewed about the strategies and philosophies that they believe helped them to make impressive contributions to their teams. This year's Most Valuable Player of the Women's CUNYAC/Pepsi Volleyball Championship, Taylor Haiduk, a junior and first team All-Star, has played a key role as a killer outside hitter for the last three years. In a self-assessment about her accomplishments, she said in an interview, "I think it's fundamentals, like you need to have good footwork and good ball control otherwise it's not easy and it's not going to come naturally."
Last season's CUNYAC Player of the Year Award winner Joe Muir, the men's volleyball team libero and captain, said very talented players have heart and energy. "You have guys like Giancarlo Stanton who's 6-foot-6 and wins the NL MVP in baseball and then you have guys like Jose Altuve who wins the AL MVP in baseball at 5-foot-6, so there's definitely not something you need physically in order to be amazing, it's just how much effort you want to put into it and how much time you're willing to put into it."
A second team All Star on the men's basketball team last season, Matt Franks, a forward, said exceptional basketball players need to be selfless. "I think an amazing basketball player is unselfish and has a good combination of talent, smarts, athleticism and work ethic," said the 21-year-old senior who's lives in Westchester, New York. "I've always been told that you always win the championship in the off season." The 6-foot-5 Franks was interviewed as he sat on the fourth floor of the library, with red hair and a scruffy beard and wearing dark blue jeans and a dark grey, long sleeve shirt. "In the off season, that's when you're working hard to get better, stronger, and faster," he said.
"I lift at least four days a week, I run at least three days a week, and then over the summer, we have a lift program and I work out with my trainer three days a week," said Haiduk, a human biology major who lives in Astrid, Queens. She was interviewed as she sat at a table on the fourth floor of the library and wore a purple Hunter athletics T-shirt, black leggings and Nike sneakers.
For Muir, it's a similar process. "Five days a week in the gym, and I do spin and swim classes every Wednesday to try to get the endurance up so that way I can last long in a five-set match." Muir, who lives in Hunter's Brookdale Dorms on the Lower East Side of Manhattan, also said, "It's all before the season and then during the season, it's all maintenance, making sure you're staying healthy and not getting injured." The 21-year-old media major and senior, sporting shoulder long hair in a ponytail, was interviewed at a table on the fourth floor of the library. He wore grey sweatpants and a maroon and grey colored long sleeve shirt.
Their talent is reflected in their stats. Haiduk, for example, collected a season and team high 417 kills last year. Muir lead the men's team last season with a total of 367 digs. Muir, however, felt that digs wasn't his best skill or specialty. "If you can control the game from serve receive and you can pass the ball well, then you can be able to put the ball away and score points," said Muir. "While digs show up on the stat sheet, the passes don't, and I think that's more important, that would be my strength."
As her 417 kills last season demonstrate, Haiduk excels on offense, but enjoys defense more. "When you get a dig, I feel it's more rewarding than getting a kill because you can get a kill off anything, you can get a kill off a tip, you can get a kill off a free ball," said Haiduk, who recorded 277 digs on the year, her second highest season total. She collected a total of 299 kills this season with an average of 3.1 per set.
Scoring an average 11.2 points per game as well 6.2 rebounds per game over his career, Franks said that consistency was important. "Me and my coach always talk about how it's good to have a steady presence on the floor at all times, and I take pride in the fact that I never get too high or too low," said Franks, a double major in political science and economics. He said he helped the team because he is a consistent scoring threat. "I think I'm a pretty good shooter. I think that shooting is probably the skill that opens up the best possibilities for my team," he said. He has been scoring 11.7 points per game, snatching 5.7 rebounds and handing out 1.4 assists this season.
Besides the team winning its fourth straight CUNYAC title and the Hawks' 24th championship, the most by any in CUNYAC women's volleyball history, Haiduk said the Hawks still face challenges next year. "I think other CUNY teams definitely recruited really well this year; I feel like the level of play from last year to this year, definitely increased significantly," she said. "We're also recruiting, we're regionally ranked seventh, and we went to the NCAA tournament for the third straight year in a row. We have a really good team already so I'm pretty confident we will win again."
2018 can be a big challenge for the men's volleyball team because of the loss of three superb veterans, All-American Steven Tarquinio, setter Nicolas Sanchez, and opposite hitter Ben Crusinberry. [See sidebar.]
But Muir said he believed the men's team can win a third consecutive conference title as well but "it's going to have to be 100 percent hustle, defense, and teamwork to win every single game. We are not going to be able to rely on or hop on the backs of Cruz or Steve to win us a game, we're going to have to do it collectively as a team every time."
The men's basketball team hasn't won a CUNYAC title since 1998 and Franks is hungry for a title win. "I've played with so many different players in my four years, and being close with teammates that I've played with in the past, I know how much it would mean for them, if they had won," he said. "So playing for everyone that has played at Hunter, winning one for Hunter College would mean a lot." Franks scored in double digits in all but six games last season. He said that the talent across the CUNY Conference this year is evenly spread out, posing a challenging task for the men's team to overcome.
Although Franks said at the time of his interview that it was still early in the season, he was confident that the team will do good. "I think we have a good chance. We have a lot of different players that can score, so it's not always going to be the same person every game who gets 20 points and leads the team," said Franks. "I think it's important to have that, especially come playoff time. It's great to know that if I'm not having a good game, anyone of my teammates could step up and have their best game."
The interviewed athletes emphasized the importance of leadership. Haiduk said, "As far as being a leader, it's not something I try to do, it's more of my attitude on the court and how I carry myself, like my coach always tells me, I'm a leader not by choice, but because that's who I am." She said that leadership is not defined by individuality but by unity. "It's not even that I think I have to have so much leadership on this team, it's more of a camaraderie; as long as I'm there, and I play my part, everyone else will do their part," she said.
Franks evaluated his leadership role as well. "I'm not the loudest person, I'm not the most outgoing person, so it's important to have different types of leaders on a team," he said. "There can be a lot of distractions, there's a lot of things going on at school, and I think that I've been pretty successful in the last three years at staying balanced between school and basketball." Franks, who sunk the game winning shot on December 5 against Medgar Evers, helping the Hawks to their second straight victory, said, "I like to relate what I've learned to the younger players on our team who think it will help them going forward."
The interviewed athletes said being Hawks made them feel like they were part of a family. "As corny as it sounds, when you wear the name across your chest, you're representing more than just yourself, you're representing the team and all of our great staff members," said Haiduk. "I have friends on every single team; we go to everyone's games and everyone comes to ours, it's nice when you see your friends up in the stands."
"Being a part of this program is being a part of a family," said Muir.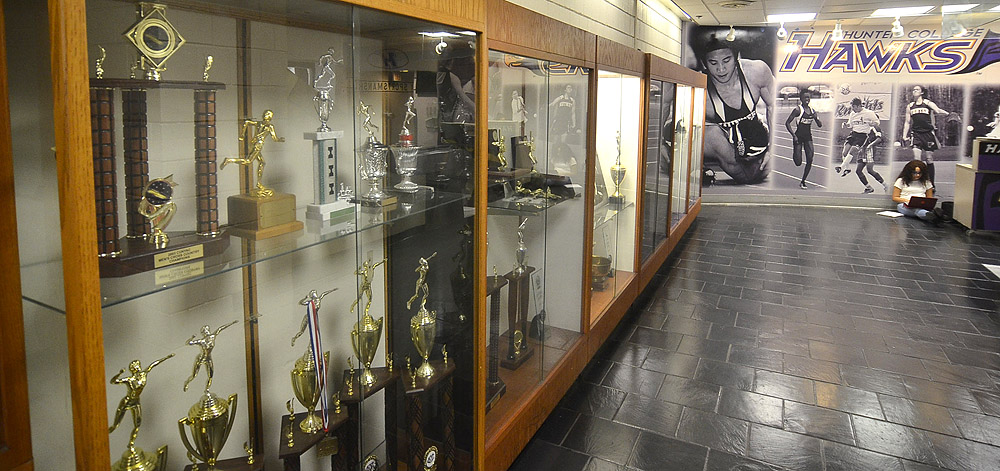 The three interviewed student athletes said they were not interested in playing professionally but did say they were interested in playing abroad in Europe. A friend of Haiduk and Muir, Steve Tarquinio, is playing a fifth year in England. "He's playing at Durham, so that's a possibility. But if not, city volleyball is very popular, they have tons of leagues, so I won't stop playing," said Haiduk, who also said graduating on time was a priority. "Olympics probably not, I need to get a job. As of right now, I'm very goal oriented in going to PT school and becoming a physical therapist, that's the goal right now."
Muir said he dreamed of playing abroad as well as in the Olympics. "Going overseas and playing in England or Italy, absolutely, that's what I want to do," he said. "As for the Olympics, not quite sure I'll make Team USA, but maybe I'll become a Canadian citizen and tryout for their team." Franks said Italy would be a great opportunity. "I studied abroad in Italy, it would be cool going there; Italy's a beautiful country, that would be the ideal place."
Olivier Dumont can be reached at olivier.dumont03@myhunter.cuny.edu