Happening in New York City for This Thanksgiving Holiday Which Can Be a Hell of a Day for the Unfortunate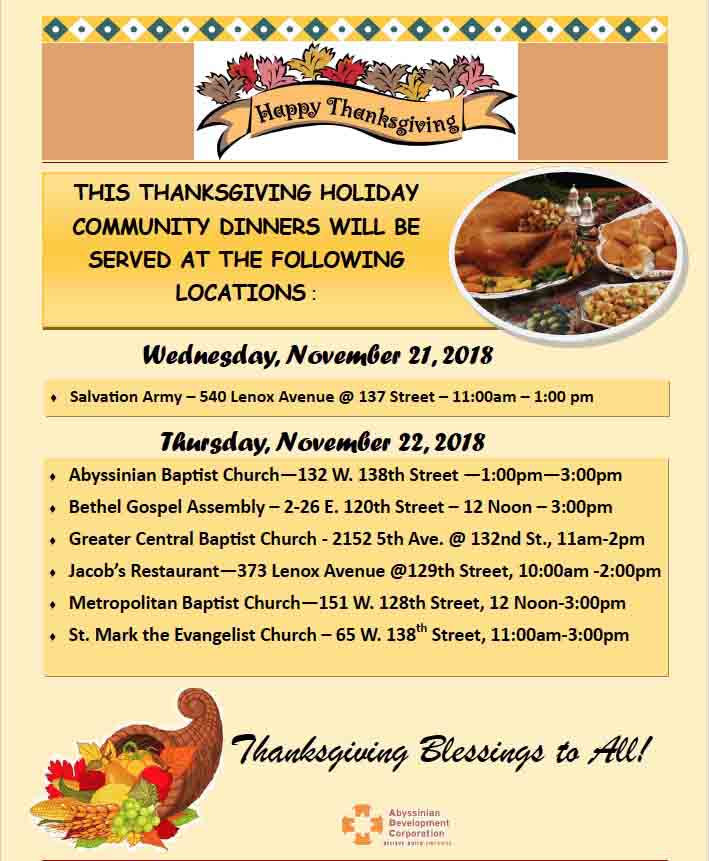 ---
---
---
Rodney Sieh – November 21, 2019
More info in the works.
---
---
DOC NYC Movie Snippet: COOKED: SURVIVAL BY ZIP CODE
November 17, 2018
By Gregg W. Morris
From the DOC NYC screening, a taste of the the evocative power of Director Judith Helfand's latest documentary movie, adapted from Eric Klinenberg's book, "Heat Wave: A Social Autopsy of Disaster in Chicago": 700 Chicagoans, mostly People of Color and poor, died in a heat wave that lasted seven days in July, 1995. They were cursed because of their zip code?
Review is in the works.

---
---
The Watergate Blueprint For Impeaching Donald Trump – The Intercept, November 17, 2018
By Elizabeth Holtzman, Writing in The Intercept
Elizabeth Holtzman is an American politician and former member of the United States House of Representatives. She was the first woman to hold office as the New York City Comptroller and the District Attorney of Kings County, New York.
---
---
Fresh Food Box @ Hunter
November 11, 2018
By Gregg W. Morris
Video snippet about a sustainable food project taking place at Hunter College:

Click here for some sustainable news.
---
---
The Intercept
Saturday, November 10, 2018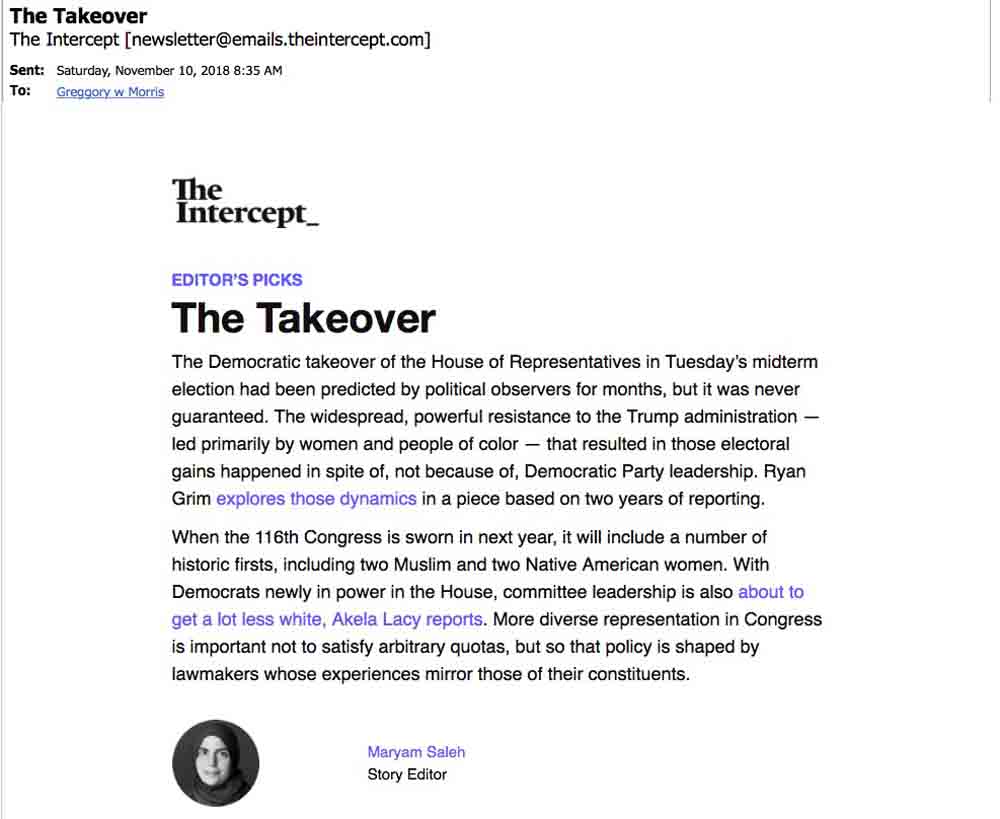 Other Fascinating Articles: How Donald Trump Saved the Democratic Party From Itself; House Committee Leadership Is About to Get a Lot Less White, What That Means Remains to Be Seen.
Click here for more info.
---
---
America More Divided Than Ever? Or the Real America Now Easily More Seen?
November 8, 2018
Race Inquiry Digest (November 8) – Important Current Stories On Race In America
---
---


Editor-in-Chief, Karen J. Greenberg, Center on National Security, Fordham Law School
November 8, Thursday, 2018
Jeff Sessions Forced Out as Attorney General, Matthew Whitaker Takes Over as Acting Attorney General
Attorney General Jeff Sessions resigned Wednesday at the request of President Trump, ending a turbulent tenure that began with Sessions as one of Trump's closest associates and ended with him facing repeated attacks from the president over the probe of Russian interference in the 2016 election. Sessions was out of the building before the end of the day yesterday. It was reportedly White House Chief of Staff John Kelly, not Trump, who called Sessions and sought the resignation letter.
The move follows months of Trump expressing his displeasure with Sessions in critical and sometimes harsh tweets. The president's anger at Sessions stemmed from the attorney general's decision to recuse himself from the Mueller investigation because of his own prominent role in the Trump campaign. Even so, the rapidity of the move, coming just hours after polls closed in the midterm elections, suggested how eager Trump was for Sessions to depart.
Sessions made it clear in his resignation letter to Trump letter that the president had asked him to step down, saying he was submitting his resignation "at your request." Trump announced the move with a tweet saying that Matthew Whitaker, Sessions's chief of staff, would take over as Acting Attorney General. Whitaker, a former federal prosecutor and conservative legal advocate, can serve in an acting capacity for 210 days. Trump is reportedly not expected to keep him on as a permanent successor.
The DOJ confirmed Wednesday that Whitaker plans to take over oversight of special counsel Robert Mueller's investigation. "The Acting Attorney General is in charge of all matters under the purview of the Department of Justice," DOJ spokeswoman Sarah Isgur Flores said. In a column for CNN last year, Whitaker wrote that Mueller would be going too far if he examined the Trump family's finances. "This would raise serious concerns that the special counsel's investigation was a mere witch hunt," Whitaker wrote, echoing the president's description of the investigation. The move means that Deputy Attorney General Rod Rosenstein will no longer oversee the federal Russia investigation, which he has looked over since Sessions recused himself early last year due to his work on Trump's campaign.
House Minority Leader Nancy Pelosi (D-CA) and Senate Minority Leader Charles Schumer (D-NY) both called for Whitaker to recuse himself from any involvement in Mueller's Russia probe. Installing Whitaker could clear the way for Trump to force out Mueller. To dismiss a special counsel, the president has to order the Attorney General or, in the case of a recusal, the Deputy Attorney General, to carry it out. Rosenstein has said that he sees no justification to dismiss Mueller. Washington Post, New York Times, Wall Street Journal, The Hill, New York Times
Related:
Washington Post: Sessions's Law Enforcement Legacy Overshadowed by Trump's Fury
The Hill: Read Jeff Sessions's Resignation Letter
New York Times: How Sessions's Firing Could Affect the Russia Investigation
---
---
Error in Article?
By Gregg W. Morris, November 6, 2018
Johan Matton, Founder of Nordic International Film Festival says Linnea Larsdotter, Founder and Creative Director of the festival, was misidentified as Festival Coordinator in an article.
Uh oh.
Click here for more information.
---
---
From the ACLU: Vote Today, November 6, 2018

From the WORD: Vote Like Your Life Depends on It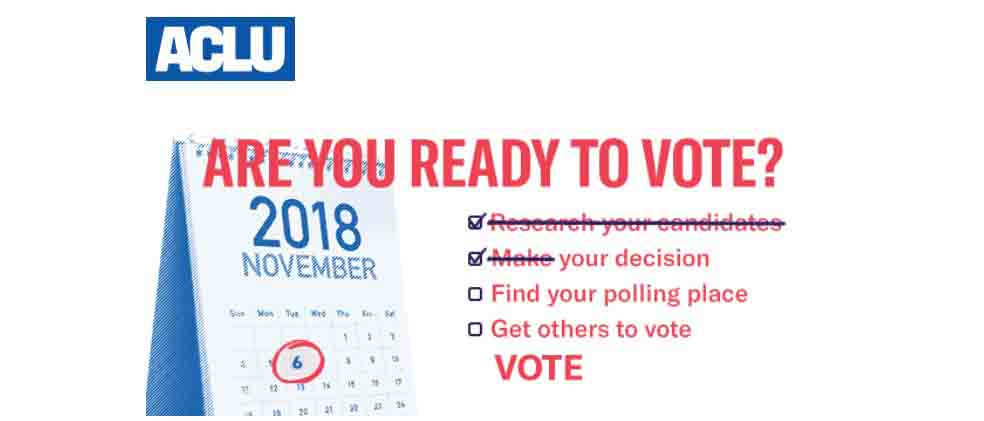 Click here like your life depends on it.
---
---
HOLIDAY Film Review
Screened at the Nordic International Film Festival 2018
Part 1
By Gregg W. Morris, November 4, 2018
Thought the review should begin with succinct comments of praise for the film, such as the following, before I cut to the chase: "A love triangle featuring the trophy girlfriend of a petty drug lord, caught up in a web of luxury and violence in a a modern dark gangster tale set in the beautiful port city of Bodrum on the Turkish Riviera" – IMDB
Click here for review, Part 1.
---
---
Kinetically Charged Red Carpet @ 2018 Nordic International Film Festival
By Gregg W. Morris, November 3, 2018
The video is a tease.
Click here for the full monty.
---
---
Charleston to Tree of Life: White Nationalism Is a Threat to All
Race Inquiry Digest (November 1) – Important Current Stories On Race In America
---
---
Verify Voter Registration Status, November 1, 2018

---
---
Absentee ballot
November 1, 2018

---
---
Register To Vote, October 31, 2018
---
---
American Horror Story: Georgia Voter Suppression
Robert Greenwald, Brave New Films
October 31, 2018

---
---
Information Students Should Know About the Midterm Elections
By Addison Gettenberg, October 30, 2018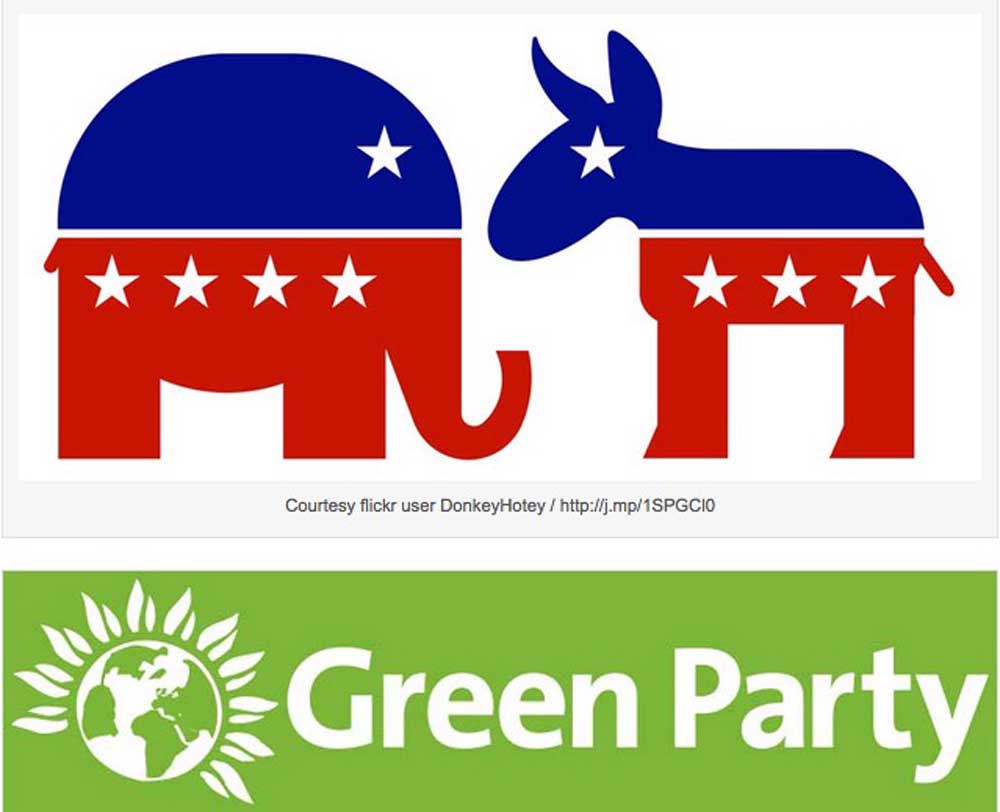 Undergraduate and graduate students can learn about voter registration and even about making $$$ working at a polling place.
Click here for article.
---
---
A Scoop on the Midterm Elections: A Resource Guide for Students
By Bressni Neary, October 30, 2018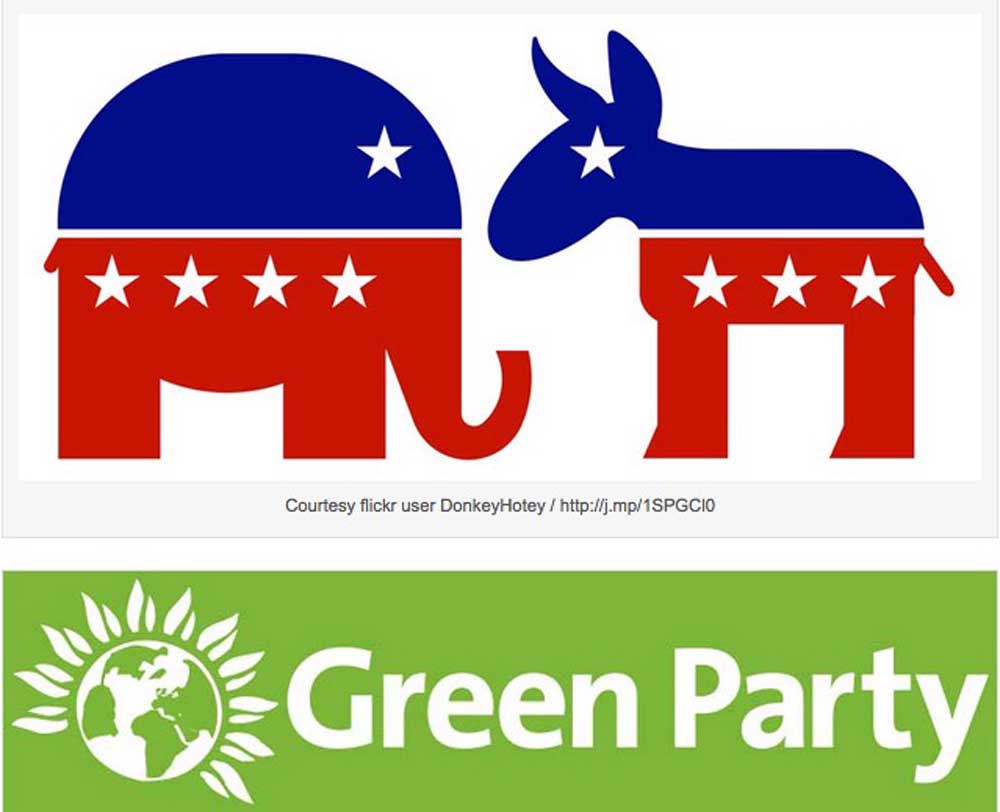 "Regardless of one's political affiliation, voting November 6 should be considered a civic duty and an important opportunity to let elected government representatives know how you feel about the state of the United States," writes Senior Writer WORD Bressni Neary.
Click here for article.
---
---
Race Inquiry Digest (October 29) – Important Current Stories On Race In America
---
---
Attention Students: This Article Can Help You Navigate the Blizzard of Information & Make Wiser Decisions About the Midterm Elections
October 28, 2018
By Alonso Espinoza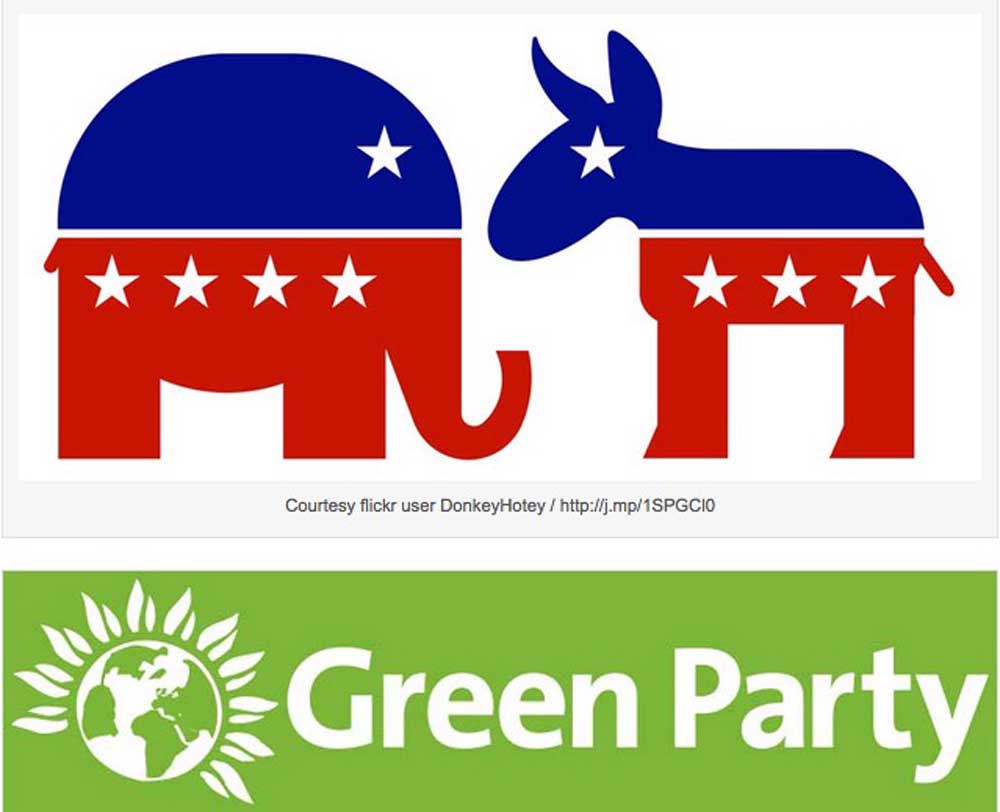 Students accessing this information may need to use their NetIDs for some of the links. If there are problems, they can contact the Hunter Library via its Ask a Hunter Librarian.
Click here for more info.
---
---
October 28, 2018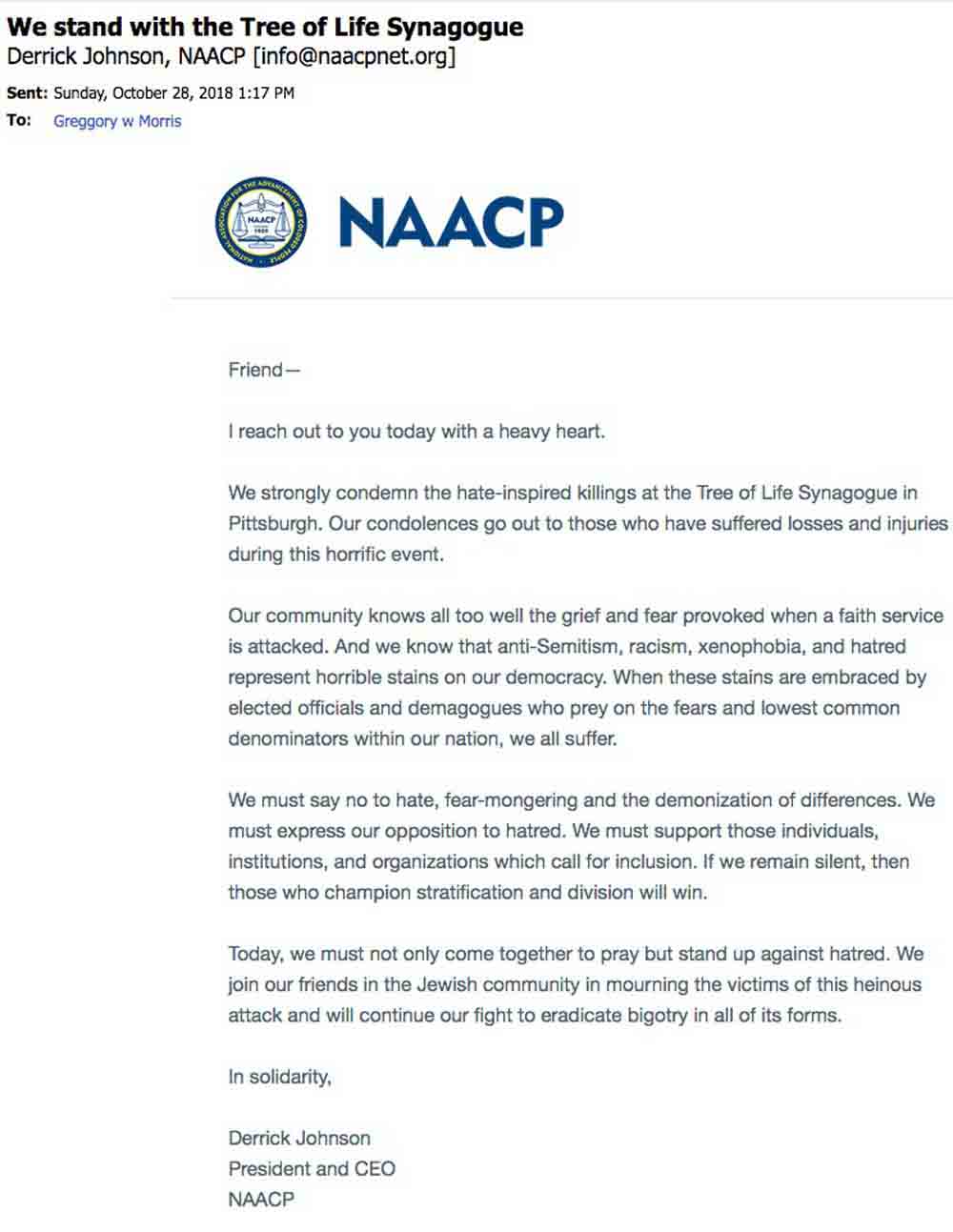 ---
---
October 27, 2018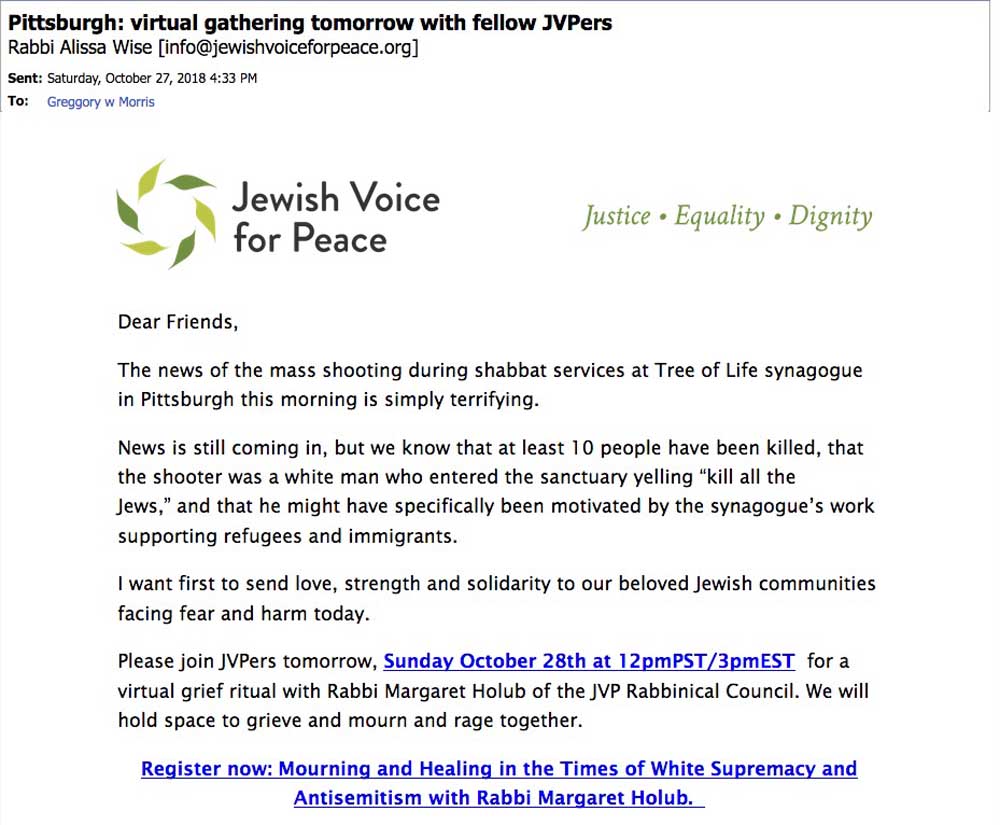 – Please join JVPers tomorrow, Sunday October 28th at 12pmPST/3pmEST for a virtual grief ritual with Rabbi Margaret Holub of the JVP Rabbinical Council. We will hold space to grieve and mourn and rage together.
– Register now: Mourning and Healing in the Times of White Supremacy and Antisemitism with Rabbi Margaret Holub.
---
---
The Rat-Tat-Tat of News Reporting About the Midterms Has Snared the Attention of WORD Reporters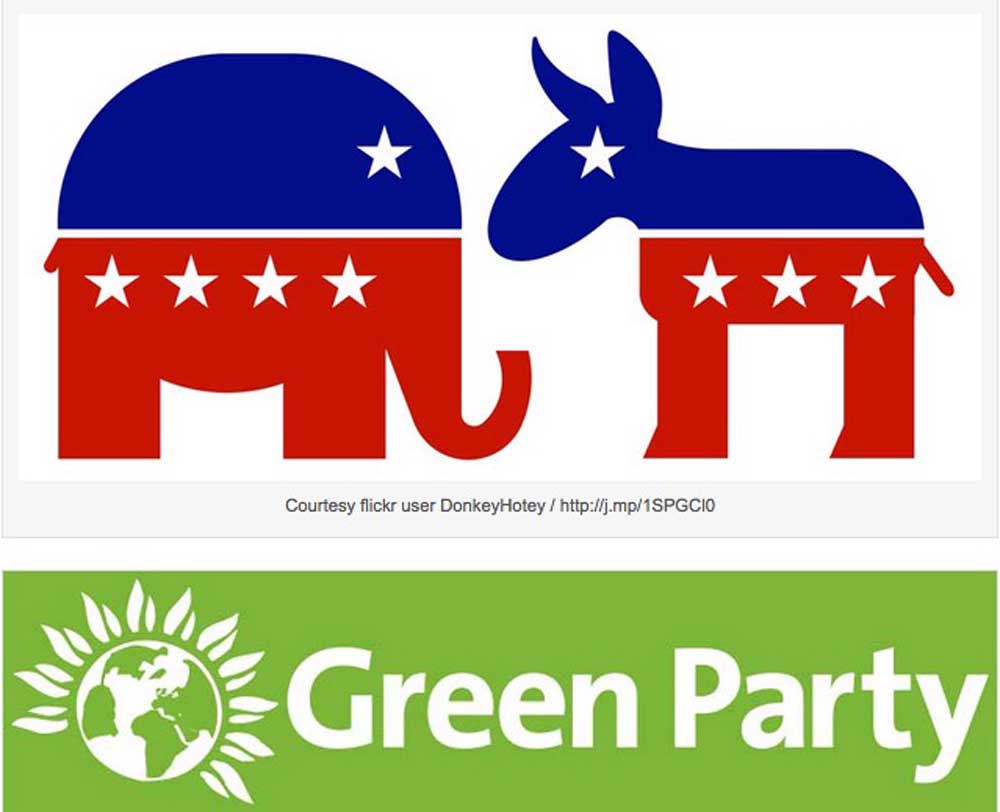 October 27, 2018
By Bressni Neary
So, what are student journalists writing and opining about November 6? Several Googling attempts failed to reveal answers to that question and similar ones. Nevertheless, several staffers of the WORD were interviewed for their views, and their responses pretty much reflect the discourse and attitudes of many students on this New York City urban campus. The interviews took place in the journalism lab of the Department of Film and Media Studies.
Click here for story.
---
---
THE DARK Returns!!!
By Gregg W. Morris, October 26, 2018
At the Cinema Village Cinema, 22 E 12th St, NYC, 11 p.m. tonight, one night only.
The New York Times said in a recent review, "In 'The Dark,' a Traumatized Teenager Becomes a Zombie." Hogwash! See this great movie and decided for yourself. It's so conceptually powerful and imaginative that it deserves its own movie genre slot.

Click here for review.
---
---

Law Enforcement in Nationwide Manhunt For Serial Pipe Bomb Suspect
Editor-in-Chief, Karen J. Greenberg, Center on National Security, Fordham Law School
October 25, 2018
The discovery of five pipe bombs mailed to prominent Democrats and others on Wednesday sent law enforcement officials scrambling to scour incoming mail for other potential undiscovered bombs. The hunt for a serial mail bomb suspect began late Tuesday night when Secret Service personnel conducting standard mail-screening found a pipe bomb inside a plain manila envelope with a bubble-wrapped interior addressed to former Secretary of State Hillary Clinton.
A similarly packaged bomb was found hours later in mail addressed to former President Barack Obama. Neither bomb got close to their intended target, and neither contained a written message, according to law enforcement officials. But the twin discoveries led to other undetonated devices being found elsewhere, including in the mailroom at CNN's New York headquarters and a district office of Rep. Debbie Wasserman Schultz (D-FL). The first such package was discovered Monday in a mailbox at the New York home of billionaire George Soros.
Other targets, according to investigators, include former Vice President Joe Biden, former Attorney General Eric Holder, and former CIA Director John Brennan. In addition, early Wednesday night, federal and local authorities said they were investigating a suspicious package "similar in appearance" to the previous packages that had been found at a postal facility in Los Angeles addressed to Rep. Maxine Waters (D-CA). It was the second package addressed to Waters to have been uncovered, the FBI said. The first was discovered in Maryland.
Officials described the devices as attempted acts of terrorism and cautioned that the number of bombs — and intended victims — could grow.
Early Thursday, a suspicious package was sent to the Tribeca restaurant owned by actor Robert De Niro, according to police sources. A law enforcement official said a worker saw similarities between the package and those that have been reported about in the media, and called the police.
---
---
So Say Sara Mohamed, Andriy Repik, Kiara Tavarez, Kiara Tavarez …
By Eileen Cruz, October 25, 2018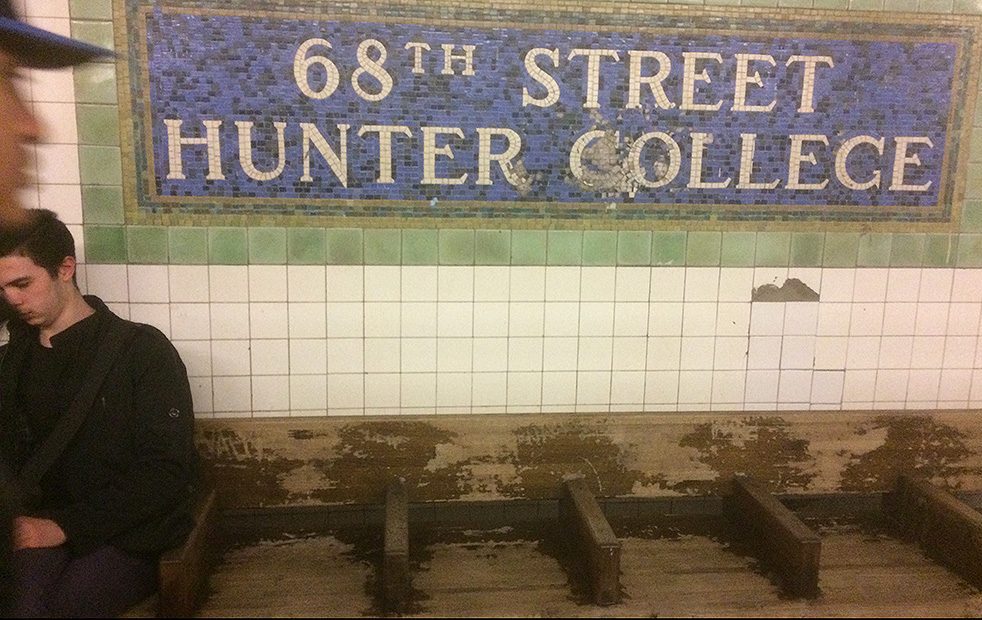 Another story about the early weeks of the first semester: "After a long day of classes on a warm Friday, I head out with my select interviewees to a dinner in an Olive Garden. We choose the one in Queens Center Mall because its prices are cheaper than those in Manhattan. Everyone's in a great mood and hungry. The aesthetics of the moment create a good mood for interviewing students about their impressions and experiences the first few weeks of the semester."
Click here for article.
---
---
Brave New Films, October 24, 2018: Share This Video & Make a Plan to VOTE November 6
October 24, 2018 – Brave New Films

---
---
Scholarship to the Left, Scholarship to the Right, Into the Culture of Scholarship They Go – Regardless of the Stress
By Alonso Espinoza, October 23, 2018
Suicidal thoughts, according to a Harvard Med study, can be problematic for College students. The public doesn't fully understand the realities of campus life, the Washington Post reports. Hunter students interviewed for this article talk about how they deal with the realities of campus life.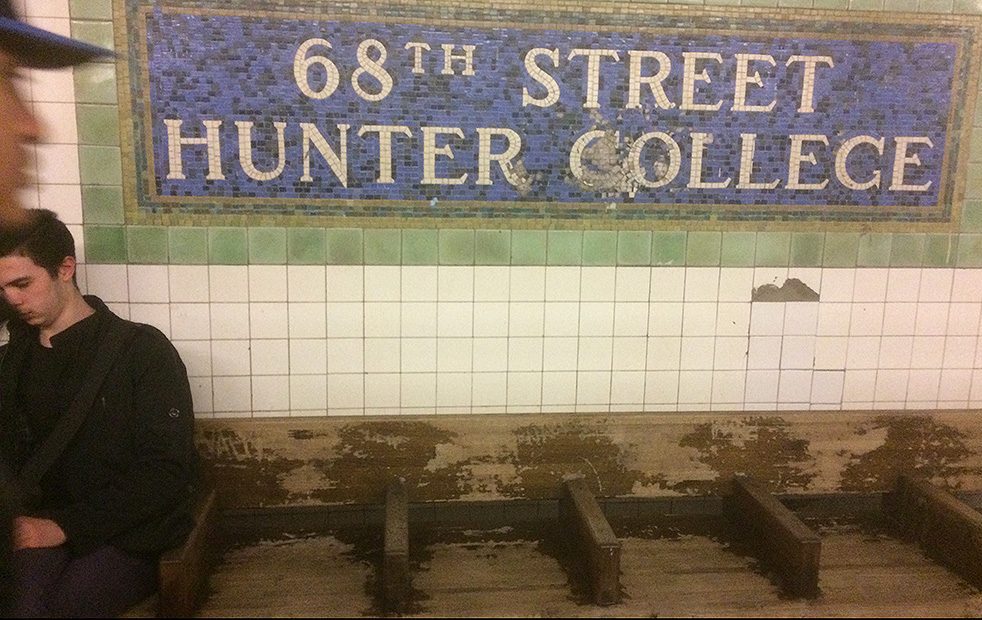 Click here for article.
---
---
Darwin Would Consider These Student Accounts Testimonials About His Survival of the Fittest

By Annie Murphy, October 23, 2018
On the third-floor Sky Bridge,  Emmy Adamczyk, a 21-year-old senior, wearing what she called her "Kim Possible Attire" – green pants and a black T-shirt – got down to business with this reporter, describing a "whirlwind of a summer" and insisting that the anticipated challenges of  her senior year  would not stop her from having a blast.
Click here for article.
---
---
Erdogan Says Khashoggi's Killing Was Premeditated
Editor-in-Chief, Karen J. Greenberg, Center on National Security, Fordham Law School



October 22, 2018 – President Recep Tayyip Erdogan said Tuesday that the killing of Saudi journalist Jamal Khashoggi was a "planned" and "brutal" murder and called on Saudi Arabia to extradite 18 suspects to Turkey to face justice. "Security and intelligence information shows that this was premeditated," Erdogan said in a highly anticipated speech in parliament in which he detailed the official findings of his country's investigation into what happened to Khashoggi. Erdogan said that he would call King Salman of Saudi Arabia and ask that the case be adjudicated in Istanbul, rather than Riyadh or elsewhere in Saudi Arabia.
Since Khashoggi's death three weeks ago after entering the Saudi consulate in Istanbul, Riyadh and Ankara have offered sharply differing versions of what happened to him. The Saudi story has shifted over time, from assertions he walked out of the consulate unharmed to finally acknowledging Khashoggi had been killed, allegedly in a fistfight that involved "rogue" Saudi agents. Saudi Foreign Minister Adel al-Jubeir said Tuesday that the kingdom was committed to a "comprehensive investigation" into the journalist's death and had dispatched a team to Turkey.
A stream of Turkish video leaks that surfaced on Monday appeared to depict the Saudis trying to cover their tracks after Khashoggi's death, including reported images of men at the consulate burning documents and a body double wearing Khashoggi's clothes, to make it appear the journalist had walked out of the consulate. NBC News, New York Times, Washington Post
Meanwhile, CIA Director Gina Haspel reportedly departed for Turkey on Monday as part of the U.S. investigation into Khashoggi's death. Haspel's trip suggests an effort by the U.S. intelligence community to assess Turkey's information on Khashoggi's fate, including what Turkish officials say is audio that captures his killing at the hands of Saudi agents. Intelligence officials are reportedly increasingly skeptical of Saudi Arabia's account that Khashoggi died in a fistfight in the Saudi Consulate in Istanbul, warning President Trump that Riyadh's account is dubious. On Monday, Trump told reporters that he was "not satisfied with what I've heard" from Saudi Arabia, even after speaking to Crown Prince Prince Mohammed bin Salman, and pledged to get to the bottom of what happened. "We have top intelligence people in Turkey. We're going to see what we have. I'll know a lot tomorrow," he said. Washington Post, CNBC, The Hill
---
---
The Fall Semester Began with a Bang?
A whimper?
Ominously?
Positively?
Uh Oh …
By Rakeem Nelson, October 22, 2018
---
---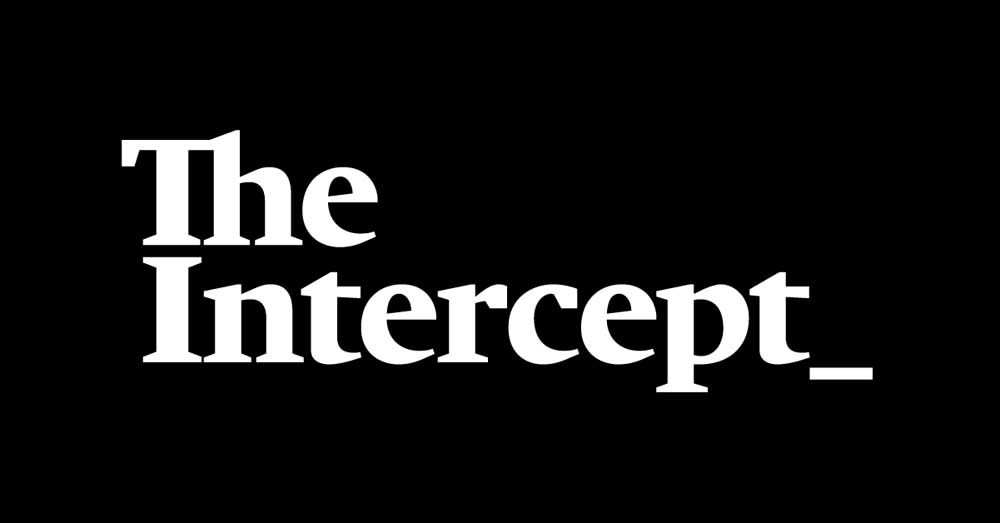 October 20, 2019
Ryan Grim
D.C. Bureau Chief
EDITOR'S PICKS
Check out links below.
Jamal Khashoggi's Empty Chair
I was on a panel at the National Press Club this week focused on media and the Middle East. My Intercept colleague Mehdi Hasan was there with me, but in between us was an empty chair occupied by a poster-board photo of the man who was supposed to be our fellow panelist: Jamal Khashoggi. Khashoggi, a journalist and critic of Saudi Arabia's Crown Prince Mohammed bin Salman, was murdered and dismembered by Saudi agents earlier this month.
Talking about the geopolitical implications of the brutal murder of the person who was supposed to be in the empty chair next to me was an experience I hope not to repeat.
The Washington Post published the last column Khashoggi filed, just before he was murdered. Glenn Greenwald looked at how the Post continued to pay and publish undisclosed Saudi lobbyists and propagandists, despite calling for others to sever ties with the kingdom. Since Greenwald wrote, the Post has started to tell columnists to choose either to continue to write for the paper or work for the Saudis.
Sarah Aziza interviewed Khashoggi this summer for The Intercept about Saudi Arabia's crackdown on activists for women's rights to drive. She wrote this week about the kingdom's decades-long pursuit of dissidents.
Check out the links above.
---
---
"Mihi Cura Futuri" – The Thought That Can Soothe the Savage Beast of Student Apprehensiveness
By Sangeda Alin, October 19, 2018
---
---
Back to the Books
By Addison Gettenberg, October 19, 2018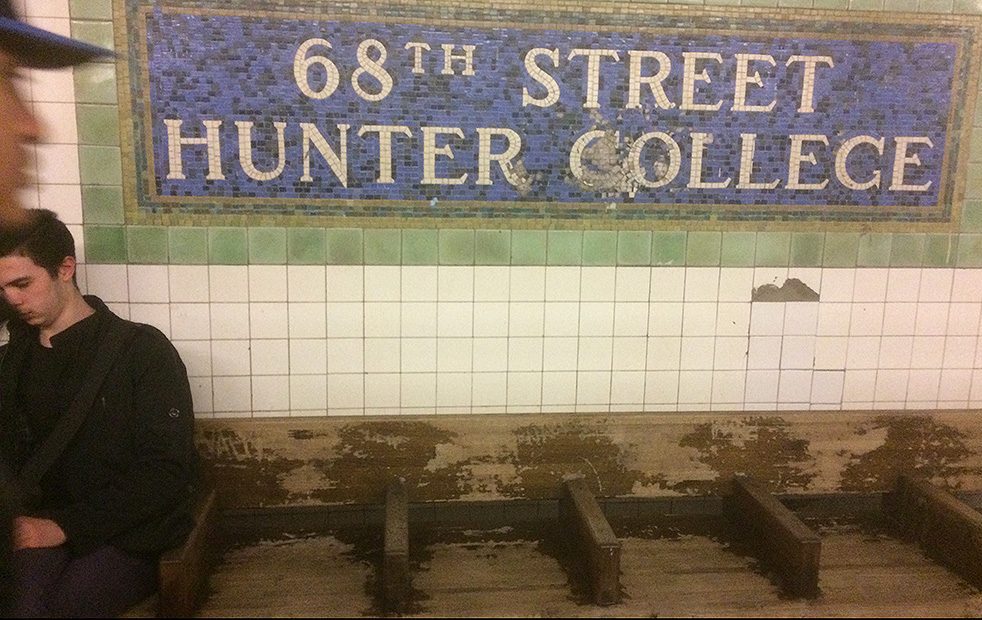 After a three-month break, long and hot for those living in the New York City metro area, students are back on the 6, N, R, Q, W and F trains to 68th Street and Lexington Avenue. They also are walking, biking, bussing, scootering and – for those with deep pockets – hailing taxis. The beginning of a fall semester can be exciting yet stressful for many who must balance studies, extracurricular activities, jobs and family responsibilities as they pursue their degrees.
Click here for article.
---
---
"I Never Tried the Sushi, It Looked Fishy"
By Bressni Neary, October 18, 2019
In the early weeks of the semester, it is not unusual for students to search – some frantically – for classes, friends, offices and bathrooms. A new wrinkle this semester: Students foraging for food because the third-floor student cafeteria in the Hunter West Building has been inexplicably closed. And, of course, it has a unflattering record with the city health department.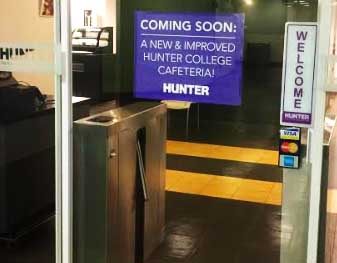 ---
---
Richard Prince's Journal-isms, October 17, 2018
---
---

NYFF56's Secret Screening Is a Secret No More: Jonah Hill's Directorial Debut, MID 90S
October 3, 2018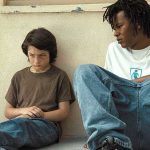 A frank, intimate, and emotionally layered reflection on an unlikely coming-of-age in the world of 90s
Click here for more.
---
---
Kavanaugh Aftermath Dominates Weekend Coverage

Columbia Journalism Review
October 1, 2018
"OUR UNDERSTANDING of sexual violence against women and the trauma—the lifelong trauma that ensues—has not progressed since I covered the Anita Hill hearings 27 years ago," Katie Couric told CNN's Brian Stelter on Sunday morning. The fallout from Thursday's testimony of Christine Blasey Ford and Brett Kavanaugh continued over the weekend, dominating coverage as confusion spread over the scope of an FBI investigation brought about by a last-minute compromise on Friday.
Click here for more.
---
---
Fight Over Kavanaugh Intensifies Amid Confusion Regarding Limits of FBI Investigation
October 1, 2018



The FBI investigation into allegations against Judge Kavanaugh, brokered as a last-minute deal Friday between Republican Senator Jeff Flake (R-AZ) and Democrats on the Senate Judiciary Committee, sparked a new round of partisan disagreement this weekend. The White House appeared to retain sharp limits on the probe even as President Trump and Republican officials publicly suggested otherwise. The investigation was intended to satisfy concerns that allegations against Kavanaugh weren't being fully vetted before the full Senate took up his nomination. Trump said on Saturday that the FBI will have "free rein" to investigate allegations of sexual misconduct against Kavanaugh, but the emerging contours of the inquiry showed its limited scope.
Full report here.
---
---
Noam Chomsky – The Future of Capitalism
September 29, 2019
---
---
American Bar Association President Called for FBI Investigation Against Kavanaugh
September 29, 2018
"We make this request because of the ABA's respect for the rule of law and due process under law. The basic principles that underscore the Senate's constitutional duty of advice and consent on federal judicial nominees require nothing less than a careful examination of the accusations and facts by the FBI."
Click here for more.
---
---
Breaking News
September 28, 2018, 4:32 p.m.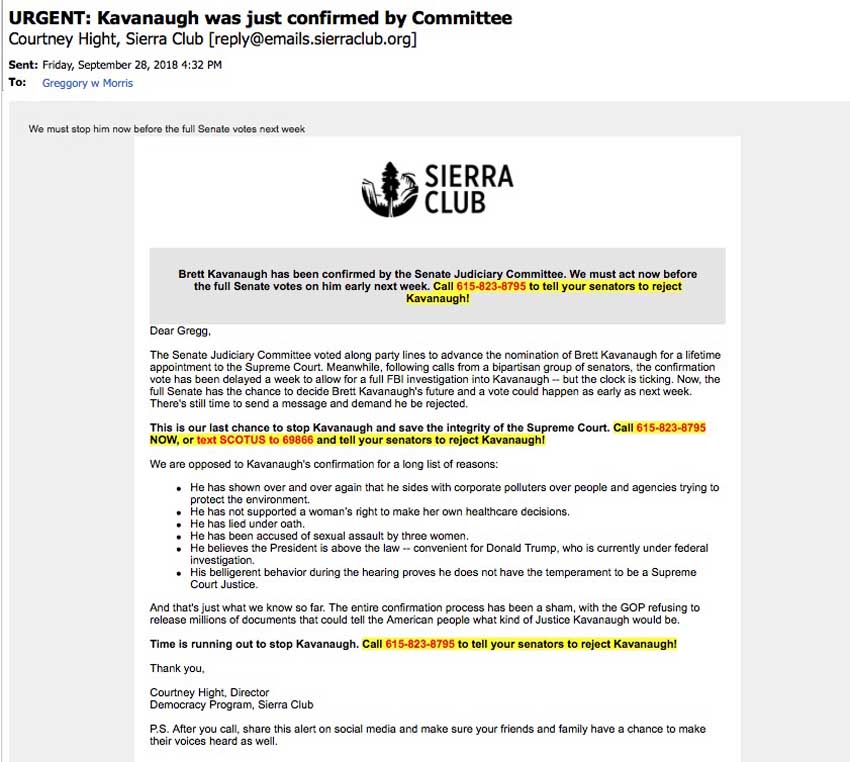 ---
---
Fight Over Kavanaugh Heats Up Amid New Allegations Ahead of Senate Judiciary Committee Hearing
September 27, 2018



Supreme Court nominee Brett Kavanaugh is scheduled to appear Thursday before the Senate Judiciary Committee at a high-stakes hearing, beginning at 10 a.m.
Click here for article.
---
---
BREAKING NEWS:


Lawyers Committee for Civil Rights Under the Law: Suspend Supreme Court Nomination Process Now!

September 26, 2018
"The Constitution gives the President the power to nominate individuals for the Supreme Court. It also gives the Senate the equally important and independent power to provide advice and consent on those nominees. At every turn, we have seen the executive branch injecting itself into the Senate's role by blocking and denying them access to relevant records and documents needed to properly vet the nominee."



Click here for historic lawsuit.
---
---
Here It Is: The 56th New York Film Festival Poster …
September 26, 2018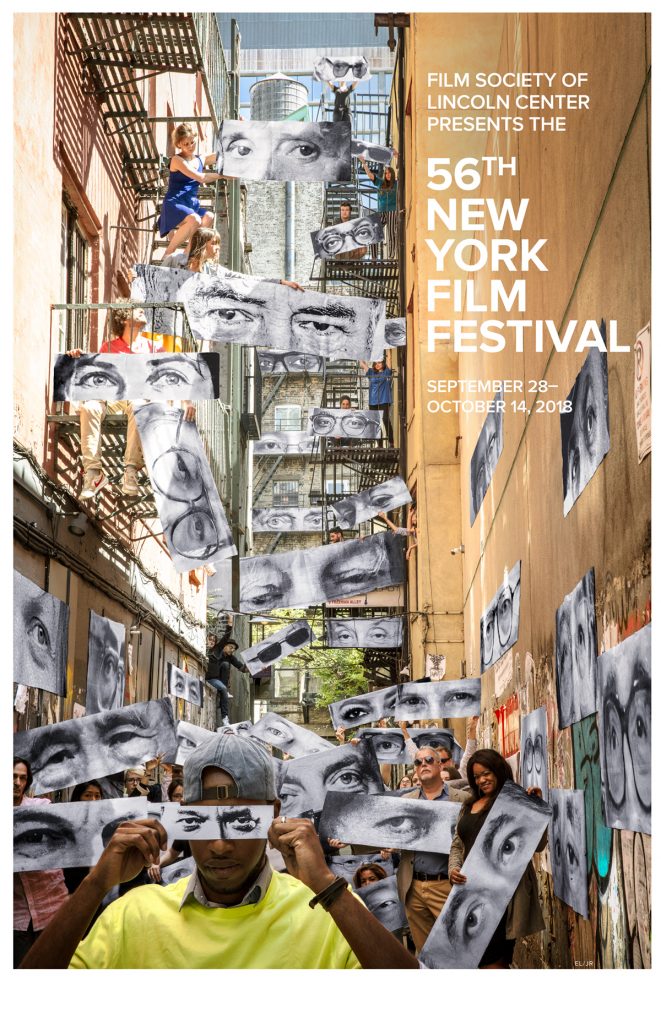 Cinematographer Ed Lachman and Visual Artist Jr join an impressive legacy of artists whose works have been commissioned for festival posters, including Andy Warhol, Roy Lichtenstein, David Hockney, Julian Schnabel, Cindy Sherman, and last year's artist, Richard Serra. "This year's poster came together in the best imaginable way – spontaneously, at last year's festival," said New York Film Festival Director Kent Jones.
Click here for more festival poster news.
---
---
Why Victims of Sexual Abuse Often Don't Come Forward
By The WEEKLY REVEAL – Center on Investigative Journalism
September 25, 2018
The reality is that for many victims of sexual abuse, coming forward can take years. We've done a number of stories over the years that highlight this issue specifically:
At 32 years old, reporter Tennessee Watson told police that her gymnastics coach abused her as a child. Reporting on the topic, she found that 1 in 10 adults – 24 million people – were sexually abused before they reached 18. Yet less than 40 percent of children who are sexually abused tell anyone. And a fraction of those cases end up being reported to authorities.
Others fear retribution. Reporter Trey Bundy has spent years examining how sexual abuse happens – and gets buried – in the secretive and tightly knit world of Jehovah's Witnesses. Victims who speak up run the risk of being "dis-fellowshipped," a formal ostracism that effectively cuts them off from family, friends and the only community they've ever known.
Finally, Bernice Yeung has reported extensively on sexual assault committed against female farm workers and janitors who clean at night. Every woman's story is uniquely painful, but many share a common theme: The threat of losing their jobs ensures silence – and a lack of accountability for attackers.
Other women who didn't report have their reasons. And they're sharing them on social media.
Center on Investigative Journalism
---
---
Columbia Journalism Review: The New Yorker Reporters Ronan Farrow and Jane Mayer Drop a Kavanaugh Bombshell
September 24, 2018
CJR: "Farrow and Mayer report that Deborah Ramirez, a classmate of Brett Kavanaugh's at Yale, "remembers Kavanaugh had exposed himself at a drunken dormitory party, thrust his penis in her face, and caused her to touch it without her consent as she pushed him away."
Click here for more.
---
---
Participants for the 56th New York Film Festival Artist And Critics Academies
By Gregg W. Morris, September 23, 2018
Participants for the NYFF56 Artist Academy, an immersive four-day program for filmmakers early in their careers, and the NYFF56 Critics Academy, a workshop for aspiring film writers and a venture of Film Comment magazine at the 56th New York Film Festival.
Click here for article.
---
---
Journalist Manny Jalonschi Reviews Bob Woodward's Fear
September 20, 2018
Donald Trump is a mass-murdering bigot oligarch. Woodward's Fear is a play by play accounting more than an analysis of the people around Trump – Rex Tillerson, Stephen Miller, Kellyan Conway, Steve Bannon and General John F. Kelly – who support his policies and try to keep him from committing atrocities equivalent to war crimes.
Click here for review.
---
---
FBI Raid Thomas Paine's House, Point Guns At His Young Children; How an Award-Winning Reporter Became Thomas Paine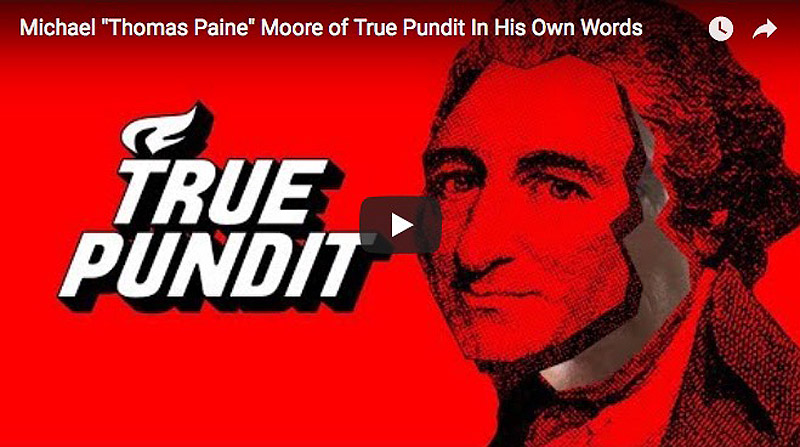 By Gregg W. Morris
September 16, 2018
Michael Moore AKA Conservative Journalist Thomas Paine is a former Rutgers University journalism student taught by this writer.
Click here for story – video and article.
---
---
Say Hello to Florence

September 13, 2018
By Gregg W. Morris
---
---
CUNY Sends Alert as an Apocalyptic Florence Approaches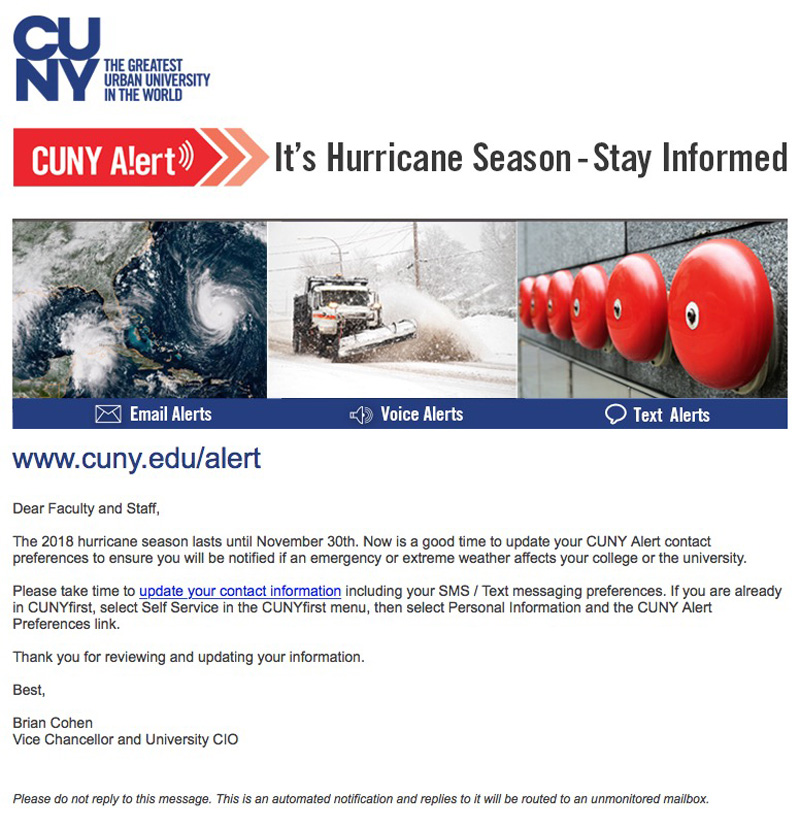 September 13, 2018
By Gregg W. Morris
---
---
Part 2 Q&A with Director Rudy Valdez, THE SILENCE, New York Latin Film Festival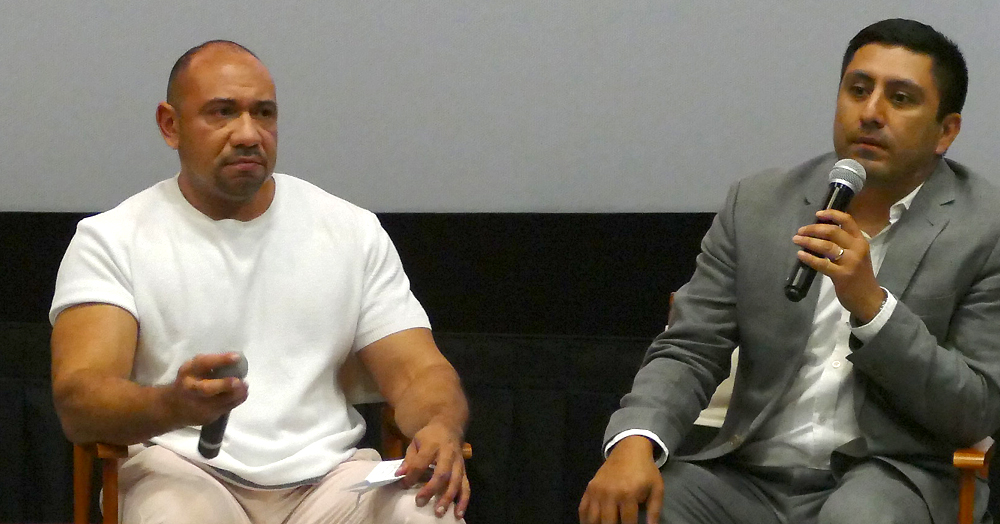 By Gregg W. Morris
September 12, 2018
THE SILENCE screened at the New York Latino Film Festival August 23, and debuts October 15 on HBO. The Q&A with Moderator Calixto Chinchilla, Founder/Executive Director of the festival, left, and, right, Director Rudy Valdez, was riveting.
Click here for Q&A, Part 2
---
---
Q&A with Director Rudy Valdez, THE SILENCE, New York Latin Film Festival – Part 1
By Gregg W. Morris
September 4, 2018
THE SILENCE screened at the New York Latino Film Festival August 23, and the Q&A with Director Rudy Valdez and Moderator Calixto Chinchilla, Founder/Executive Director of the festival, was riveting. Film reviews of THE SILENCE are embargoed until October 15 when it debuts on HBO – no embargo for this Q&A article.
Click here for article.
---
---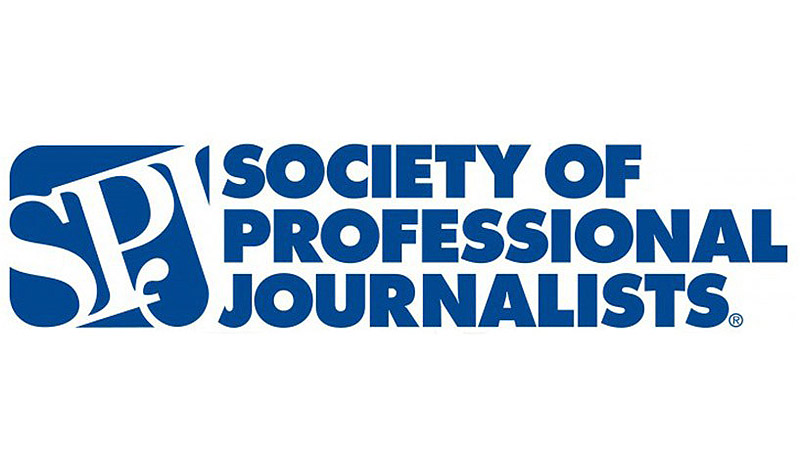 Independent Collegiate Newspapers Need Campus Support
September 2, 2018
So says SPJ President Rebecca Baker.
About SPJ.
---
---
---
---
Picture published in Hunter Alumni Magazine around the time the WORD was getting started many moons ago. Undergraduate students writing for this publication have won more awards than any other publication at Hunter and CUNY with student reporters.