---
---
---
Attention Trump and His Dump – Oops, Trump and His Base – Bernie Sanders to Bring It on for 2020
By Greggory W Morris, February 19, 2019
Several national morning news shows reported this date, February 19, 2019, that Senator Bernie Sanders from Vermont has announced his candidacy for the 2020 presidential campaign. I chose to publish – sans URL links for political donations – the email sent to me this morning by his campaign. It's better than the garbage that showed up on the morning news shows.

I'm Running
Bernie Sanders [info@berniesanders.com]
Sent: Tuesday, February 19, 2019 8:43 AM
To: Greggory w Morris
Bernie Sanders
Gregg –
I am writing to let you know I have decided to run for president of the United States. I am asking you to join me today as part of an unprecedented and historic grassroots campaign that will begin with at least a million people from across the country.
Click here for article.
---
---
From The Nation
February 7, 2019
---
---
Read All About It
February 3, 2019
2009: The internet is killing (print) journalism. 2019: The internet is killing (internet) journalism.
---
---
Civil Rights and Census Advocates Highlight Need to Keep the Citizenship Question Off the 2020 Census
January 31, 2019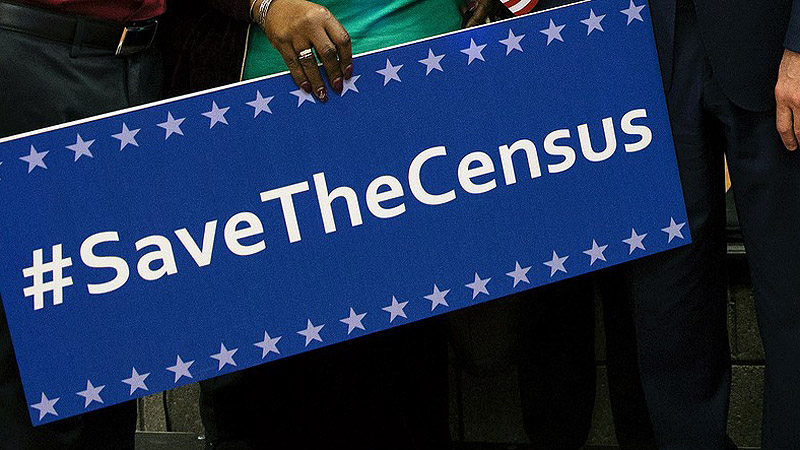 WASHINGTON – The Leadership Conference Education Fund, with Ethnic Media Services, hosted a telephone press briefing yesterday featuring the National Association of Latino Elected and Appointed Officials (NALEO) Educational Fund, Asian Americans Advancing Justice | AAJC, and the National Urban League to discuss the importance of the 2020 Census to communities of color and efforts to remove the citizenship question from the 2020 Census.
[Follow-up article by Gregg W. Morris in the works.]
---
---
Survey: What students think about expression, association, student fees, and Charlottesville
---
---
By Jeff Cohen and Norman Solomon, FAIR, January 21, 2019
---
---

It's 16° – NJ News Commons, January 21, 2019
Brrrr.
Click here for more info.
---
---

The Challenges of Covering a Shutdown Marked by Lies
January 7, 2019 – "Shutdowns are always tricky stories for journalists, with complex technical negotiations often hiding behind political grandstanding. This shutdown — now the third-longest in US history — is even trickier, with lies, misleading statistics, and the volatile nature of Trump's decision-making all thrown into the mix."
Click here for CJR article.
---
---
A Year in the Quest for News Media That Look Like America – Richard Prince's Journal-isms®
January 4, 2019
---
---
hillbilly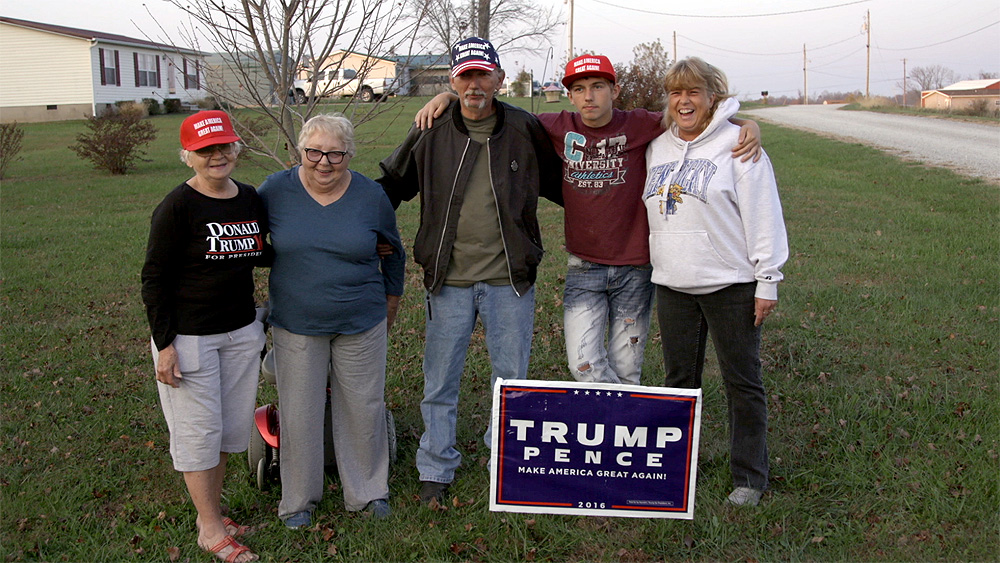 By Gregg W. Morris
December 28, 2019 – Winner of the Best Documentary Feature at the 2018 Los Angeles Film Festival and made its New York City premiere at DOC NYC. Debuts Tuesday, January 8, 2019, on Digital, Cable and Satellite. This knockout of a documentary traces the evolution of the 'hillbilly' stereotype in media and culture by connecting it to corporate exploitation of the region's natural resources. If you watch the trailor, you will want to see the movie.
Click here for trailor.
---
---
THE DISTANT BARKING OF DOGS – Oscar Shortlisted Documentary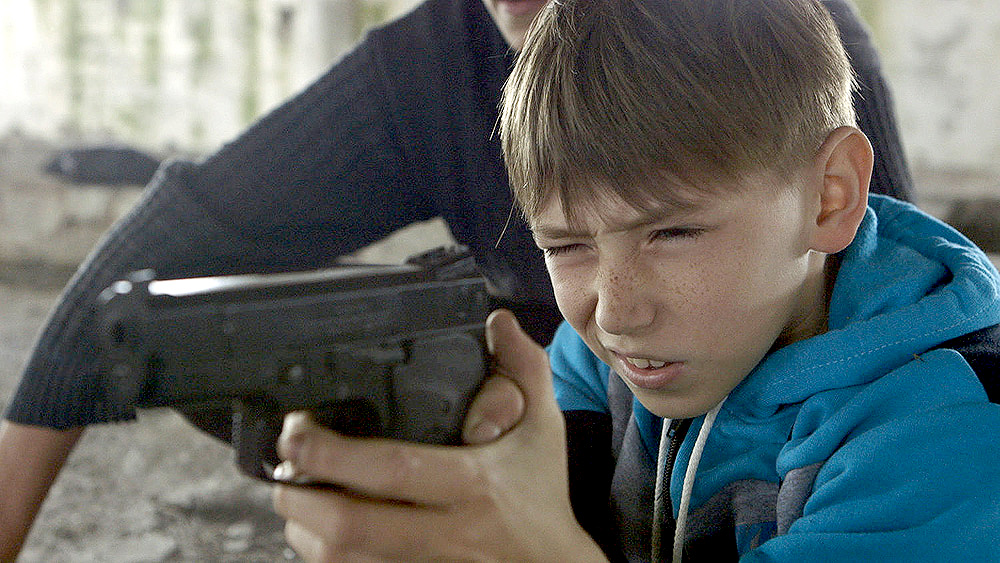 By Gregg W. Morris
December 28, 2018 – One of 15 contenders for Best Documentary Feature at 91st Academy Awards. Set in Eastern Ukraine on the front-line of the war, following the life of 10-year-old Ukrainian boy Oleg throughout a year, witnessing the gradual erosion of his innocence beneath the pressures of war. The nominations to be released 22 January, 2019, and the winner to be announced at the 91st Academy Awards February 24, 2019.
Click here for the tease.
---
---
"President Trump is indeed the most scandal-marred president of our lifetimes, if not longer. At this point, though, the basic story line is clear. We didn't learn anything new about his character in 2018. The question is how the country responds to his obviously unpresidential behavior" – NYT Columnist David Leonardt, December 26, 2018.
---
---
NY City Council Acts to Secure Data From Mayor On Pay by Race, Gender
December 26, 2018 – Lawyers representing municipal unions trying to prove the city systematically discriminated against people of color and women have been stymied in the courts in recent years by the de Blasio administration's resistance to producing ethnic, gender and salary data, citing privacy concerns. Now, with passage of legislation Dec. 20, the City Council and Speaker Corey Johnson believe they are on the verge of being able to have that demographic and compensation data provided on an annual basis, although it might require overriding a veto by Mayor de Blasio.
Click here for article in The Chief, a must-read newspaper.
---
---
December 18, 2018
2019 Predictions for Journalism – NiemanLab


Click here for predictions.
---
---
December 18, 2018
The Rule of Law – The World Justice Project's Four Principles
Accountability, Just Laws, Open Government, Accessible & Impartial Dispute Resolution

Click here for more details.
Click here for The World Justice Project.
---
---
Will Subway Rider Anna Lushchinskaya Cop to Penal Law § 40.15?
December 15, 2018

Penal Law § 40.15
CNN and other news media report that Lushchinskaya was arrested in June for allegedly pepper spraying a man and woman, both Hispanic. She was charged with harassment, menacing with a weapon and attempted assault.
NYC Hate Crime Statute.
---
---

Mueller's Office Takes Action On Manafort, Cohen
December 10, 2018 – Robert Mueller's office said on Friday that Paul Manafort, President Trump's former campaign chairman, lied to federal investigators about his contacts with Trump administration officials and his interactions with a Russian citizen linked to Moscow's intelligence services. According to a partly redacted court filing, he also lied about a $125,000 payment made through a political action committee to cover a debt he owed. Prosecutors also claimed he misled investigators pursuing a case unrelated to Mueller's investigation of Russia's interference in the 2016 presidential race. Manafort faces at least 10 years in prison as a result of two prosecutions for charges ranging from bank fraud to conspiracy to obstruct justice and is expected to be sentenced early next year.
Mueller's office also filed a recommendation on Friday for the sentencing of Michael D. Cohen, Trump's former lawyer. In the filing recommending a prison term for Cohen, prosecutors linked Trump to the crimes Cohen had committed in connection with the 2016 presidential campaign. The court filings describe an August 2014 meeting between Trump, Cohen, and the head of a national tabloid in which they discussed buying the stories of any women who might come forward to describe sexual relationships with Trump, so the rights to those stories "could be purchased and 'killed.' " The unidentified head of the tabloid, identified as "Chairman 1," is reportedly David Pecker of the National Enquirer. Cohen also admitted, according to the court papers, to previously undisclosed attempts to forge a political relationship with Russia during the election — though, in those instances, the efforts do not appear to have come to fruition. Cohen's sentencing is scheduled for Wednesday.
Prosecutors have reportedly continued to scrutinize what other executives in the president's family business may have known about those crimes, which involved hush-money payments to two women who had said they had affairs with Trump. After Cohen pleaded guilty in August to breaking campaign finance laws and other crimes, the federal prosecutors in Manhattan reportedly shifted their attention to what role, if any, Trump Organization executives played in the campaign finance violations.
New York Times. Washington Post.
---
---
the Campus
City College Student Newspaper, December 9, 2019
---
---

Asian American / Asian Research Institute Congratulates the 2018 winners, Honorable Mentions
By Gregg W. Morris, December 7, 2018
Click here for more info.
---
---
Russian Film Week in New York City, December 8-14

December 4, 2018
A showcase of independent and commercial films representing the dynamic landscape of Russian filmmaking today. At the SVA Theatre, 333 W 23rd Street.
Click here for more info.
---
---
INVISIBLE HANDS Film review
By Sangenda Alin, November 29, 2018
This documentary by Shraysi Tandon shines a klieg light on the predatory child labor practices and child trafficking that provides big American corporations the kind of slave labor they need to produce products as inexpensively as they can so that they can make lots of $$$.
Click here for review.
---
---
More Trump Administration Skullduggery – November 23, 2018
'Our Government Added This Question to Chill Immigrants' Participation'
---
---
---
---
Thanksgiving (Best of Luck), November 22, 2018
Race Inquiry Digest (November 22) – Important Current Stories On Race In America
---
---
Rodney Sieh – November 21, 2019
More info in the works.
---
---
DOC NYC Movie Snippet: COOKED: SURVIVAL BY ZIP CODE
November 17, 2018
By Gregg W. Morris
From the DOC NYC screening, a taste of the the evocative power of Director Judith Helfand's latest documentary movie, adapted from Eric Klinenberg's book, "Heat Wave: A Social Autopsy of Disaster in Chicago": 700 Chicagoans, mostly People of Color and poor, died in a heat wave that lasted seven days in July, 1995. They were cursed because of their zip code?
Review is in the works.

---
---
The Watergate Blueprint For Impeaching Donald Trump – The Intercept, November 17, 2018
By Elizabeth Holtzman, Writing in The Intercept
Elizabeth Holtzman is an American politician and former member of the United States House of Representatives. She was the first woman to hold office as the New York City Comptroller and the District Attorney of Kings County, New York.
---
---
Fresh Food Box @ Hunter
November 11, 2018
By Gregg W. Morris
Video snippet about a sustainable food project taking place at Hunter College:

Click here for some sustainable news.
---
---
The Intercept
Saturday, November 10, 2018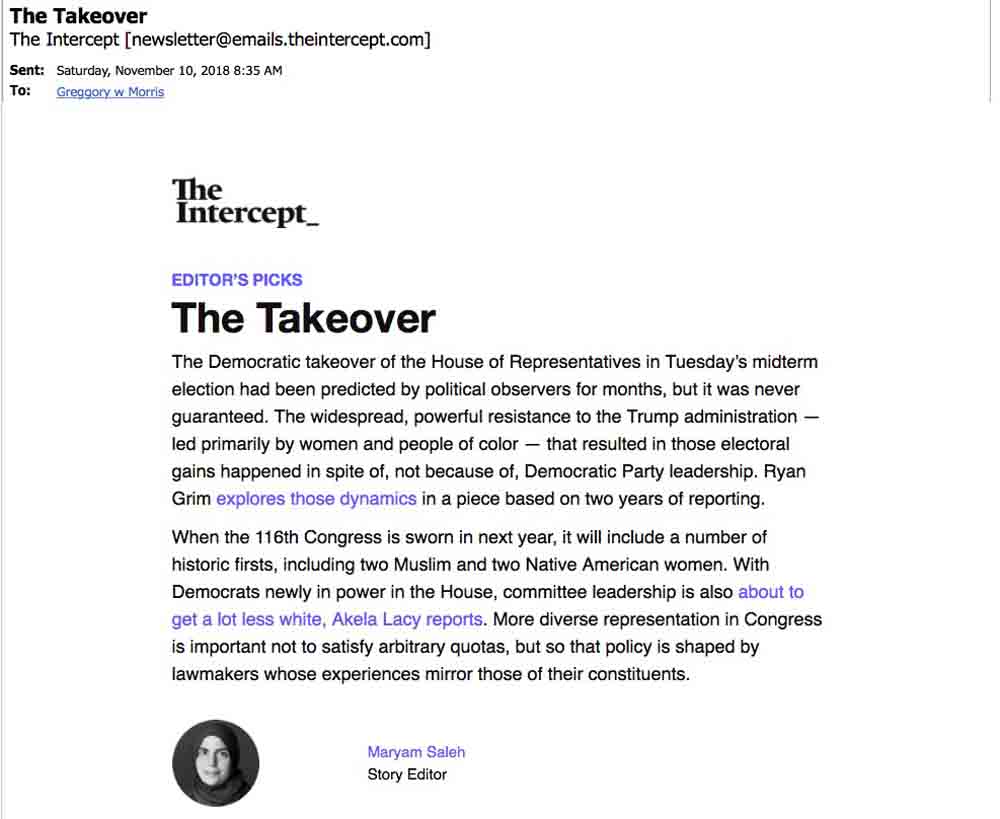 Other Fascinating Articles: How Donald Trump Saved the Democratic Party From Itself; House Committee Leadership Is About to Get a Lot Less White, What That Means Remains to Be Seen.
Click here for more info.
---
---
America More Divided Than Ever? Or the Real America Now Easily More Seen?
November 8, 2018
Race Inquiry Digest (November 8) – Important Current Stories On Race In America
---
---


Editor-in-Chief, Karen J. Greenberg, Center on National Security, Fordham Law School
November 8, Thursday, 2018
Jeff Sessions Forced Out as Attorney General, Matthew Whitaker Takes Over as Acting Attorney General
Attorney General Jeff Sessions resigned Wednesday at the request of President Trump, ending a turbulent tenure that began with Sessions as one of Trump's closest associates and ended with him facing repeated attacks from the president over the probe of Russian interference in the 2016 election. Sessions was out of the building before the end of the day yesterday. It was reportedly White House Chief of Staff John Kelly, not Trump, who called Sessions and sought the resignation letter.
The move follows months of Trump expressing his displeasure with Sessions in critical and sometimes harsh tweets. The president's anger at Sessions stemmed from the attorney general's decision to recuse himself from the Mueller investigation because of his own prominent role in the Trump campaign. Even so, the rapidity of the move, coming just hours after polls closed in the midterm elections, suggested how eager Trump was for Sessions to depart.
Sessions made it clear in his resignation letter to Trump letter that the president had asked him to step down, saying he was submitting his resignation "at your request." Trump announced the move with a tweet saying that Matthew Whitaker, Sessions's chief of staff, would take over as Acting Attorney General. Whitaker, a former federal prosecutor and conservative legal advocate, can serve in an acting capacity for 210 days. Trump is reportedly not expected to keep him on as a permanent successor.
The DOJ confirmed Wednesday that Whitaker plans to take over oversight of special counsel Robert Mueller's investigation. "The Acting Attorney General is in charge of all matters under the purview of the Department of Justice," DOJ spokeswoman Sarah Isgur Flores said. In a column for CNN last year, Whitaker wrote that Mueller would be going too far if he examined the Trump family's finances. "This would raise serious concerns that the special counsel's investigation was a mere witch hunt," Whitaker wrote, echoing the president's description of the investigation. The move means that Deputy Attorney General Rod Rosenstein will no longer oversee the federal Russia investigation, which he has looked over since Sessions recused himself early last year due to his work on Trump's campaign.
House Minority Leader Nancy Pelosi (D-CA) and Senate Minority Leader Charles Schumer (D-NY) both called for Whitaker to recuse himself from any involvement in Mueller's Russia probe. Installing Whitaker could clear the way for Trump to force out Mueller. To dismiss a special counsel, the president has to order the Attorney General or, in the case of a recusal, the Deputy Attorney General, to carry it out. Rosenstein has said that he sees no justification to dismiss Mueller. Washington Post, New York Times, Wall Street Journal, The Hill, New York Times
Related:
Washington Post: Sessions's Law Enforcement Legacy Overshadowed by Trump's Fury
The Hill: Read Jeff Sessions's Resignation Letter
New York Times: How Sessions's Firing Could Affect the Russia Investigation
---
---
Error in Article?
By Gregg W. Morris, November 6, 2018
Johan Matton, Founder of Nordic International Film Festival says Linnea Larsdotter, Founder and Creative Director of the festival, was misidentified as Festival Coordinator in an article.
Uh oh.
Click here for more information.
---
---
From the ACLU: Vote Today, November 6, 2018

From the WORD: Vote Like Your Life Depends on It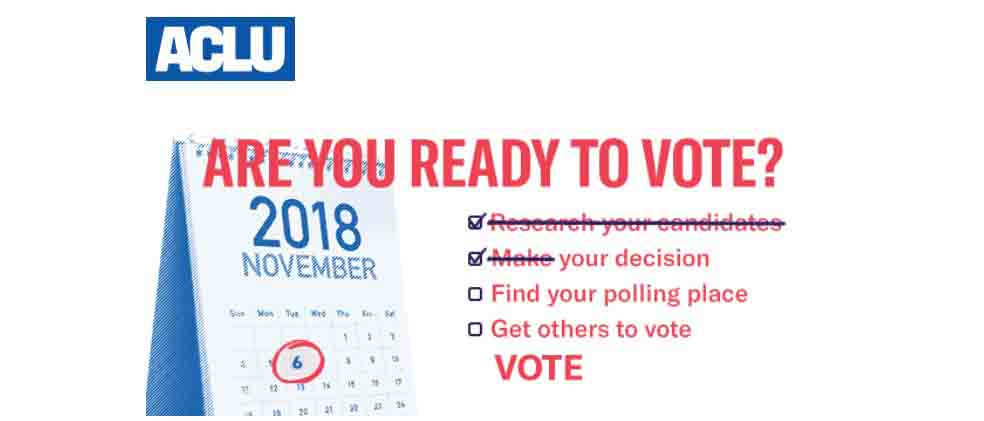 Click here like your life depends on it.
---
---
HOLIDAY Film Review
Screened at the Nordic International Film Festival 2018
Part 1
By Gregg W. Morris, November 4, 2018
Thought the review should begin with succinct comments of praise for the film, such as the following, before I cut to the chase: "A love triangle featuring the trophy girlfriend of a petty drug lord, caught up in a web of luxury and violence in a a modern dark gangster tale set in the beautiful port city of Bodrum on the Turkish Riviera" – IMDB
Click here for review, Part 1.
---
---
Kinetically Charged Red Carpet @ 2018 Nordic International Film Festival
By Gregg W. Morris, November 3, 2018
The video is a tease.
Click here for the full monty.
---
---
Charleston to Tree of Life: White Nationalism Is a Threat to All
Race Inquiry Digest (November 1) – Important Current Stories On Race In America
---
---
Verify Voter Registration Status, November 1, 2018

---
---
Absentee ballot
November 1, 2018

---
---
Register To Vote, October 31, 2018
---
---
American Horror Story: Georgia Voter Suppression
Robert Greenwald, Brave New Films
October 31, 2018

---
---
Information Students Should Know About the Midterm Elections
By Addison Gettenberg, October 30, 2018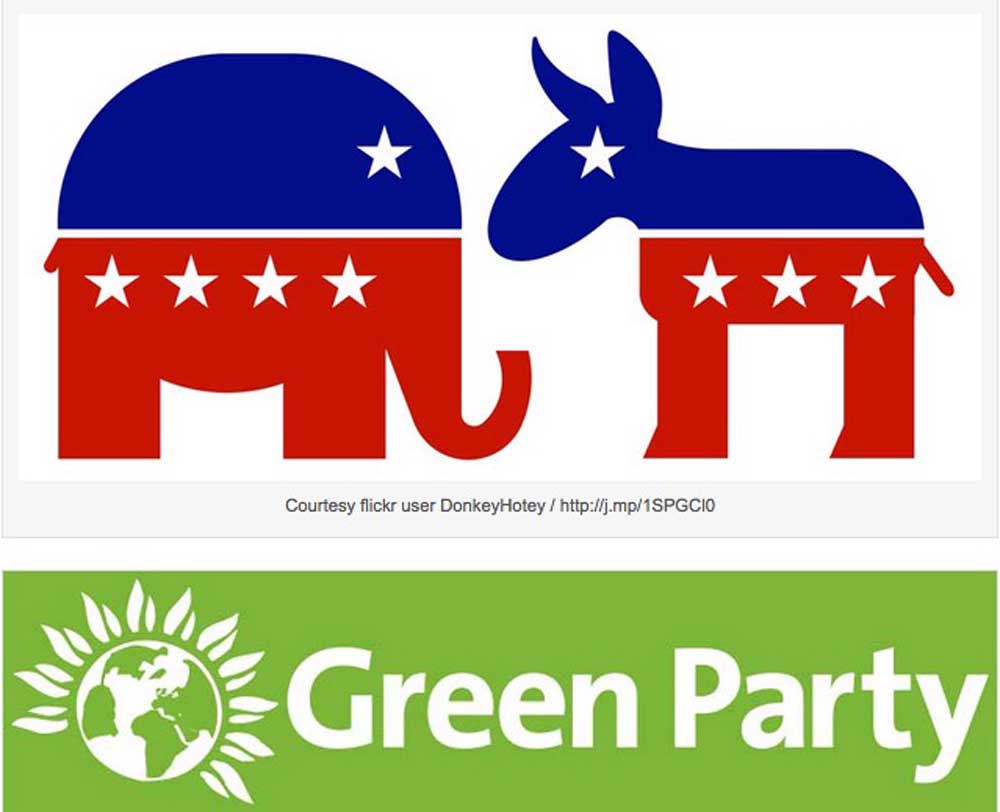 Undergraduate and graduate students can learn about voter registration and even about making $$$ working at a polling place.
Click here for article.
---
---
A Scoop on the Midterm Elections: A Resource Guide for Students
By Bressni Neary, October 30, 2018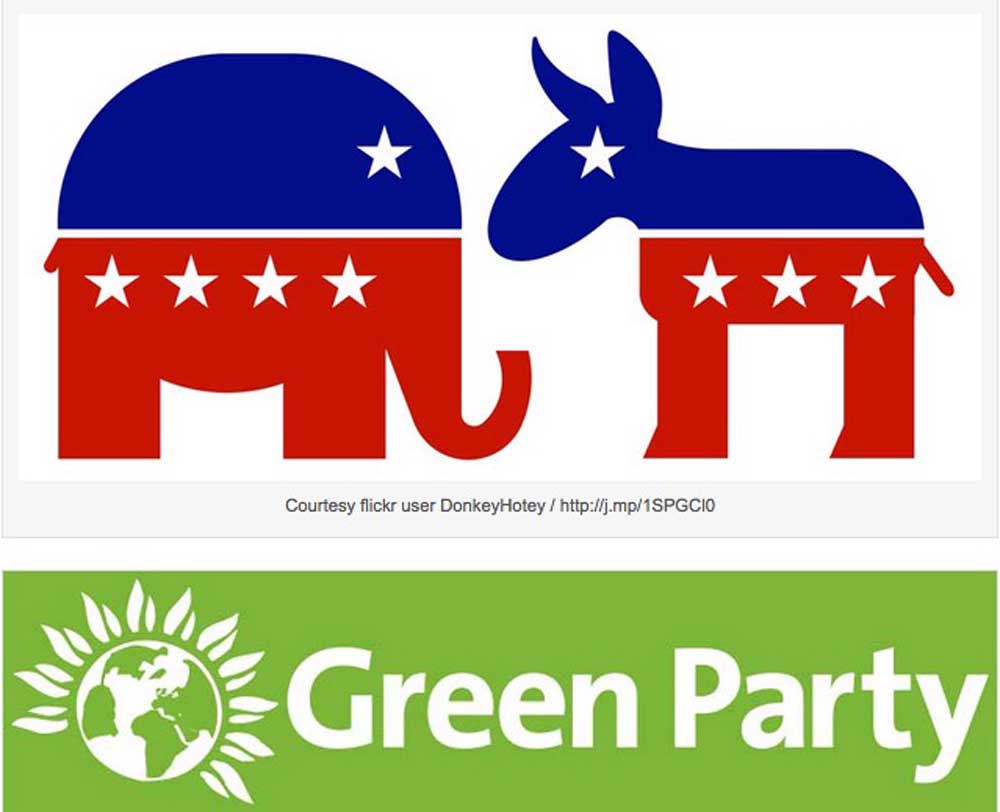 "Regardless of one's political affiliation, voting November 6 should be considered a civic duty and an important opportunity to let elected government representatives know how you feel about the state of the United States," writes Senior Writer WORD Bressni Neary.
Click here for article.
---
---
October 29, 2018
Race Inquiry Digest (October 29) – Important Current Stories On Race In America
---
---
Attention Students: This Article Can Help You Navigate the Blizzard of Information & Make Wiser Decisions About the Midterm Elections
October 28, 2018
By Alonso Espinoza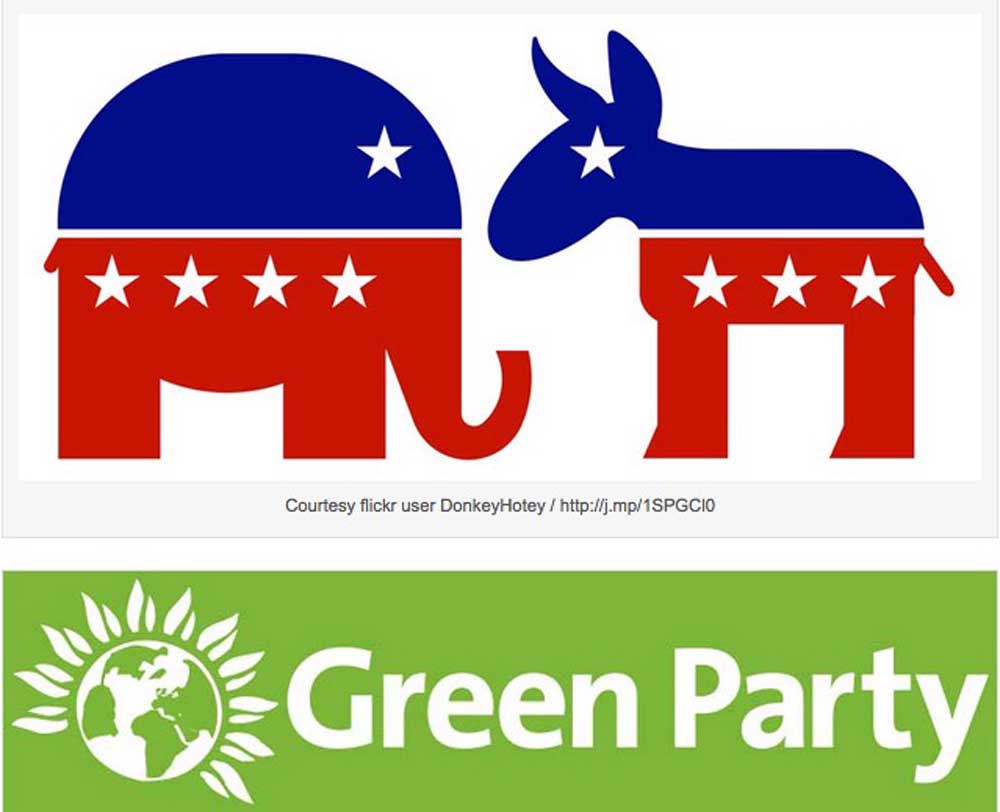 Students accessing this information may need to use their NetIDs for some of the links. If there are problems, they can contact the Hunter Library via its Ask a Hunter Librarian.
Click here for more info.
---
---
October 28, 2018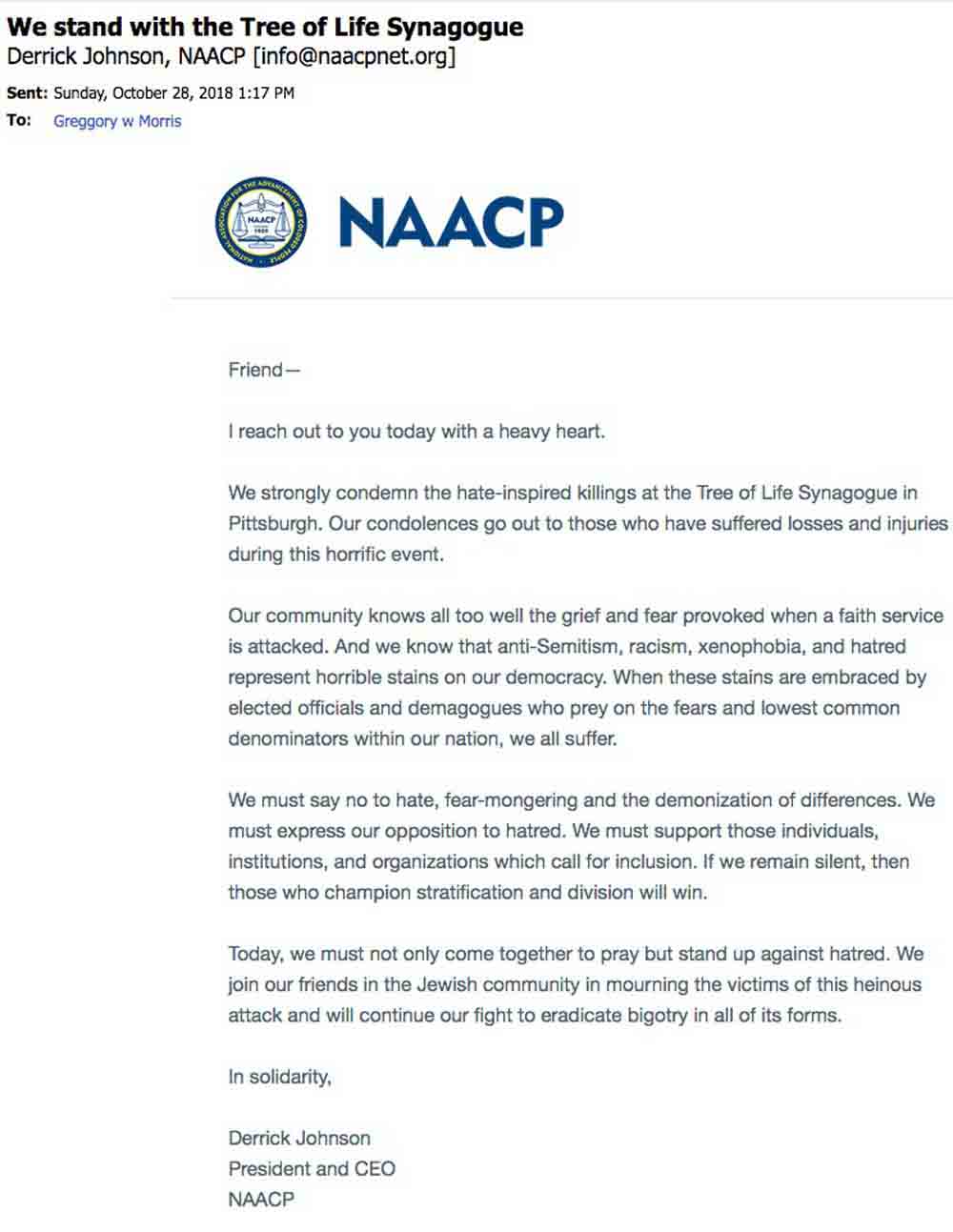 ---
---
October 27, 2018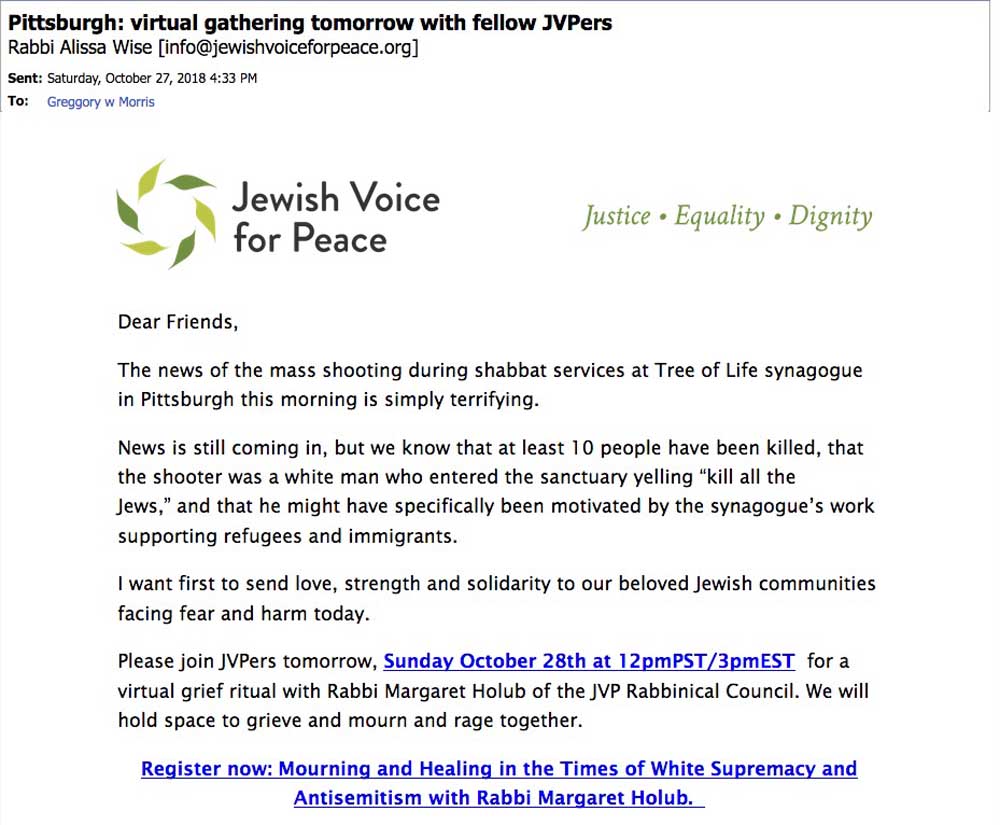 – Please join JVPers tomorrow, Sunday October 28th at 12pmPST/3pmEST for a virtual grief ritual with Rabbi Margaret Holub of the JVP Rabbinical Council. We will hold space to grieve and mourn and rage together.
– Register now: Mourning and Healing in the Times of White Supremacy and Antisemitism with Rabbi Margaret Holub.
---
---
The Rat-Tat-Tat of News Reporting About the Midterms Has Snared the Attention of WORD Reporters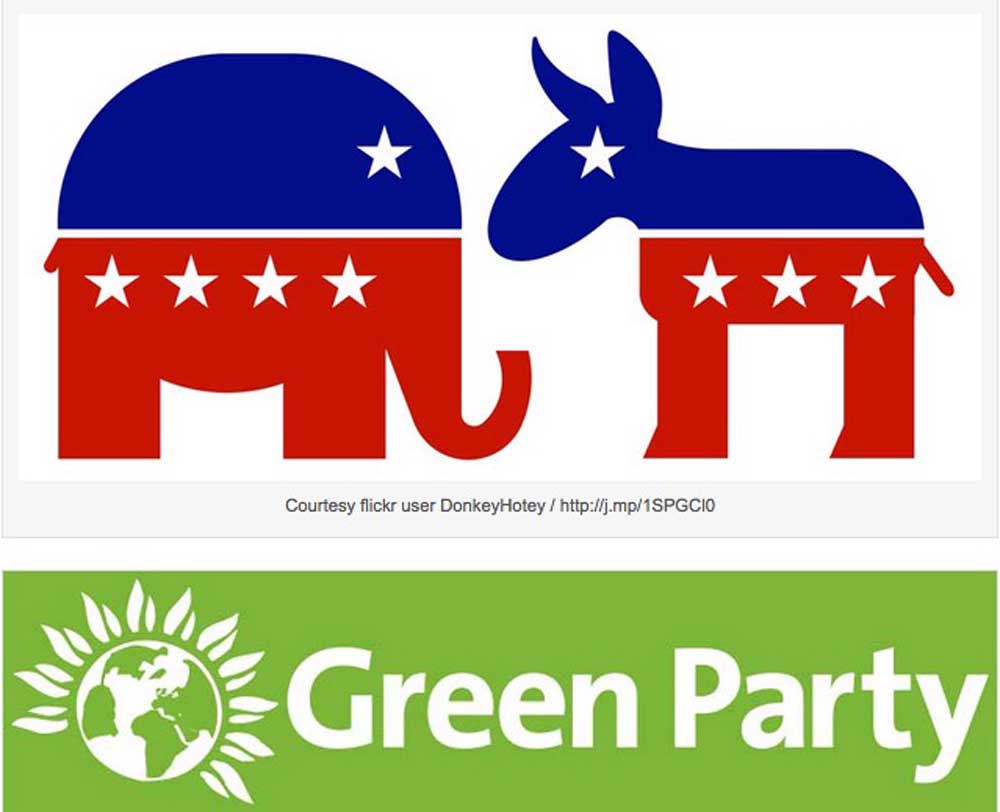 October 27, 2018
By Bressni Neary
So, what are student journalists writing and opining about November 6? Several Googling attempts failed to reveal answers to that question and similar ones. Nevertheless, several staffers of the WORD were interviewed for their views, and their responses pretty much reflect the discourse and attitudes of many students on this New York City urban campus. The interviews took place in the journalism lab of the Department of Film and Media Studies.
Click here for story.
---
---
THE DARK Returns!!!
By Gregg W. Morris, October 26, 2018
At the Cinema Village Cinema, 22 E 12th St, NYC, 11 p.m. tonight, one night only.
The New York Times said in a recent review, "In 'The Dark,' a Traumatized Teenager Becomes a Zombie." Hogwash! See this great movie and decided for yourself. It's so conceptually powerful and imaginative that it deserves its own movie genre slot.

Click here for review.
---
---
---
---
Picture published in Hunter Alumni Magazine around the time the WORD was getting started many moons ago. Undergraduate students writing for this publication have won more awards than any other publication at Hunter and CUNY with student reporters.